[pinterest]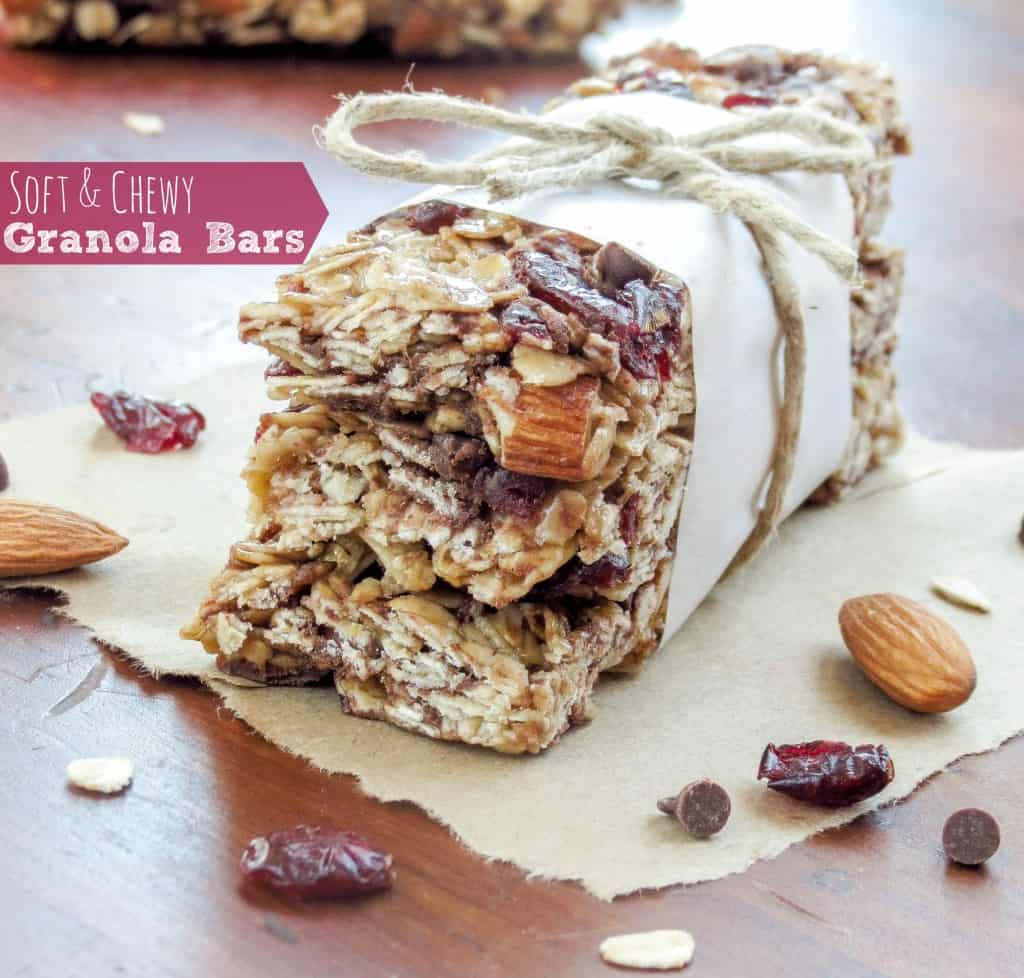 Lately, I've been trying to eat healthier. It's so hard for me because I have the BIGGEST sweet tooth. Certified chocoholic right here. Luckily, these granola bars have lots of healthier ingredients in them with the addition of mini chocolate chips to help curb my chocolate cravings! These granola bars are seriously the best! Sometimes I have them for breakfast on the go, a snack during the day or even for a night time snack before bed! You can even use the oats, brown sugar, butter, coconut oil & honey as a base and add swap out the craisins, almonds and chocolate chips with what ever you want! A big bonus is that they're no-bake! Well, semi-no-bake because you toast the oats and almonds, but that's only a few minutes. Then, you just press them in the pan, chill and cut them up!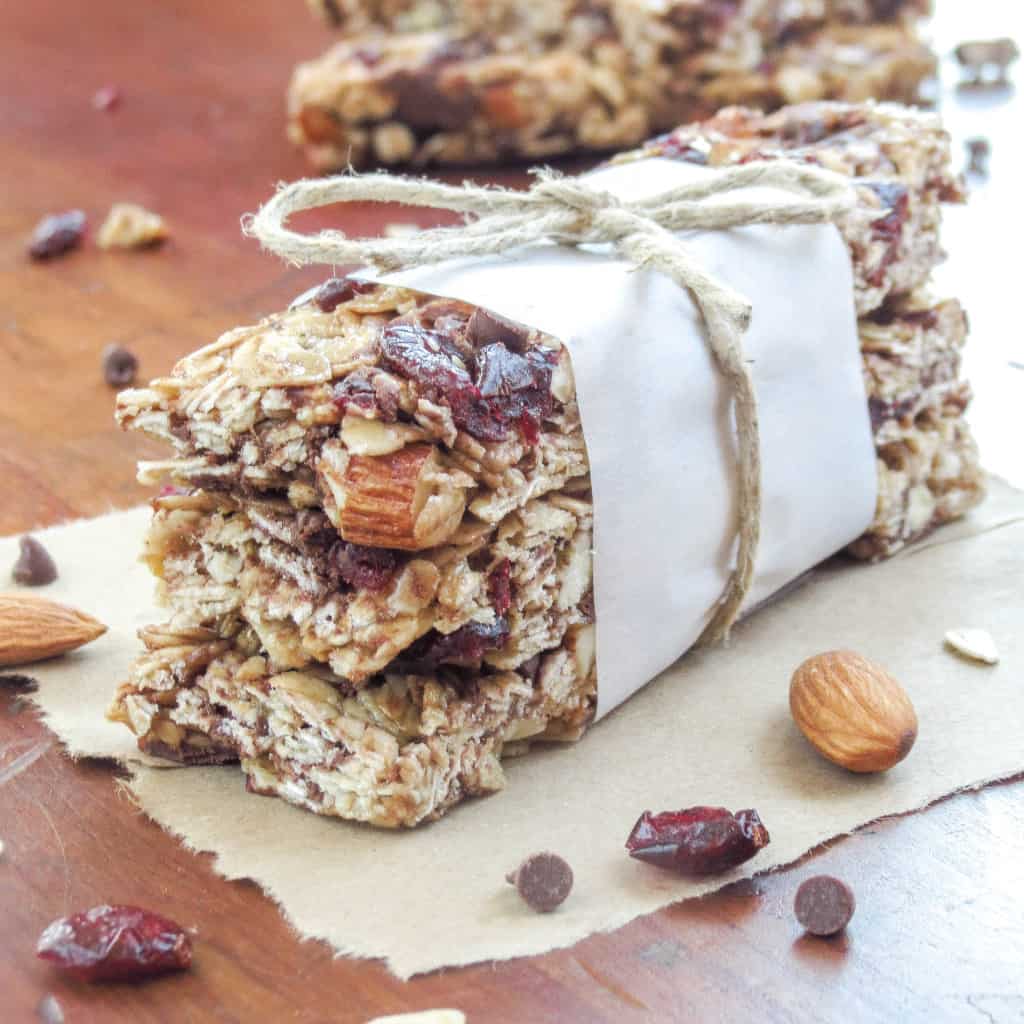 I love the taste the lightly toasted almonds and oats give the bars. It adds SO much flavor so I definitely don't recommend skipping it! I don't like to overly toast mine though, so I only do a few minutes. But you feel free to let them get nice and toasty for as long as you want!
The absolute most crucial step in making these bars is pressing them into the pan.  I have tried more granola bar recipes than I can count and none of them seem to stick together, they always result in them crumbling apart. Not these! Once I have all of the ingredients together, I spoon them into my prepared pan and literally spend about 5 minutes making sure they are WELL compacted before chilling them in the fridge. This step can make or break your bars (literally) so just be sure to really take your time making sure they are absolutely firm and compact. The chocolate chips will melt a little bit, that's just inevitable. The melted chocolate actually helps as "glue" to hold the bars together even better.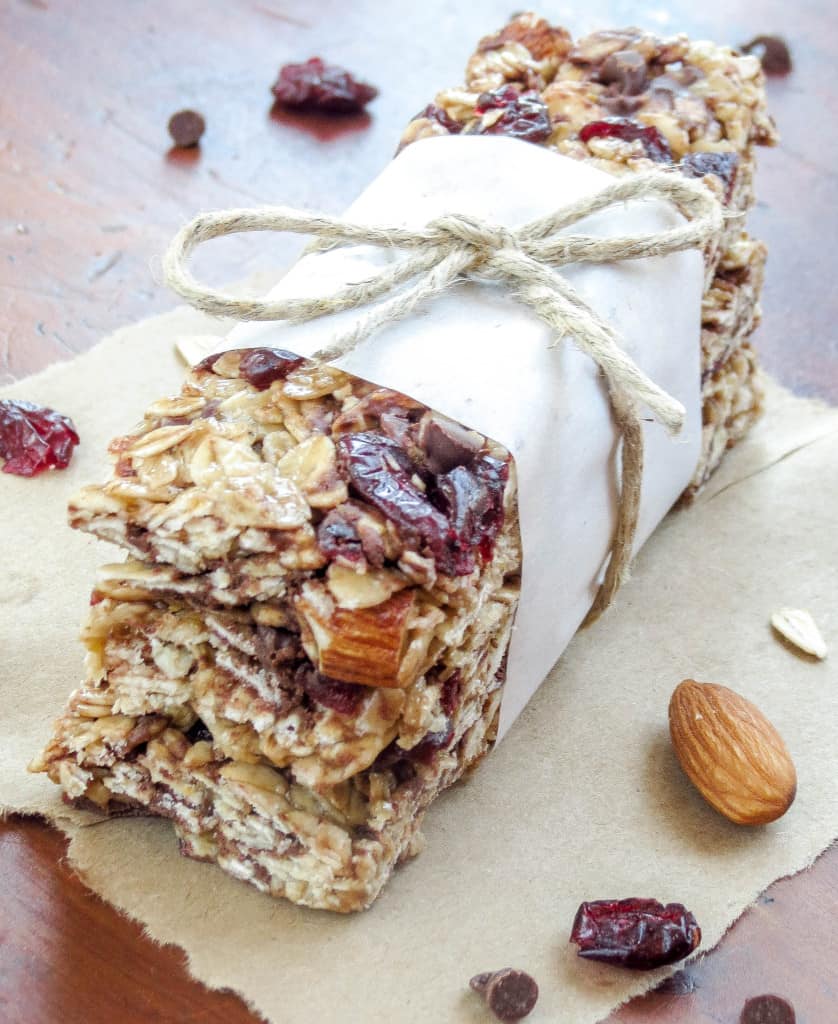 I really hope you enjoy these yummy granola bars as much as we do!
[pinterest]
Soft and Chewy Granola Bars
Ingredients
2 1/2

cups

rolled oats

not quick oats

1/4

cup

almonds

coarsely chopped

2

tbs

unsalted butter

2

tbs

coconut oil

2

tbs

brown sugar

1/3

cup

honey

1/2

tsp

vanilla extract

1/2

cup

craisins

1/4

cup

+ 2 tsp chocolate chips
Instructions
Preheat oven to 350 degrees. Line a 9x9 or 8x8 pan with parchment paper, set aside. You may also line with foil just be sure to grease it well.

Place chopped almonds and oats on a baking sheet and bake for 3 minutes, stir and bake for another 2. How long you toast them for is personal preference, I don't like mine to be that toasted. Once they're done, pour them into a large bowl.

In a small saucepan on medium-low heat, combine butter, coconut oil, honey and brown sugar together until everything is dissolved and smooth, about 3 minutes. Stir in vanilla. Pour the mixture over the oats and almonds. Stir until everything is evenly and well coated. Let the mixture cool for about 5 minutes before adding in mix-ins to reduce the melting of chocolate. Lightly fold in craisins and 1/4 cup of chocolate chips to reduce melting. Pour into prepared pan and evenly distribute granola throughout. Sprinkle 2 tsp of chocolate chips on top. Press down firmly for about 5 minutes until granola is firmly compacted. This part is SUPER important so you're granola bars don't fall apart, take your time. (I like to use a piece of greased wax paper or greased rubber spatula to help me along.) Once granola is firmly compact, chill in the fridge for 2-3 hours. Bars will be hard after chilling so let them rest for about 10 minutes on the counter before cutting up to serve.

I store mine separately, each wrapped in a piece of plastic wrap. If your house is warm, store them in the refrigerator or find a cool place like a cabinet or pantry. They will stay soft and fresh up to 2 weeks.
[pinterest]