[pinterest]
So, yesterday was a sad, sad day. I realized my (filled!!!!) Pandora bracelet was missing and I literally tore the whole house apart and it's nowhere to be found. Usually, when things go missing the first place I look is the garbage because my little devil son likes to throw things away. Last week I found my debit card in there. But, since it's been almost a week since I last saw it, it's probably long gone! :'( Wahhhh. Okay, enough about me and more about the reason you're actually here – these delicious milkshakes. Summer is slowly coming to an end but that doesn't mean the ice cream needs to stop, right? Milkshakes are one of my favorite desserts because as I've mentioned about a billion times on here, I LOVE (love, love, love) ice cream.
I was really, really in the mood for a chocolate milkshake the other afternoon and I realized I had no chocolate ice cream – gasp! So, I looked around and saw that I had some fresh strawberries and vanilla ice cream. My first thought was a strawberry milkshake but strawberry ice cream is just ehh to me, not one of my favorites. But THEN(!), I remembered I bought cheesecake pudding mix the last time I was at the grocery store and it hit me – strawberry cheesecake milkshakes! Strawberries and cheesecake are a favorite flavor combo of mine so I just knew it had to be good. Annnd I was right. It was so good that I almost drank both servings (I doubled the recipe) you see pictured here but I decided to be nice and share.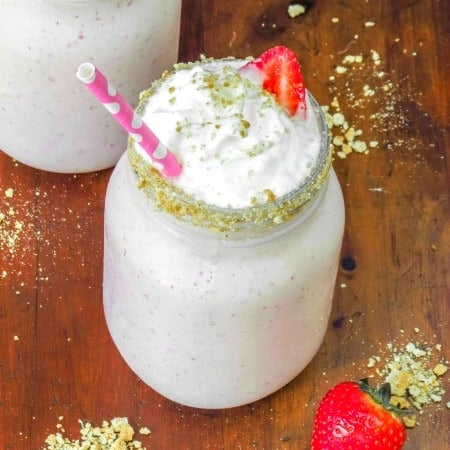 These milkshakes are super creamy, super smooth and so, sooo delicious. I love that they're made with fresh strawberries because they just make it taste so light and refreshing. The cheesecake flavor really shines through and compliments the strawberries so well. This is absolutely one of my favorite milkshakes to date. Now I am thinking of alllll the possibilities I can make from this! You can use this recipe as a guide and create any kind of milkshake you'd like using any fresh (or frozen) fruits you have on hand. Mmmm cherry cheesecake milkshake?! That one is definitely next on the list.
[pinterest]
Strawberry Cheesecake Milkshakes
Ingredients
5

scoops vanilla ice cream

2 1/2

tbs

cheesecake mudding mix

just the powder

1/2-3/4

cup

strawberries

I used 4 large

1/2

cup

whole milk

whipped cream

optional garnish

graham cracker crumbs

optional garnish
Instructions
Place all ingredients in blender and blend until everything is completely smooth. Add more milk if you want a thinner consistency. (I usually add about 2 tbs more)
[pinterest]
[pinterest]