Strawberry White Chocolate Toffee has a smoky, buttery base while the freeze-dried strawberries add crunch and flavor, and the white chocolate brings it all together with a delicious sweetness.
In need of a quick sweet treat for that special someone for Valentine's Day? Make a batch of this Strawberry White Chocolate Toffee, throw it in a box, wrap it up with a cute bow to deliver to someone you actually want to share this deliciousness. Don't forget to same a few pieces for yourself though! ?
You'll start this recipe by making the toffee base. You'll cook some butter, sugar and a little bit of corn syrup in a small saucepan until the color is a dark amber and reaches 290°F to 300°F, or "hard crack" stage. Vanilla will be added when the mixture is removed from heat.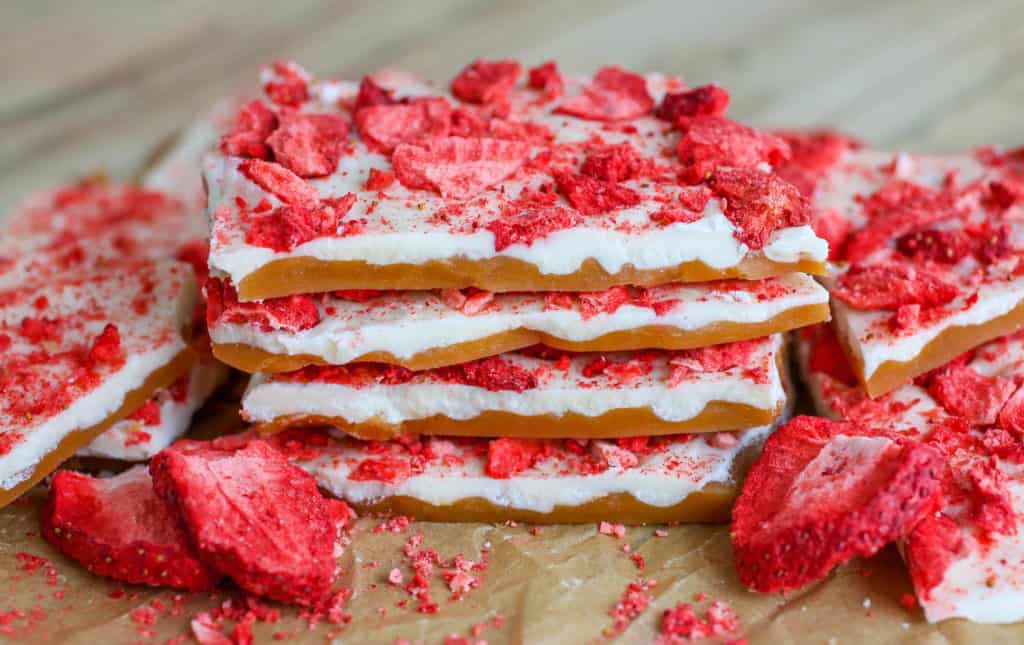 Imediateeeely pour the toffee mixture on a parchment lined cookie sheet and give it a few minutes to set before sprinkling the white chocolate chips on top. Smooth them out and sprinkle the white chocolate layer with freeze-dried strawberries – pressing down lightly so they are anchored in there and don't fall off. Take a minute to look at how stinkin pretty it is and let it set for an hour or two before breaking it up into pieces!
Get my FULL recipe over at –> Dixie Crystals <–