[pinterest]
Cookies and Cream Ice Cream. Super creamy and delicious ice cream store quality ice cream, made right in your home!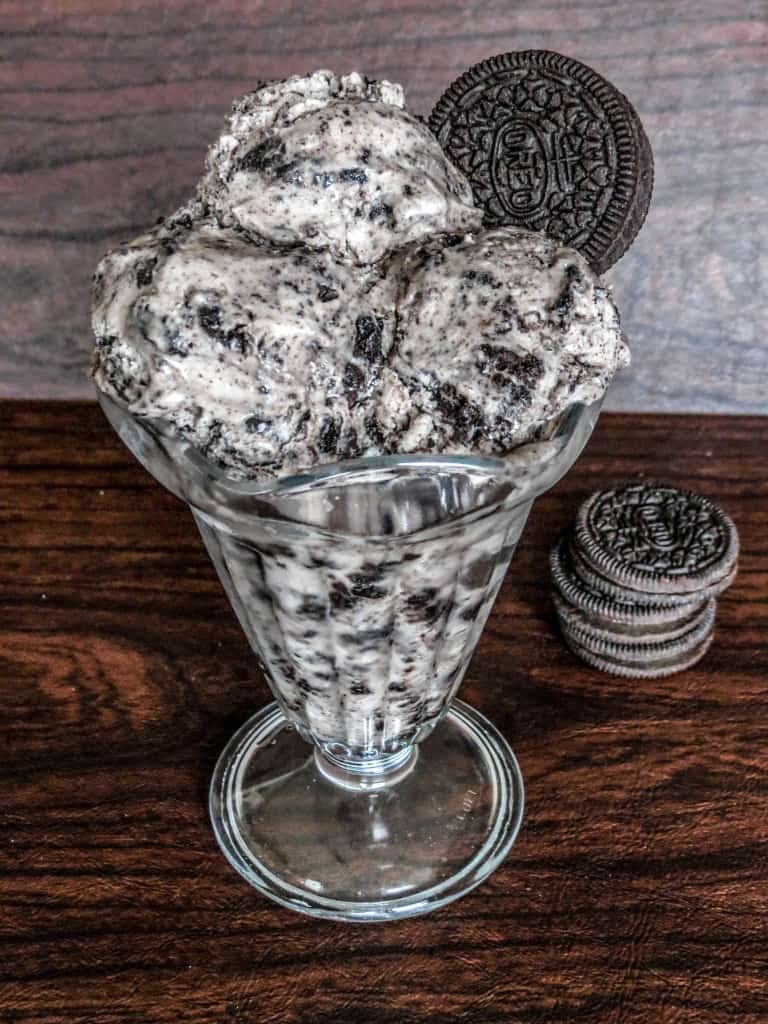 If you follow me on Instagram, you might have seen that for Valentine's Day this year, Mike got me something that I have been wanting for sooo long.. an ice cream maker!! This is dangerous. Anybody who knows me, knows I am such a sucker for ice cream. It's my all time favorite dessert! For my first (successful!) attempt at making homemade ice cream, I wanted to do something a bit simple. But, let me tell you, this cookies and cream is seriously AMAZING. I may even go as far as to say it is better than any cookies and cream you will get at any ice cream parlor. It's probably the BEST I have ever had. I just can't say enough good things about it!
So many things are just so much better when they are homemade. Especially ice cream, because you can control the amounts of everything! The worst thing is going to have a big bowl of your favorite ice cream, only to find that there are only a few measly cookies! Come on now, I want mine loaded! Now I can customize it just the way I like it.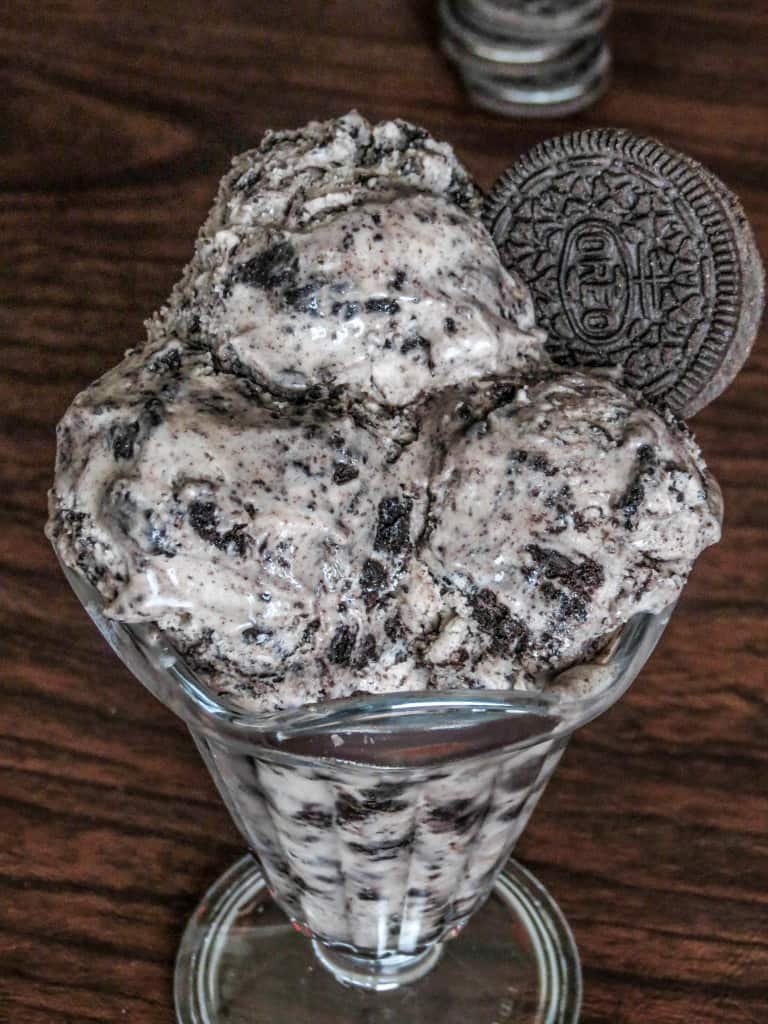 The ice cream itself is just a simple sweet cream ice cream. The flavor is SPOT on to any "real" cookies and cream ice cream. No vanilla ice cream. Although, I'm sure that would be delicious too, that's not the flavor I was looking for. I wanted an authentic cookies and cream flavor and this is really a dead ringer for it!
It's even toddler approved! 😉 (This photo is taken on my iPhone and he will never sit still, so pretty much 95% of the pictures I have of him are blurry!)
The whole process is so very simple and the result is absolutely delicious. A MUST try for any oreo or cookies and cream lovers out there!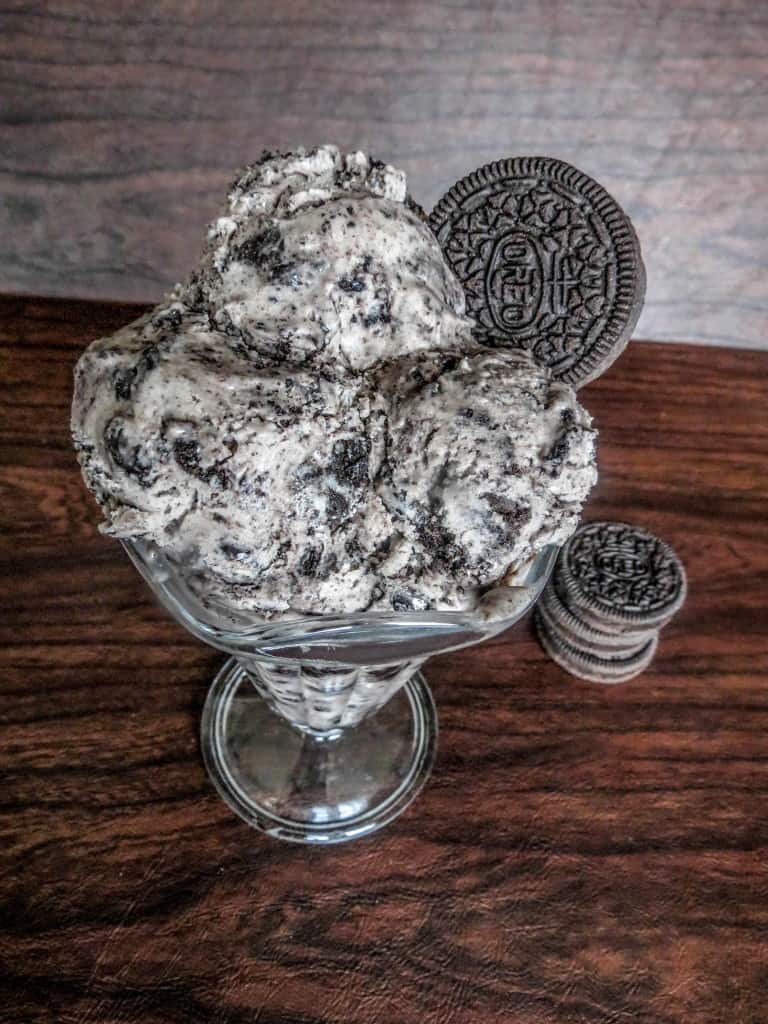 [pinterest]
Super Creamy Cookies and Cream Ice Cream
Ingredients
½

cup

granulated sugar

2

tablespoon

cornstarch

2

cups

heavy cream

1

cup

milk

any milk will do, I used 2% and it was perfectly fine

¼

cup

light corn syrup

20

oreos
Instructions
1. In a small bowl, mix together the sugar and cornstarch, set aside.

2. In a small saucepan, over medium heat, pour in the cream, milk and corn syrup.

3. Add in the sugar mixture and whisk together until everything is well blended.

4. Heat the mixture until it is very hot and steamy, almost reaching a gentle boil. Stir constantly and watch it closely as it can scorch!

5. Once very hot and steamy, reduce the heat and keep stirring for about a minute.

6. Take mixture off heat and strain through a fine mesh sieve into a large bowl. Cover with saran wrap very close to the surface of it so it does not form a skin. (Just like when you make pudding.)

7. Regrigerate (or freeze) until chilled completely.

8. Once mixture is fully chilled, transfer to an ice cream maker and freeze according to manufacturers directions.

9. During the last few minutes of the freezing cycle, add your oreos. I used 20 and crushed them in a zip lock bag with my hands and poured them in.

10. When ice cream is done, it should look like almost like a soft serve ice cream. It will not be firm. Mine took about 30 minutes.

11. Transfer to an airtight container and freeze until firm. This may take anywhere from 3-4 hours.

Transfer extra chilled ice cream mixture to an ice cream maker and freeze according to manufacturers directions. Transfer ice cream to an airtight container and freeze until nearly firm, or freeze until firm and soften in microwave about 5-10 seconds until slightly softened. Mix in desired "mix-ins" (if you wanted to prepare just as Cold Stone does, you could freeze a marble slab then use two large spoons to fold in mix-ins using chilled marble slab, or alternately you could add the mix-ins in during the last 5 minutes of processing in ice cream maker).
Recipe source Cooking Classy