[pinterest]
Remember when you were younger and you couldn't get enough of those Little Debbie Oatmeal Cream Pies? (Or maybe you still can't..) Well, now you can make them at home!
Oddly enough, I never had (or heard of) a Little Debbie Oatmeal Creme Pie until a couple of months ago. I know! *GASP* But, I know that Mike can eat these one after the other to the point of where I have to tell him to stop. These are one of his favorite snacks so, just like the Homemade Reese's Peanut Butter Cups that I made him for Valentine's Day, I made these for him too! He was absolutely AMAZED by these. His exact words were, "These are the best things you have ever made!" And, he thought they tasted EXACTLY like Little Debbie's (if not better).
The oatmeal cookies are so chewy, soft and delicate but just sturdy enough to stand up against the frosting when you take a bite. They will be very soft when you take them out of the oven, that's okay, they will firm up as they cool. They are full of brown sugar, molasses and a bunch of yummy spices. They have SO much flavor! If you don't want to make these sandwich cookies, you can just make these as plain old cookies. I know in the future this will be my go-to recipe for oatmeal cookies forever!
For the filling, I used some butter, confectioner's sugar, shortening (yeah, I know, I'm not a huge fan of it either, feel free to replace with butter, it just might alter the taste a bit and you may have to up the amount of fluff) and some marshmallow fluff! I usually always make my own homemade fluff because I don't like how the store bought ones have so many unknown ingredients in them. But, this time I didn't have enough time, so I just used the jar of Fluff I had in my pantry and that did just fine. I'm telling you, this filling is a DEAD ringer for Little Debbie's. It isn't like a marshmallow buttercream either, where the butter overpowers the marshmallow, you can actually taste the marshmallow flavor! So. Good.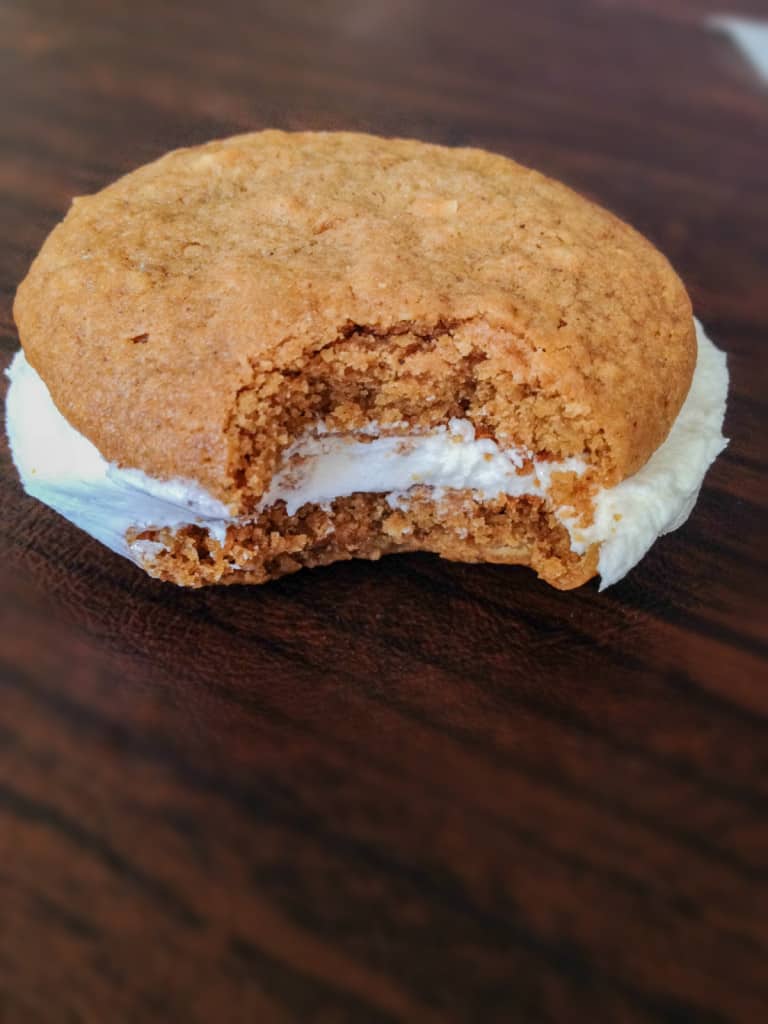 Go ahead and make these for your Little Debbie obsessed friends and family, they will love you forever!
[pinterest]
The Best Homemade Little Debbie Oatmeal Cream Pies
Ingredients
Oatmeal Cookies

1/2

cup

shortening

unflavored

1/2

cup

butter

softened

1

cup

brown sugar

1/4

cup

granulated sugar

2

tbs

molasses

2

large eggs

1

tsp

vanilla extract

1 3/4

cups

+2 tbs flour

1

cup

quick oats

slightly ground in a food processor (or you can use whole, just grind them up more)

1/2

tsp

baking soda

1

tsp

baking powder

1 1/2

tsp

cornstarch

1/2

tsp

salt

1

tsp

cocoa powder

3/4

tsp

cinnamon

1/4

tsp

ground ginger

1/4

tsp

ground nutmeg

Red and yellow food coloring

optional

Cream Filling

8-9

oz.

marshmallow creme

I like to use Fluff

1/2

cup

butter

room temperature

1/4

cup

shortening

unflavored

1 1/2

cups

powdered sugar
Instructions
For the Cookies

1. Preheat oven to 350°.

2. Line your baking sheet with parchment paper, set aside.

3. In the bowl of your stand mixer fit with the paddle attachment, cream together the butter, shortening, molasses and sugars on medium-high speed until pale and fluffy.

4. Beat in the eggs and vanilla on low until combined.

5. Incorporate all dry ingredients slowly until everything is smooth.

6. If you are adding food coloring, you may add it now. Add a little bit at a time. (This gives it more of a dark orangey color like Little Debbie's. Use more yellow than red.)

7. Roll dough into balls about 2 tbs each. These will be very big, so spread them out a bit. If you want them smaller, do 1 tbs of dough per ball (and take a few minutes off of bake time).

8. Bake for 10-12 minutes. Cookies will be very soft when done but will firm up once cooled. Don't over bake!

9. Allow them to cool on the baking sheet for about 5 minutes then transfer to wire rack or counter to finish cooling.

For the Cream filling

1. In the bowl if your stand mixer, whip butter, shortening and fluff on high speed until pale and fluffy, about 3 minutes.

2. Add in powdered sugar and mix on low until combined.

3. Increase speed to medium-high and continue to whip until light and fluffy, about 1 minute.

4. Scoop some filling out with a cookie scoop and spread along one side of a cookie. Sandwich another cookie on top and continue until all cookie sandwiches are filled!
Recipe adapted from Cooking Classy