[pinterest]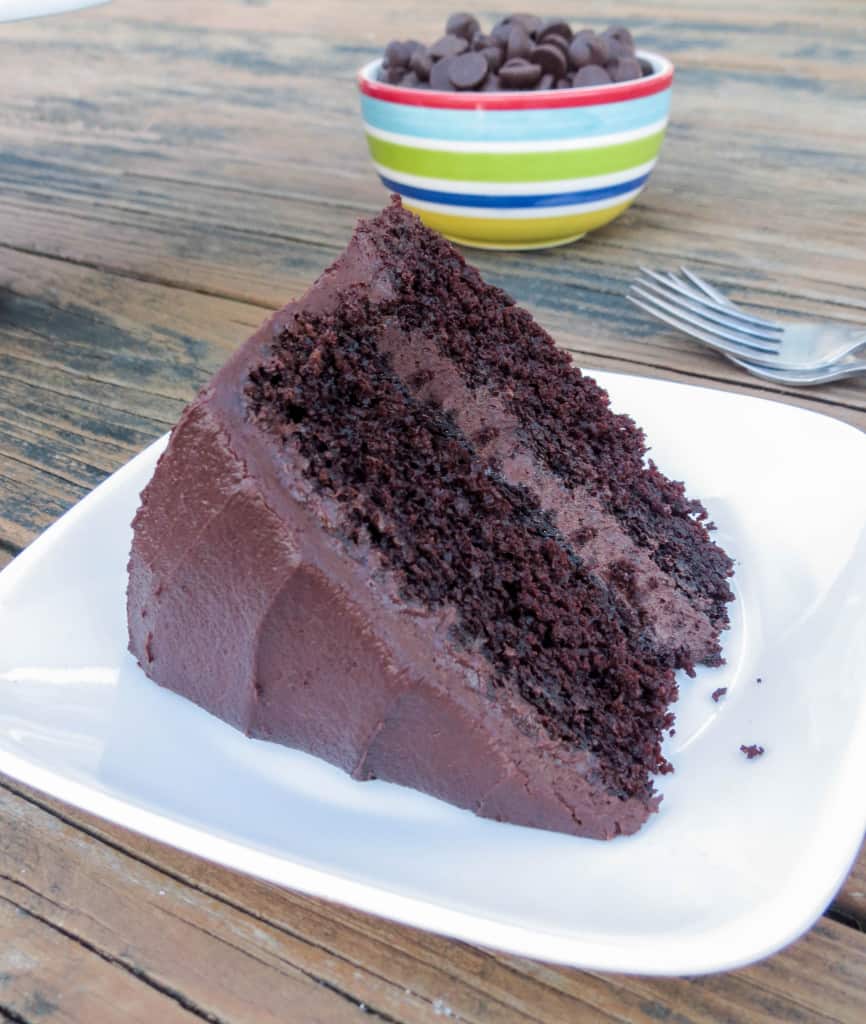 So, last weekend was my birthday and I turned 22, woo! Saturday was a beautiful day. I made my favorite cinnamon rolls for breakfast, took my little man to the park, got my hair done (finally!) and spent time with some family. It was a very simple but nice day. 🙂 Of course everyone's favorite part of their birthday is the cake! And for mine I had two amazingly delicious cakes! Yes I said two, don't judge me. One that my father and step mom brought over from Hoffman's (shout out to my step sister who works there and made it for me!) Then, I made my own special birthday cake. Not just any special birthday cake though.. THE ultimate chocolate cake.  When I say ultimate, I really mean AAAH-MAZING. This chocolate cake is not for the faint of heart. If you are a not a chocolate fan, you probably won't like this cake. But, if you are chocolate obsessed like me, you will adore this cake! I am the perfect candidate to tell all of you fellow chocoholics out there, that this is the best chocolate cake you will ever have. This cake is extreeeemely moist and fudgey! The chocolate flavor is really just completely out of this world.
And the frosting. The frosting is so rich and creamy and JAM packed with chocolate flavor - it has cocoa powder AND melted chocolate in it so you can just imagine how delicious  it tastes. I snuck a bit of bittersweet chocolate into the mix because I love the richness and depth it gives the flavor (and it's my favorite). Feel free to use whatever kind of chocolate you'd like, though. I used the same frosting on my Death By Oreo Cupcakes, with a few minor tweaks. This is my go-to chocolate frosting, it's my absolute favorite. I didn't add too much butter because I didn't want it to overpower the chocolate flavor. Corn syrup is used to give it it's glossy, silky texture. I know some people shy away from corn syrup, but really, it's not much different than using regular sugar. And even if it isn't the healthiest option, are we really worrying about our health or calories by eating this cake? Nope, I'm sure not.
I would be lying if I didn't tell you this cake is very rich but it is absolutely, hands down amazing.
The chocolate cake has buttermilk and oil which are my two favorite things to use in cakes because they make them extremely moist. Also used is strong, hot coffee which you cannot taste in the slightest but is used to really bring out the cocoa flavor and this cake won't be the same if you leave it out. If you really, really feel the need (or have to) to leave it out, which I do not recommend, just substitute with hot water.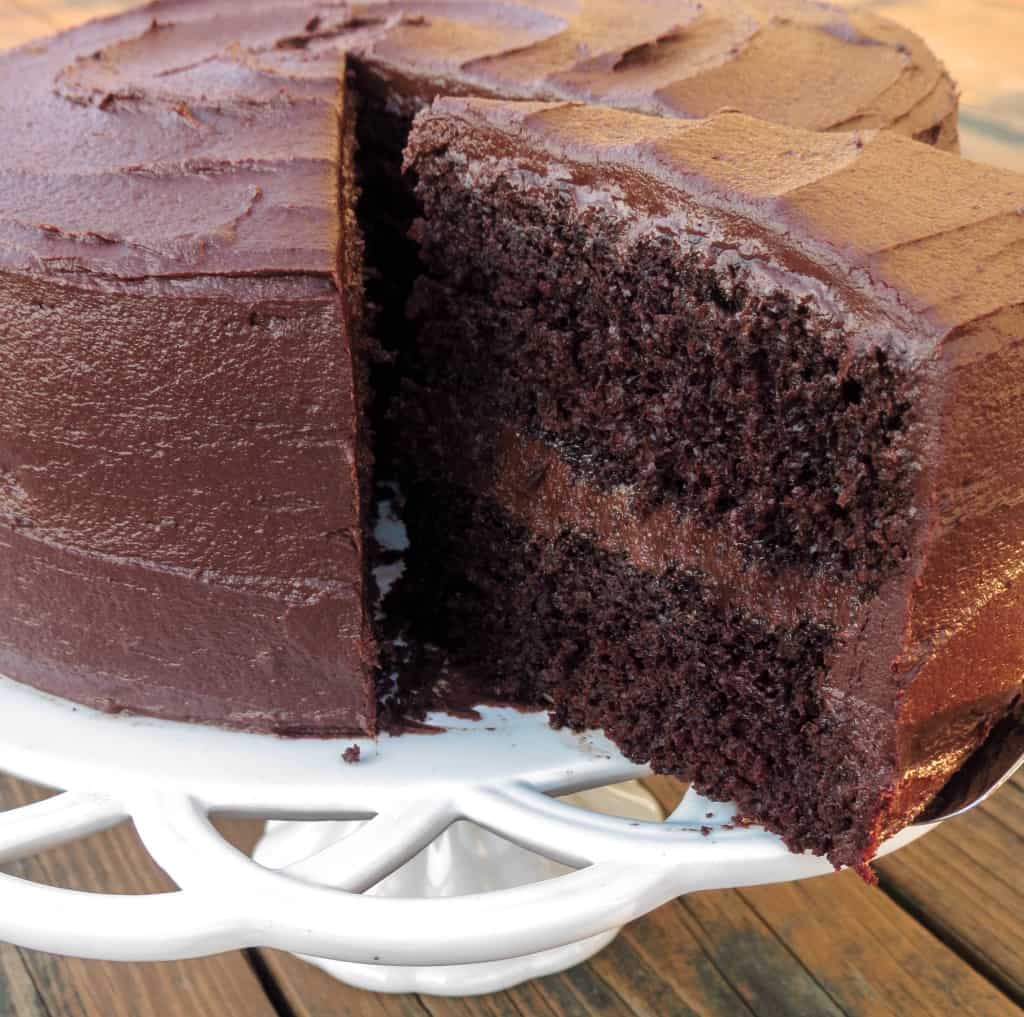 This will be my birthday cake every. single. year. from now until forever. And every excuse I get to bake a cake in between, this will be my first choice. I realllllly just cannot say enough good things about it.
Okay, so.. have I convinced you that is is the best cake ever yet? Because if I didn't, I guess it's your loss. And if I did, you're going to thank me once you get your first forkful of this chocolatey goodness. You also may want to become my best friend. Maybe.
[pinterest]
THE Ultimate Chocolate Cake
Ingredients
Chocolate Cake

1 ¾

cups

all-purpose flour

2

cups

sugar

¾

cup

cocoa

1

teaspoon

baking powder

2

teaspoon

baking soda

1

teaspoon

salt

1

cup

buttermilk

½

cup

oil

2

eggs

room temperature

2

teaspoon

vanilla

1

cup

hot

strong coffee

Chocolate Fudge Frosting

1 ½

sticks unsalted butter

¼

cup

corn syrup

2

teaspoon

vanilla

1

cup

cocoa

1

cup

powdered sugar

12

oz

semi-sweet chocolate

chopped and melted

2

oz

bittersweet chocolate

chopped and melted

pinch

of salt

optional
Instructions
For the Cake:

Preheat oven to 350°. Line two 9" round baking pans with parchment paper, grease and lightly dust with cocoa powder. Set aside.

Whisk flour, sugar, cocoa, baking powder, baking soda and salt together. Set aside.

Mix buttermilk, oil and eggs and vanilla until combined. Slowly add flour mixture to wet mixture until just combined. Pour in hot coffee last and mix until completely smooth. Batter will be very thin, that's okay.

Pour batter into prepared pans and bake for 24-29 minutes or until toothpick comes out moist with only a few crumbs. Let them cool for 20 minutes in their pans then turn them out onto a wire rack to finish cooling completely. While cooling, prepare frosting.

For the Frosting:

Cream butter, powdered sugar and cocoa powder together until smooth. Add corn syrup and vanilla and mix until just combined. Pour in melted chocolate and beat until smooth and creamy, about one minute. Frosting will be more silky rather than fluffy. BE SURE to add ingredients in this order or your frosting will not come out right!

Once cakes are completely cooled, you can begin to frost them. Theres no need to level the tops of these cakes unless desired. Place one cake layer on plate or cake stand, right side up. Spread the frosting all over in a big, thick layer making sure everything is even. Place second cake layer on top of frosting right side up and frost the rest of the cake evenly. It may help to do a thin crumb coat first, let it set for a few minutes, then go back and do a final thick layer of frosting.

Cake will stay fresh in a sealed airtight container at room temperature for up to 5 days.
Adapted from Hershey's