Soft and chewy Toasted Coconut Oatmeal Cookies are such a delicious twist on the classic oatmeal cookie!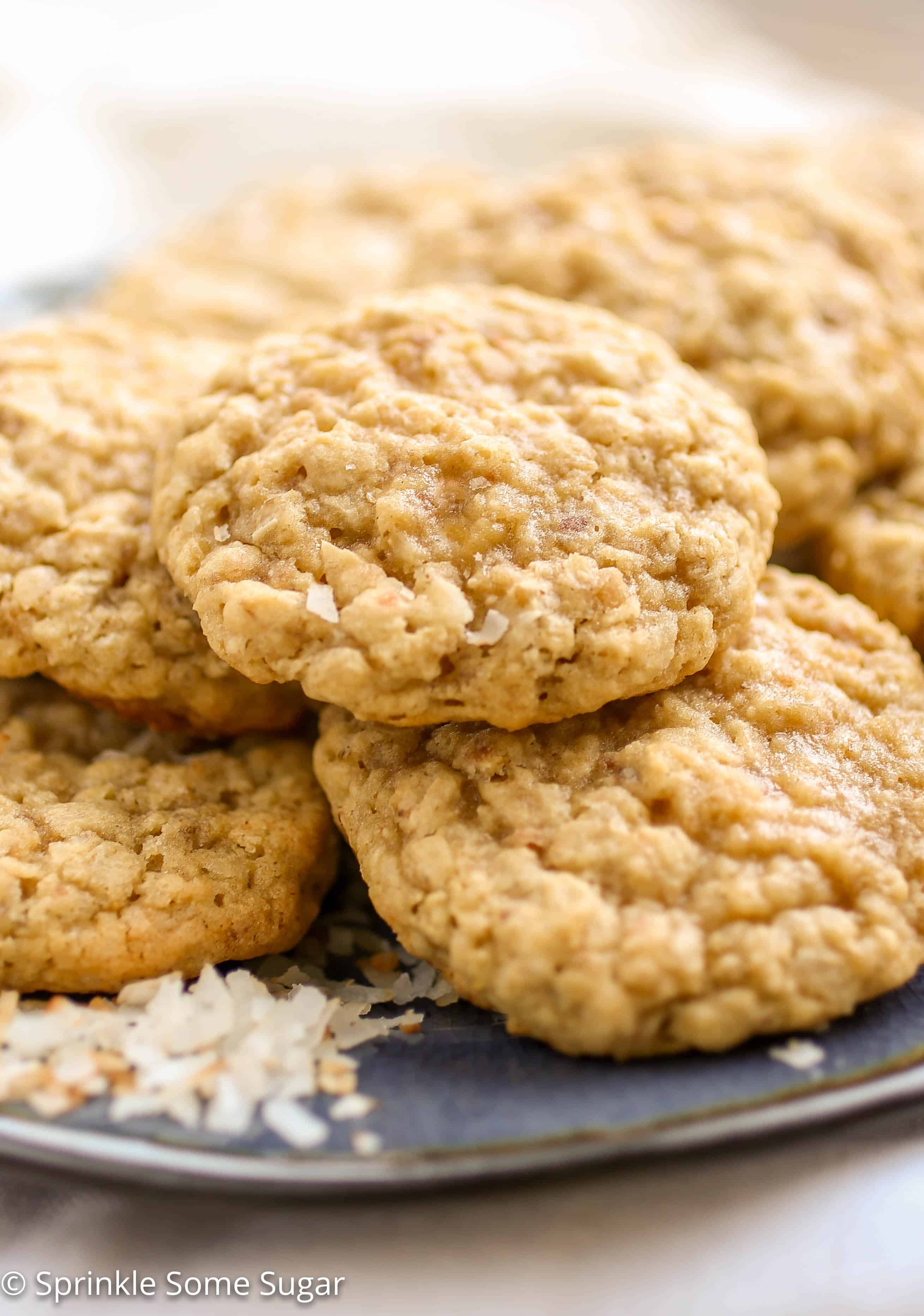 It has been crazy around here lately. Lots of personal stuff has been going on so I apologize for the sporadic appearances. Today I am really going to start focusing and putting a plan in place for the rest of the year. I love my job so, so much it truly is my passion so I am determined to get back on track. Thank you all for being so patient and kind. Let's start by kicking off Spring (better late than never!) with these Toasted Coconut Oatmeal Cookies. Spring is my favorite time of the year! The weather is perfect and it just brightens up your spirits getting out in the fresh air, you know? When I think of Spring, I think of fresh flavors like citrus, fruit and coconut.
I have tried tons of oatmeal cookie recipes and none of them turned out the way I like them. To me, a perfect oatmeal cookie is thick, soft, chewy and loaded with oats. And that's exactly what these are! This is my go-to oatmeal cookie recipe and if you just want a Classic Soft and Chewy Oatmeal Raisin Cookie that you can head over there. There are so many ways to switch this recipe up.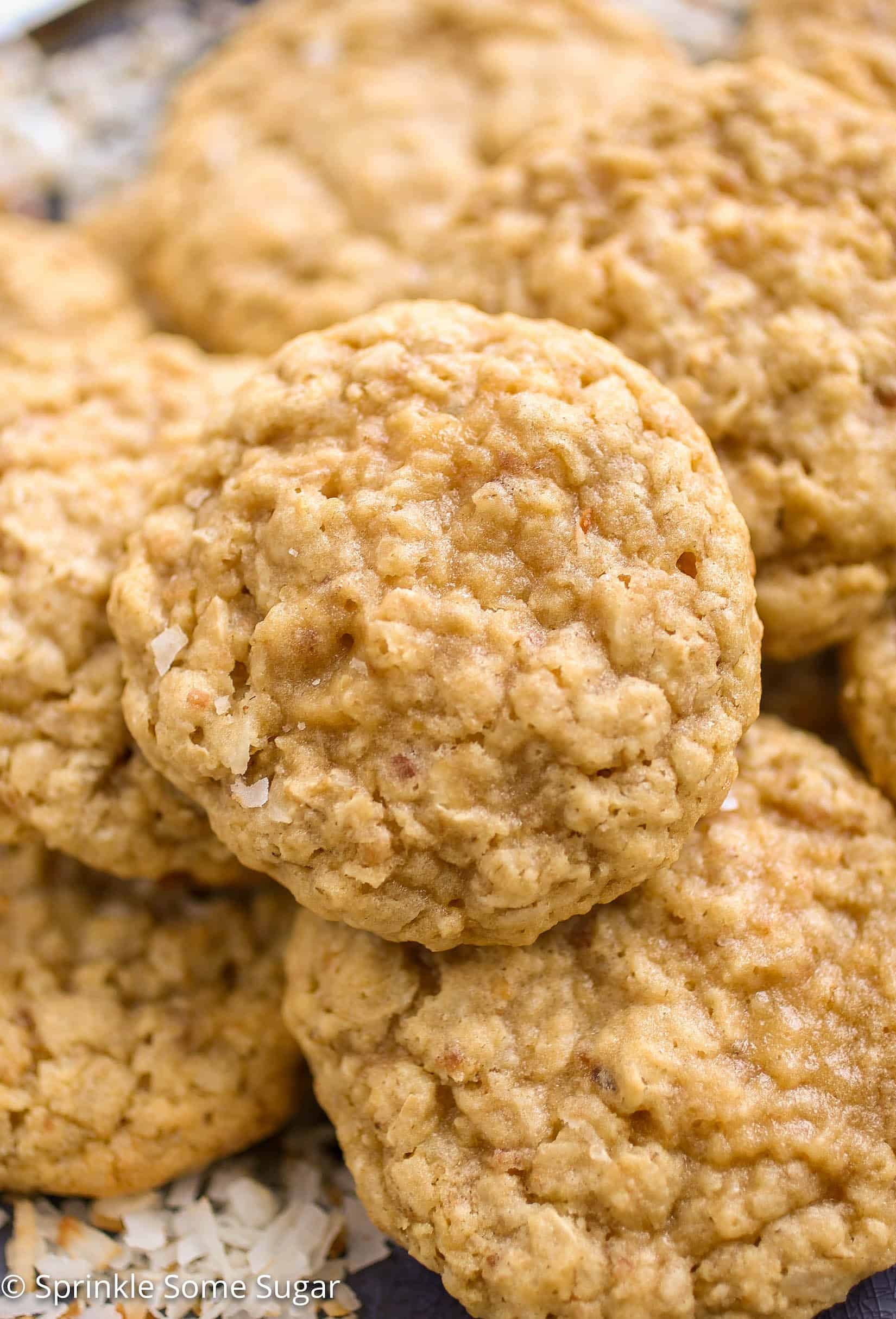 Chilling the dough is absolutely mandatory for these cookies. Without chilling, the cookies will spread out a ton and be flat and crispy. We want nice and thick cookies, so please chill that dough, people! Enjoy 🙂
More cookie recipes you'll love:
Toasted Coconut Oatmeal Cookies
Soft and chewy Toasted Coconut Oatmeal Cookies are such a delicious twist on the classic oatmeal cookie!
Ingredients
1 3/4

cup

all-purpose flour

3

cups

old fashioned rolled oats

1

tsp

baking soda

2

tsp

cornstarch

1

cup

unsalted butter

softened

1

cup

light brown sugar

1/2

cup

granulated sugar

2

eggs

1

egg yolk

2

tsp

vanilla extract

1/2

tsp

coconut extract/flavoring

1

cup

toasted sweetened coconut
Instructions
In a medium-sized bowl, toss flour, oats, baking soda, and cornstarch together. Set aside.

In a large bowl or the bowl of your stand mixer fitted with the paddle attachment, cream butter and both sugars until light and fluffy, about 2 minutes. Add the eggs, egg yolk, vanilla extract, coconut extract and mix until smooth. Pour in the flour/oat mixture and mix until just combined. Do not over-mix. Stir in the toasted coconut by hand with a rubber spatula. Chill dough for 2 hours minimum.

Preheat oven to 350 degrees. Line two baking sheets with parchment paper and set aside.

Roll 2 tablespoons of dough in a ball and place on prepared cookie sheet 2″ apart. Repeat this step for the remaining dough. Place the dough that is not being used back into the refrigerator until ready to use so it stays nice and cold. Bake cookies for 10-12 minutes. They will look a little wet in the center and undone but this is okay. They will firm up as they cool to room temperature – this is what keeps them soft. If you like a crunchier cookie, simply bake longer.