[pinterest]
These cookie cups started out as just going to be plain peanut butter dough with just reese's pieces mini's, to something amazing! I started thinking. I mean, reallllly thinking hard on how I could make these even better. My original just sounded so boring. I hate boring food. I wanted to fill them with something so the first thing I thought of was Nutella (of course), but I didn't have any on hand, so that was out. Then, I thought how about a simple chocolate ganache? DING, DING, DING! The chocolate ganache was the best idea ever. These cookies are so chewy and bursting with peanut butter flavor due to the amount of peanut butter used in the dough, the Reese's Pieces AND the Reese's cups crumbled on top. Peanut butter/chocolate lovers will LOVE these. The chocolate ganache stays so creamy, it doesn't ever get hard. These cookies are just delicious!!
I actually discovered after I made these, that a cookie with this same idea has a name. They're called "fudge puddles", except my filling is completely different than the filling in fudge puddles, but the idea is the same.
I used a 1:2 ratio of chocolate to cream to create my chocolate ganache because I wanted it to stay nice and creamy even after a day or two.
Since these make so many, I sent some to work with my mother because she was obsessing over them and her work responded with so many positive things – they LOVED these. They thought they were delicious! And they weren't wrong because they are.
From the chewy, buttery, peanut buttery dough, to the creamy chocolatey filling – there's just no way you can go wrong with these.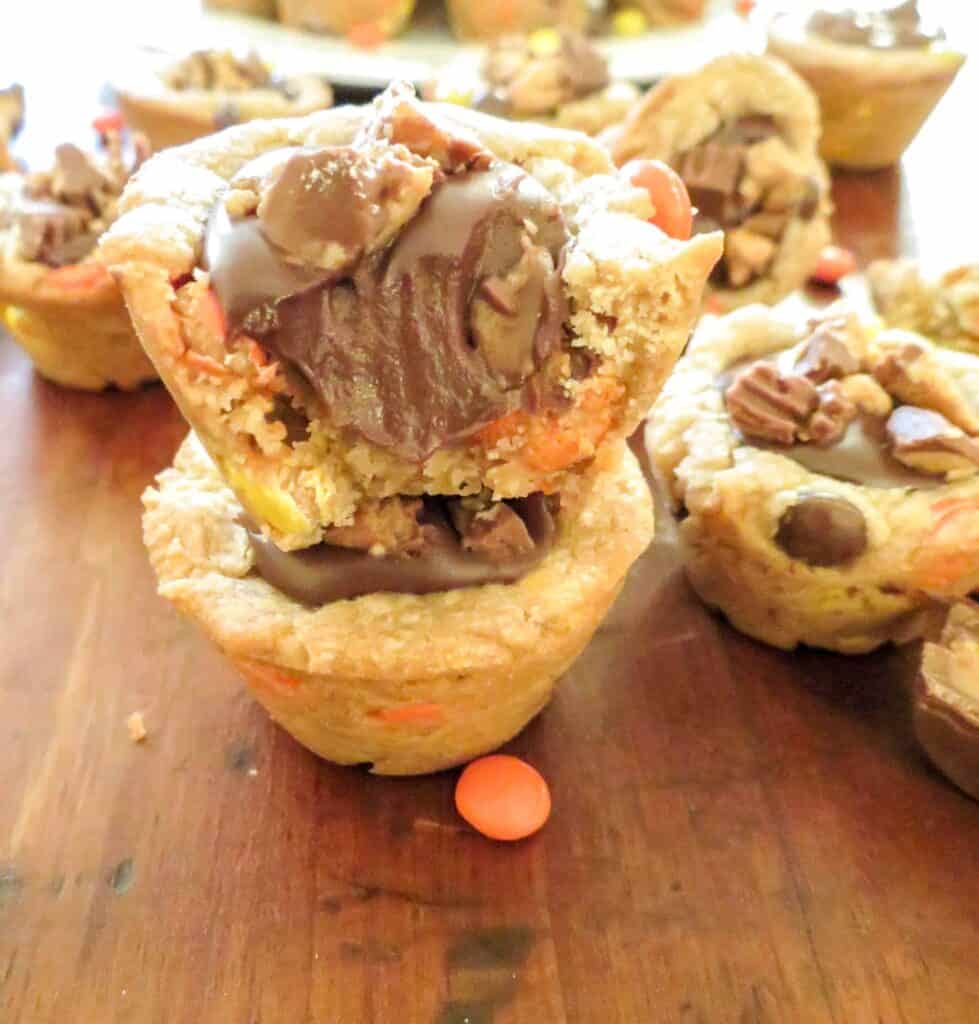 Peanut butter + chocolate = a win every time. At least in my family! 🙂
Double Peanut Butter Chocolate Ganache Filled Cookie Cups
Ingredients
Peanut Butter Cookie Cups

1 1/2

cups

+ 1 tbs all-purpose flour

1/2

tsp

baking soda

1

egg

1

tbs

vanilla

1/2

cup

butter

melted

3/4

cup

peanut butter

1

cup

brown sugar

3/4

cup

Reese's Pieces Mini's

they usually have them in the baking isle with the chocolate chips

1/2

cup

Reese's

chopped (I used about 15 Mini Reese's)

Chocolate Ganache Filling

8

oz

semi-sweet chocolate chips

1

cup

heavy cream
Instructions
For the Cookie Cups

Preheat oven to 350°. Grease a mini muffin tin very well and set aside. (You will make 3 batches)

Cream melted butter and brown sugar together until smooth. Add in egg and vanilla and mix until smooth. Scoop in peanut butter and stir until incorporated completely. Pour in flour and baking soda and mix until just combined.

Scoop about 1 1/2 tablespoons of dough (enough to fill the cookie tins 3/4 of the way) for each cookie into the muffin tin wells. Repeat this process for the remaining dough. You will need to make 3 batches so fill as many pans as you have until the second batch (2 mini muffin tins should fit at the same time.) Place pans in preheated oven and bake for 10-12 minutes or until edges are set. Edges will be set but middle will still be soft and underdone. This is what makes them chewy.

IMMEDIATELY when they come out of the oven, make a deep well into each of the cookie cups with anything you have with a rounded head. I like to use the arm of my rolling pin because its the perfect size and rounded or I have also used a melon baller. Let them cool in their pans for 10 minutes before transferring to a wire rack or they will be too soft to handle. While cookies are cooling, prepare your simple chocolate ganache.

For the Chocolate Ganache

Heat the heavy cream in a small saucepan until warm to the touch. You can also do this carefully in the microwave for about 30 seconds. Add in chocolate chips and mix until the warm heavy cream melts the chips completely. Mixture should be very smooth and satiny, it should not be thick. If it is too thick it may not stay creamy after the first day so add more cream. Spoon the ganache into the well of the cooled cookies right to the top. Once you filled all of your cookies, sprinkle your chopped reese's on top.

Cookies will stay soft for up 10 days at room temperature in an airtight container.