These bacon cheeseburger pockets are such a fun twist on the traditional cheeseburger, using super delicious Wewalka pizza dough for the bread!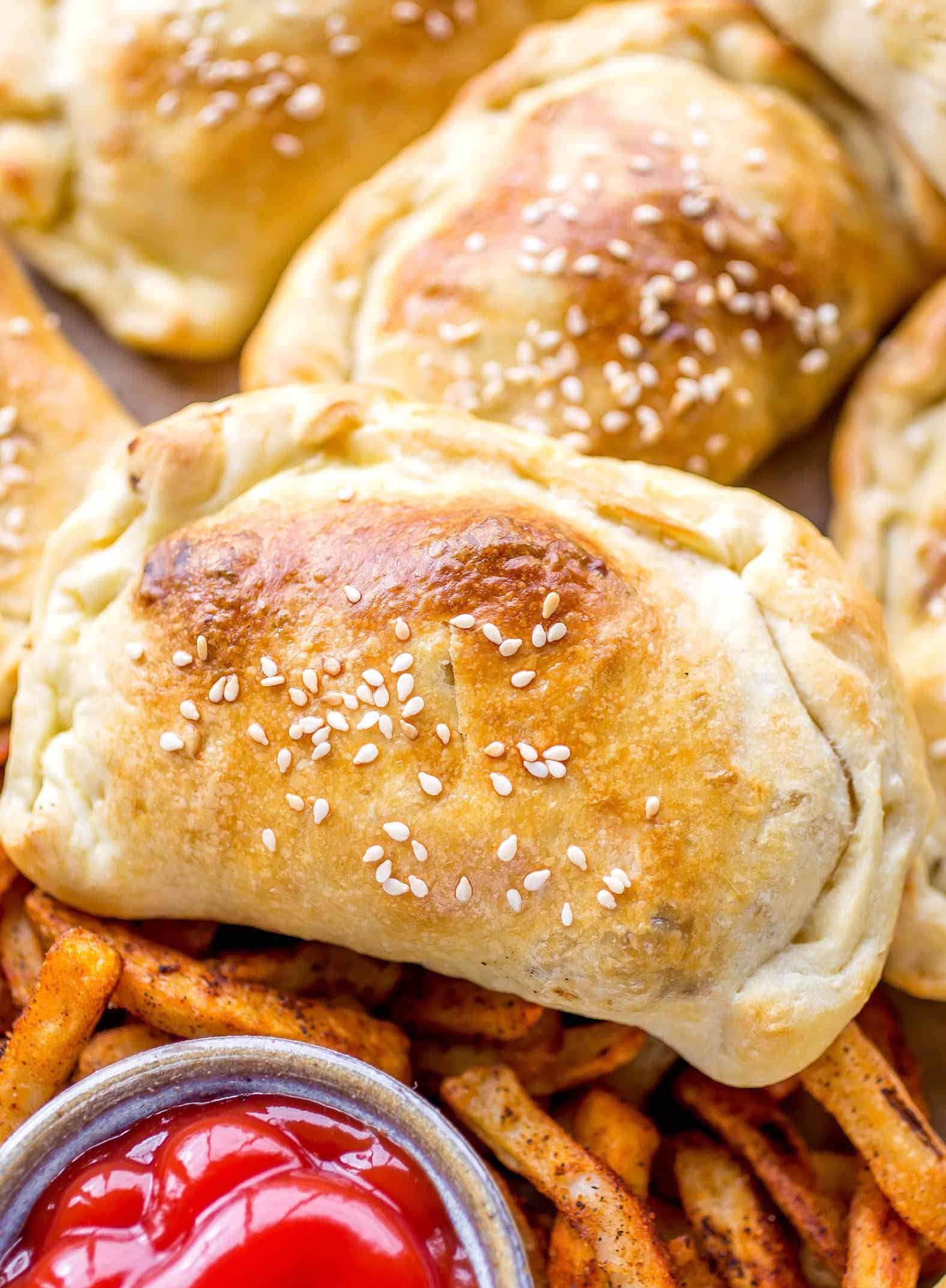 Have you ever been in a dinner rut? I've been there plenty of times. You're making the same thing over and over again, which isn't necessarily a bad thing, but sometimes it's fun to get creative in the kitchen. That is how these Bacon Cheeseburger Pockets were born! I wanted to make something different and these did not disappoint. They are so fun to make and ridiculously delicious. The use of this store-bought pizza dough is such a time-saver without sacrificing taste. I am super excited to be partnering with Wewalka again to bring you this recipe, they truly have the most amazing dough! I have used them before in past recipes (before partnering with them) like my blueberry turnovers, so I am thrilled to be working with them officially!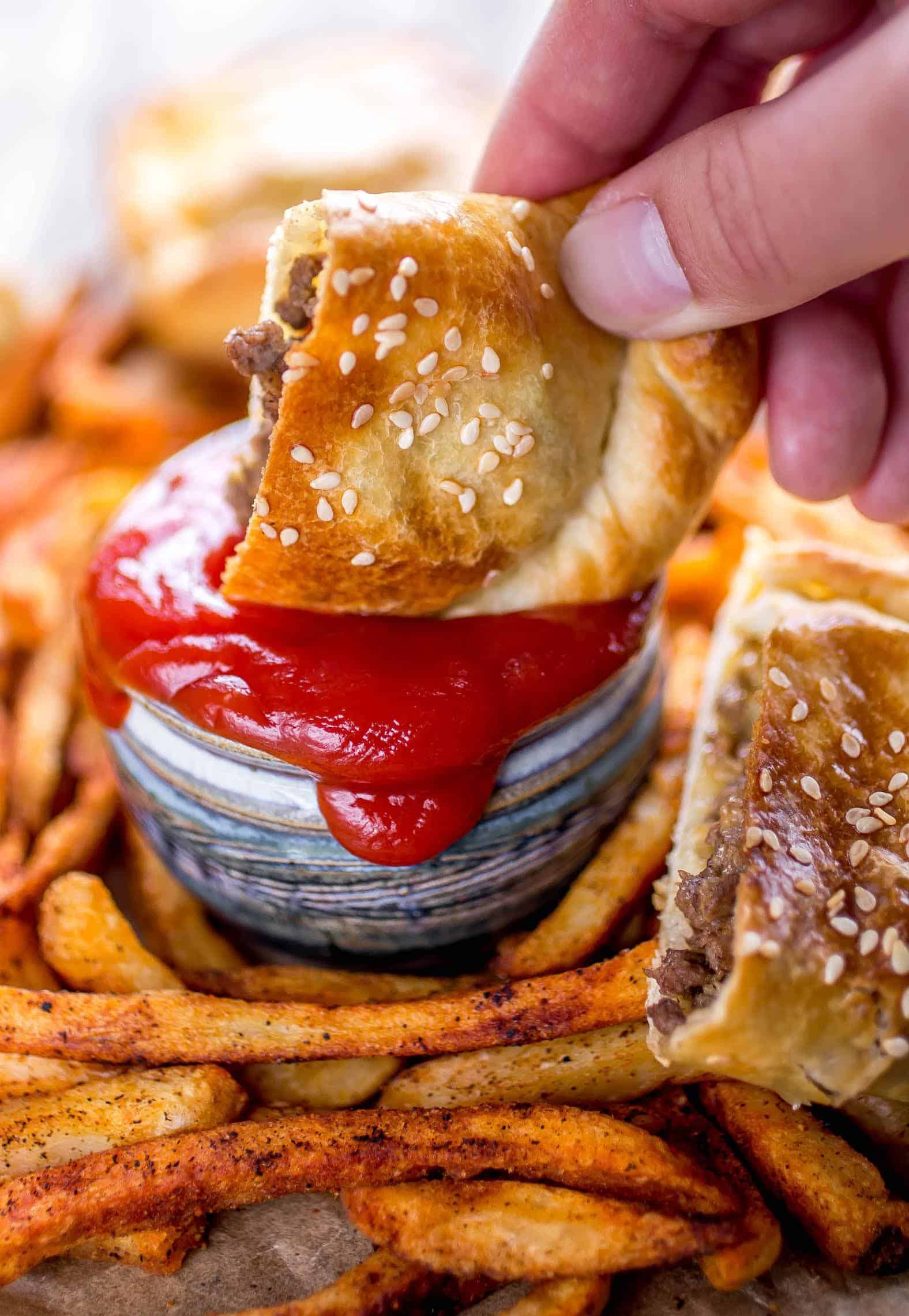 I may even love these cheeseburger pockets more than a traditional cheeseburger and I love a good cheeseburger so that's saying something. The dough bakes up nice and crispy on the outside and the ground beef on the inside gets nice and cheesy – the pickle is a nice touch too! To make these, you simply brown the ground beef and cook the onions at the same time. Drain the mixture and allow it to cool. Cut out the pizza dough squares and assemble them as you would layer a traditional cheeseburger.
The bottom is essentially going to be the top, so they'll be assembled that way. Place two pickle chips down, then two cheese halves – about the cheese: you can use any cheese you want! I just love to use American cheese with my hamburgers – then the ground beef. Close em' up, brush with egg wash. I added sesame seeds to the tops of these to add that extra hamburger bun flair. Cut them in half (or don't!) and dip them into your favorite dipping sauces!
You guys are going to love this fun twist on a cheeseburger!
Cheese Burger Pockets
Ingredients
1

pkg. Wewalka Classic Pizza Dough

1

Tbsp.

vegetable oil

1

lb.

ground beef

1/4

cup

yellow onion

diced

Salt and pepper to taste

6

slices

bacon

12

pickle chips

6

American cheese slices

cut in half

Egg wash

1 egg and 2 Tbsp. water, beaten

1

Tbsp.

sesame seeds
Instructions
Preheat oven to 425 degrees.

In a large skillet set to medium heat, brown ground beef and cook onion together. Season with salt and pepper to taste and drain. Transfer to a large bowl.

In the same skillet used prior, cook bacon until very crispy. Roughly chop into small pieces and toss with ground beef mixture.

Unroll refrigerated Classic Pizza Dough on enclosed parchment paper and place on a large baking sheet. Cut dough into 6 equal squares with a knife or pizza cutter.

To Assemble: Take one of the pizza dough squares and place two pickle chips in the center. Top with two cheese halves. Top cheese with about 1/4 cup ground beef mixture. Fold the two smaller sides in first, then the top and bottom. Pinch the seams together and flip over so seam side is down on the parchment. Repeat this process with the rest of the dough. Brush the tops with egg wash and sprinkle with sesame seeds.

Bake for 15-20 minutes or until lightly browned.