Homemade soft pretzels are easier to make at home than you think. So soft, so buttery, they're better than any food chain!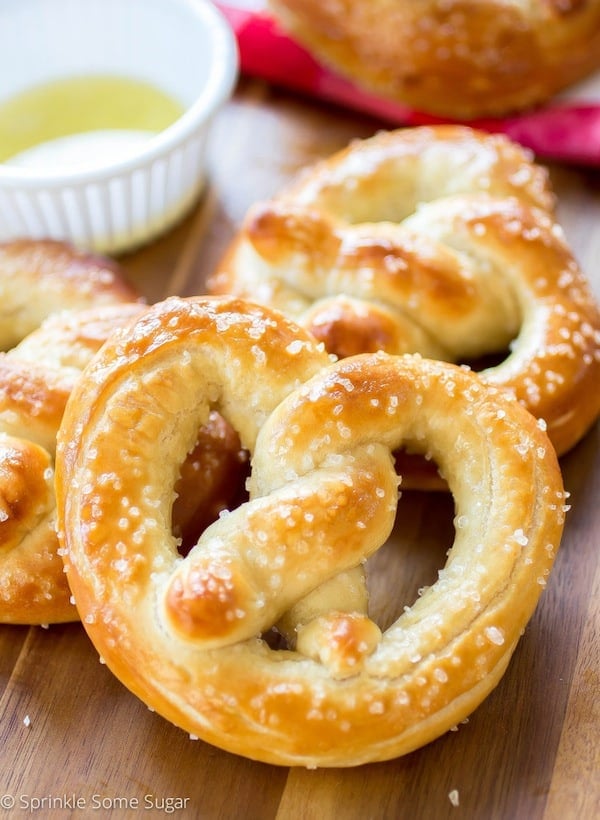 I have a slight obsession with soft pretzels. Where ever I am, if they are being offered, there's a good chance I'm getting one.. or three. Call it a guilty pleasure but now that I can make homemade soft pretzels that are even better than any Mall chain (Auntie Anne's, oh how I looove you), my life is practically made.
These pretzels turn out perfect every time. They have a slightly chewy exterior like a good soft pretzel should, while the inside is super soft and buttery. The flavor is out of this world! I mean, they are bathed in butter as soon as they come out of the oven. This recipe is basically like hitting the jackpot. No more standing in horrendously long lines and spending a crazy amount of money on one pretzel when you can spend that amount or less and make an entire batch!
They are easier to make than you think, too! Don't be afraid of working with yeast, it's really very simple if you follow my simple directions. 🙂
Placing the pretzel dough in a warm baking soda bath is KEY to a chewy, pretzel exterior that we all know and love! To get that beautiful golden brown color, they need to be submerged into an alkaline solution.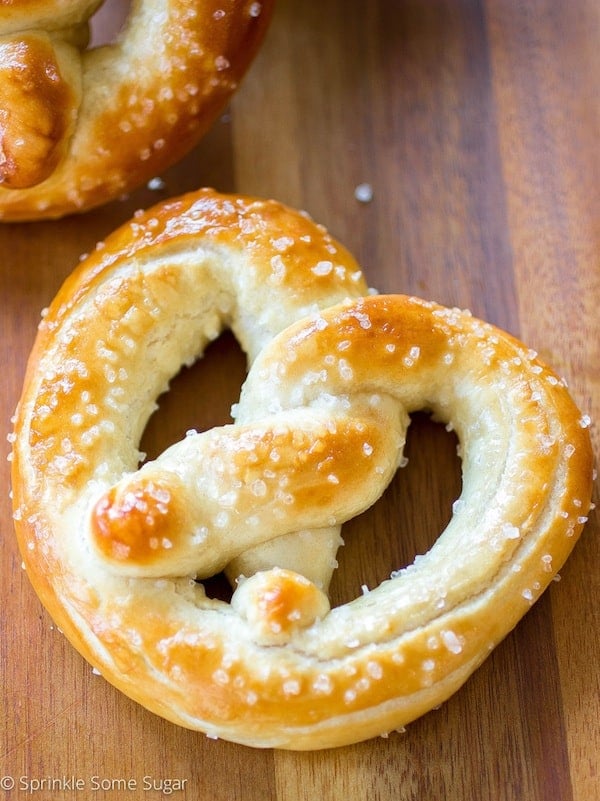 Also, if you'd like to make these for game day or any other event that you'd like to feed more people, you can cut the ropes of dough into 1-2 inch pieces to make little soft pretzel bites! See my recipe notes. So yum.
Homemade Soft Pretzels
These Homemade Soft Pretzels are so soft and buttery, they're better than any food chain. Not to mention, they are incredibly easy to make!
Ingredients
2 ¼

tsp

active dry yeast

1 standard packet

1

cup

warm water

1

tbs

unsalted butter

melted

1

tsp

sugar

1

tsp

salt

3

cups

all-purpose flour + up to ¾ cup more if needed
2 cups water
4

tbs

baking soda

1

tbs

coarse salt

for sprinkling on top
6 tbs salted butter, melted
Instructions
Preheat oven to 475 degrees and line a large baking sheet or two baking sheets with parchment paper.

Combine yeast with warm water and sugar in the bowl of your stand mixer fitted with hook attachment. Once mixture becomes "frothy" your yeast is ready. Stir in salt and 1 tbs of melted butter. Add flour 1 cup at a time until a dough forms and is no longer sticky. You may need more or less depending on temperature differences. If you press your finger into the dough and it bounces back, it's ready to knead. Knead dough for 5 more minutes until smooth and pliable. Form dough into a ball and place it back into the bowl to rest for 15 minutes. During this time, prepare baking soda bath.

In a medium sized pot, boil 2 cups of water with 4 tbs of baking soda. Once the baking soda is mostly dissolved, take mixture off heat and allow it to come down to a lukewarm temperature. Pour into a 9x9 baking dish once cooled down.

At this time, 15 minutes of dough resting time should be up. Take dough out of the bowl and flatten slightly with the palm of your hand. Cut dough into 8 sections (like a pizza). Roll each triangle into a long rope, about 19-20 inches long. Shape dough into pretzel shape and place in baking soda bath for 2 minutes. If the whole pretzel isn't covered by the water, spoon it on top of the areas is doesn't reach. Once the 2 minutes is up, carefully pick pretzel up either by your hand or with the help of a fork and place on prepared baking sheet. You may have to re-shape slightly. Sprinkle the pretzel with coarse salt while still wet (optional). Repeat these steps until all 8 pretzels are prepared and on the baking sheet(s).

Bake pretzels for 8-9 minutes or until golden brown. Immediately from the oven, brush (heavily) with 6 tbs of melted butter.

These homemade soft pretzels are best served hot and fresh out of the oven but will keep for about 2 days stored at room temperature in an airtight container. Pop them in the microwave and they're good as new!
Notes
Make Ahead Instructions: Prepared dough can be made one day in advance. Shape the pretzels and allow them to rest for 10 minutes before popping them into the oven. Prepared dough can also be frozen for up to 3 months. Thaw frozen dough overnight in the refrigerator.
Freezing Instructions: Freeze baked and cooled pretzels for up to 3 months. To reheat, bake (frozen) at 375 degrees for 15-18 minutes or until center is warmed through. You can also microwave for a few minutes until heated through.
Pretzel Bites: When rolling dough into a long rope in step 4, instead of shaping pieces into a large pretzel, cut the dough into 1-2 inch pieces. Follow the rest of the recipe instructions.
Recipe slightly adapted from King Arthur Flour.