Perfectly spiced potato wedges that are perfectly crispy on the outside and tender on the inside.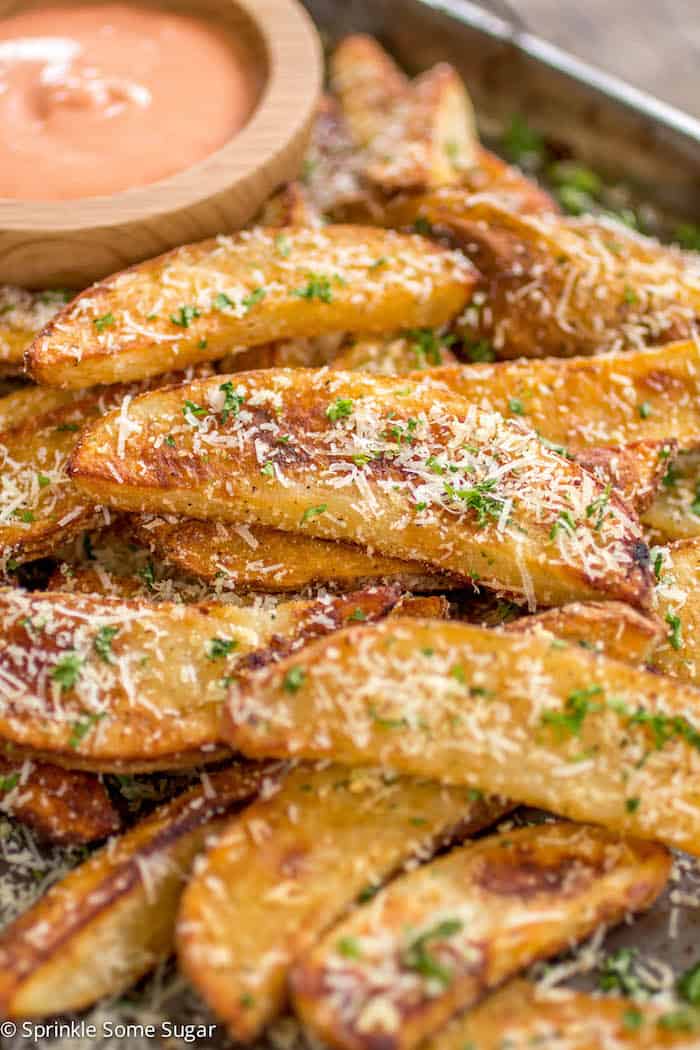 Confession: I am a potato wedge ADDICT. I have made these at least 10 times in two months. That's a lot of potatoes! I am sooo in love with these you guys, they are so, so, so good! Since I love them so much, I can justify them as a side for almost any meal. Burgers, obvious yes. Chicken cutlets, yep. They can honestly go with anything and they are amazing. I usually don't eat much of my dinner and wind up saving all my room for these guys. #carbsforlife Anyway, you can throw these together so quickly and the ingredients are stuff you probably already have on hand, granted you have potatoes.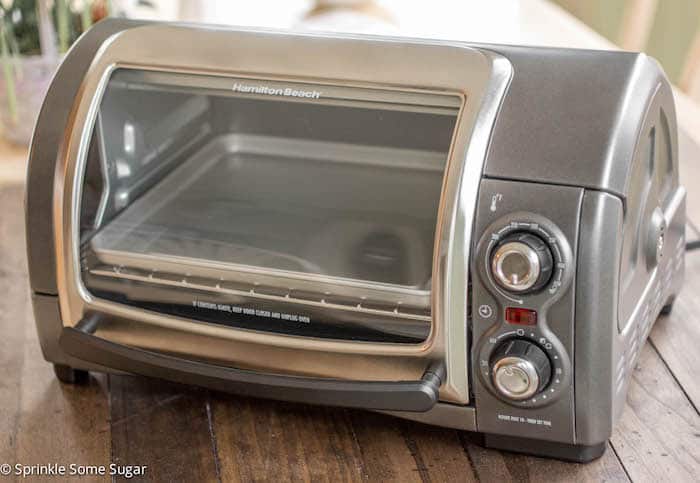 This year I'm partnering with Hamilton Beach and they were generous enough to send me one of their awesome toaster ovens to cook up some recipes. This one in particular is so awesome because of the roll top door! It gives you easier access to your food and theres no need to move everything so the door can come down since it slides right up. For this recipe, you can totally make them in a toaster oven but you'll obviously need to make them in batches or just simply scale down the recipe! You can bake all of the potatoes in one shot right in the oven on a large baking sheet.
To make these crispy potato wedges, you'll start off by soaking the potatoes in ice water for 20-30 minutes. This step is optional but HIGHLY recommended because this process removes any excess starch in the potatoes making the result as crispy as possible. Then, the potatoes will get a seasoned olive oil bath and then they'll get placed on the baking sheet to bake up for 45 minutes, flipping them half way through. While they are still hot, you'll toss them with some fresh parsley and freshly grated cheese.. heavy on the grated cheese!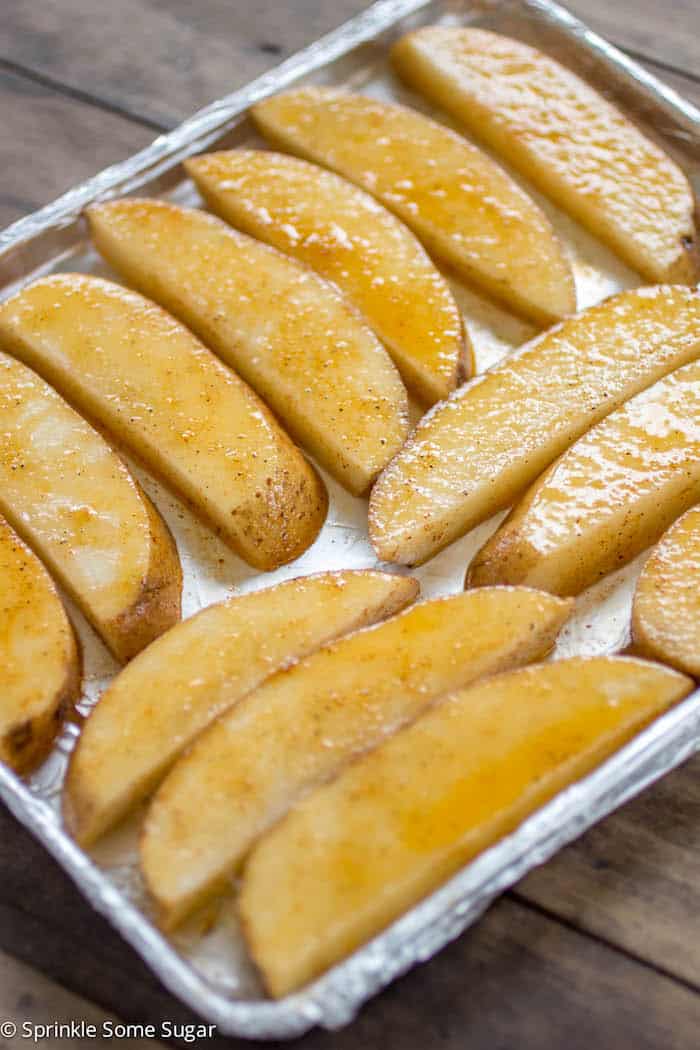 My favorite part about this recipe is the sauce! I've posted this recipe in the past with these onion rings (excuse the horrid photos) and I still am obsessed with it today. It's just a mixture of ketchup, mayo and a bit of buffalo sauce or your favorite kind of hot sauce. So simple but so addicting with these fries!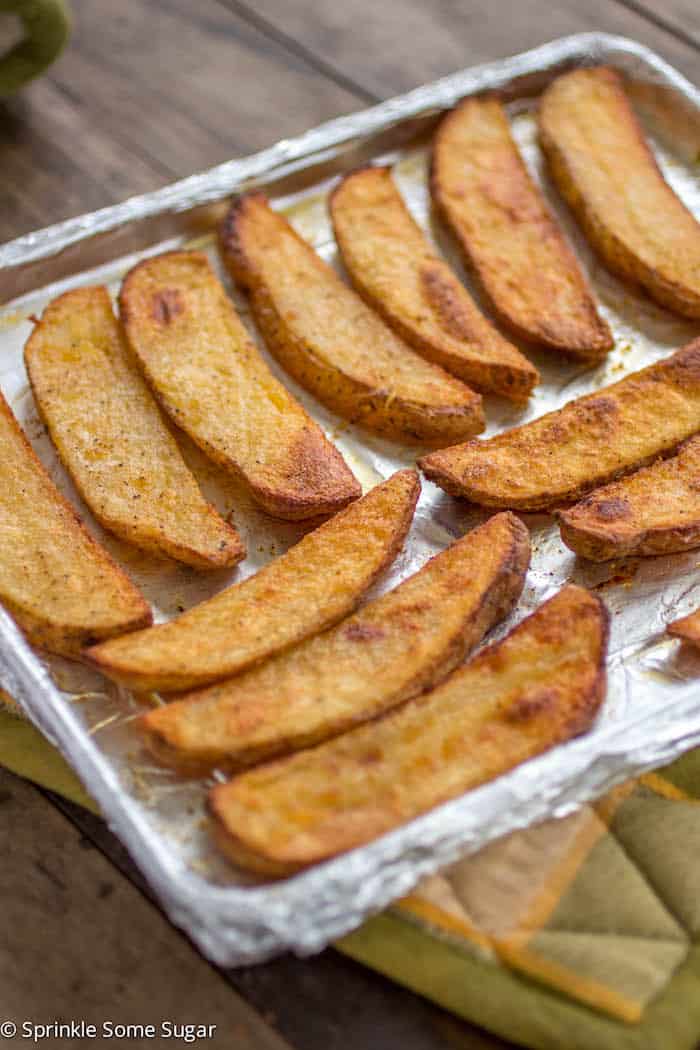 The end result is perfect potato wedges that are crispy on the outside and nice and tender on the inside. Perfection! I'm telling you, if you or anyone in your family is anti-potato wedge (ahem... Mike! Who hand is starring in the photo below.) you will win them over with this easy recipe!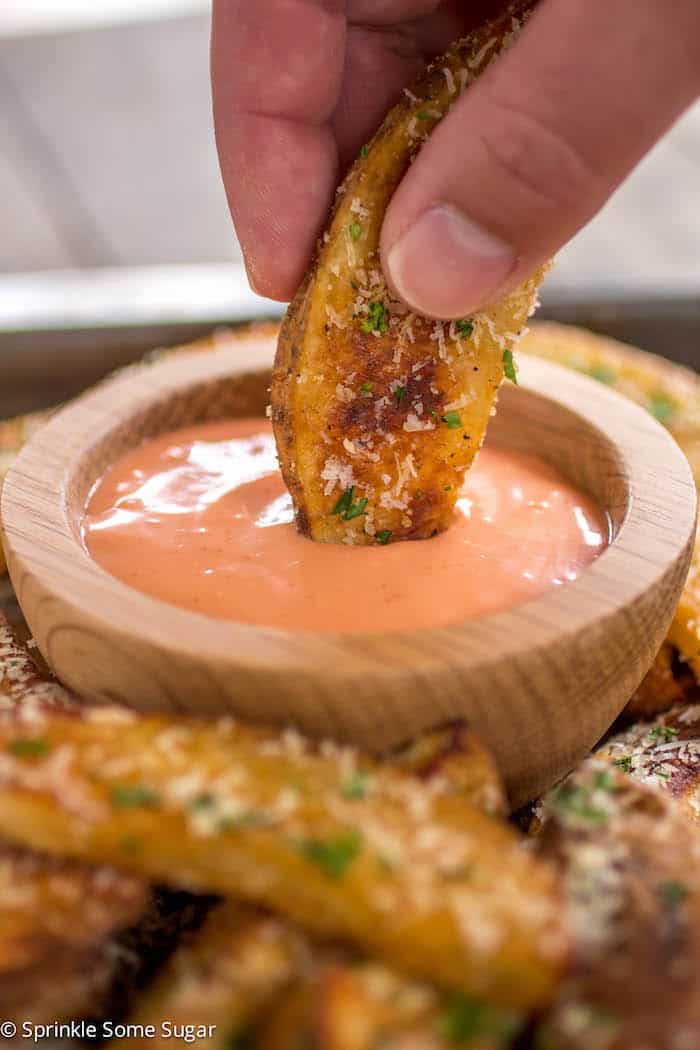 Crispy Potato Wedges
Ingredients
4

russet potatoes

cut into wedges

3

tbs

olive oil

½

teaspoon

salt

1

teaspoon

garlic powder

1

teaspoon

paprika

2-3

tbs

fresh parsley

¼-1/2

cup

freshly grated parmesan cheese
Instructions
In a very large bow, add potato wedges and enough cold water & ice to cover. Allow the potatoes to soak for 20-30 minutes.

Preheat oven to 450 degrees. Line a large baking sheet with foil and grease VERY well with cooking spray.

In a small bowl, combine olive oil, salt, garlic powder and paprika. Stir well. Drain potatoes and put them back into the bowl. Drizzle oil on top and toss wedges around until fully coated. Arrange potatoes on prepared baking sheet on their sides. Roast for 15 minutes, take the pan out and flip them over onto their other side with tongs - be careful they are extremely hot! Bake for another 25-30 minutes OR until the wedges are fork tender. At this time, if you want them to be a little crisper, turn the oven to broil and broil for a few minutes being sure to watch them carefully because they can burn very quickly.

While the potatoes are still hot, sprinkle fresh parsley and parmesan on top and toss to coat. Serve immediately.

Crispy Potato Wedges will keep for up to 2 days stored in an airtight container in the refrigerator. To reheat just simple heat them in the oven or toaster oven for a few minutes.
This post is part of a brand ambassadorship I have with Hamilton Beach. I was provided product to complete this post and as always, all opinions are 100% my own.