Creamy brie cheese and sweet homemade cherry preserves are wrapped up in a buttery and flakey dough for a delicious combination.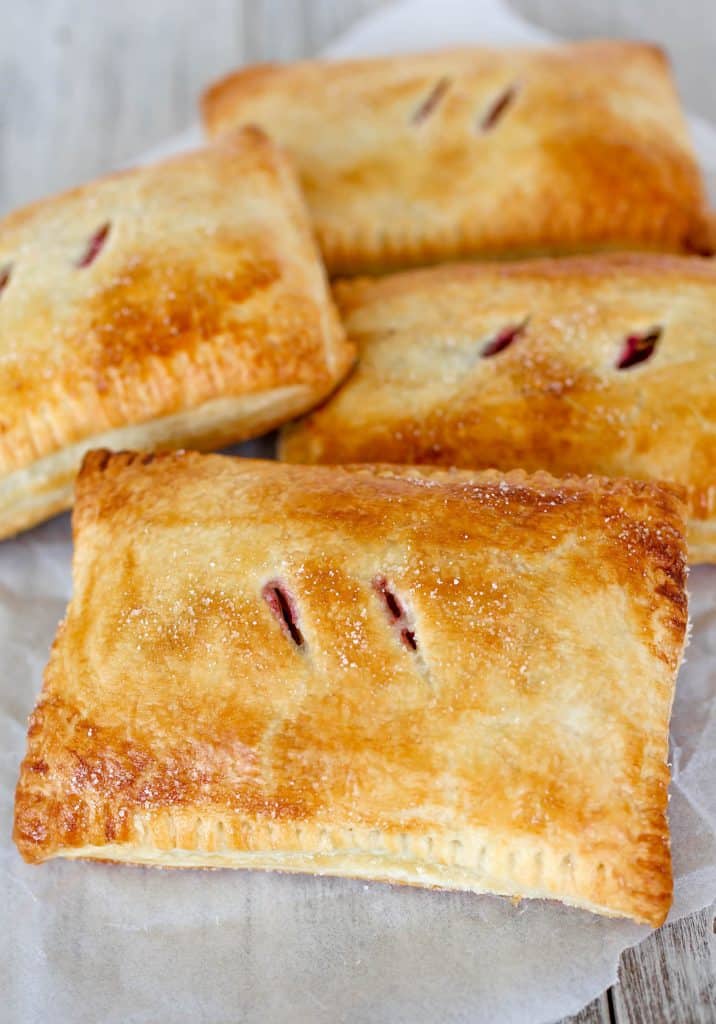 Give me allllll the brie! I have become obsessed with brie lately. I love it all ways – hot or cold. But my favorite way to favorite way to eat it that I don't have as often as I'd like, is wrapped and baked in puff pastry. I have raves over and over again about how much I love Wewalka's Puff Pastry Dough (and all of the other kinds they have). It's buttery, and EXTREMELY flakey – it's seriously amazing and you would never know it is store-bought. There's something about the delicious, flakey dough filled with creamy brie cheese that I just go nuts over! Spreading jam all over it is obvvvviously mandatory, so I decided that baking it inside the pockets would be a better idea, save a step to get it in my face faster. Ya know? Haha.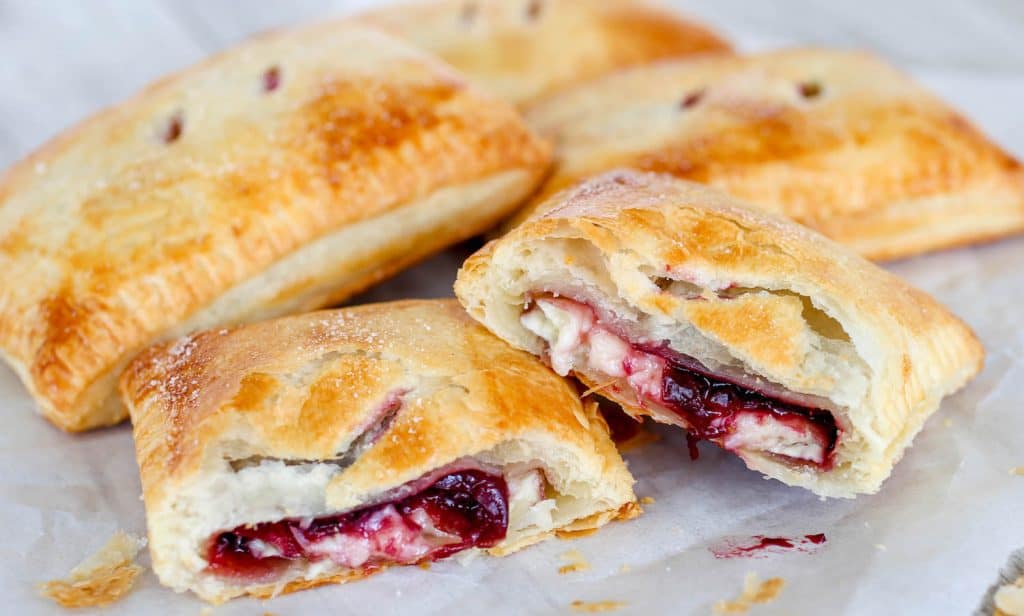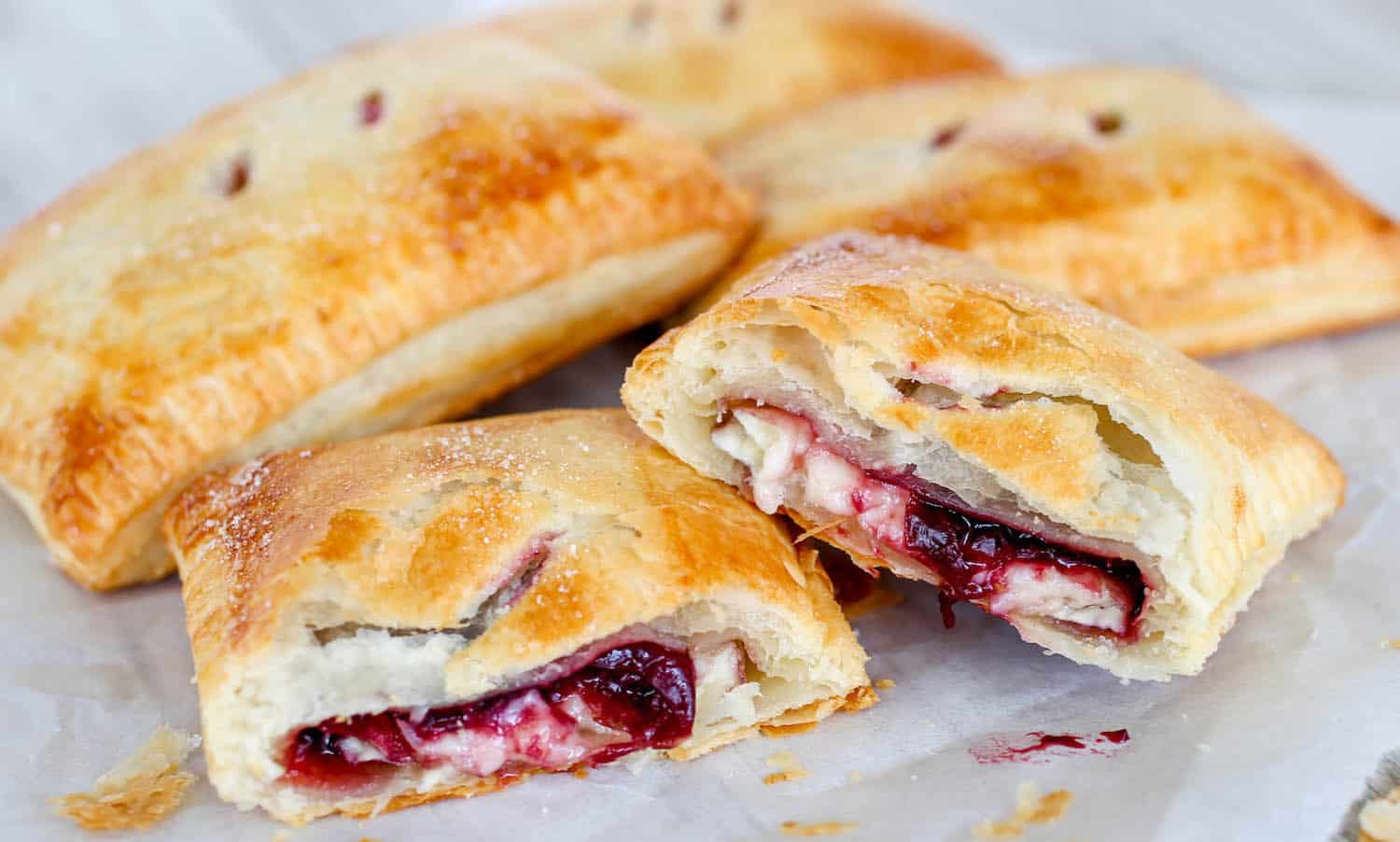 I started by making homemade cherry preserves. You can buy your preserves if you'd like, but making them at home is so ridiculously easy and tastes so much better that its worth it to just make it yourself. Trust me, you'll thank me! To make them, frozen cherries go into a pot with a bit of sugar and simmer for a bit to release their juices. I like to use frozen fruit for making preserves because I feel like I get much more gooey liquid out of them. You'll mash them down just slightly to release more juices and a mixture of cornstarch and water is added to thicken them up.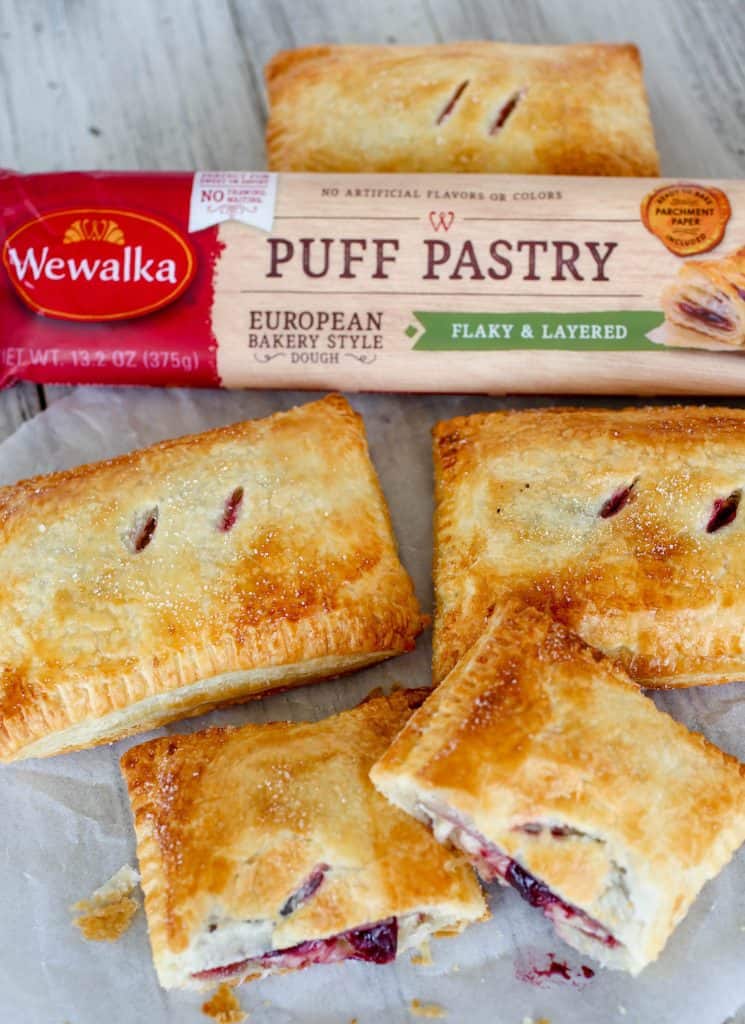 Assembling the pockets is super easy. You'll cut the dough into 8 rectangles, place a slice of brie on the center of 4 of them, and top with the cherry preserves. The remaining 4 pieces of dough go on top and pinched together with a fork. Then you'll brush them with egg wash and sprinkle with sugar. Bake them up and watch how golden brown they get! Mmmm, so good.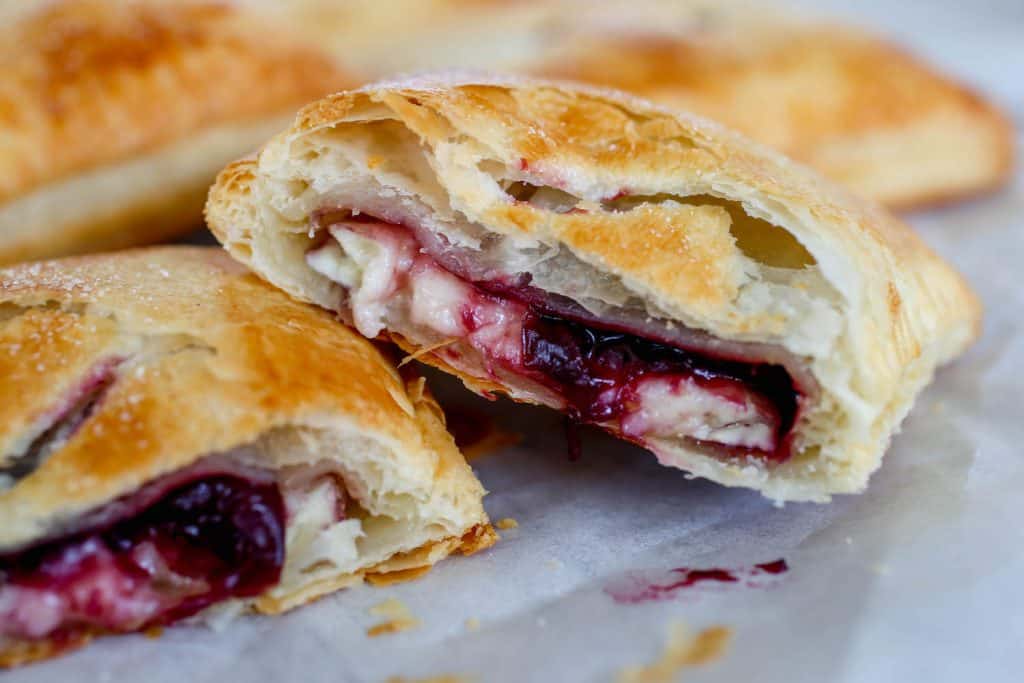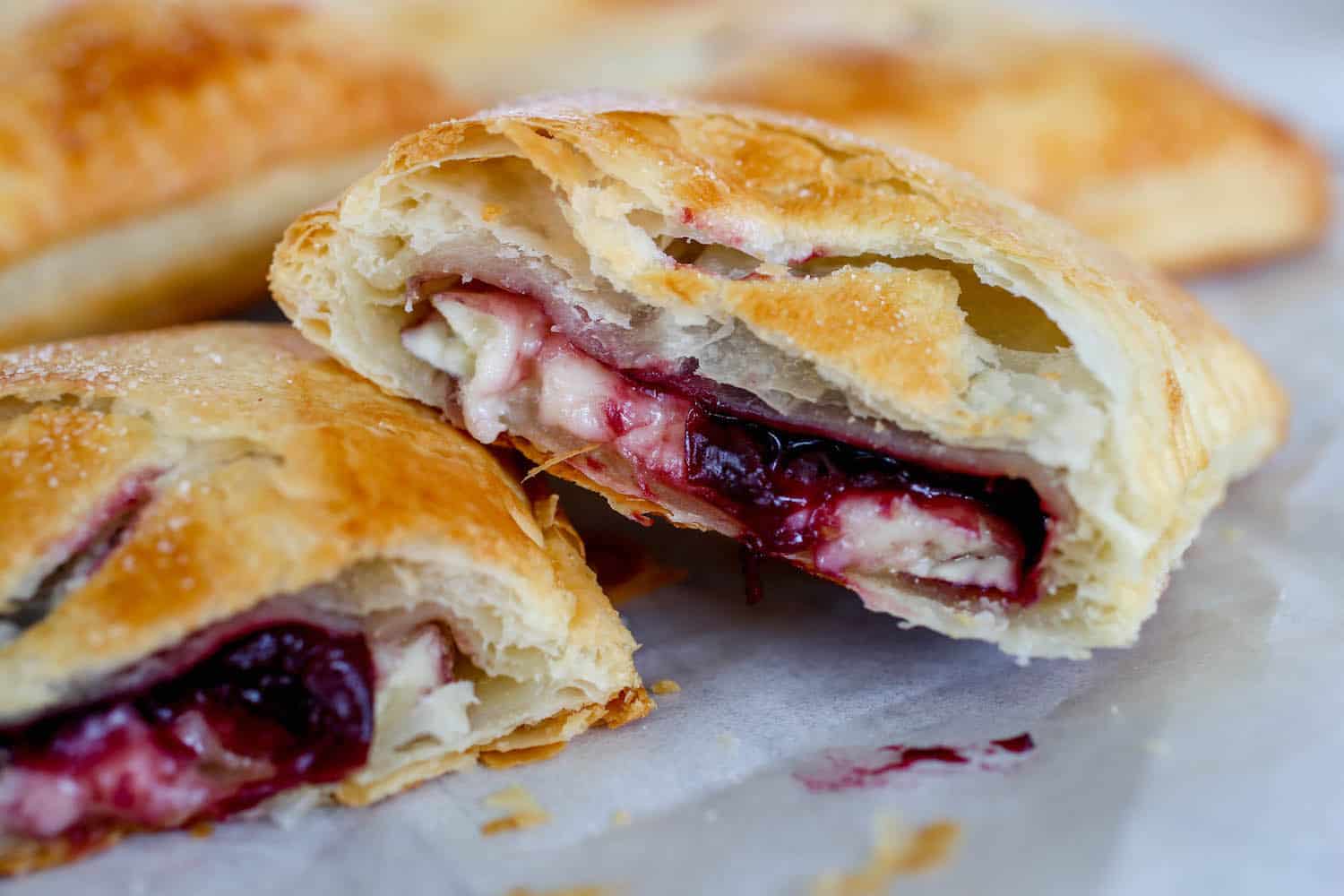 These are so perfect for brunch, breakfast or any holiday party!
Cherry and Brie Puff Pastry Pockets
Ingredients
6

oz

frozen dark sweet cherries

1/4

cup

granulated sugar

1/2

tbs

corn starch

1

tbs

water

1

pkg. Wewalka Puff Pastry Dough

8

oz

brie cheese

sliced into rectangular slices

1

egg

2

tbs

water
Instructions
Preheat oven to 400 degrees.

In a medium sized saucepan, heat cherries and sugar on medium-low heat, stir well. Press the cherries down with the back of your spoon, mashing them slightly to release more of their juices. Simmer for 5 minutes, stirring frequently. Whisk corn starch and water together and add to cherries, stirring until thickened. Remove cherry preserves from heat and allow to cool completely.

Unroll refrigerated Puff Pastry Dough on enclosed parchment paper and place on a baking sheet. Using a pizza wheel or a sharp knife, cut dough into 8 pieces. On four of the pieces, lay a slice of brie and spoon about 2-3 tablespoons of cherry preserves on top of each. Cover each piece with a piece of remaining dough and pinch the edges of pockets shut with a fork.

In a small bowl, whisk the egg and water together. Brush the tops of each pocket with a light coating of egg wash and sprinkle with sugar. With a sharp knife, cut two slits into the tops of each pocket to allow air to be released.

Bake for 15-20 minutes or until lightly browned.