This bread is so delicious and addicting. It's the perfect addition to your St. Patty's Day spread!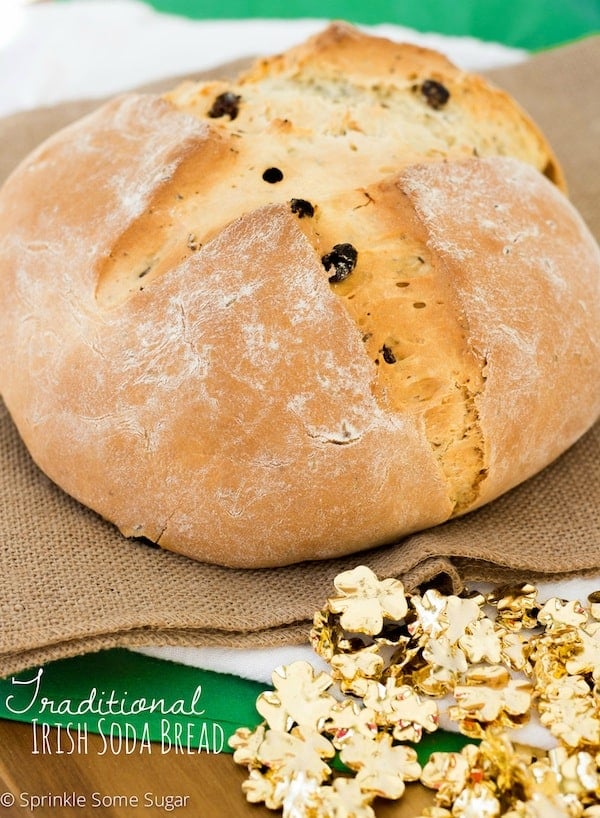 Hey guys, before I tell you about this awesome bread, I wanted to apologize for my site being down multiple times this week. It's been so frustrating because it was a problem with my hosting company and was completely out of my hands. Everything seems to be working well now so fingers crossed it stays this way!!
One of my favorite newest traditions each year is making Irish Soda Bread for St. Patty's Day! If you couldn't tell by how crazily pale I am, I am half Irish (the other half Italian, but you would never, ever know it..) so it's so much celebrating this holiday! This recipe is for a traditional Irish Soda Bread that was given to me by my cousin that makes it every year for her family. I have yet to try her bread but it always looks awesome in pictures so I knew I had to try it and here we were today, another year, another loaf of soda bread!
This bread comes out so delicious. The combination of the raisins and caraway seeds is ridiculous. If you are afraid of caraway seeds, DON'T BE! I was and I would never, ever leave them out because it gives the bread the best flavor. Almost like a rye bread-ish flavor. I understand if you're afraid of them though. Mike would never go near this bread with a ten foot pole, it doesn't matter how much I beg and plead for him to try it, he won't! Such a baby. Ya know what that means though.. more for me!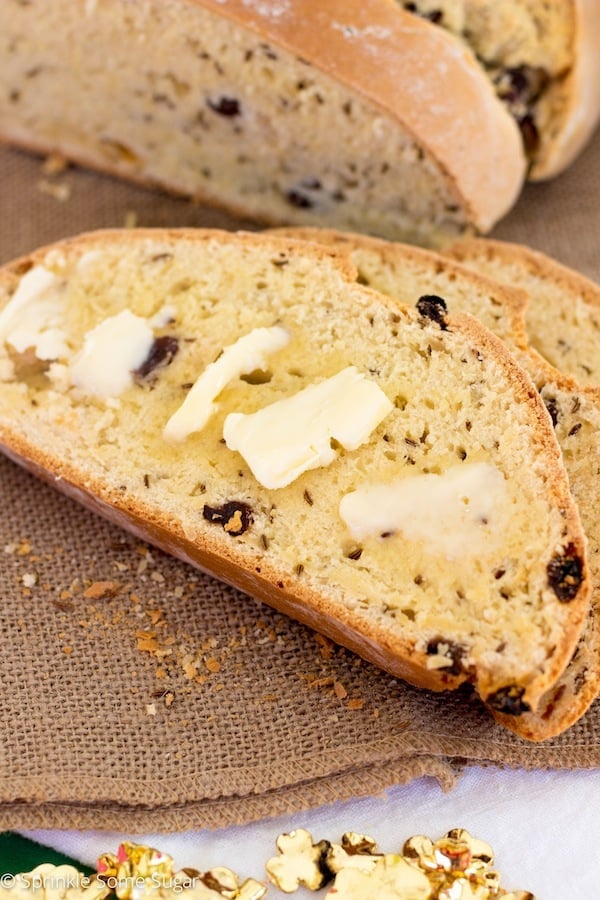 Irish soda bread is super easy to prepare and without the addition of yeast and having to wait for it to rise, it's a breeze! You just whip up the dough, knead it a little bit and bake it up. If you read through the recipe and have the ingredients ready it should only take about 10-15 minutes to get the dough together and ready for the oven! After about 45mins-1 hour the bread will be a beautiful golden brown color (mine usually bakes closer to the 1 hour mark). The bread is done when you tap on the outside and it sounds hollow. If you are really unsure, which I always am because baking bread gives me anxiety, I like to stick a skewer or something similar into the side of the loaf all the way to the middle just to make sure it's cooked through. That's probably a really unprofessional tip there, but hey, if it works it works.
This traditional irish soda bread is a must for this St. Patty's Day! I know ours wouldn't be the same without it 🙂
[pinterest]
Traditional Irish Soda Bread
Ingredients
4

cups

all-purpose flour

¼

cup

granulated sugar

1

tsp

salt

1

tsp

baking powder

1

tsp

baking soda

¼

cup

unsalted butter

cold and cubed

1 ⅓

cup

buttermilk*

1

egg

lightly beaten

1

cups

raisins

3

tbs

caraway seeds
Instructions
Preheat oven to 375°. Line a baking sheet with parchment paper and set aside.

In the bowl of your stand mixer using your paddle attachment, stir the flour, sugar, salt, baking powder and baking soda on low speed for a few seconds to combine. Add in the cold butter cubes and mix on medium speed for 3 minutes until butter is coarse and crumbly. Turn speed to low and add raisins and caraway seeds just for a second to evenly disperse them throughout the flour mixture.

In a separate bowl, whisk the buttermilk and egg together until fully combined. Switch over to the dough hook and gradually add buttermilk and add to flour mixture on low speed. Knead for 1 minute or until the dough is together. If the dough is still sticky and unworkable, add up to ¼ cup more as needed. Please keep in mind though, that the dough should be slightly sticky, but it shouldn't stick to your hands. After a minute, shape dough into a ball and knead on a lightly floured counter for another minute until you have a soft, smooth dough. Shape the dough into a ball and smooth some flour over the top so it has a very light coating.

Cut a ¼ inch deep "X" into the top of the dough. Bake for 45 minutes - 1 hour or until top is golden brown. The bread is done when you tap on the outside and it sounds hollow. If you are still unsure, stick a skewer or similar object through the side to the middle and make sure it's cooked through.

Transfer bread to a wire rack to cool a bit then cut and serve. Best served warm with butter.

Traditional Irish Soda Bread will stay fresh for up to 3 days stored in an airtight container at room temperature.
Notes
*Be sure to use REAL buttermilk, no substitutions.
[pinterest]