This Grilled Caprese Flatbread is the perfect appetizer made with delicious fresh tomatoes, basil and creamy mozzarella cheese. The balsamic glaze is the final touch that brings all of these delicious flavors together.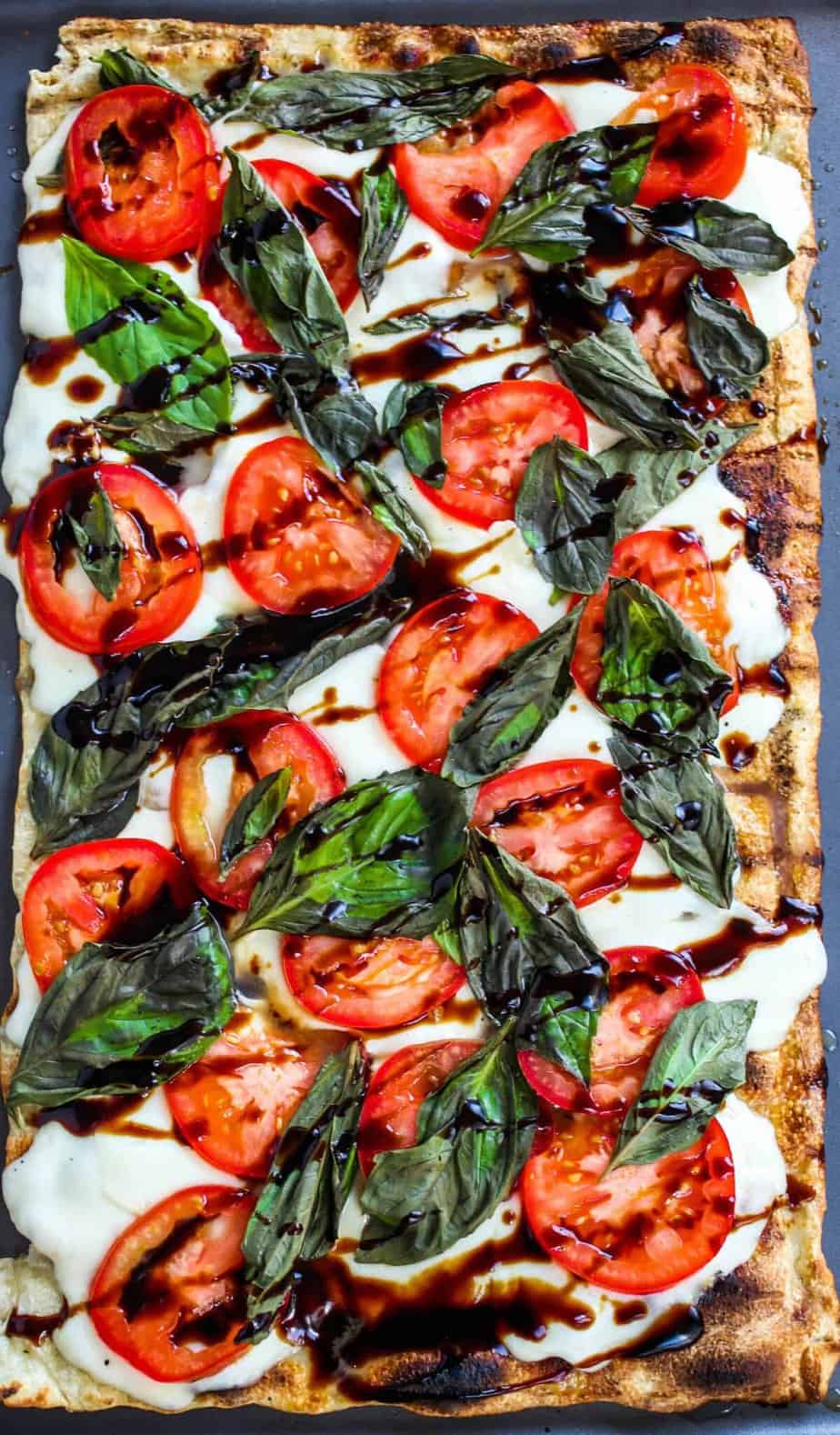 Before I get into this recipe, I have some pretty exciting news for you guys! As I am writing this post, I am currently staring at my 4 day old baby boy! The past 4 days have been such a whirlwind of emotions and we couldn't be happier or more excited to finally be back in our own home to start life with our little man as a family of four. Ryan Thomas, you've already brought us so much joy, I cannot wait to see what is in store for us! I'll share a little photo of me and the babes from the hospital below. Gosh, I just love his little sweet face!
With the warm weather coming to an end very soon, I am still trying to come up with every excuse to use our grill! Just trying to savor these last few weeks until we can't really use it anymore. Am I the only one that does this? I just love grilling! Instead of making this flatbread in the oven, I thought it would be a fun idea to grill it to add some extra flavor. I love the subtle charred taste that the grill marks give the crust!
To prepare this recipe, I like to start by prepping the balsamic glaze so it will be done by the time the flatbread is done one the grill. All of the ingredients get dumped into a small pot and simmered until thickened.
For the flatbread, I start with my favorite refrigerated Wewalka Flatbread Dough. Whether baking it in the oven or on the grill, the dough cooks up to thin and crispy perfection every single time - it truly is the best! The dough comes perfectly wrapped on a piece of parchment paper so if you were to bake in the oven, you literally just unroll it and place it on a baking sheet! So awesome. But this works well for any cooking method like on the grill as we are doing here today.
Once your grill is preheated and lightly oiled, you'll want to unroll the dough - leaving it on the parchment - and season it with a little salt, pepper and a light brushing of olive oil and place it on the hot grill with the dough facing down. The parchment will stay facing upwards and you can peel it away once the crust cooks through and is firm enough to allow the parchment to come off.
Once you flip your dough, it's time for toppings! Spread the mozzarella, tomato slices and basil out evenly and close the grill to get everything hot and melty. Drizzle the balsamic glaze on top, cut and serve! You guys are going to love this.
Grilled Caprese Pizza
Ingredients
Balsamic Glaze
½

cup

balsamic vinegar

1

tablespoon

honey
Flatbread
1

pkg. Wewalka Flatbread Dough

2

tablespoon

olive oil

divided

salt and pepper

to taste

16

oz

mozzarella cheese

sliced

4-5

roma tomatoes

sliced

½

cup

fresh basil leaves
Instructions
In a small saucepan set to medium-low heat, stir balsamic vinegar and honey together. Allow mixture to come to a gentle boil. Once boiling, reduce heat to low and allow to simmer for 5-10 minutes, stirring frequently to prevent scorching, or until reduced by almost half. Balsamic reduction is done when it coats the back of a spoon. Set aside to cool.

Preheat grill to medium heat. Prepare sliced mozzarella cheese, basil and sliced tomatoes on a tray and place near grill for easy access.

Unroll refrigerated Flatbread Dough and brush lightly with olive oil and sprinkle with salt and pepper.

Transfer the dough to the grill with parchment side up. Allow the dough to cook until stable and parchment can easily be peeled off the top.

Once paper is removed, allow to cook until lightly browned on the bottom. Flip over with a pair of tongs and spread all toppings on top.

Turn down the heat and close the lid until cheese is melted.

Once all cheese is melted, remove from the grill, drizzle with balsamic glaze and serve.