Creamy, cheesy filled jalapeños are wrapped in a layer of juicy, crispy bacon. Talk about mouth-watering!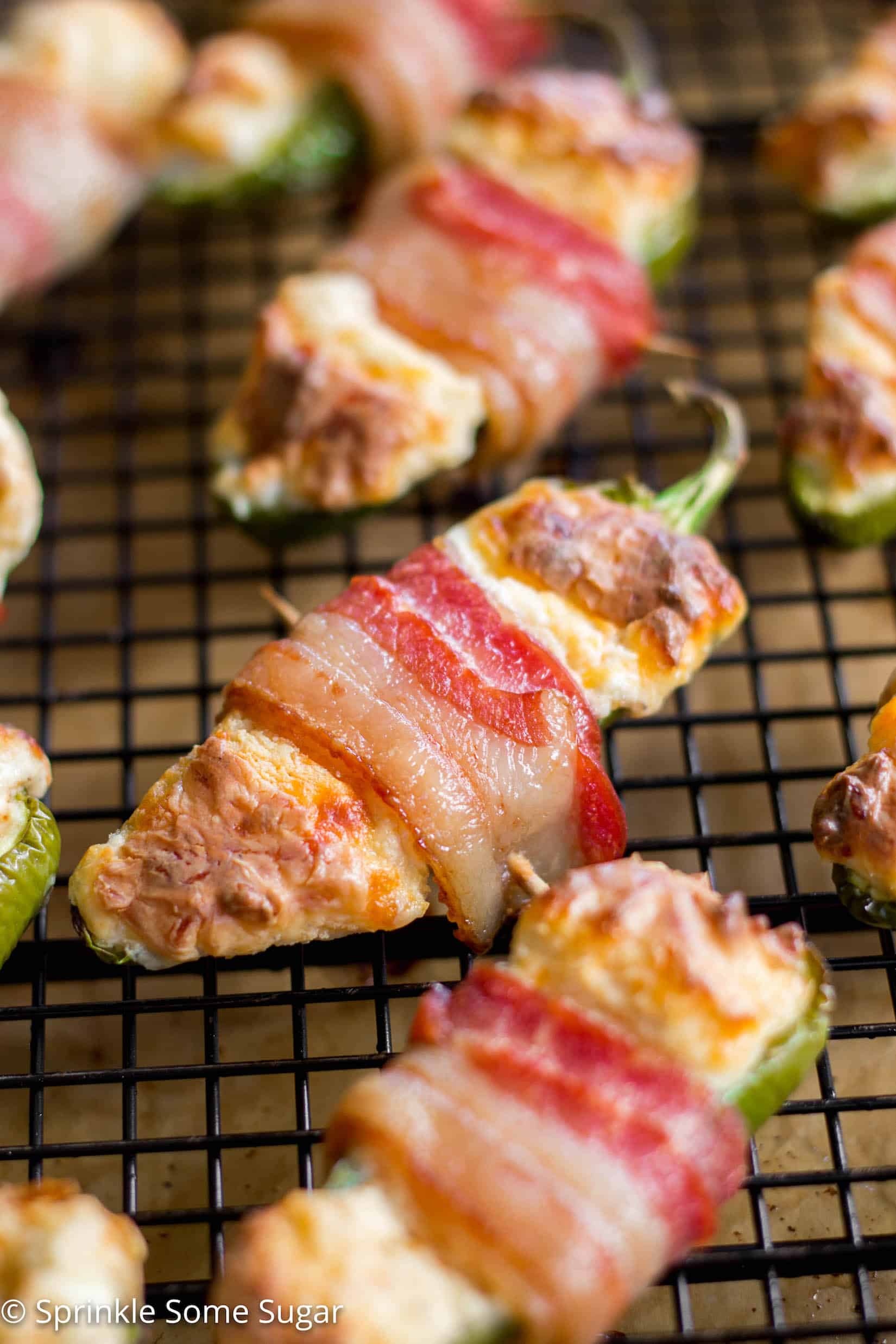 Football season is here, my friends. My favorite thing about any game day is the food! While I'm not too knowledgable about those little guys running across my tv screen, I'm always up to make some delicious food for everyone to enjoy. I'm always making all kinds of things like my favorite chili, these kielbasa bites and these bacon-wrapped jalapeño poppers have changed the appetizer game for me! They are unbelievably tasty and everyone is sure to enjoy them. I mean.. the first two words of the title are bacon-wrapped. Hello lover.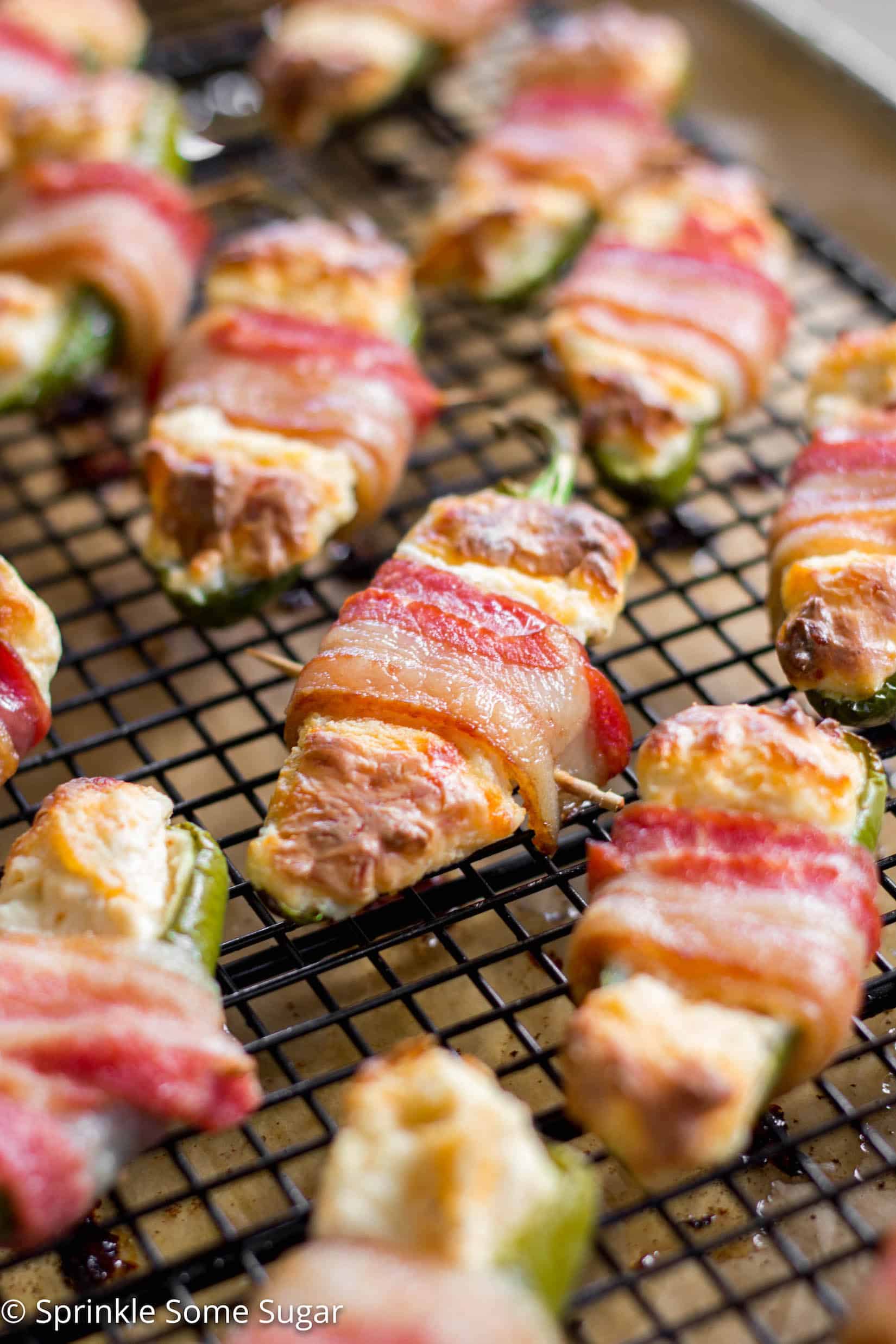 These aren't too spicy either since the seeds get taken out. SPEAKING OF THAT! Wear gloves while removing seeds. I REPEAT: wear GLOVES while removing those dang seeds! or just use a utensil to help you out. This was my first time really handling jalapeños so I wasn't aware of the fact that my fingers would feel like they were on freaking FIRE for hours after removing the seeds. So please take caution and learn from my mistake here. 🙂 In all honesty though, my burnt fingers were totally worth it once I bit into one of these bad boys.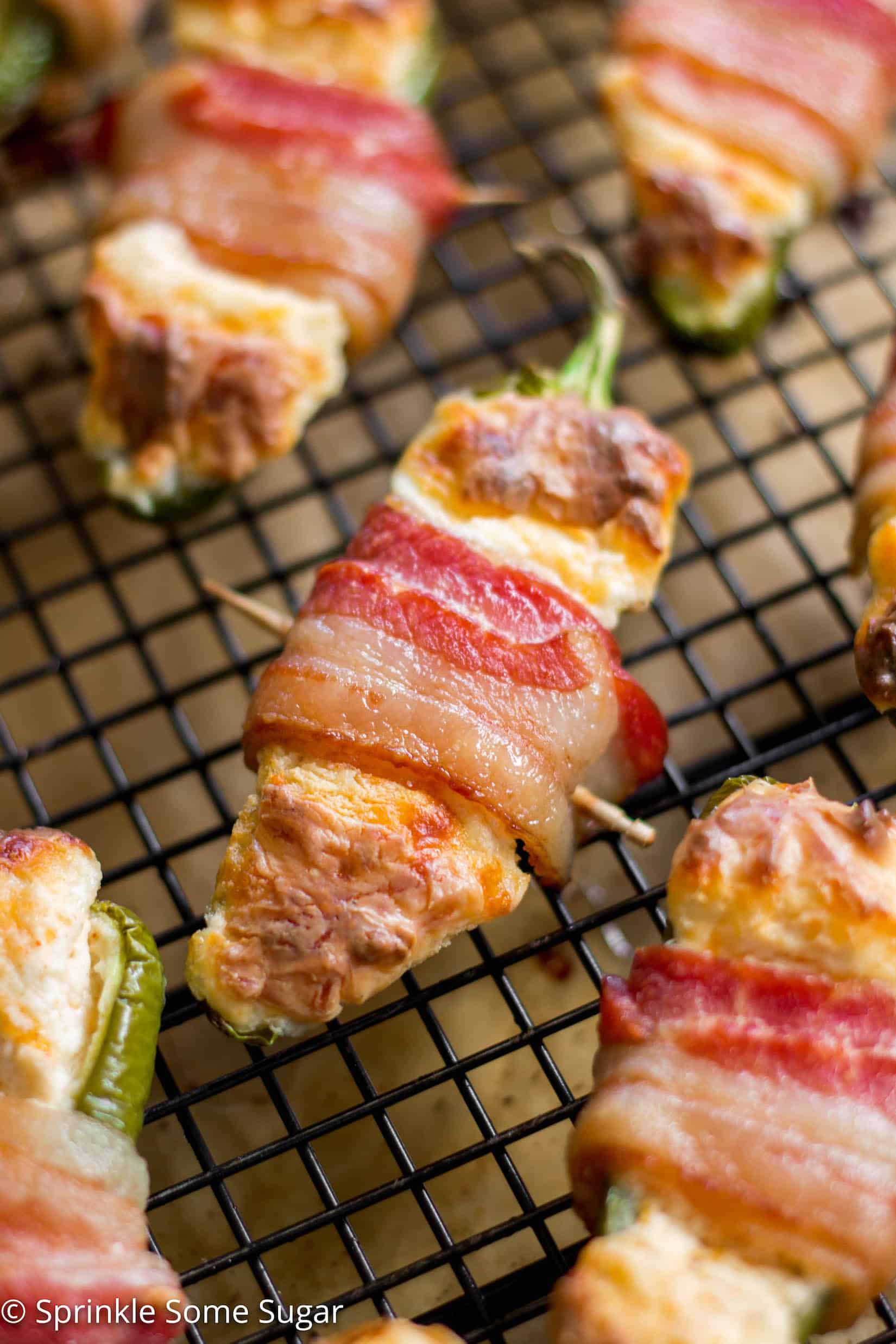 Preparing these are a cinch! The peppers get sliced in half and the membranes + seeds get removed. You'll whip up the filling, it's just a few ingredients and the peppers get stuffed with this delicious concoction. Last but certainly not least, you'll wrap a (half) piece of bacon around the outside of the peppers and secure with a toothpick, if needed. At this point, you can refrigerate them for a day or so before baking so they are made ahead of time for when you ned them. Bake these suckers up until the bacon is crispy, being careful not to let the filling darken too much, just a little char is what you're going for here. If desired, you can set the oven to broil to make things nice and crispy for a minute before taking them out.
📋 Recipe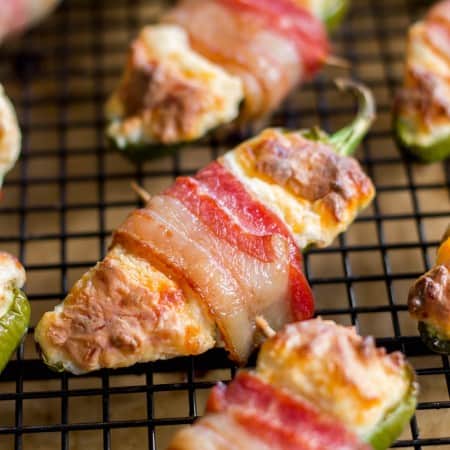 Bacon-Wrapped Jalapeño Poppers
Jessica
Ingredients
10 jalapeño peppers
½ cup mozzarella cheese
½ cup Monterey / pepper jack cheese
8 oz cream cheese room temperature
⅛ teaspoon garlic powder
⅛ teaspoon onion powder
¼ teaspoon paprika
salt and peper to taste
1 1 lb thick cut bacon each piece cut in half
Instructions
Preheat oven to 400 degrees. Line a large baking pan with foil and place a baking/cooling rack on top. This will keep the peppers from getting soggy and the foil underneath will catch any juices or cheese from falling.

Cut peppers in half and remove seeds and membranes very carefully. Use a utensil to help out or wear gloves. the seeds WILL burn your fingers.

In a medium-sized bowl, beat cream cheese until smooth. Add all of the cheese and spices and mix until smooth and all ingredients are evenly distributed. Spoon mixture into each pepper level with the top and wrap with a half of a piece of bacon. Secure with a toothpick if needed and place on prepared rack.

Bake peppers for 25-30 minutes or until slightly browned on top and bacon is crispy. If needed, turn oven to broil for a few minutes, watching very carefully, to crisp things up a bit.
The provided nutritional information is an estimate per serving. Accuracy is not guaranteed.
Tried this recipe?Let us know how it was! Leave a comment below & tag
@sprinkle_some_sugar
on instagram!