This is my absolute favorite chili recipe and the only one I use! It is ridiculously flavorful and so simple to throw together.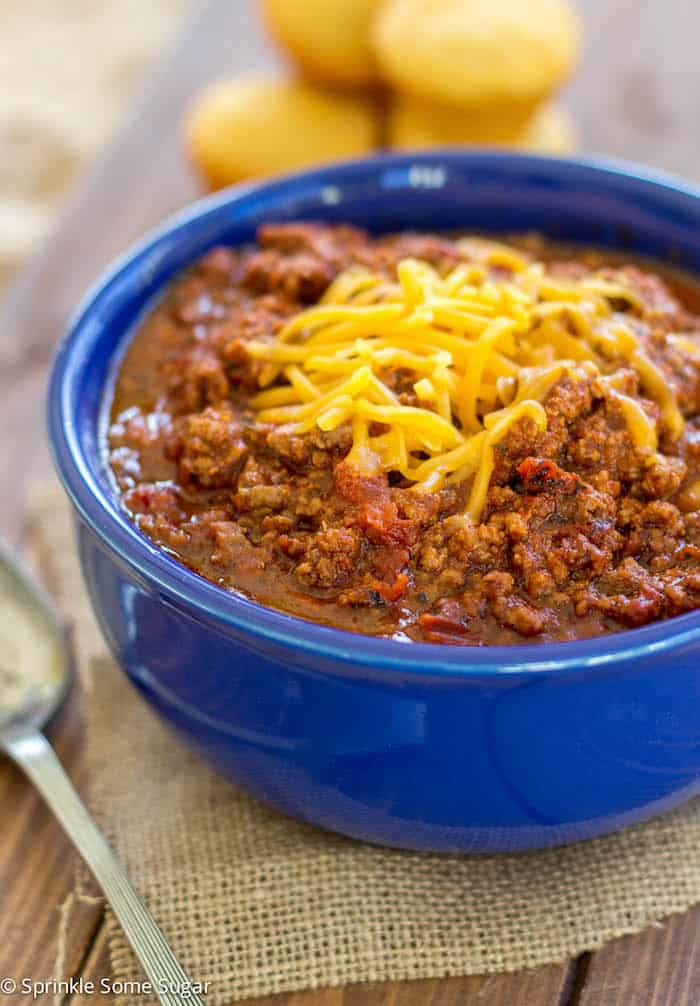 This time of year, I'm alllll about the comfort foods. Gimme all the soup, all the chicken pot pies and my favorite, ALLLLL the chili! Chili is my absolute favorite during the colder months. It's just so warm, hearty and comforting. My recipe is made in the crock pot so after you brown and drain your beef, you just throw it in the crock pot with the rest of the ingredients and set it and forget it for a few hours until you're ready to eat. The longer you let it cook, the more flavorful it becomes! And it's even better the next day.
My mom always made chili when we were kids and we always devoured it. She always used the store-bought chili-seasoning packets which are okay if you're in a pinch, but all of the preservatives and CRAZY amount of sodium is just not worth it to me. I love making my own chili seasoning blend because it honestly tastes SO much better! And you know exactly what is going into it so I feel much better about feeding it to my family. Plus, it takes just as much effort as tearing open a seasoning packet.
I'll only eat chili with tortilla chips. Is that weird? Chips in every bite. Lots of cheese. AND a dollop of sour cream for good measure. #heaven
Now, this recipe makes a TON of chili. It will probably serve about 15-20 people. But, what is so great about it is that it re-heats beautifully for the rest of the week! I love making a huge batch and eating it for lunch for the next couple of days. So, if you aren't feeding many people, I'd probably half the recipe. You can play with the seasonings as you like them. Sometimes I add more chili powder and cumin depending on my mood to amp up the flavor, it's all about personal preference! Also, everyone likes a different consistency to their chili. Some like it soupy, some like it chunky, I like mine riiiiight in the middle. If you like a thicker chili, cut back on the tomato sauce – if you like it thinner, add some more tomato sauce. Easy peasy!
Serve it up with a batch of my favorite honey corn muffins! Because, what would chili be without corn muffins? (or corn bread)
[pinterest]
My Favorite Homemade Chili
Ingredients
5

lb

ground beef

1-2

red peppers

diced

1/2

large yellow onion

diced

28

oz

can crushed tomatoes

28

oz

can tomato sauce

1

can fire roasted garlic diced tomatoes

regular diced tomatoes are fine

1

can cannellini beans
*Chili Seasoning*
7

tbs

+ 2 tsp chili powder

2

tbs

garlic powder

2

tbs

onion powder

1

tbs

sugar

1/2

tsp

crushed red pepper

1

tbs

parsley

2

tsp

basil

1

tbs

salt OR to taste

2

tbs

cumin
Instructions
In a large skillet, brown beef and drain well. Add to slow cooker and set to low heat.

In the same skillet you used to brown the beef, add 1 tablespoon of vegetable oil and sauté peppers and onions on medium heat until tender. (If you have picky eaters, you can pulse the vegetables in a food processor first which is what I usually do.) Add the vegetables to the slow cooker. Stir in crushed tomatoes, tomato sauce, diced tomatoes, beans and all of the spices. Feel free to play with the spices to your liking. Stir very well. Put the lid on the slow cooker and cook on low for 5-6 hours. You can also set it to high and cook for 3-4 hours.

Serve chili with shredded cheese, sour cream and corn muffins on the side, if you desire.

My Favorite Homemade Chili will stay fresh stored in an airtight container in the refrigerator for up to one week.