A mixture of juicy cherries, blackberries, raspberries and strawberries all wrapped in soft doughy rolls.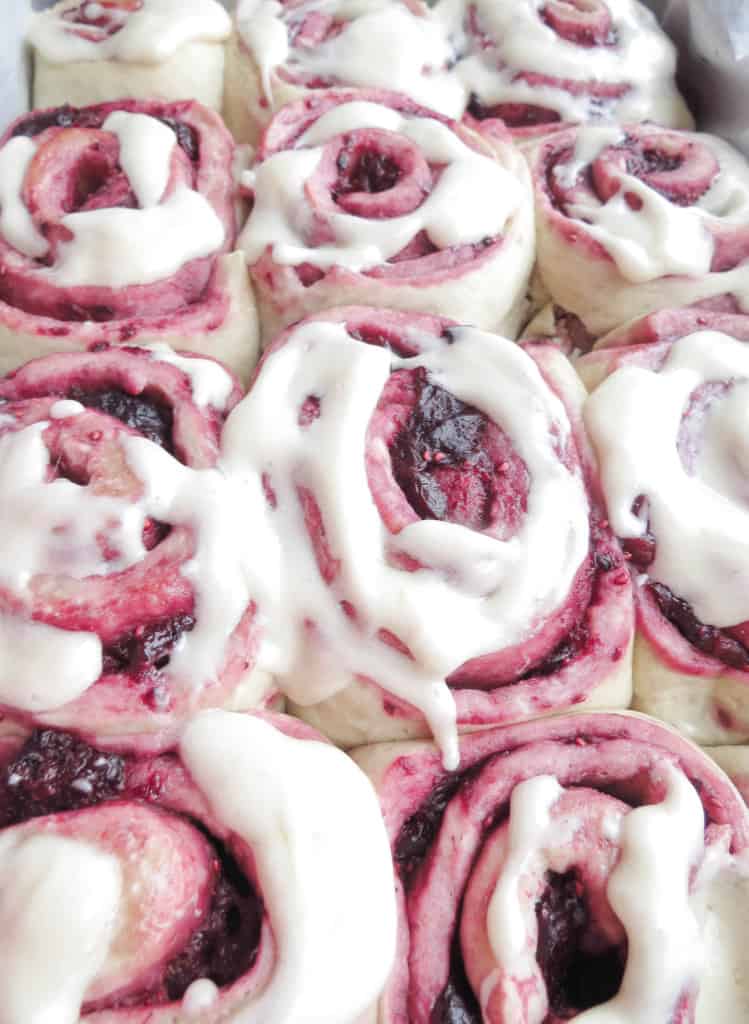 Lately, I have been so into using berries in everything, especially in pastry type of desserts. In the past of couple weeks I have used strawberries, blackberries and a new cherry recipe will be up this week! Maybe it's the weather, I don't know. But, it keeps teasing us with these beautiful, almost spring-like days and then the next day it will snow. What's up with that?! Well, to feed my craving of warm weather, I made these berry rolls over the weekend because they remind me of a warm spring/summer morning! 🙂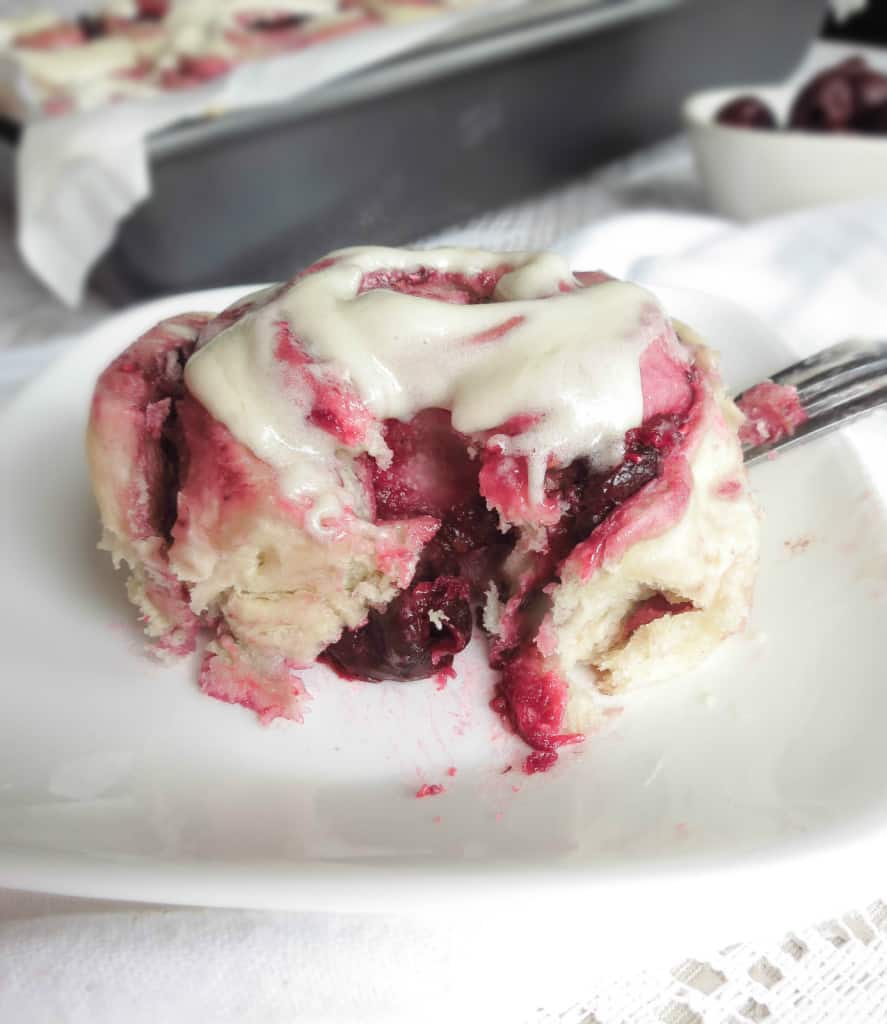 The process to make these rolls takes a bit of time and patience (waiting for the dough to rise) but it is so worth it in the end. And, if you prep them the night before, you can finish them off in a breeze for an early morning breakfast! I think waiting for the dough to rise is the hardest part. They will take about 3 hours to prepare the night before (1-2 hours of that is rising time) and then in the morning, you are just pulling out the prepared rolls, letting them do their final rise (30 minutes-1 hour) and popping them into the oven! So simple! I used the same dough and frosting recipe I used for my favorite cinnamon rolls. It's so incredibly soft and doughy. The tops don't come out hard like some roll recipes, they are soft and fluffy like sweet rolls should be. To achieve this, there is oil used in the dough rather than butter because butter tends to make the tops of the rolls hard and we do NOT want that.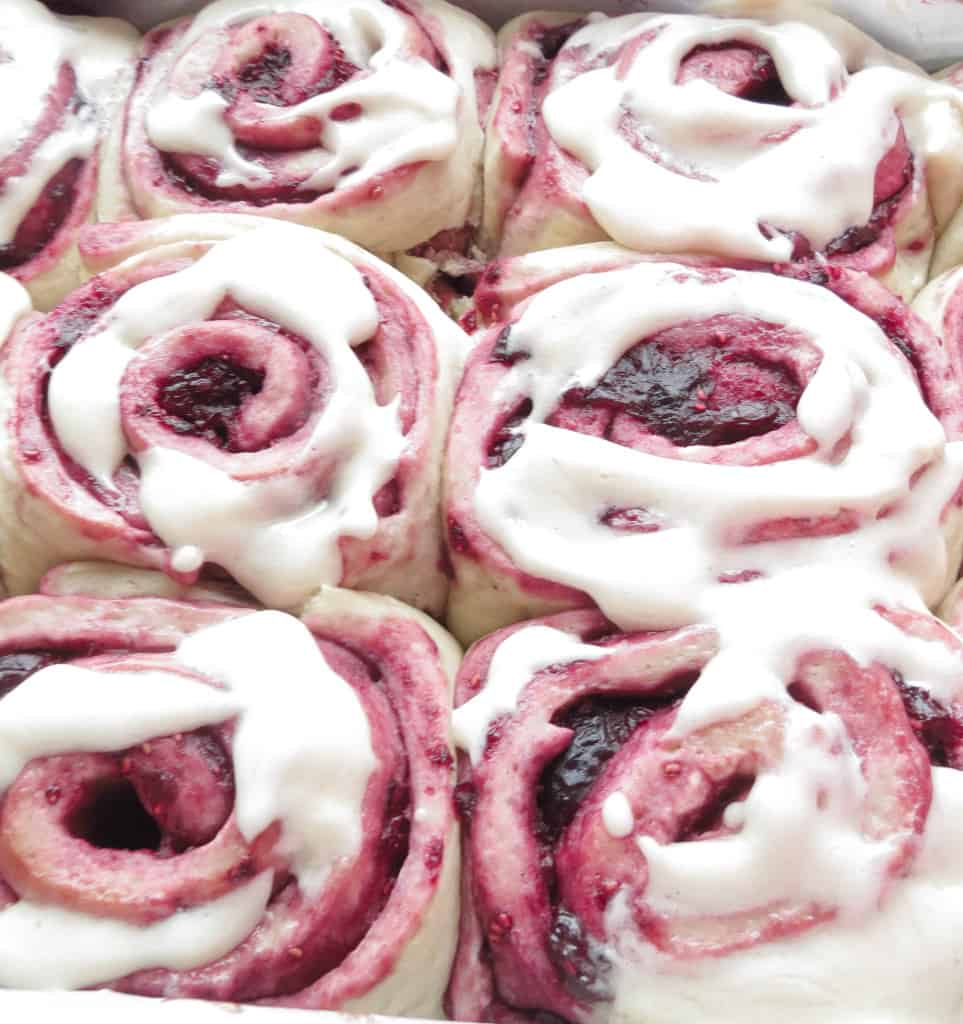 They are jam packed with all of my favorite kinds of juicy berries! You can use any kind of berries you'd like, or even just one single type of berry. I wanted to make my rolls extra gooey, so I made my frozen berries into preserves. This is so incredibly easy, so don't get nervous! All you do is, measure your berries and sugar, put them into a saucepan and cook them down until the juices start flowing. Once the berries are broken down, you add the cornstarch/water mixture to thicken it up. You can mash your berries and make the preserves without chunks, or you can leave them a bit chunky. I mashed mine a little bit leaving some chunks of berries in there. Rolling the dough up with the preserves in it can be a bit messy because it may spill out a bit but that's inevitable so don't worry about it and just try to keep in as much as you can. No worries. Also, another tip I have is to make this the night before too so the morning is even easier!
Also, about the glaze. The glaze is the absolute star of the show! Isn't it always? It just brings these rolls to another level and makes them even better. It whips up in minutes, too! I like to smother mine in this glaze, it's just so ridiculously good!
Ooey gooey, sticky, tender delicious rolls.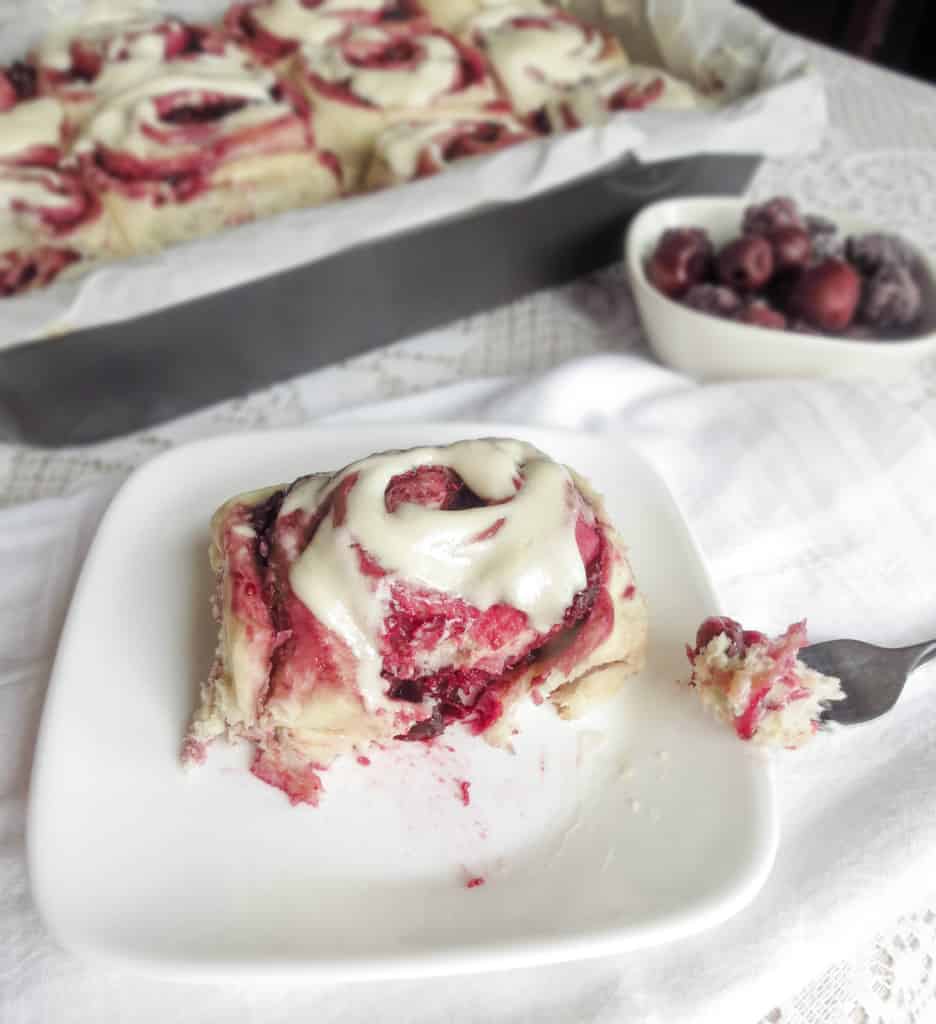 [pinterest]
Mixed Berry Sweet Rolls With Vanilla Cream Cheese Glaze
Ingredients
Dough

3/4

cup

warm milk

2 1/4

tsp

active dry yeast

1 standard packet

1/4

c

sugar

1/2

tsp

salt

1/4

cup

buttermilk

or make your own with milk + 3/4-1 tsp vinegar

1

egg

1/3

c

vegetable or canola oil

3 3/4 - 4 1/2

cups

all purpose flour

Berry Preserves

5

cups

mixed berries

1/2

cup

granulated sugar

4

tsp

corn starch

2

tbs

water

you may have some left over - seal in airtight container and keep for 1-2 weeks

+ 2 tbs unsalted butter for spreading under preserves layer

Vanilla Cream Cheese Glaze

4

oz

cream cheese

softened

1/3

cup

powdered sugar

3

tablespoons

unsalted butter

softened

11/2

teaspoon

vanilla extract
Instructions
For the Dough and Berry Preserves:

1. Proof your yeast. - Heat up your milk until warm NOT hot or it will kill the yeast. Pour in the yeast and 1 tbs of sugar. Stir and let it sit for about 3 minutes. If the mixture has a frothy, thick coating at the top, your yeast is alive and you are good to go!

2. Attach your dough hook and add in the rest of the sugar and salt and mix for a couple of seconds on low speed.

3. In a separate small bowl measure out oil and buttermilk and whisk together. Add in the egg and mix until smooth. Pour egg mixture into milk mixture and stir for a couple more seconds until everything is somewhat combined.

4. Next, start by adding 3 cups of flour and then add 1/4 cup at a time until the dough is sticky, but not so sticky that it gets stuck to your fingers or bowl.

5. Once your dough is where it needs to be, knead for 5 minutes longer on low.

6. Put your kneaded dough in a big greased bowl with plastic wrap and a damp cloth on top. Set in a warm place to rise about 1-2 hours until it has doubled in size.

5. While that is rising, you can start making your berry preserves. Pour berries and sugar into a medium sized sauce pan. Let them cook down and bit, about 3-4 minutes. Once the juices start flowing and it is getting more liquid-ey, mix cornstarch and water together and pour into saucepan. Let the mixture thicken for about 5 minutes. Pour into a bowl let it cool down before using.

6.Once the dough is doubled, punch it down (this is the fun part!).

7. Flour a large surface with lots of flour. Knead the dough for a second so it comes together, then roll out a 20x30 rectangle or as close as you can get to it. (Mine was about 2 inches off.)

8. Spread very soft butter all over the dough making sure to leave a 1 inch line at the bottom for easy closure.

9. Pour berry preserves over butter and spread until evenly distributed.

10. Start rolling the dough towards you in a log, ending at the plain line at the bottom and pinch it closed. The preserves may come ooze out a bit, but this is inevitable. Just try to keep in what you can.

11. Cut off weird looking ends and then score the dough every 2 inches (get out your measuring tape!).

12. Cut the dough where you scored with a serrated knife and set in a parchment lined, greased pan. If you are letting this sit over night, this would be the step you put in the fridge with plastic wrap and a damp towel. If doing the process straight through, let the rolls rise another 1-2 hours for the final rise or until they are almost double in size and almost touching. (In the morning when you take your rolls our of the fridge, let them sit in a warm place to rise. This might take much longer because they need to reach room temperature first before rising. Set them in a warm NOT hot oven and this will make the process go a lot faster.)

13. Bake at 350° for 17-20 minutes or until tops start to brown slightly. Watch them like a hawk!!

For the Vanilla Cream Cheese Glaze

1. Cream together the cream cheese and butter until light and fluffy. About 2 minutes.

2. Add in vanilla.

3. Pour in the powdered sugar and mix until smooth. Taste and make sure its to your liking or adjust.

4. Beat another 3 minutes on high until everything is very creamy.

5. Once the rolls are done and removed from the oven, spread on a layer of frosting. Lots of it will just melt into the rolls. Once they have cooled a bit more, you can add a second, final layer of frosting. Now eat and enjoy!!
Dough recipe adapted from Lauren's Latest