These cherries and cream danish stars are so much fun for the Summer holidays coming up! The dough is flakey, buttery, and crispy on the outside thanks to the use of Wewalka puff pastry dough and the inside has a creamy cream cheese filling topped with some homemade cherry preserves!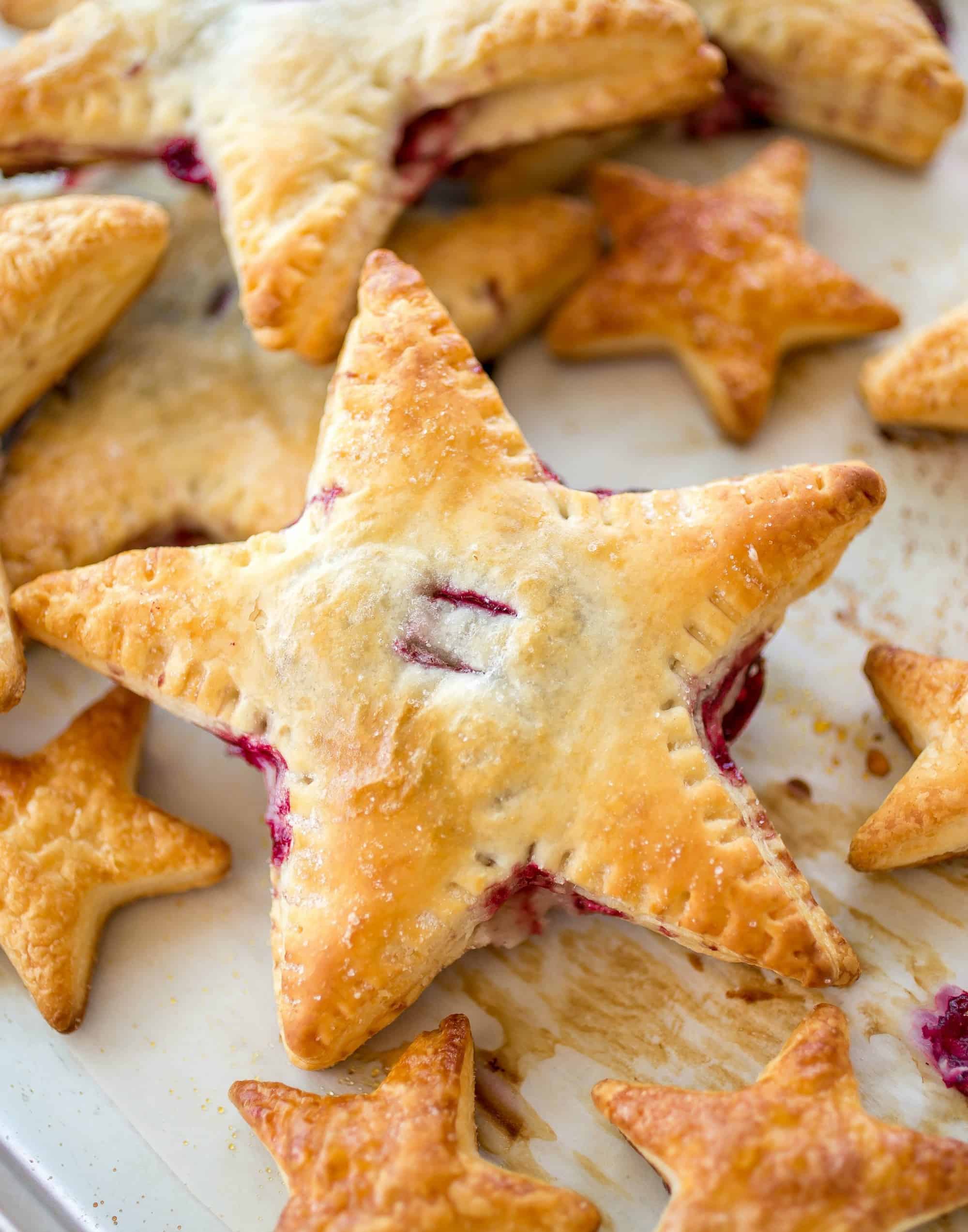 What are you guys making for Memorial Day? Hopefully something tasty! I know we're going to be grilling a ton of stuff. I'm probably going to make some ribs, cole slaw, maybe a little pasta salad, cheeseburgers, hot dogs, you know the deal for BBQing! But for dessert? We're having these babies! These are so festive, adorable and are pretty easy to make. They would even be awesome for your 4th of July celebrations!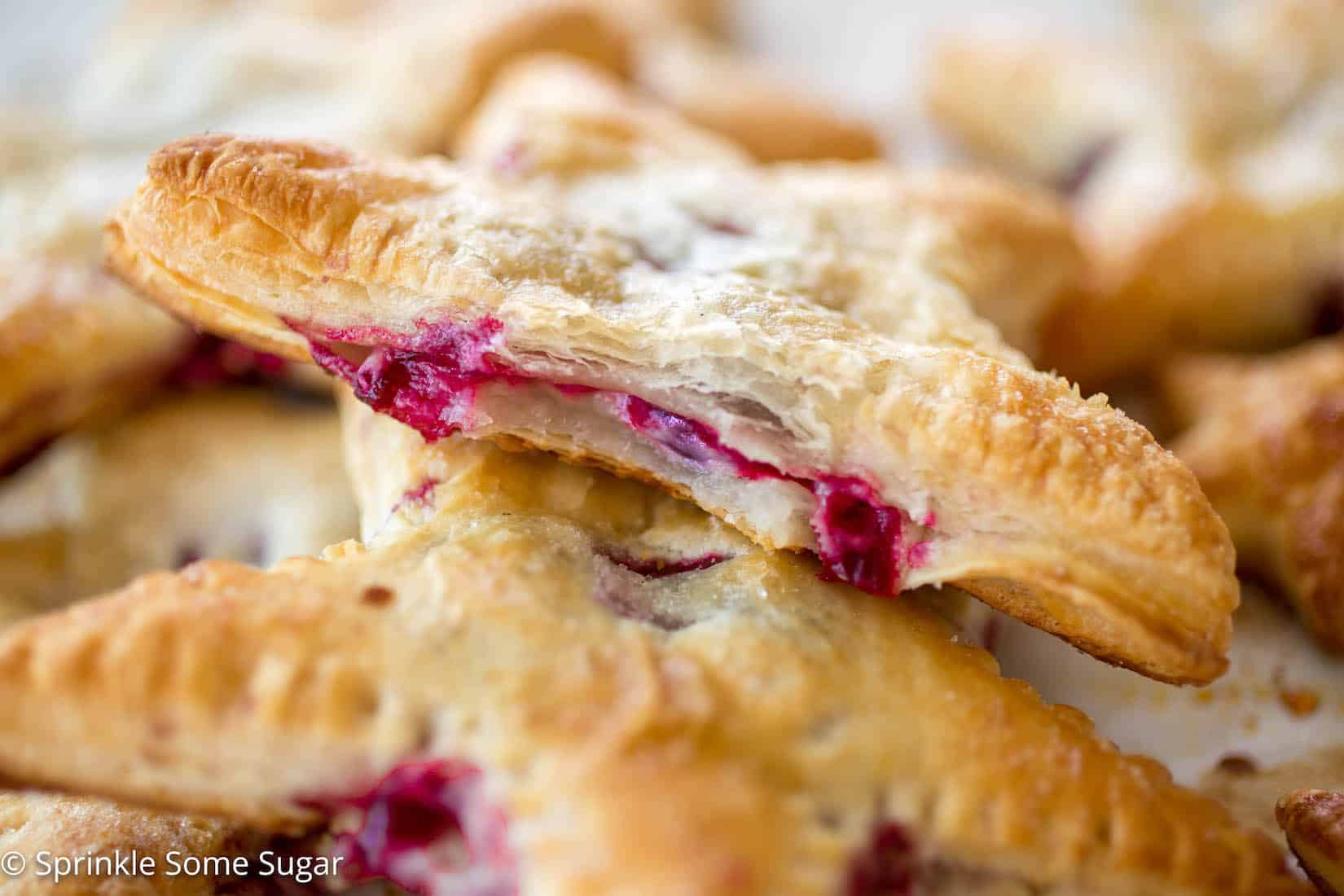 I used Wewalka puff pastry dough for these cherries and cream danish stars and it has the perfect texture – crispy and flakey on the outside and nice and fluffy on the inside. This dough is seriously my favorite store-bought dough of all time and I am not just saying that because of our partnership! It is truly amazing and superior over all other brands.
For the inside I whipped up a sweet cream cheese filling, the same one I use when I make cheese danishes. There are also some homemade cherry preserves in there that really bring this dessert over the top! Homemade preserves are easier than you think to make and just so much tastier than store-bought, so I really recommend making them at home. Store-bought is just fine of you prefer it.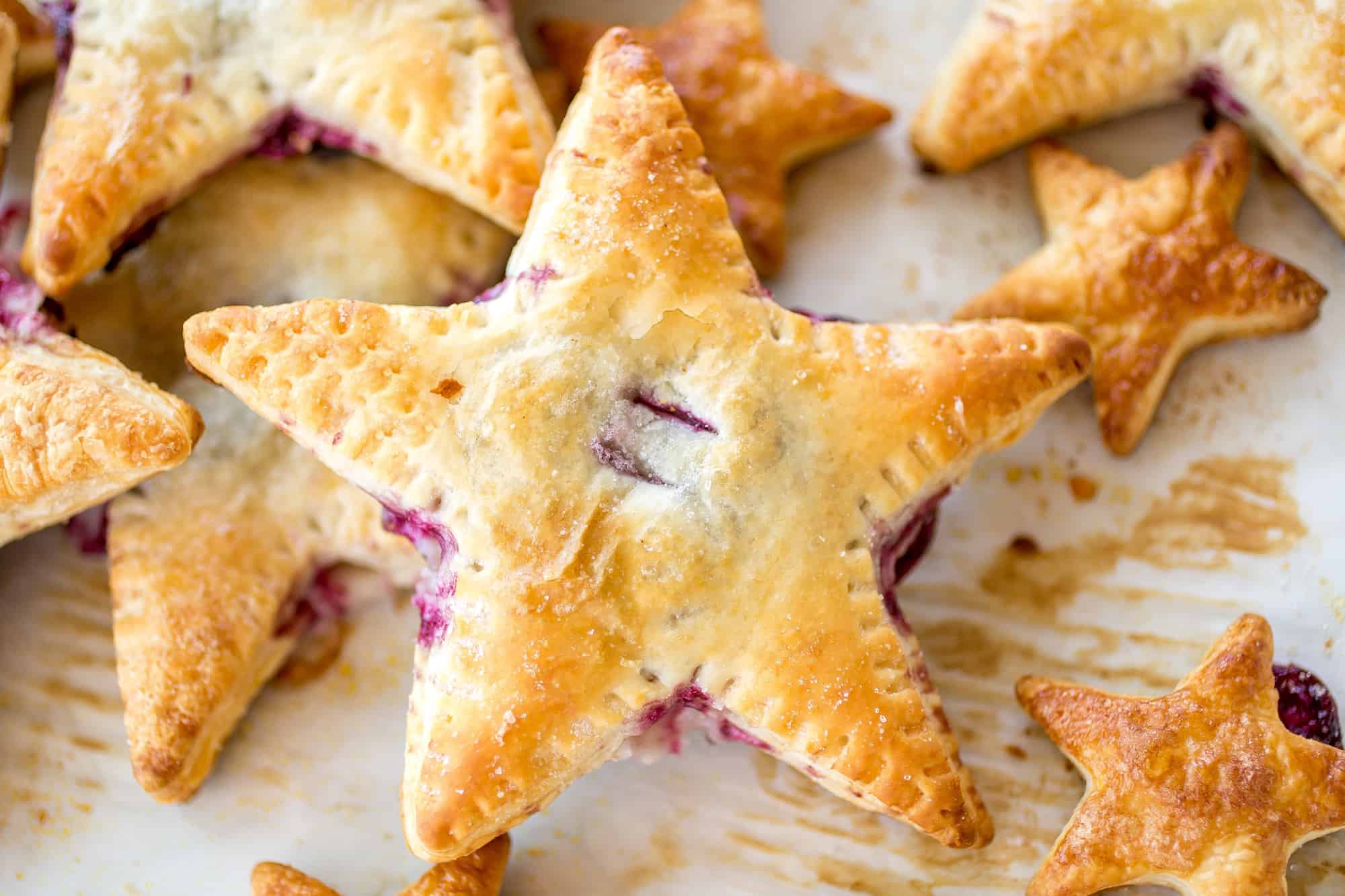 To assemble these, you'll cut out a bunch of stars and in the center, add a dollop of cream cheese filling and top that with a spoonful of cherry preserves. The edges of the stars will be rubbed with a bit of egg wash – I like to just use my finger for this step. Place a second star on top and crimp the edges with a fork. If a little bit of the filling squishes out, that's just fine! You can wipe it off or just leave it, it won't make too much of a difference. If you have any dough left over and have a tiny small cookie cutter handy, cut out some little stars and bake them with the danishes instead of throwing the extra dough out!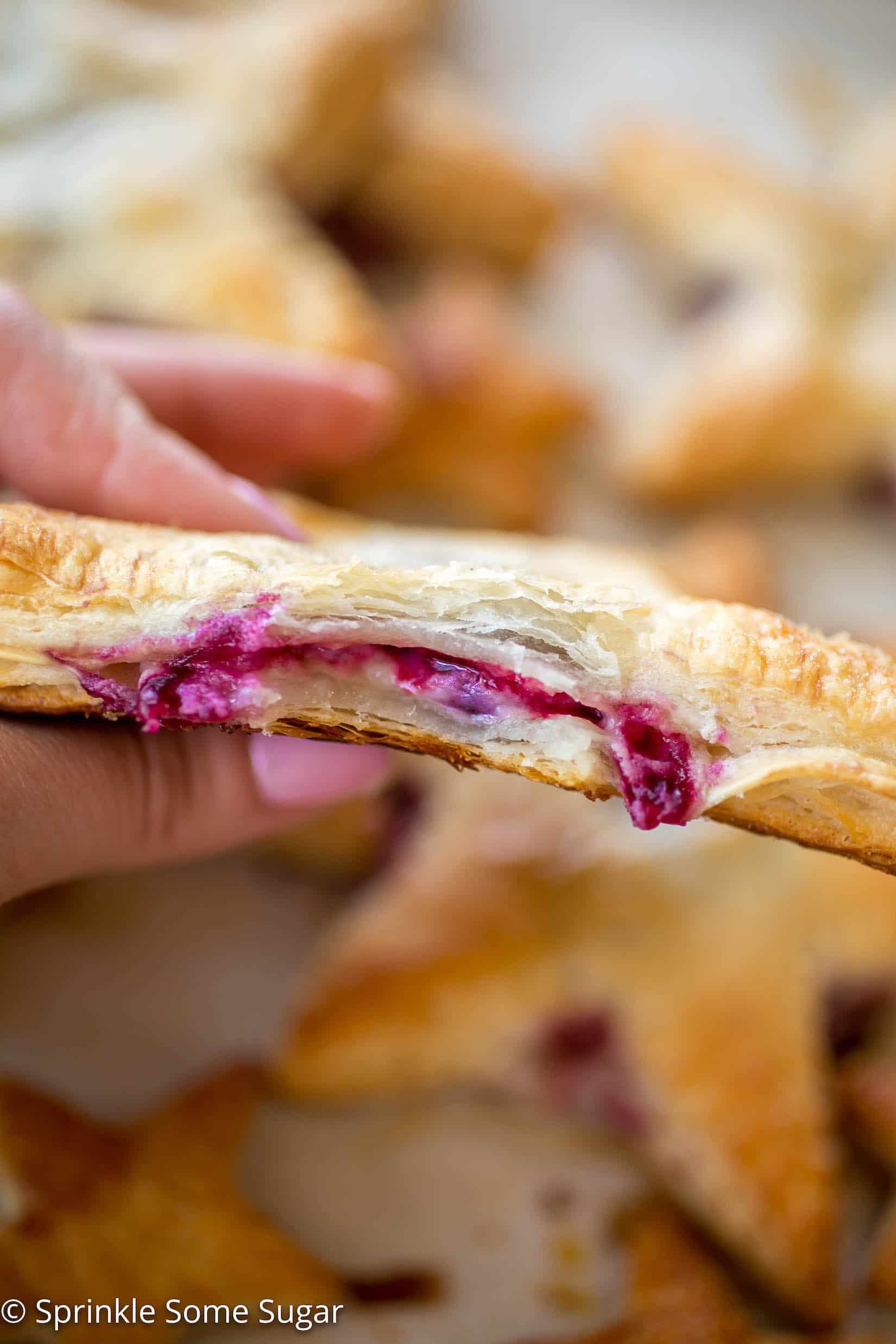 Before baking, I like to brush the tops of my danish stars with some egg wash and sprinkle a little bit of sugar on top for added sweetness. Once they're baked up all golden and delicious, let them cool a bit and dig in! I have made these a few times already for my family and each and every time they all get gobbled up the same day! Sometimes I don't even get to have one for myself, ha!
These cherries and cream danish stars are SO ridiculously delicious, you're going to love em'!
Cherries and Cream Cheese Danish Stars
Ingredients
1

pkg. Wewalka Puff Pastry Dough
*Cherry Preserves*
6

oz

frozen sweet cherries

2

Tbsp.

granulated sugar

1/2

Tbsp.

corn starch

1/2

Tbsp.

water
*Cheese Danish Filling*
2

oz

cream cheese

softened

1

Tbsp.

unsalted butter

softened

1

tsp.

sour cream

1/2

tsp.

vanilla extract

1 1/2

Tbsp.

granulated sugar

2

Tbsp.

powdered sugar

Egg wash

1 egg and 2 Tbsp. water, beaten

1

tbsp

granulated sugar
Instructions
Preheat oven to 400 degrees

.

In a medium-sized saucepan, heat cherries and sugar on medium-low heat until the cherries start releasing their juices. Mash them down very slightly and heat some more until there is a lot of liquid. Whisk corn starch and water together in a small bowl and stir into cherry mixture. Bring to a very gentle boil, continuously stirring, until the mixture thickens enough to coat the back of a spoon. Remove from heat and allow to cool completely.

In a small bowl, beat together cream cheese, butter, sour cream and vanilla until smooth. Add granulated sugar and powdered sugar and beat until completely incorporated. Set aside.

Unroll refrigerated Puff Pastry Dough on enclosed parchment paper and place on a large baking sheet. Cut 8, 3-4" stars into the dough and remove the scraps. If you have a small star, I like to cut out little stars with the extra dough to prevent waste! Spoon 1 tablespoon of the cream cheese mixture in the center of each star, and top with 1 tablespoon of cherry preserves.

Rub the edges of the star with egg wash and place a second star on top. Crimp the edges with a fork. Some filling may squish out, this is okay. Cut two tiny slits in the top for vent holes, brush the tops with some egg wash and sprinkle with some sugar.

Bake for 15-20 minutes or until tops are golden.