[pinterest]
Glazed Blackberry Cheese Danish. Juicy, homemade blackberry preserves over a bed of sweet cream cheese, all wrapped up in a buttery, flakey dough. De-freaken-licious if you ask me.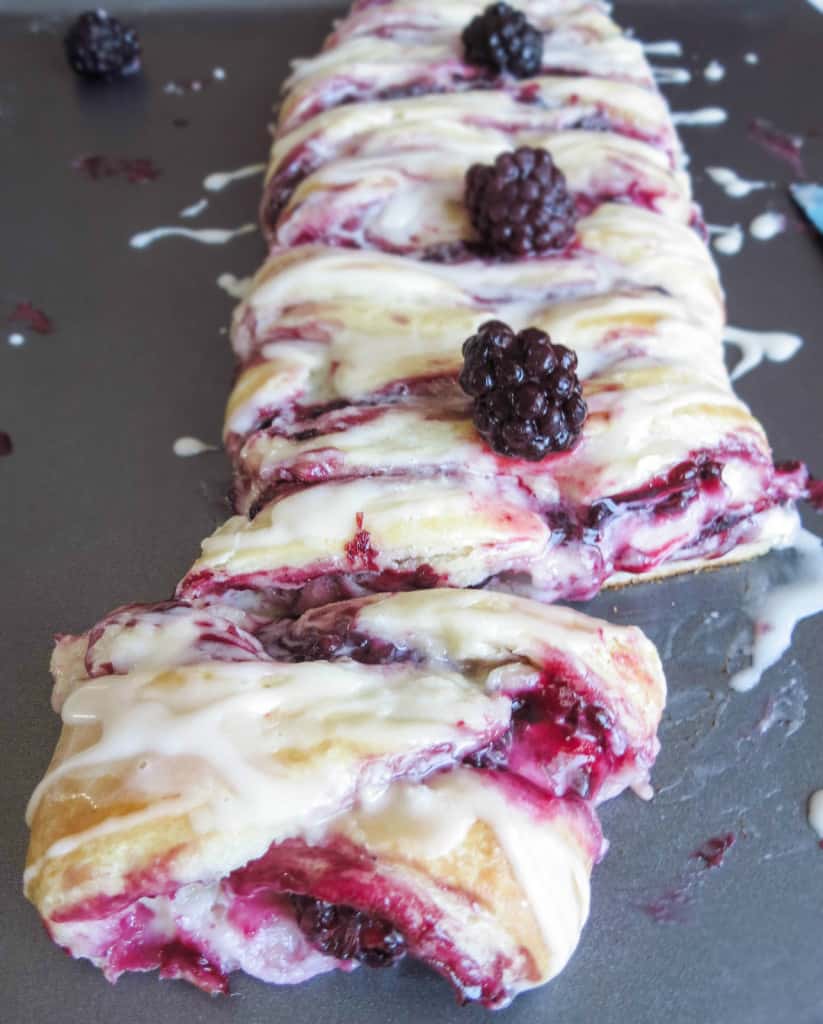 I think I have a new found love for blackberries. Honestly, before I made this danish braid I never even had a blackberry before. Weird, huh? As I was standing in the grocery isle, staring at the frozen fruit, I just decided I never used them before and everyone seems to like them, so I wung it. And I am so glad I did because they are SO good and am probably going to be adding them to many more recipes in the future! I cooked them down, added some sugar and cornstarch, and made some preserves so I wasn't just adding plain old blackberries to my danish. I have some preserves left over that I really just want to put on everything, they're so good! If you don't like blackberries, feel free to substitute your favorite berry in it's place. I have used strawberries and cherries (recipe coming soon!).
For the dough, I used the same recipe I used to make my strawberry danish braid (the recipe makes enough for two whole braids and this was the second half) and also used the same glaze. The only thing different here is the filling. While, strawberries are my all time favorite, I think I may have to push them to the side for a bit and start using more blackberries! The dough is so buttery and so super flakey, it practically melts in your mouth. This braid is about 15 inches long and about 12 inches of it was consumed by my grandmother and I alone during the course of just a couple of hours. That's bad. But, so good. It was just too good to pass up! The smell of the dough baking, the blackberries' juices bursting out of the dough and the cream cheese filling all together smelled like I died and went to heaven.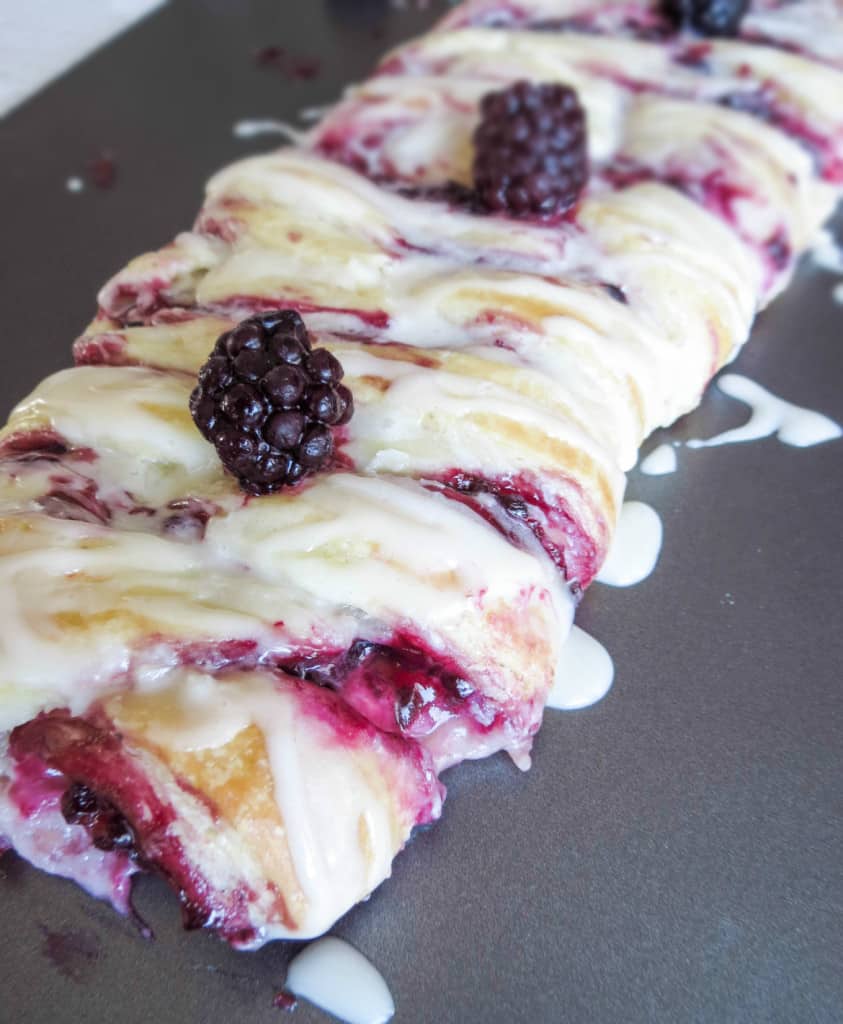 About the braiding. It really looks so much harder than it really is. Trust me, it's so simple. It's not actually braiding either, it's really just overlapping each side back and forth. This dessert is a sure way to trick your friends and family into thinking you spent lots of time working on it! When in reality, it doesn't take much time at all (minus the dough-making).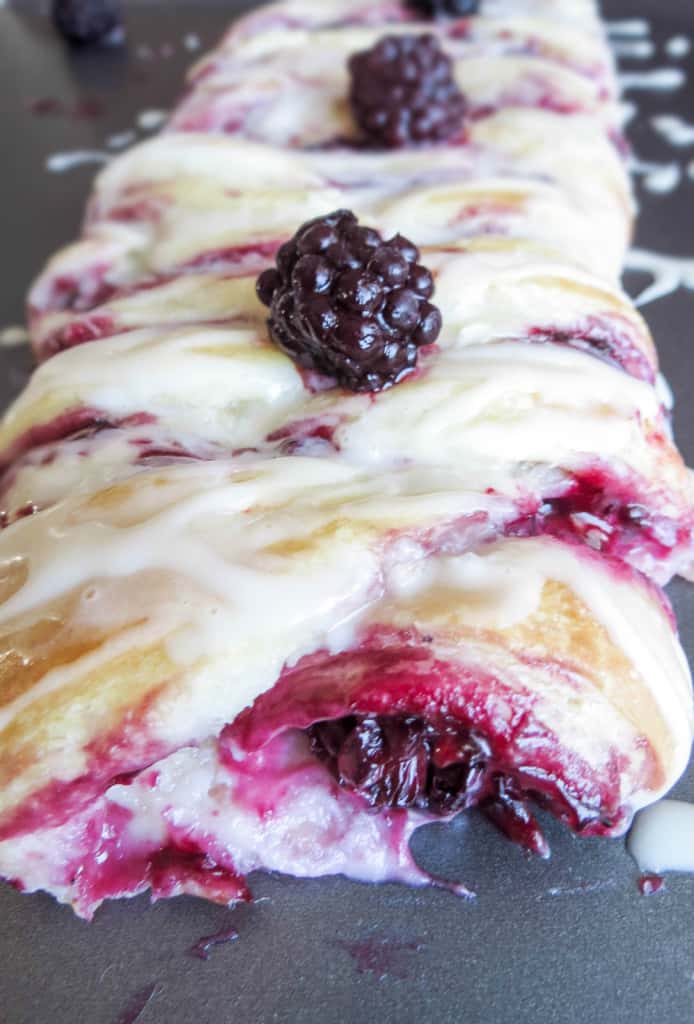 Mike's parents came over the night I made this and were the lucky ones to get the last bit of it. His mother said that this is the best recipe I have made so far! I have to make one this weekend and bring it over. I think it will make her day. 🙂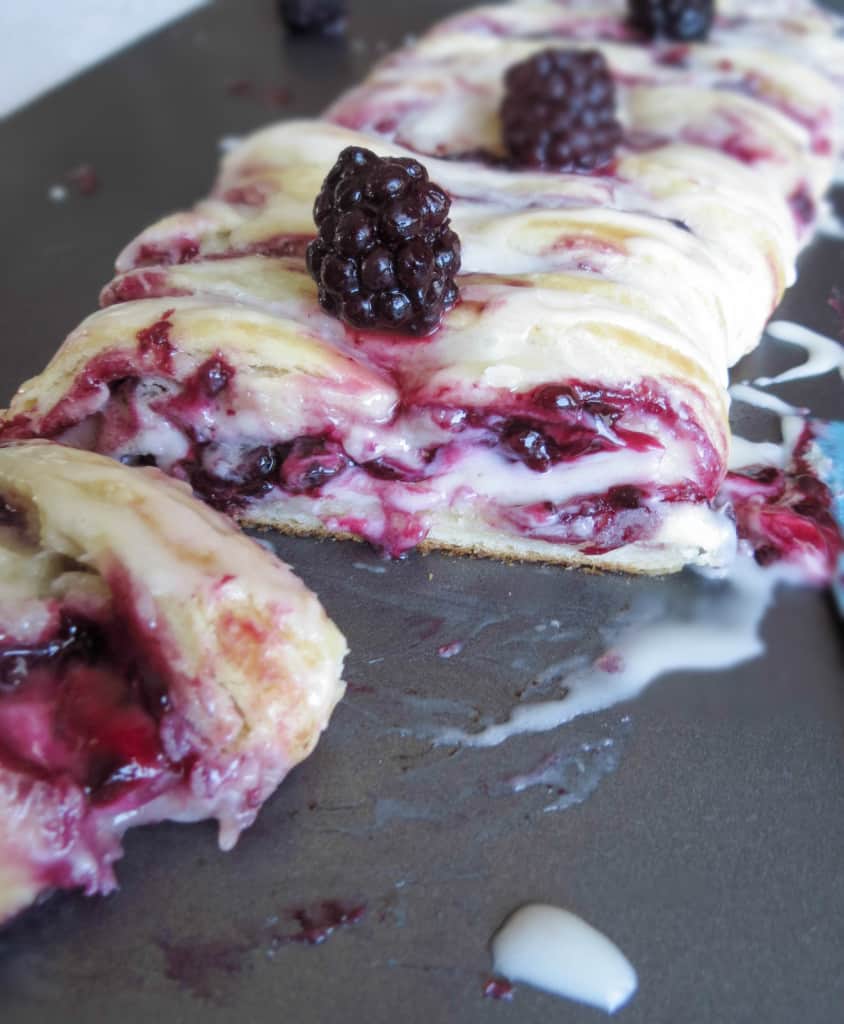 This is perfect if you are going somewhere for brunch or just want a delicious breakfast for your family. If I haven't convinced you enough to make this yet, you just really, really need to. Like now.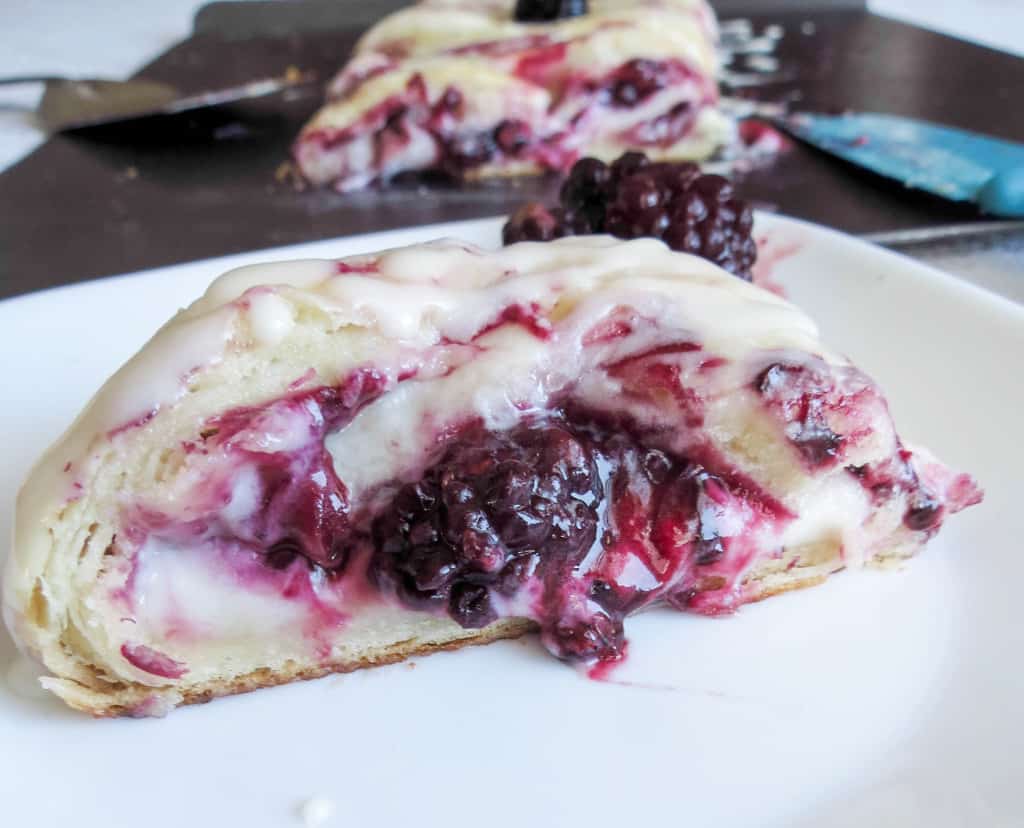 [pinterest]
Vanilla Glazed Blackberry Cheese Danish Braid
Ingredients
Puff Pastry Dough

Pastry Dough

1/4

cup

warm water -105F-115°F

2

and 1/4 teaspoons active dry yeast

1 standard package

1/2

cup

milk

1

large egg

room temperature

1/4

cup

granulated sugar

1

teaspoon

salt

2

and 1/2 cups all-purpose flour

14

Tablespoons

unsalted butter

cold

Blackberry Preserves

2 1/2

cups

blackberries

frozen (not thawed)

3

tbs

granulated sugar

4

tsp

corn starch

2

tbs

water

Cream Cheese Filling

4

oz

cream cheese

softened

3

tbs

granulated sugar

1/4

vanilla extract

1

tsp

sour cream

1/4

cup

powdered sugar

1/2

tbs

unsalted butter

softened

I like to double mine because it makes a great fruit dip!

Egg Wash

1

egg

2

tbs

milk

Glaze

1/2

cup

confectioners' sugar

1/2

tsp

vanilla extract

1

tbs

cream or milk
Instructions
For the Dough

1. Proof your yeast - pour yeast into warm water in a large bowl. Let it sit for about 3 minutes until a foamy thick layer appears. Your yeast is alive and you're good to go.

2. Mix together the milk, sugar, egg and salt and set aside.

3. Cut your butter into tiny chunks and put in the bowl of a food processor (makes this much easier) with flour and pulse until the butter is incorporated and mixture is crumbly. About 10 times.

4. Add the flour mixture to the egg mixture and VERY gently fold these together. Fold the two mixtures until the dry ingredients are just moistened enough to come together.

5. Wrap the dough tightly in plastic wrap and refrigerate for 1-2 hours or overnight.

6. When the time is up, take the dough out and start the rolling and folding. The dough will be very sticky so make sure your surface is floured liberally.

7. Gently latten the dough with the palm of your hands into a small square, this will help it stay in a more rectangular shape, rather than round.

8. Roll out the dough with your rolling pin into a 15in long rectangle. Make sure your dough is not sticking to the counter and add some more flour if needed.

9. Fold the dough together as if it were a business letter. Then, roll out into a rectangle. Do this process one more time.

10. Fold your dough up tightly, wrap in plastic wrap and set in refrigerator for 15-30 minutes minimum and maximum, up to one day.

11. After the minimum time required, take the dough out of the refrigerator and cut it in half. If you are only making one braid, wrap up the second half and put it in the freezer to use another day.

12. Roll out your dough to make a 12x6in rectangle or as close as you can get. Roll it out on a lined baking sheet to begin with because it will be very difficult to transfer the soft braid from the counter to baking sheet.

13. Cut off two corners of the dough on top and then two small triangles at the other end. (If you watch the video I posted down below, it will help you a lot to get a visual of where to cut.)

Make your blackberry preserves:

1. In a small saucepan, heat blackberries and sugar on low-medium heat. Let the berries cook down a bit and start to soften and juices start flowing out, about 5 minutes.

2. Mix together the cornstarch and water and add to blackberry mixture. Raise the temperature a bit to a GENTLE boil. Be careful not to scorch the bottom, stir frequently for about 2-3 minutes.

3. Once blackberries are thickened as much as you'd like, take off of heat and let them come to room temperature before you are ready to use them. While they are cooling, make your cream cheese filling layer.

For the Cream Cheese Filling

1. Cream together the cream cheese, sour cream and butter until smooth.

2. Add in the granulated sugar, vanilla and powdered sugar. Mix everything until completely smooth and granulated sugar has broken down.

3. Go back to your prepared dough and spread a layer of the cream cheese filling down the middle.

4. Add a layer of the thickened blackberry preserves, being careful not to add to much because it will seep down the sides and make a huge mess.

5. Start cutting slanting strips along each side of the filling. A pizza cutter works best for this or a very sharp knife. Start overlapping the strips, going from side to side ("braiding"). When you get to the bottom, leave the last two strips and fold the end up to seal the filling in, overlap the last two strips on top.

6. Beat your egg wash ingredients together and brush over top of the entire braid. This will make it nice and shiny.

7. Preheat your oven to 375° and bake for 15-20 minutes or until golden. Rotate your baking sheet to be sure it is cooked evenly. Watch it carefully!

8. Once braid is out of oven, allow to cool for at least 10 minutes. In the meantime, make your glaze.

Vanilla Glaze

1. Combine sugar vanilla and cream into a small bowl and mix until smooth.

2. Pour into a decorating bottle for drizzling.

3. Once braid is completely cool, drizzle with glaze and enjoy!
Dough recipe source Sally's Baking Addiction