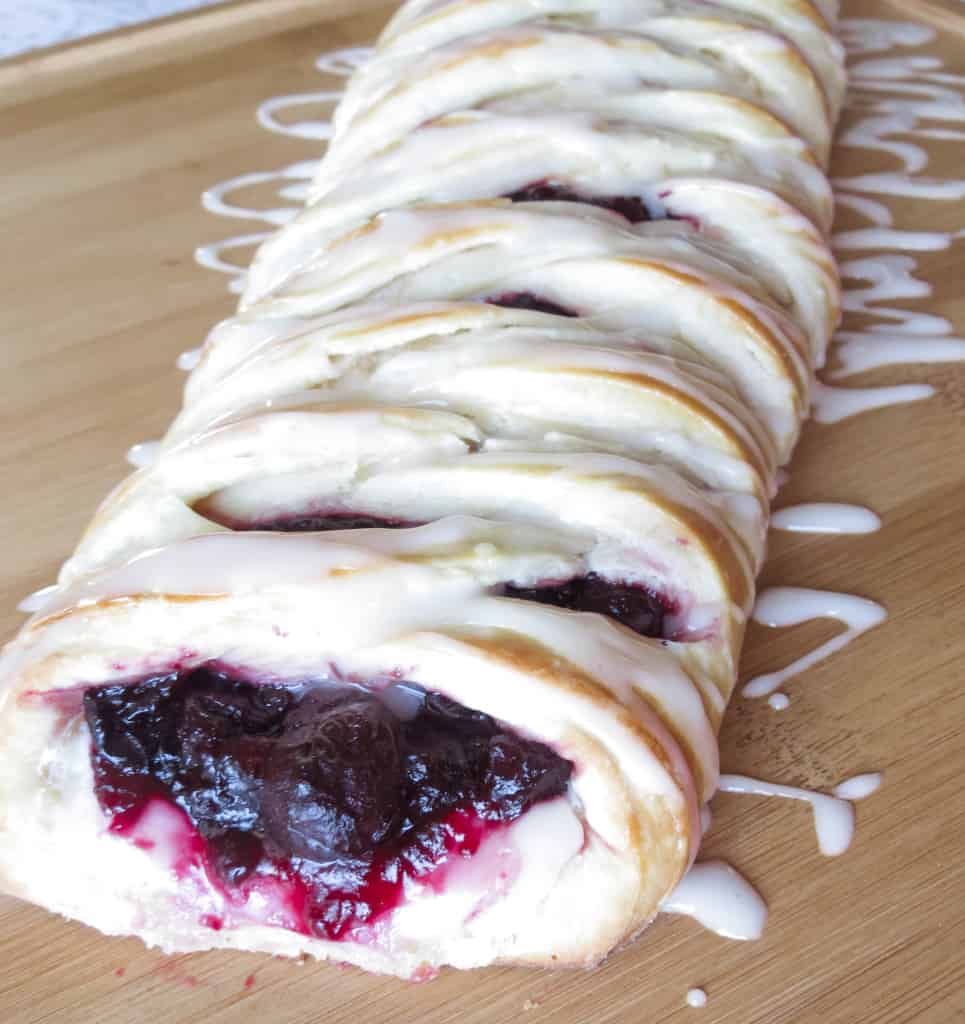 Happy first day of Spring everybody! Cherries are one of my favorite warm weather treats, so I decided to post this recipe today to celebrate! The homemade cherry preserves paired with the sweet cream cheese mixture is the most wonderful combination. If you don't like cherries, feel free to use a different berry in it's place when you make the preserves.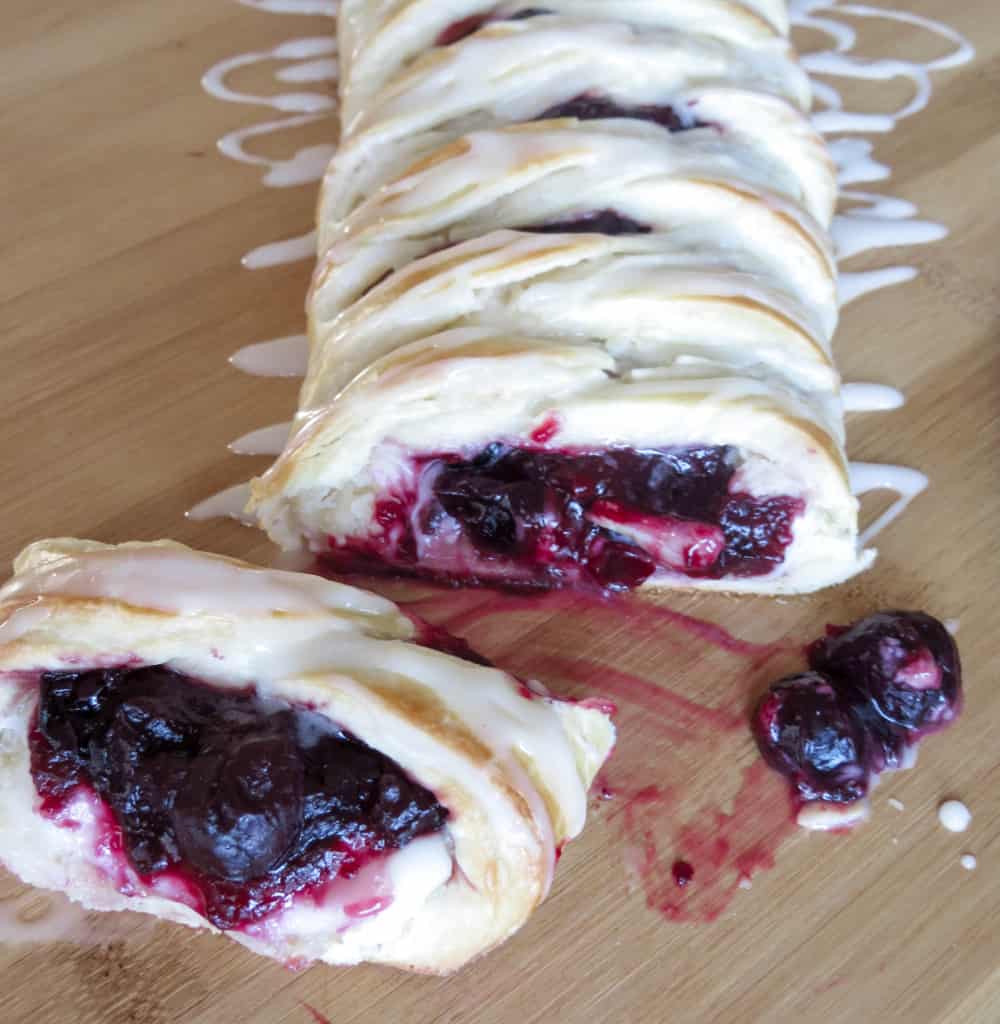 I used the same amazing puff pastry dough I always use, like last week in my buffalo pinwheels and it seriously comes out perfect every time whether you are making sweet or savory recipes. If you follow the directions step-by-step, it is pretty straight-forward!The recipe makes enough for 2 braids, so just save the extra half in the freezer when you have a pastry emergency. 🙂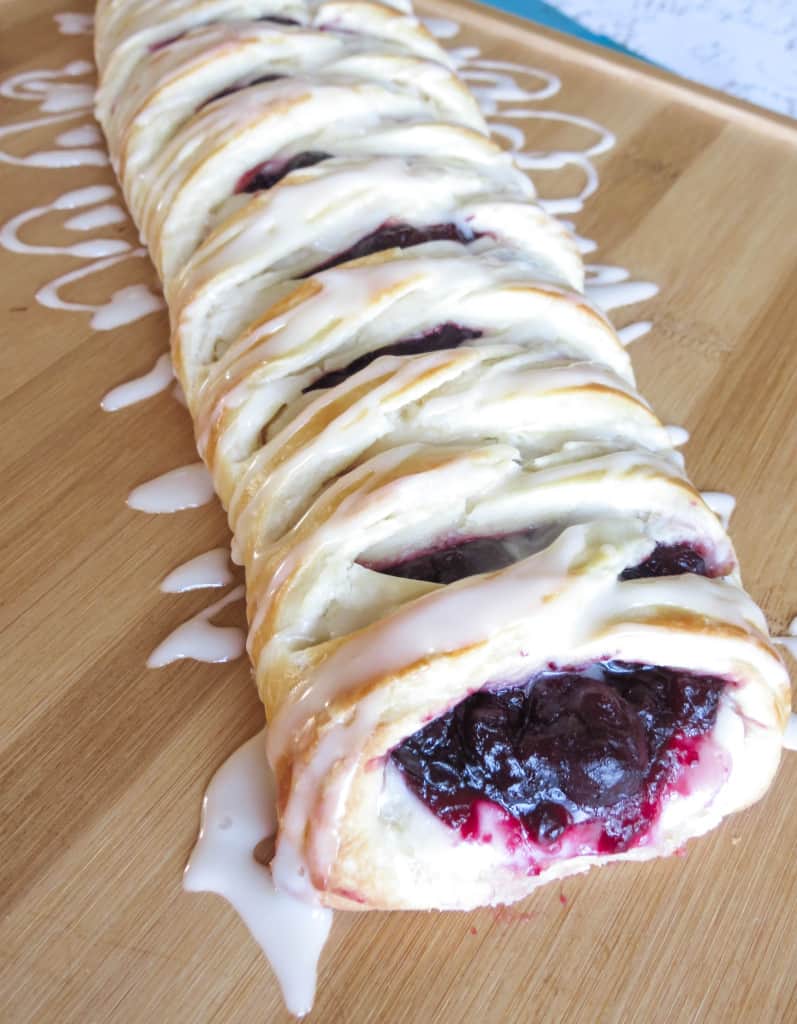 The preserves come together in a snap. I never knew how easy they are to make until I tried for myself! I have been going preserve crazy! Blackberries, cherries, mixed berries, strawberries, you name it, I've probably made it in the past month or so. You just have to cook the cherries down with some sugar and once the juices start flowing, add the cornstarch/water mixture and it will thicken up. I wanted to use preserves so it is extra gooey with the sweet cream cheese mixture underneath it. BIG tip: roll your dough out and fill it on the parchment lined pan you are going to bake it on because it is so hard to transfer it to the pan! Once you get your cream cheese mixture together, get the dough rolled out and cut, spread some cream cheese mixture over the middle then a layer of the cherry preserves on top, it should look like this: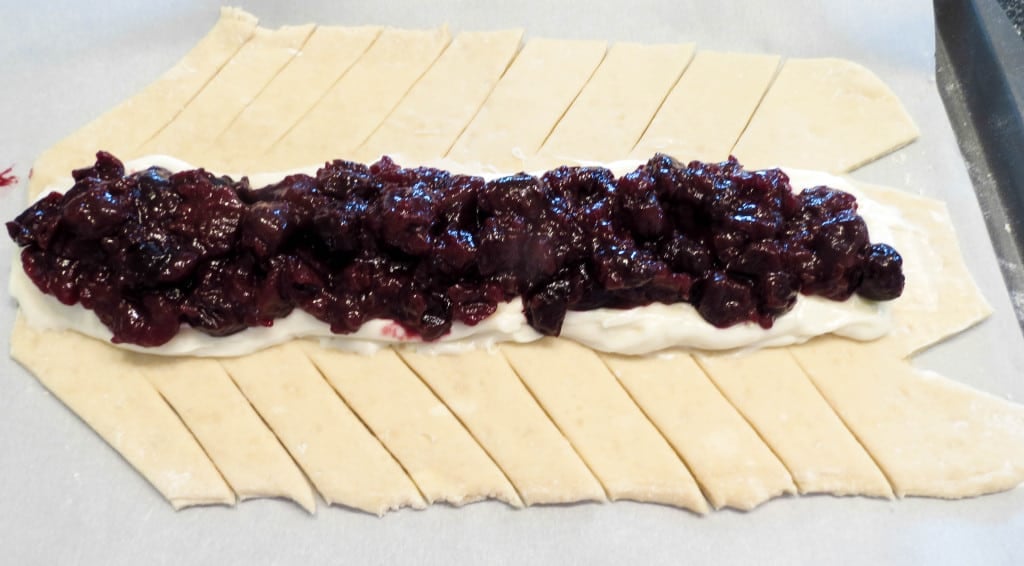 Start overlapping each side until you get to the bottom. Flip the bottom "flap" up and then cross the last two pieces over that.
Now, you're ready to bake! Bake until it starts to turn golden, rotating pan halfway through. Once it's done, let it cool a bit and eat up!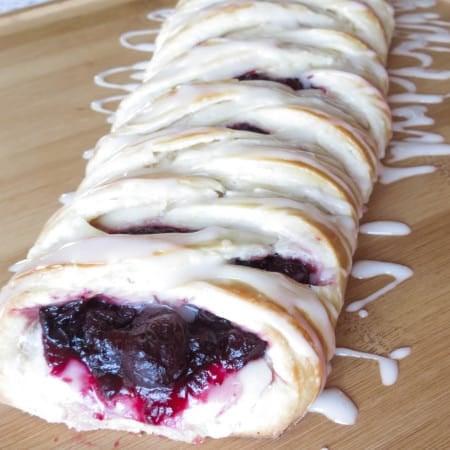 Cherry Cheese Danish With Vanilla Glaze
Ingredients
Pastry Dough
¼

cup

warm water -105F-115°F

2 ¼

teaspoon

active dry yeast

1 standard package

½

cup

whole milk

1

large egg

room temperature

¼

cup

granulated sugar

1

teaspoon

salt

2

and ½ cups all-purpose flour

1

cup

unsalted butter

cold

Cherry Preserves

2 ½

cups

cherries

frozen (not thawed)

3

tbs

granulated sugar

5-6

teaspoon

corn starch

3-4

tbs

water

cold
Sweet Cream Cheese Filling
4

oz

cream cheese

softened

3

tbs

granulated sugar

¼

vanilla extract

1

teaspoon

sour cream

¼

cup

powdered sugar

½

tbs

unsalted butter

softened
Egg Wash
1

large egg

2

tbs

whole milk
Vanilla Glaze
½

cup

powdered sugar

½

teaspoon

vanilla extract

1

tbs

whole milk
Instructions
For the Dough

1. Proof your yeast - pour yeast into warm water in a large bowl. Let it sit for about 3 minutes until a foamy thick layer appears. Your yeast is alive and you're good to go.

2. Mix together the milk, sugar, egg and salt and set aside.

3. Cut your butter into tiny chunks and put in the bowl of a food processor (makes this much easier) with flour and pulse until the butter is incorporated and mixture is crumbly. About 10 times.

4. Add the flour mixture to the egg mixture and VERY gently fold these together. Fold the two mixtures until the dry ingredients are just moistened enough to come together.

5. Wrap the dough tightly in plastic wrap and refrigerate for 1-2 hours or overnight.

6. When the time is up, take the dough out and start the rolling and folding. The dough will be very sticky so make sure your surface is floured liberally.

7. Gently latten the dough with the palm of your hands into a small square, this will help it stay in a more rectangular shape, rather than round.

8. Roll out the dough with your rolling pin into a 15in long rectangle. Make sure your dough is not sticking to the counter and add some more flour if needed.

9. Fold the dough together as if it were a business letter. Then, roll out into a rectangle. Do this process one more time.

10. Fold your dough up tightly, wrap in plastic wrap and set in refrigerator for 15-30 minutes minimum and maximum, up to one day.

11. After the minimum time required, take the dough out of the refrigerator and cut it in half. If you are only making one braid, wrap up the second half and put it in the freezer to use another day.

12. Roll out your dough to make a 12x6in rectangle or as close as you can get. Roll it out on a lined baking sheet to begin with because it will be very difficult to transfer the soft braid from the counter to baking sheet.

13. Cut off two corners of the dough on top and then two small triangles at the other end. (If you watch the video I posted down below, it will help you a lot to get a visual of where to cut.)

Make your cherry preserves:

1. In a small saucepan, heat cherries and sugar on low-medium heat. Let them cook down a bit and start to soften and juices start flowing, about 5 minutes.

2. Mix together the cornstarch and water and add to cherry mixture. Start with 5 teaspoons of cornstarch to 3 tablespoons of water. If it does not thicken during the next step, add another teaspoon of cornstarch mixed with another tablespoon of water. Raise the temperature a bit to a GENTLE boil. Be careful not to scorch the bottom! Stir frequently for about 2-3 minutes.

3. Once cherries are thickened as much as you'd like, take off of heat and let them come to room temperature before you are ready to use them. While they are cooling, make your cream cheese filling layer.

For the Cream Cheese Filling

1. Cream together the cream cheese, sour cream and butter until smooth.

2. Add in the granulated sugar, vanilla and powdered sugar. Mix everything until completely smooth and granulated sugar has broken down.

3. Go back to your prepared dough and spread a layer of the cream cheese filling down the middle.

4. Add a layer of the thickened cherry preserves, being careful not to add to much because it will seep down the sides and make a huge mess.

5. Start cutting slanting strips along each side of the filling. A pizza cutter works best for this or a very sharp knife. Start overlapping the strips, going from side to side ("braiding"). When you get to the bottom, leave the last two strips and fold the end up to seal the filling in, overlap the last two strips on top.

6. Beat your egg wash ingredients together and brush over top of the entire braid. This will make it nice and shiny.

7. Preheat your oven to 375° and bake for 15-20 minutes or until golden. Rotate your baking sheet to be sure it is cooked evenly. Watch it carefully!

8. Once braid is out of oven, allow to cool for at least 10 minutes. In the meantime, make your glaze.

Vanilla Glaze

1. Combine sugar vanilla and cream into a small bowl and mix until smooth.

2. Pour into a decorating bottle for drizzling.

3. Once braid is completely cool, drizzle with glaze and enjoy!