These muffins are so flavorful, moist and bake up just perfectly!

Anytime I can sneak chocolate into breakfast, I know it's going to be a good day. Muffins are such a fun treat that the whole family can enjoy. Plus, they are perfectly portable for on-the-go! I don't think that these are the healthiest choice for breakfast, but the peanut butter = protein and the banana = fruit so that counts for something, right? Sometimes it's just necessary to indulge. The whole chocolate, peanut butter and banana combo going on in these muffins is ridiculous.
This recipe is a spin-off of my fudgy double chocolate chip muffins. I cut mosy of the oil and replaced it with mashed bananas so they are still equally as moist with out all of the unhealthy fat and calories. These muffins are so good you guys! The banana flavor really shines through but it isn't over-powering and I love that you can really taste the deep chocolate flavor.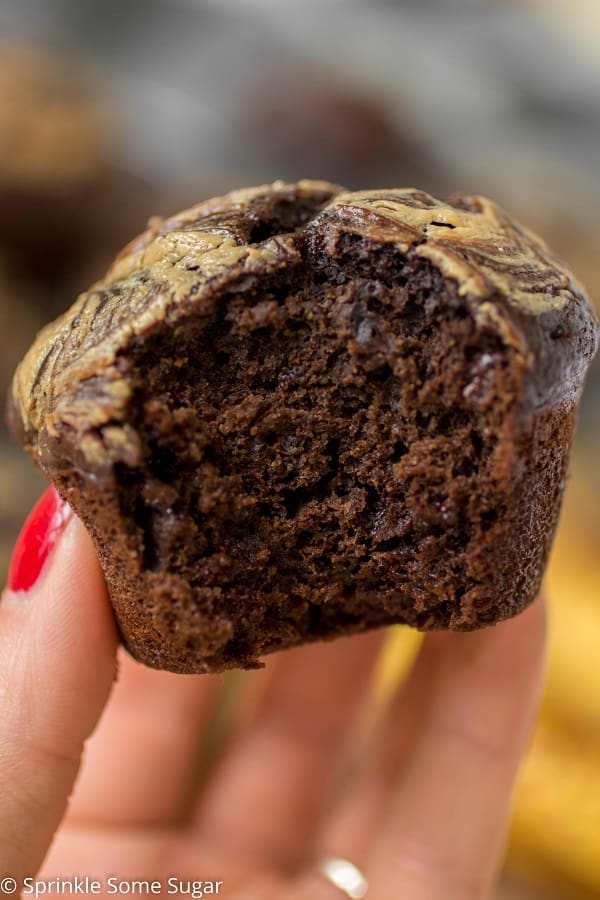 These muffins are super moist and have such a wonderful texture with lots of melty chocolate inside! Um, yum.
[pinterest]
Chocolate Peanut Butter Banana Muffins
Ingredients
2 1/4

cups

all-purpose flour

2/3

cup

cocoa powder

regular

2

tbs

dark cocoa powder

1

cup

brown sugar

1/4

cup

granulated sugar

2

tsp

baking powder

1/2

tsp

baking soda

pinch

salt

2

eggs

3/4

cup

buttermilk

2

tsp

vanilla extract

1 1/4

cup

mashed banana

1/4

cup

vegetable oil

1

cup

mini chocolate chips

2

tbs

peanut butter
Instructions
Preheat oven to 350 degrees. Grease or line a 12 cup muffin tin with paper liners, set aside.

In a large bowl, whisk flour, both cocoa powders, both sugars, baking soda, baking powder, salt and together until thoroughly combined. Reserve 2 tablespoons of mini chocolate chips and gently toss the rest into the dry ingredients.

In a separate bowl, whisk together eggs, buttermilk, vanilla, mashed bananas and oil. Make a well in the center of the dry ingredients and pour the wet ingredients into it. Gently stir until everything is just combined. You don't want to over-mix or you will have tough muffins.

Scoop batter (I like to use an ice cream scoop) into prepared muffin tin 3/4 to the top, don't be afraid to fill them. Melt peanut butter in a small bowl, drizzle some on top of each well of batter and swirl with the tip of a knife. Sprinkle a few of the reserved chocolate chips on top and gently press them down. Bake muffins for 20-25 minutes or until a toothpick comes out with a few moist crumbs on it. Allow muffins to cool in hot pan for 10 minutes before transferring to a wire rack to finish.

Chocolate Peanut Butter Banana Muffins will stay fresh for 3-4 days stored in an airtight container at room temperature. Muffins can be frozen up to 3 months.*
Notes
*The way I always freeze muffins is by wrapping each muffin individually in plastic wrap and then placing all wrapped muffins into a large freezer zip lock bag.
[pinterest]
[pinterest]