Intensely chocolatey, tender and super moist muffins.
Let's get down to business people. Do you like chocolate? I sure hope so. I am a certified chocoholic and I've never met a kind of chocolate I didn't like. These muffins have so much chocolatey goodness going on. They're chocolate on chocolate on chocolate and they're not sorry about it. They're one of my favorite breakfast treats and they go oh-so perfectly with a steaming hot cup of coffee! (Or if you're like me, hot chocolate..)
These double chocolate chip muffins bake up SO beautifully. I love how they have perfect crackly dome uniformed tops! THEY'RE JUST SO PRETTY. Ohhhh, muffin tops how I love you. These are so moist, chocolatey and just have the perfect muffin-y texture. There's nothing worse than having a bland chocolate muffin (or bland chocolate anything..). If I'm going to waste calories on a muffin, especially for breakfast, it better be amazing.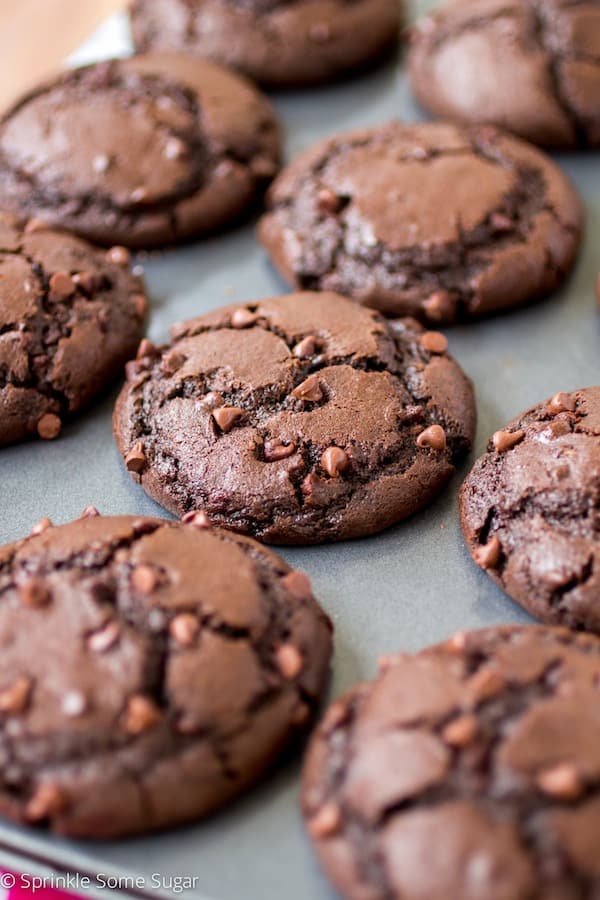 It has taken me so long to perfect this recipe. Pans and pans of poor, sad chocolate muffins have been tossed into the garbage until these beauties came out.
If you want an intensely chocolate (basically dessert but we'll call it a muffin) muffin, this is the recipe for you!
[pinterest]
Double Chocolate Chip Muffins
Ingredients
2 1/4

cup

all-purpose flour

2/3

cup

cocoa powder

regular

2

tbs

dark cocoa powder

optional, you may use 2 tbs of regular cocoa powder

1

cup

dark brown sugar

1/2

cup

granulated sugar

1/2

tsp

baking soda

2

tsp

baking powder

pinch

salt

2

eggs

3/4

cup

buttermilk

1

tbs

vanilla extract

1/2

cup

oil

1/4

cup

strong coffee

you may use 1 tsp instant coffee mixed with 1/4 cup hot water

1

cup

mini chocolate chips
Instructions
Preheat 350 degrees and line a 12 cup muffin tin with paper liners.

In a large bowl, whisk flour, both cocoa powders, both sugars, baking soda, baking powder and salt together until thoroughly combined. In a separate bowl, whisk together eggs, buttermilk, vanilla and oil. Make a well in the center of the dry ingredients and pour the wet ingredients into it. Stir until almost combined, then add hot coffee. Keep stirring until everything is just combined. Reserve 2 tbs of chocolate chips to sprinkle on top and gently fold in the rest. You don't want to over-mix or you will have tough muffins.

Scoop batter (I like to use an ice cream scoop) into prepared muffin tin 3/4 to the top, don't be afraid to fill them. Sprinkle a few chocolate chips on top of each cup of batter and gently press them down. Bake muffins for 20-22 minutes or until a toothpick comes out with a few moist crumbs on it. Allow muffins to cool in hot pan for 10 minutes before transferring to a wire rack to finish.

Double Chocolate Chip Muffins will stay fresh for up to 4 days stored in an airtight container at room temperature. Muffins can be frozen up to 3 months.
[pinterest]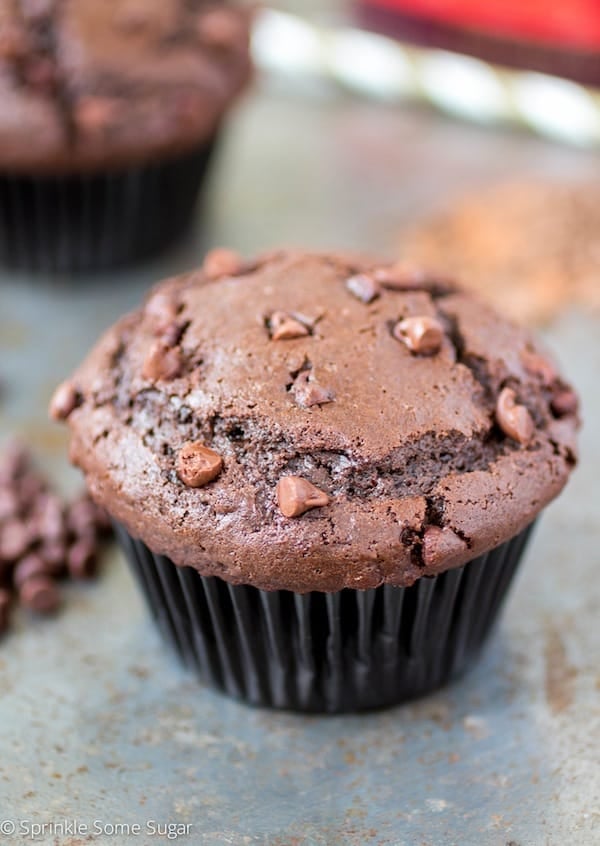 [pinterest]