This Cinnamon Coffee Syrup can be used on just about anything! In coffee, on ice cream, waffles, pancakes – you name it! So good.
Before I get into this glorious syrup, let's talk about kids. Specifically –>potty training. Nobody told me it would be SO HARD. We have been training for almost a month now with a few accidents here and there but today, TODAY we had no accidents! Praise the lord, I think we might have gotten it down!! John is going to be three in 2 months. I just can't even believe it! You know what else I can't believe? The weather here in New Jersey is still in the upper 80's! If you're like me though, you can't wait any longer and are wearing your combat boots and jeans anyway.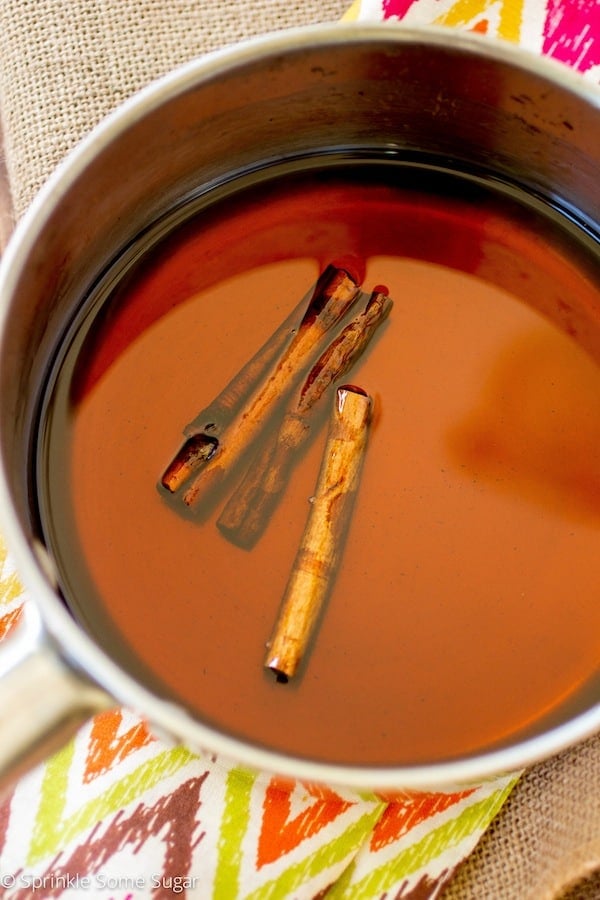 To go along with the whole celebrating Fall early theme, I'm sharing some Cinnamon Coffee Syrup with you guys today. Which really, you can enjoy it all year long, but I waited until this time of year to share it with you guys because I love spicy flavors like cinnamon in the Fall. Have you ever had a cinnamon dolce latte/any coffee drink with cinnamon dolce syrup in it from Starbucks? Well, this cinnamon coffee syrup is IDENTICAL to that stuff, if not even better because it's made fresh, just like my Caramel version. Cinnamon dolce latte's are one of the only hot coffee drinks I will actually enjoy while it's getting cooler out, so I knew I eventually had to re-create the syrup at home!
You can add this stuff to pretty much anything. Whether it be flavoring coffee coffee, frozen coffee drinks, hot chocolate, topping on ice cream, waffles, pancakes and so much more! I'll be sharing a delicious drink using this syrup with you guys next week! You're going to love it. It's the easiest recipe ever and my favorite Fall drink in the whole world. The fact that I can now make it at home makes me super excited!
If you love cinnamon, you are going to love this cinnamon coffee syrup just as much as I do!
[pinterest]
Cinnamon Coffee Syrup
Ingredients
1/4

cup

light brown sugar

3/4

cup

granulated sugar

1

cup

water

3

cinnamon sticks

1

tsp

vanilla extract
Instructions
In a small saucepan, add both sugars and water on medium-low heat and whisk until sugar is melted. Add cinnamon sticks and allow syrup to simmer for 10 minutes on low heat. Remove from heat, remove cinnamon sticks and stir in vanilla extract. Pour into an air-tight bottle and store in the refrigerator for up to 3 months.
[pinterest]