These perfectly tender scones have such a bright citrus flavor and are topped off with a sweet + tangy orange glaze.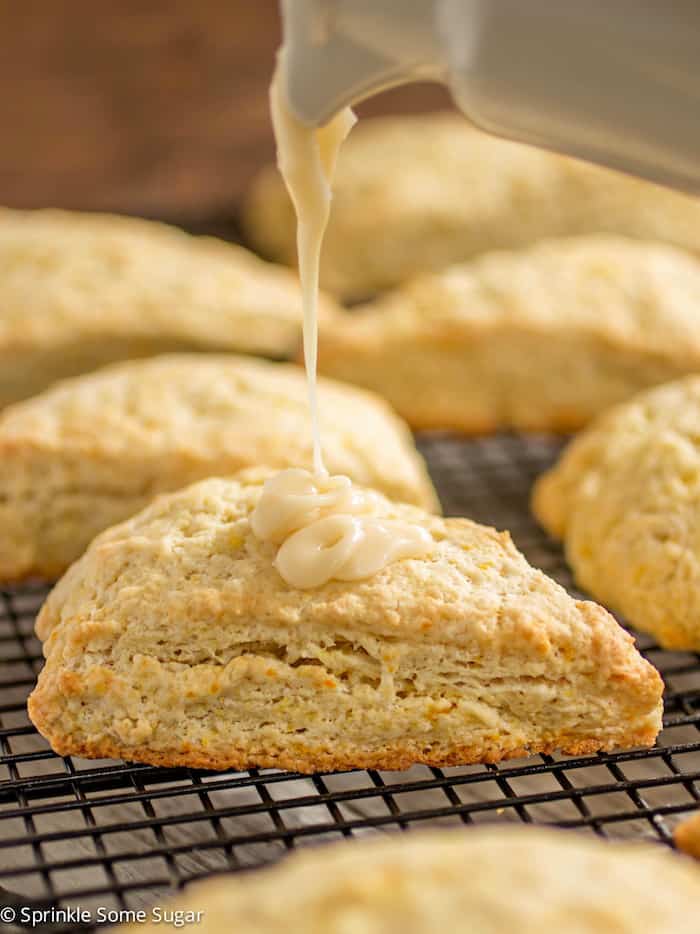 These scones… I have finally come around to updating the photos! This recipe is now one of the most popular recipes on my site – check the comments! I make them for Mike's birthday every year and they have quickly become a favorite of the entire family. Now I'm making them a few times a month! When Mike and I first started dating a while back, his favorite thing to get from Panera was their orange scones and he claims that these are even better than theirs. And if you know him, you know how critical he is about anything he eats! They're seriously SO delish. And this is coming from a girl who has a love/hate (but mostly hate) relationship with orange flavored anything. This is actually the first recipe on my blog that has any type of orange in it! I didn't even realize.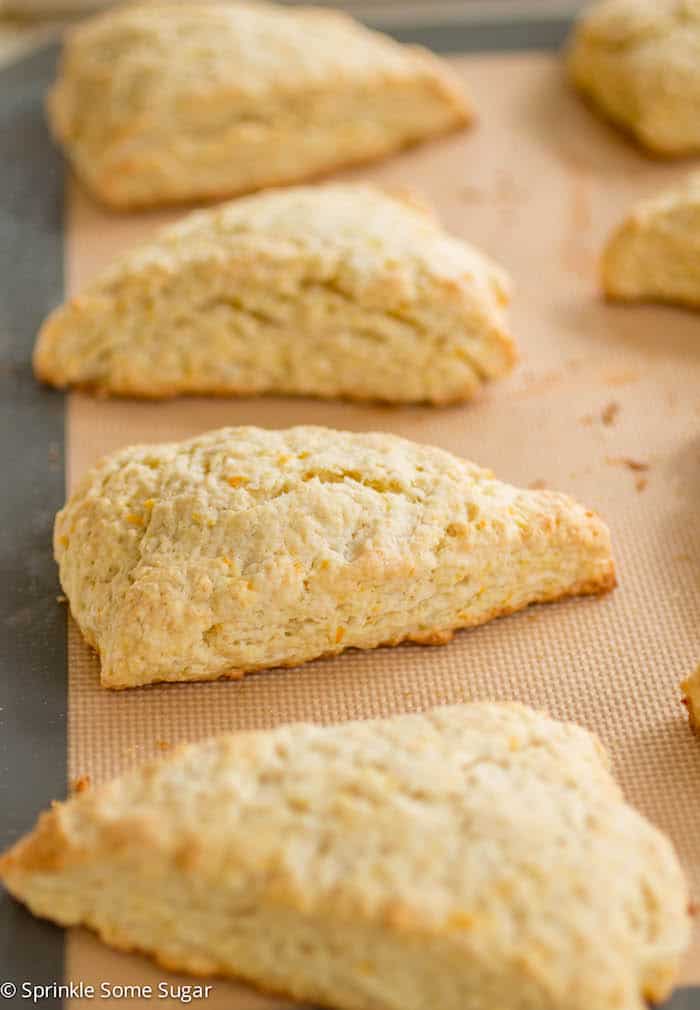 The citrus flavors are so bright and pronounced but in a non-overwhelming way. For some reason, I'm on a citrus-y dessert kick lately. And apparently I love orange now too?? I never thought I'd see the day but these things are DELICIOUS! And aren't they so pretty too? Look at those little orange flecks all throughout the scones. Love.
They have the perfect scone texture – dense and slightly crumbly but soft and tender at the same time. The glaze on top is what truly brings everything together. It's sweet but tangy and it finishes these guys off perfectly. Just be sure to only add the glaze once the scones are completely cool or else it will seep into the warm scones making them too moist and soft!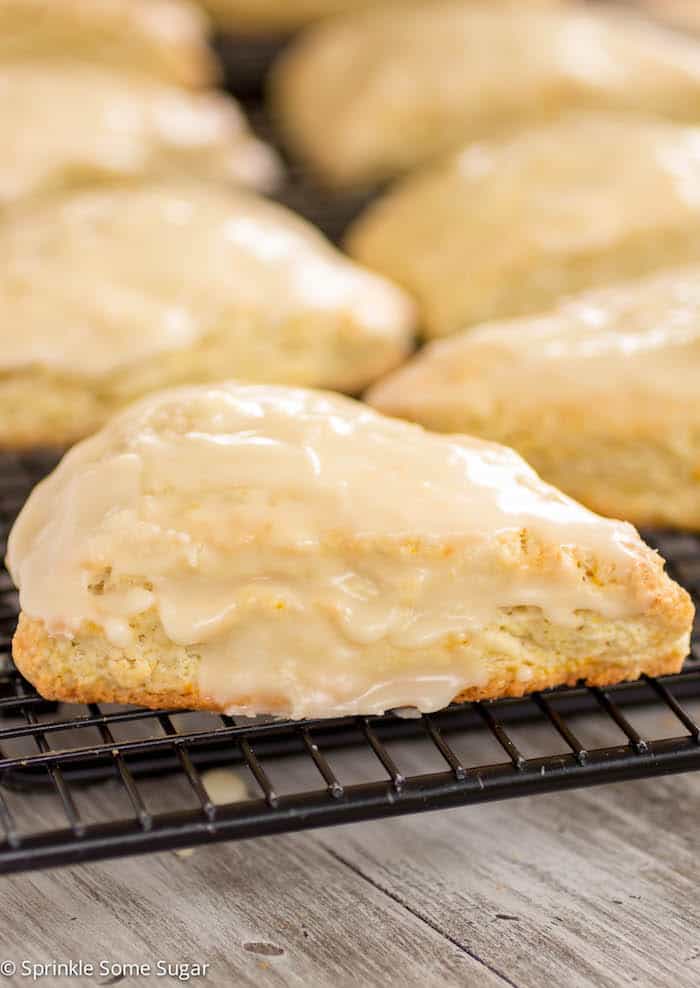 If you love scones, you've got to give these fresh orange scones a try for the best breakfast/brunch (whenever) treat ever!
Fresh Orange Scones
Ingredients
*Orange Scones*
1/3

cup

sugar

zest of one large orange or two medium oranges

2

cups

all-purpose flour

1

tsp

baking powder

1/4

tsp

baking soda

1/2

tsp

salt

1/2

cup

unsalted butter

frozen

1/2

cup

sour cream

1

large egg
*Orange Glaze*
3

tbs

unsalted butter

melted

1

cup

confectioners' sugar

1/2

tsp

vanilla extract

2-4

tbs

freshly squeezed orange juice
Instructions
Preheat oven to 400 degrees and set oven rack to the middle position. Line a baking sheet with parchment paper, set aside.

In a medium-sized bowl, gently toss flour, baking powder, baking soda and salt. Set aside. In a separate small bowl, whisk sour cream and egg until completely smooth. Set aside.

In a large bowl, stir sugar and orange zest together until sugar is moistened and zest is evenly distributed. Pour in flour mixture and toss to combine. Grate frozen butter into mixture. Using your hands, work in the butter until the mixture resembles a coarse meal. Gently stir in sour cream mixture until just about combined. Do not over work the dough! Again, very gently press the dough against the sides of the bowl a few times and form a ball. The dough will be sticky at first but will come together as you form it.

Place dough on a lightly floured surface and lightly pat into an 8" circle about 3/4" thick. Use a very sharp knife to cut into 8 triangles (like a pizza). Transfer triangles onto prepared baking sheet. You can arrange them in two rows, 4 in each row, or arrange them in a circle shape - leaving about 1" between each one.

Bake scones for 15-17 minutes or until the tops begin to golden. Don't take them out too early or they will be too soft. Allow them to cool for 10 minutes on the pan before transferring onto a wire rack to finish cooling completely. During this time, prepare glaze. Stir together melted butter, confectioner's sugar, vanilla and orange juice until smooth. Once completely cooled, go ahead and either dip the tops of the scones into the glaze or drizzle it on top with a spoon.
Recipe from My Baking Addiction.
Have you made this recipe? I'd love to know how it came out for you! Please leave a comment below and share a picture on Instagram with the hashtag #sprinklesomesugar so I can see it!
Want more? Subscribe and I'll send my newest my recipes right to your inbox – for FREE! You can also follow me on Facebook, Pinterest, Instagram, and Twitter to stay up to date!