This Peanut Butter Swirl Chocolate Candy Corn Bark is a super fun, EASY and yummy treat for Fall that the kids can help out with!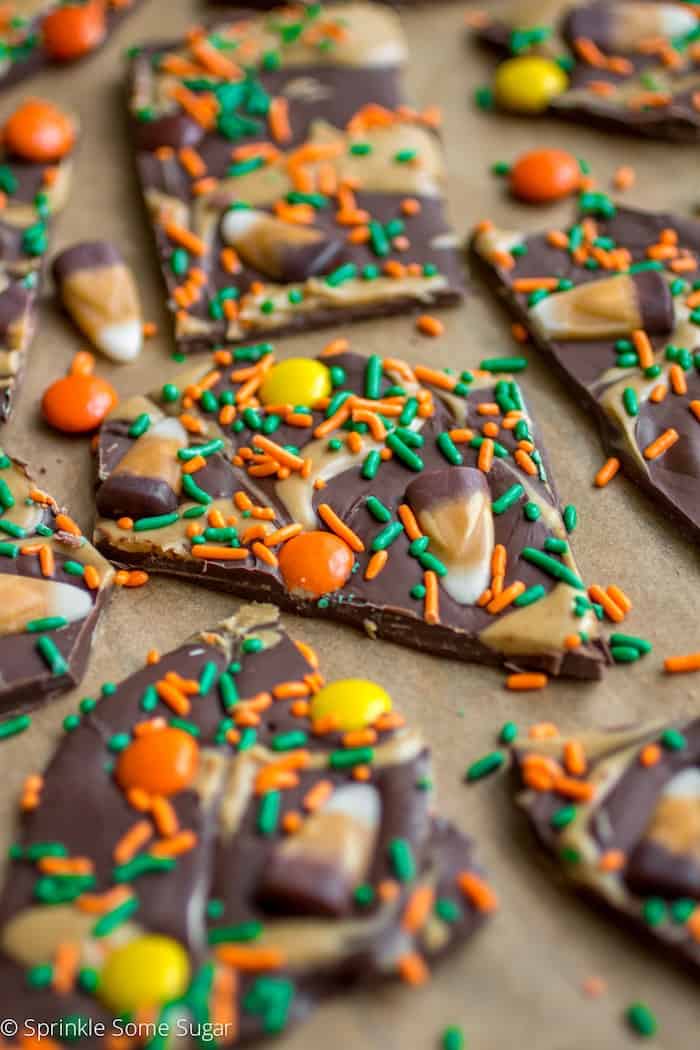 Ahhhh, Thanksgiving is right around the corner, you guys! And not only that, but I'm currently in stress-overload mode because my son's 3rd birthday party is this weekend AND his birthday lands on Thanksgiving this year. I feel like there's so much to do in so little time! If you need a last minute dessert for Thanksgiving or just something yummy and easy to add to your dessert spread, chocolate candy bark is just what you need! Bark is such a simple treat that is so versatile and can be prepared in seriously like, a billion different ways. There are so many fun things you can add to it! Your favorite candy or cookies are just some of the very many choices you have. I always love to get my little guy in the kitchen as much as I can and luckily for us with kids, this Peanut Butter Swirl Chocolate Candy Corn Bark is something that the kids can help out with!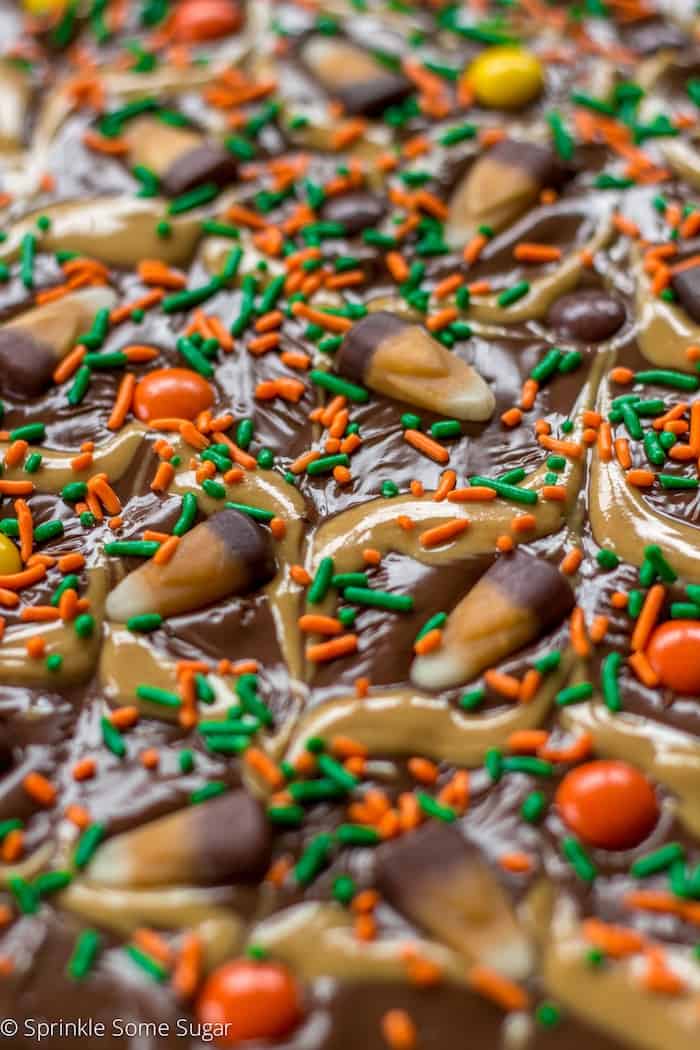 For the base of my bark, I used some Ghiardelli dark chocolate candy disks and swirled some melted peanut butter on top. On top I placed some Reese's Pieces candies, sprinkles and the peanut butter cup candy corn (so good!). You can seriously use anything you like for this! Chopped peanut butter cups would be an awesome on this, too. I should mention that after the bark is cut into pieces, it'll need to be kept in the refrigerator in a single layer until the peanut butter is firm. Once the bark is out of the refrigerator, the peanut butter softens back up.
[pinterest]
Peanut Butter Swirl Chocolate Candy Corn Bark
Ingredients
1

12 oz bag Ghirardelli Dark Chocolate Melting Wafers

2

tbs

creamy peanut butter

melted

2

tbs

sprinkles

1/4

cup

peanut butter cup candy corn

1/4

cup

reese's pieces
Instructions
Line a large baking sheet with parchment paper.

Melt chocolate wafers in the microwave at 30 second intervals until smooth. Pour onto prepared baking tray and smooth out into a large rectangle until 1/4 inch thick. Drop spoonfuls of peanut butter on top and swirl with a butter knife. Working quickly because the chocolate dries very fast, sprinkle candy and sprinkles on top and gently press down so they fit snug into the chocolate. Allow to rest for 10 minutes at room temperature until hardened. Snap the bark into pieces with your hands or cut with a knife.

Peanut Butter Swirl Chocolate Candy Corn Bark will stay fresh for up to one week stored in an airtight container in the refrigerator. (It needs to be stored in the refrigerator so the peanut butter stays solid.)