A perfectly tender & flaky homemade pie crust filled with a sweet and gooey strawberry and blueberry filling.
With Summer in full swing around here, the berries are just perfect. A few days ago, I taught you how to create the perfect, most deliciously tender and flaky pie crust and today I'm here with a recipe to fill it up! Are you a fan of making pies? I've always been a big fan of making them because the result is so rewarding and beautiful! Nerd, much? Probably. There's just something about a golden buttery, flaky crust filled with a sweet, gooey berry filling.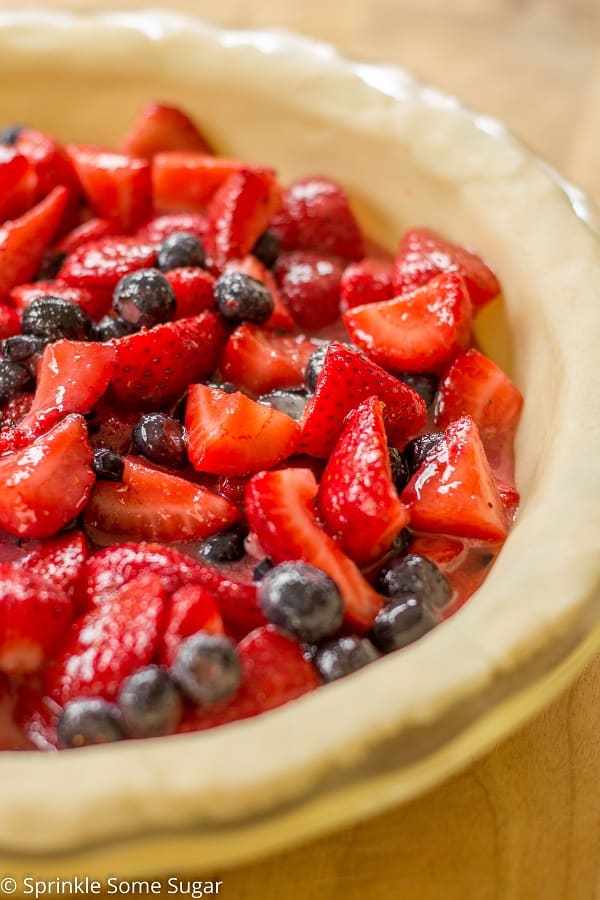 Alright, let's get into it. The ingredients are pretty simple: blueberries, strawberries, lemon juice, cornstarch, sugar and a touch of cinnamon. You can substitute either berry for your favorite, those are what I chose to use because they're my fave and together they're even better. You can use a store-bought pie crust but I reaaalllllyyyy urge you to at least give my crust a try! It comes together in minutes with a few simple ingredients you most likely have on hand. It's awesome.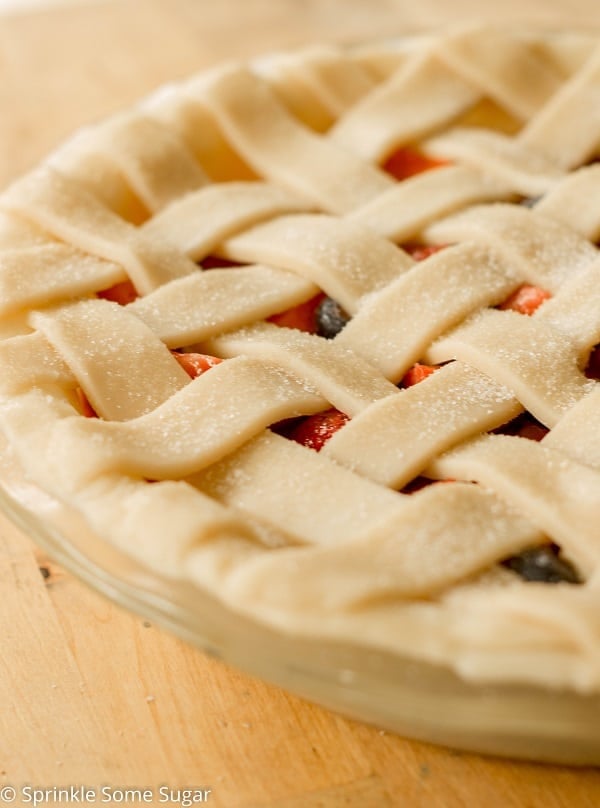 The flavor of this pie is wonderful. The filling is sweet but not overly sweet and just bursting with juice berries in every bite! Top this pie with some vanilla ice cream and you have one memorable dessert! I mean, isn't that the only way to eat a slice of pie anyway?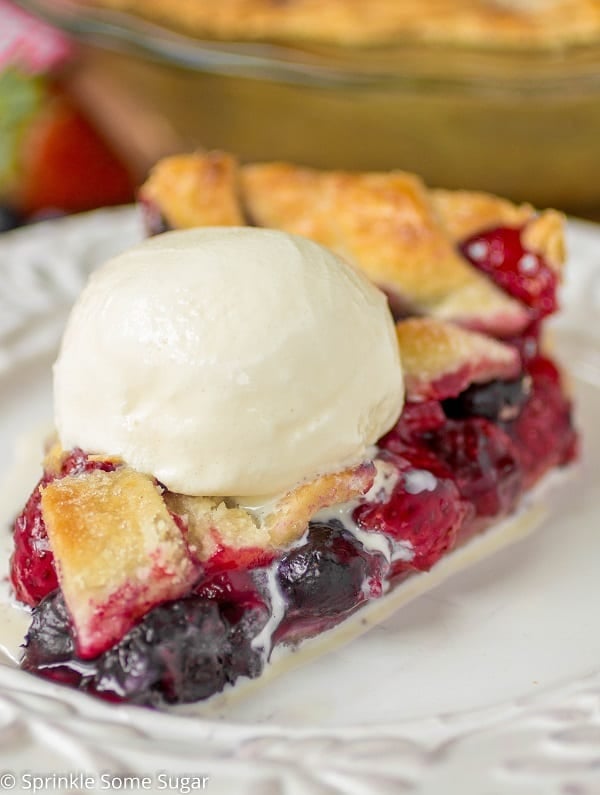 Definitely.
[pinterest]
📋 Recipe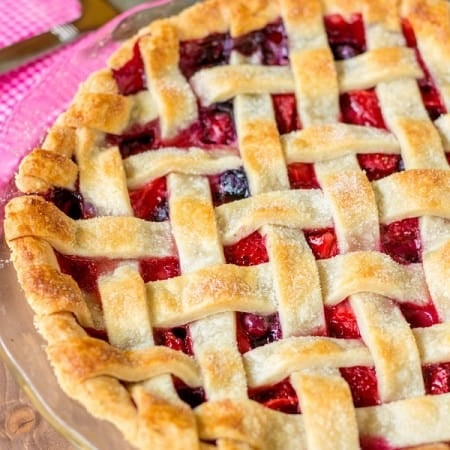 Very Berry Pie
Ingredients
1

recipe for Homemade Pie Crust

my recipe makes a double crust; 1 for top and one for bottom
*Pie Filling*
2

cups

blueberries

3 ¾

cups

strawberries

sliced in half twice

1

cup

granulated sugar

¼

teaspoon

cinnamon

6

tbs

cornstarch

1

tbs

lemon juice

1

tbs

unsalted butter

cut into 5 smaller pieces

*1 tbs unsalted butter

1

egg + 2 tbs milk*

½

tbs

granulated sugar
Instructions
Prepare my homemade pie crust recipe following the instructions in the post linked in the ingredient list with step-by-step photos.

If you are using my recipe, you should have your first half of dough prepared, pressed into your pie plate and chilled (keep it in the refrigerator until ready to use). The second half should be rolled out waiting in the refrigerator until you are ready to use it. If you are using a store-bought crust, you will need to lightly grease your pie plate and press the first pie crust into your pan.

In a small bowl, whisk sugar, cinnamon and corn starch together very well.

In a large bowl, place berries and sprinkle with the corn starch mixture. Stir to combine very well so all the berries are evenly coated. Allow the berry mixture to rest for 10 minutes to allow the natural juices to flow a bit and thicken up slightly.

Spoon mixture into prepared pie crust and spread it into an even layer. Dot with butter pieces. Set aside.

Preheat oven to 400 degrees.

Roll out your second half of dough 1" larger than the size of your pie plate. Using a pizza cutter or something similar, cut long, thin strips abut 1" wide. This is going to be your lattice crust. Arrange the strips on top and weave them over and under each other, lifting back strips as needed. Press the edges to meet the bottom crust. Using a small paring knife, cut off excess dough. Alternatively, you can just lay the second crust on top, cut a few vent holes in the center, trim the edges and crimp them together.

Before baking, brush the top of crust lightly with the egg/milk mixture and sprinkle with sugar. You also will want to use a pie shield or wrap some foil around the edges because they will burn very quickly. Bake pie for 45-50 minutes. Remove the shield during the last 15 minutes so the edges can catch up with the rest of the pie.

Allow pie to rest for at least 2 full hours before cutting into it to give it time to set up properly.

This Very Berry Pie will stay fresh for up to 5 days stored tightly in the refrigerator.
The provided nutritional information is an estimate per serving. Accuracy is not guaranteed.
Tried this recipe?
Let us know how it was! Leave a comment below & tag @sprinkle_some_sugar on instagram!
[pinterest]