This pound cake has the softest, velvet-y texture and is loaded with lots of coconut flavor.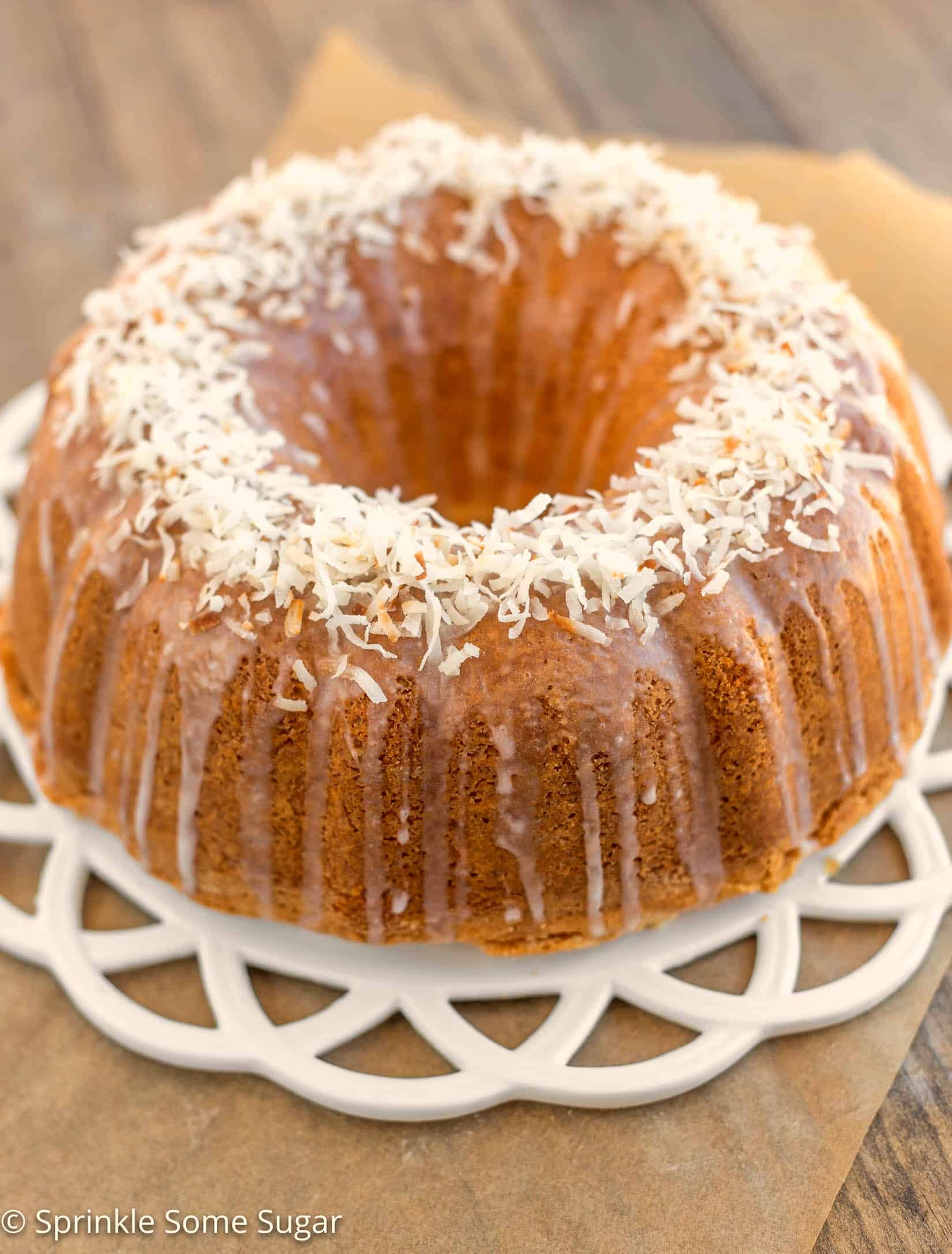 Today is a pretty special day.. it's my 25th birthday! I'm officially a quarter of a century old. The past year has had some major downs and the fact that my father isn't going to be here today, or any other birthday for that matter, doesn't make me want to celebrate much. So that sucks. BUT, I'm going to make the best of it and take my son to see a movie (the Smurf movie) with my little family. Isn't it funny how we wind up doing kid stuff on our birthdays? Lol! Oh, motherhood.
I hope you guys aren't sick of coconut yet! Whenever Easter rolls around, I turn coconut crazy. I think this will be my last coconut recipe.... I think. Don't hate me! Anyways, if you're on the coconut train, then let's get into this recipe! I took my ultra favorite pound cake recipe and turned it all coconutty and delicious. While plain pound cake will always have a special place in my heart, this coconut version has it OWNED. It is just too good to go back to the plain version.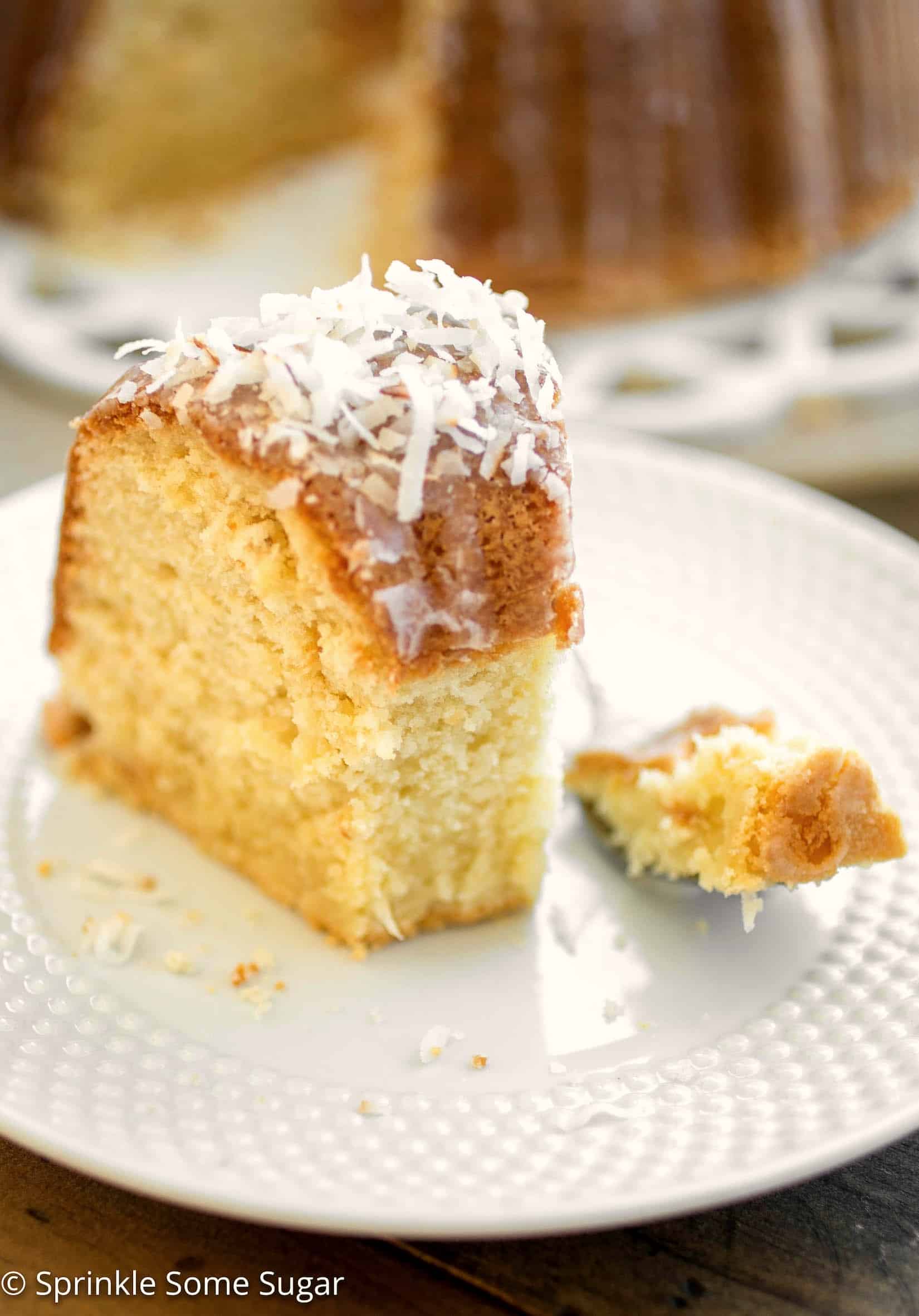 Now, this cake is not for the health-conscious person out there. We've got a good amount of butter, cream cheese and sugar going on here. Then we've got the other usual suspects like eggs, cake flour and vanilla. What makes this coconut is the addition of coconut extract/flavoring and toasted coconut. I'm obsessed with toasted coconut allll the things. It adds a little extra layer of flavor in the cake.
You can go a little more coconut crazy and add some of the extract in the glaze, but I decided a plain sugar glaze is just fine. Since ya know.. I was planning to top it with more toasted coconut anyway.
Isn't it a beauty?! This coconut pound cake has the softest, most velvety texture. It's fluffy, but dense like a pound cake should be all at the same time. This has gottttt to be on your Easter tables this year. It stays moist for days!
Coconut Pound Cake
Ingredients
*Coconut Pound Cake*
1

8 oz package cream cheese, room temperature

1 ½

3 sticks cups unsalted butter, room temperature

3

cups

granulated sugar

6

eggs

room temperature

3

cups

cake flour

2

teaspoon

vanilla extract

2

teaspoon

coconut extract/flavoring

1

cup

toasted coconut + ¼ cup to garnish
*Glaze*
1 ½

cups

confectioner's sugar

3-5

tbs

milk
Instructions
Grease and flour a bundt pan very well, set aside.

In the bowl of your stand mixer fitted with the paddle attachment (or using a hand mixer), cream butter and cream cheese together until smooth with no lumps. Pour sugar slowly into running mixer in a steady stream and beat until light and fluffy, about 2 minutes.

Add eggs one at a time beating very well after each addition, at least one minute per egg. This step is crucial for the best texture. Add vanilla and coconut flavoring. Incorporate flour and mix until just combined. Fold in 1 cup of toasted coconut by hand with a rubber spatula. Do not over mix!

Pour batter into prepared bundt pan and place into COLD oven. Turn oven to 300 degrees and bake for 80-90 minutes or until a toothpick comes out clean. Once cake is done, release the edges with a butter knife. Allow cake to cool in pan for 10 minutes before inverting onto a cooling rack to finish cooling completely.

Prepare glaze by whisking confectioner's sugar and milk together. Pour onto cooled cake. Top with remaining ¼ cup of toasted coconut for garnish.
Nutrition