Soft lightly spiced coffee cake is filled with a gooey cinnamon swirl center and topped with a sweet streusel topping + vanilla glaze!
As I'm writing this, tonight is just one of those nights. Ellio's pizza and pizza rolls are whats for dinner. #don'tjudgeme! Sometimes time slips away and maybe you take a nap with your four year old and before you know it, you wake up and it's 6 o'clock at night and you have nothing planned for dinner. SO, hopefully you are having a better night than I am, ha! Now, let's get into this cinnamon swirl coffee cake.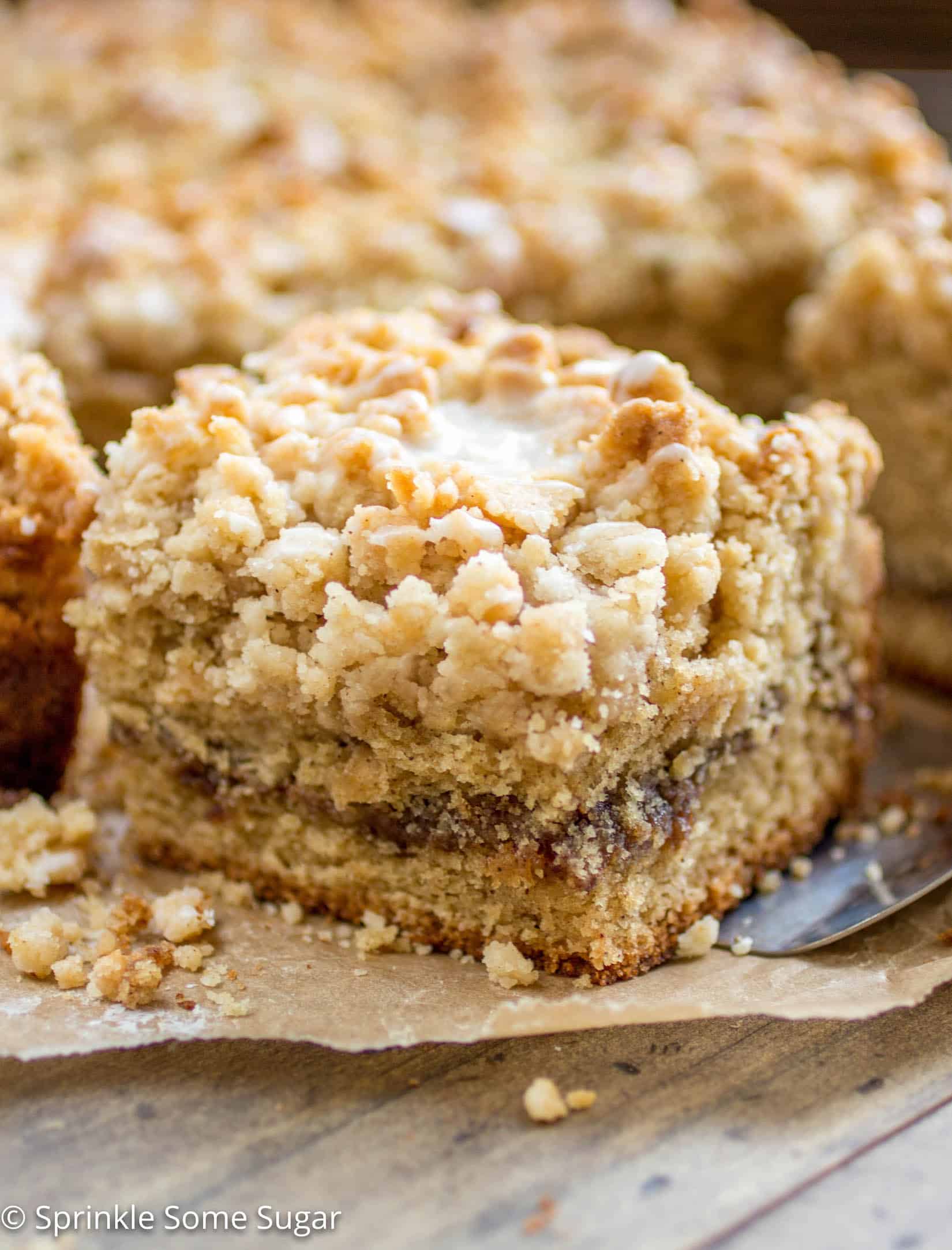 I am such a sucker for coffee cake. Especially when it has a gooey cinnamon swirl center. My. FAVE. You all know how much I love my cinnamon rolls, right? Well, coffee cake is just another "breakfast" obsession of mine. I put breakfast in quotations because is it reallllly breakfast? I mean, it's just cake without frosting – plus the crumb topping and glaze. Kind of like muffins are pretty much cupcakes nix the frosting. But coffee cake is just soooo good with a cup of coffee. Right? So, breakfast it is.
Fun fact: For most of my life I thought coffee cake included coffee in the batter. A few years ago when I made my first coffee cake recipe, I was so confused saying to myself, "where's the coffee in this recipe???" Don't be like me. They give the cake it's name because it is supposed to be enjoyed with coffee. You're welcome!
This cinnamon swirl coffee cake would be amazing for a brunch! (Easter??)
Cinnamon Swirl Coffee Cake
Ingredients
*Cake*
2 1/2

cup

all-purpose flour

2

tsp

baking powder

1/2

tsp

baking soda

1

tsp

cinnamon

pinch

salt

4

tbs

unsalted butter

softened

1/2

cup

vegetable oil

3/4

cup

light brown sugar

1/4

cup

granulated sugar

1/4

cup

sour cream

2

eggs

1

tbs

vanilla extract

2/3

cup

milk
*Cinnamon Swirl*
1/2

cup

light brown sugar

1

tbs

cinnamon
*Streusel Topping*
1/3

cup

light brown sugar

1/3

cup

granulated sugar

1 1/2

cup

all-purpose flour

1/4

tsp

cinnamon

pinch

salt

1/2

cup

+ 2 tbs unsalted butter

melted
*Vanilla Glaze*
1

cup

confectioner's sugar

1/2

tsp

vanilla extract

3-5

tbs

milk
Instructions
Preheat oven to 350 degrees and arrange rack to the center of the oven. Line a 9x9 pan with parchment paper and set aside. Do NOT use an 8x8 pan.

In a large bowl, whisk flour, baking powder, baking soda, cinnamon and salt together very well.

In a separate bowl, beat, butter, vegetable oil, and both sugars until smooth. Add sour cream, eggs and vanilla and mix until combined. Add flour gradually and mix until smooth. Pour in milk and beat again until just incorporated as you do not want to over-mix the batter.

For the filling, whisk brown sugar and cinnamon together in a small bowl. Pour half of the batter into prepared pan and top with filling mixture in an even layer. Spread the remaining batter on top of the filling. Set aside while you make the topping.

For the topping, toss both sugars, flour, cinnamon and salt together in a large bowl. Stir in melted butter until crumbly. It will still be wet but you will be able to break it up into smaller pieces. If for some reason it won't crumble, add another tablespoon of flour to the mixture. Crumble the topping over the batter in the pan into an even layer. Bake for 35-40 minutes OR until a toothpick inserted in the center comes out clean.

While cake is cooling, prepare glaze. In a small bowl, combine confectioner's sugar, vanilla and milk until smooth. Add more or less milk for your desired thickness - I like mine on the thicker side so it doesn't melt into the cake. Drizzle onto cooled cake.