I've got a quick and easy recipe for Homemade Glazed Biscuit Donuts that will take you only minutes to prepare! Using refrigerated biscuit dough makes this recipe super easy to make. The donuts are light and fluffy and are dunked in a sweet crackly glaze. Each bite truly melts in your mouth!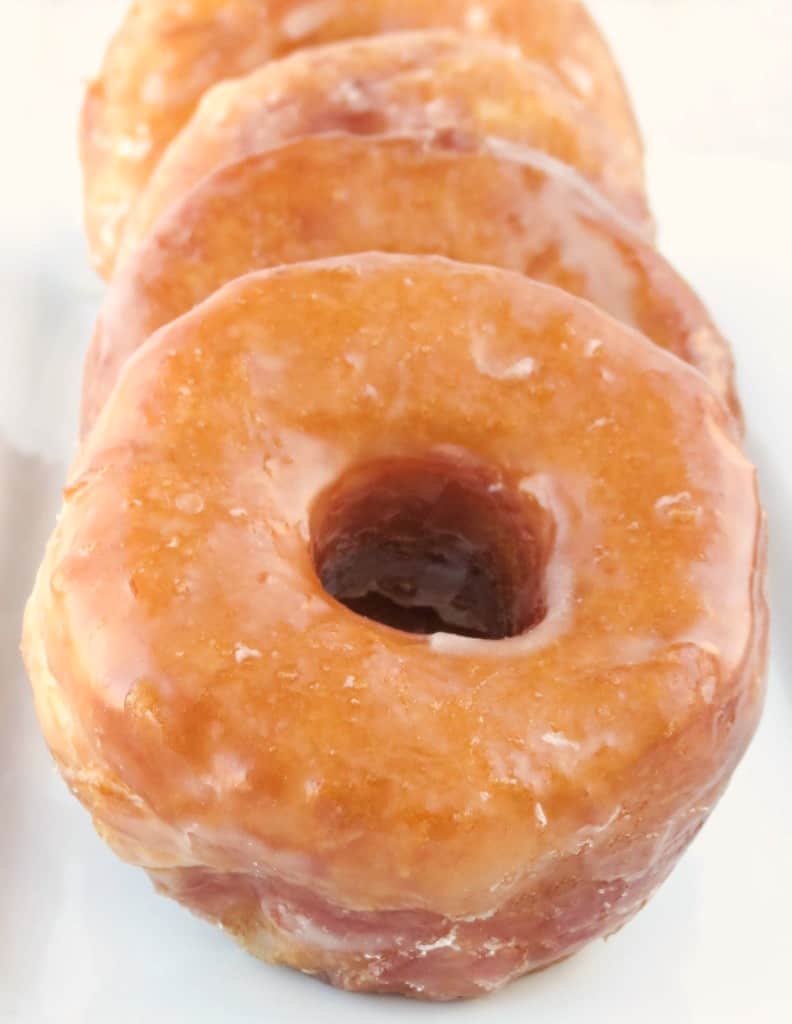 Many years ago I saw the idea of fried biscuit dough donuts floating around the web so much and decided to give it a whirl - this changed EVERYTHING! I was so ready for failure because I thought, how could biscuit dough possibly taste like a donut? Well, I'm here to report that they come out of the hot oil perfectly fried to golden perfection on the outside, and soft and fluffy on the inside. The thin sweet glaze coating the entire donut just makes them absolutely irresistible!
Craving more donuts? Try my baked glazed chocolate cake donuts.
Ingredients to make homemade glazed donuts
Biscuit Dough: You will need 8 biscuits for this recipe. I love that with using refrigerated biscuit dough, you get 8 large donuts + 8 little donut holes which will be gobbled up in seconds!
Vegetable oil: Used to fry the donuts in.
Powdered sugar
Vanilla extract
Water: Hot water is used to create the glaze and crinkly top.
Substitutions & Variations
Cinnamon sugar: Instead of a glaze, brush with melted butter and dip donuts into a cinnamon sugar mixture. Like my baked cinnamon sugar donuts.
Chocolate: Dip donuts into a chocolate glaze.
Maple glaze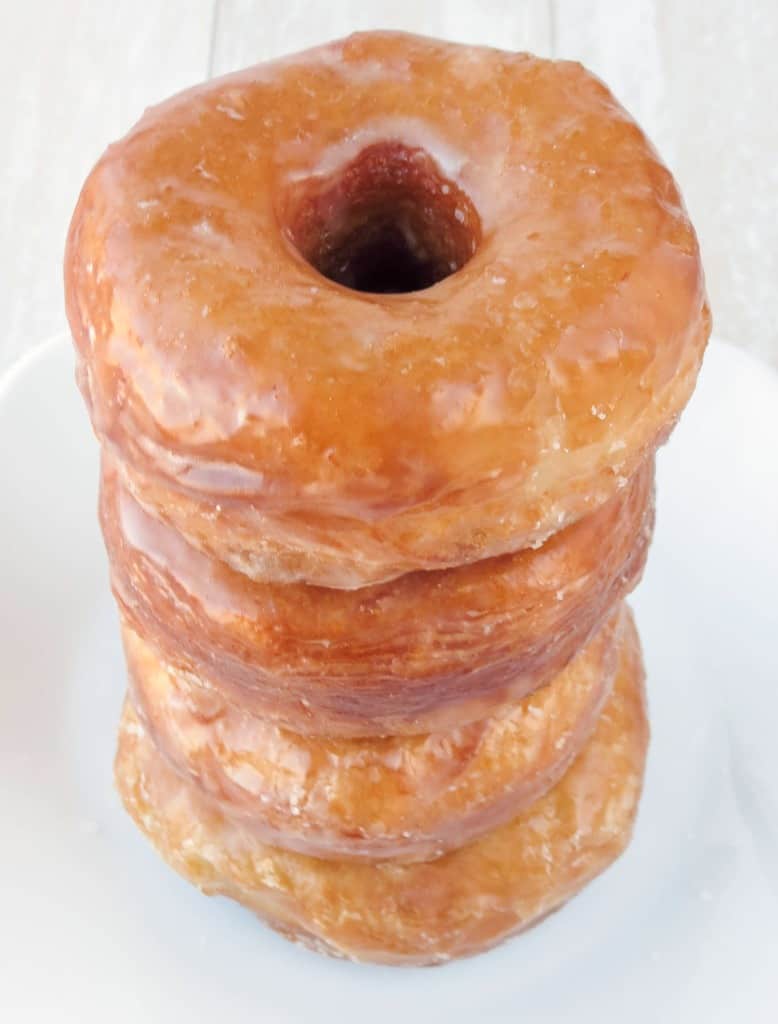 How to make glazed biscuit donuts
There's barely any work required to make these donuts!
Heat 2 inches of vegetable oil to 375°F.
Separate the biscuits and cut a hole in the center of each disk. Roll the holes into balls.
Fry the donuts two at a time until golden brown, about 1 to 2 minutes. Flip and repeat for the other side.
Immediately dip in glaze while hot then transfer to a wire rack.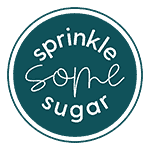 Recipe Tip
Be sure to keep the oil temperature at a consistent 375°F to ensure the donuts fry to fluffy perfection! Or else you may wind up with greasy donuts that have soaked up the oil.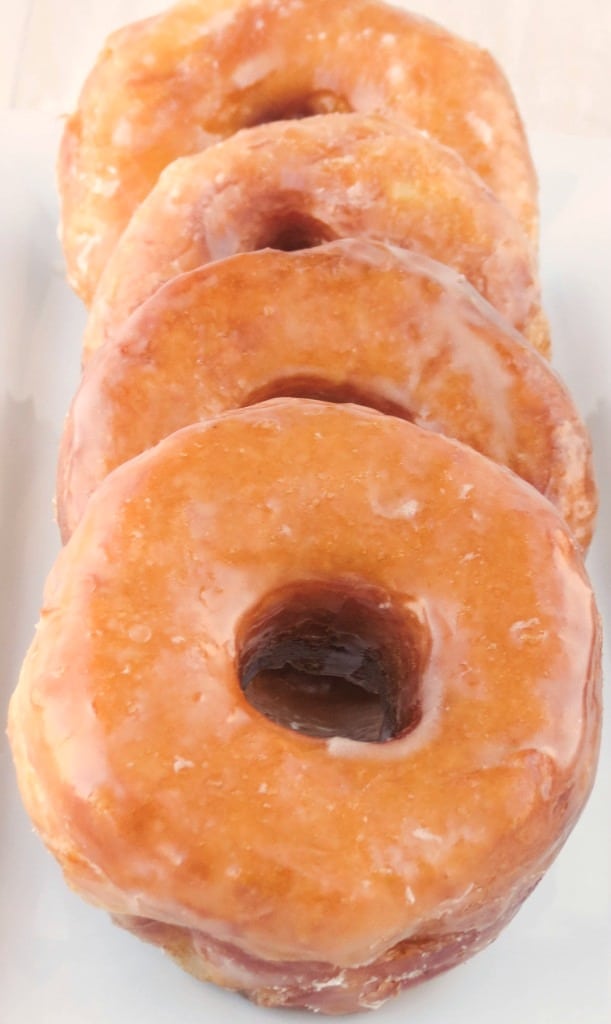 Recipe FAQ
What type of biscuit dough should I use?
You can use any refrigerated biscuit dough you prefer, such as flaky, buttermilk, or homestyle. I like to use just pain homestyle.
Can I use homemade biscuit dough?
Yes, you can use homemade biscuit dough if you prefer. Roll it out to about ¼ inch thickness and proceed with the donut-making process.
What kind of oil should I use for frying?
A neutral-flavored oil like vegetable oil or canola oil is best for frying donuts.
How long do I fry the donuts?
Fry the donuts for about 1-2 minutes on each side, or until they turn golden brown. Be sure not to overcrowd the pan, which can lower the oil temperature.
How do I prevent the donuts from being greasy?
To prevent greasy donuts, make sure the oil is at the correct temperature and avoid overcrowding the frying pan. Place fried donuts on paper towels to absorb excess oil.
Can I make these donuts in advance?
While these donuts are best enjoyed fresh, you can make them a few hours ahead and reheat them in a low oven (about 300°F or 150°C) to restore their crispiness.
What can I use for the glaze?
A simple glaze can be made with powdered sugar, milk or water, and a dash of vanilla extract. You can also get creative with flavored glazes like chocolate, maple, or matcha.
How do I store leftover glazed biscuit donuts?
Store any leftover donuts in an airtight container at room temperature for up to two days. However, they are best when fresh.
Can I freeze these donuts?
Yes, you can freeze the donuts before glazing. Place them in a single layer on a baking sheet and freeze until solid. Then, transfer to a freezer bag or airtight container with parchment paper between layers. Thaw and glaze when ready to eat.
Can I add toppings like sprinkles or chopped nuts?
Absolutely! After glazing, you can quickly garnish your donuts with toppings like sprinkles, chopped nuts, or even shredded coconut for extra flavor and texture.
Can I make mini donut holes?
Yes, you can use smaller cutters to create mini donuts or donut holes. Adjust the frying time accordingly, as they will cook faster than larger donuts.
What are some flavor variations for the glaze?
You can experiment with different glaze flavors by using a chocolate glaze, maple glaze, or fruit extracts for fruity glazes. So many ways to get creative with these!
More donut recipes you'll enjoy
Did you make this recipe?
Please leave a ⭐️ review below and tag @sprinkle_some_sugar on Instagram!
📋 Recipe
Homemade Glazed Biscuit Donuts Recipe
I've got a quick and easy recipe for Homemade Glazed Biscuit Donuts that will take you only minutes to prepare! Using refrigerated biscuit dough makes this recipe super easy to make. The donuts are light and fluffy and are dunked in a sweet crackly glaze. Each bite truly melts in your mouth!
Ingredients
Donuts
1

can

refrigerated biscuit dough

8 biscuits

1

quart

vegetable oil
Glaze
2

cups

powdered sugar

1 ½

teaspoon

vanilla extract

3-4

tbs

hot water
Instructions
Heat oil in a large pot or dutch oven to 375°F using a thermometer. It's easiest when the thermometer clips to the side of the pot to ensure the temperature is consistently at 375°F.

Place paper towels on a wire rack where you will place donuts when they come out of the hot oil. Set up another wire rack next to the first one for the glazing station. Place a paper towel underneath to catch excess glaze for easy clean up.

Mix glaze ingredients together until smooth. Add more hot water as needed for the consistency desired.

Separate biscuits and cut circles in the center of each disk. Roll each center piece into balls. Place donuts 2 at a time into hot oil until golden brown. Flip onto other side and fry again until golden brown. This should only take about 1-2 minutes for each side.

Scoop donuts out with a slotted spoon and place on paper towel lined wire rack for 1 minute. Immediately dip hot donuts in glaze on both sides and place on wire rack.

Repeat the frying and glazing process for the rest of the donuts and donut holes. Serve immediately.
Notes
Storage instructions: Donuts are best served immediately or same day.
The provided nutritional information is an estimate per serving. Accuracy is not guaranteed.
Tried this recipe?
Let us know how it was! Leave a comment below & tag @sprinkle_some_sugar on instagram!