These baked donuts are big, fluffy and bursting with so much warm, cozy flavor! Perfect for a breakfast treat. My favorite donuts!
So, this week I am taking some much needed time off to go to a horse show with my family. I mentioned more about this here – and even shared an awkward photo of myself riding. As much as I love food blogging and am more than grateful to be able to call this my career, momma needs a day off! Or in this case, a week! I'll still be on social media and checking my email from time to time to answer your questions and what not (because let's face it, it's way too hard to unplug), but it's going to feel so good to step away and not have to worry about my internet baby for a little while.
Now, to the reason you're here: Donuts. Cinnamon Sugar Donuts. Ohhh man. They are my favorite homemade donuts ever. I like them even more than these. I really just want to dunk everything in cinnamon sugar. It's like magic fairy dust to make everything taste better. These donuts are big, fluffy and just bursting with warm, comforting flavors like cinnamon, nutmeg and cloves.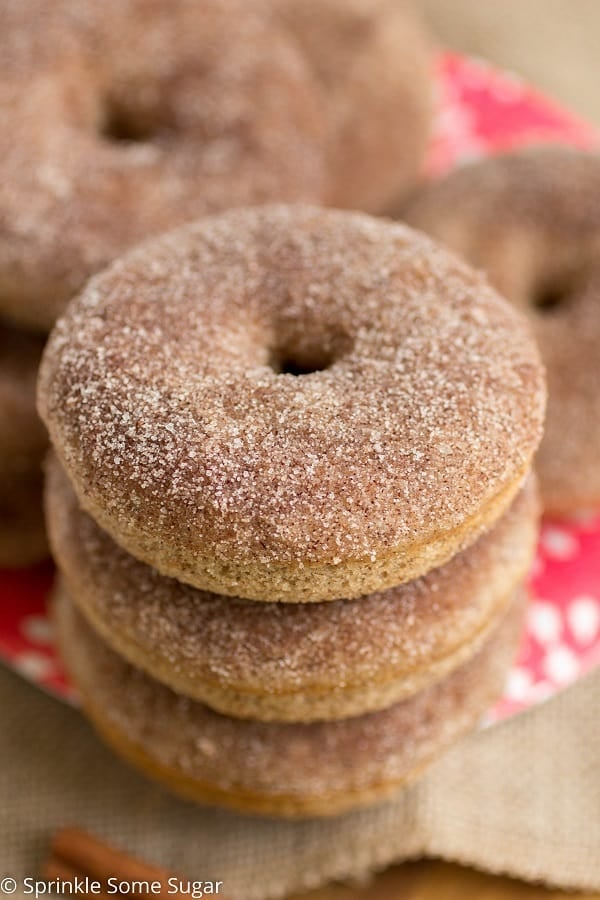 What I love about them is how easy they are to make and there are no weird or special ingredients needed. The batter is mixed up and in the oven within ten minutes. When they come out of the oven they get dunked in some melted butter and cinnamon sugar and they're good to go! Super easy.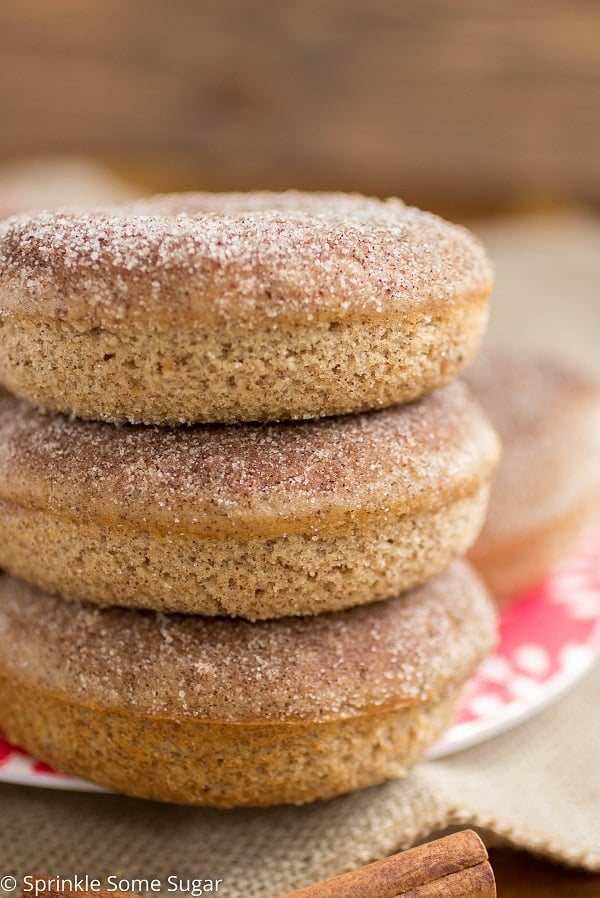 These donuts are baked rather than fried which cuts down on some of the calories and that way, you don't have to feel so guilty when you inhale a whole pan to the face. Just kidding…. or am I? And trust me, you will totally not even miss fried donuts once you try them for yourself.
These taste just like what you would get at a bakery. Maybe even better because they are made right in your kitchen!
[pinterest]
Ingredients:
10 tablespoons unsalted butter, melted
1/2 cup light brown sugar, packed
1/2 cup granulated sugar
2 eggs
3 teaspoons vanilla extract
1 1/2 cups buttermilk
3 teaspoons baking powder
2 1/2 cups all-purpose flour
4 teaspoons cinnamon
2 teaspoon ground nutmeg
pinch of salt
6 Tablespoons unsalted butter, melted
2-3 tsp cinnamon
1/2 cup granulated sugar
Instructions:
Preheat oven to 350°. Spray a donut pan with cooking spray and set aside.
In a large bowl, whisk together the flour, baking powder, pinch of salt, cinnamon and nutmeg and set aside.
In a separate bowl, mix the melted butter and sugars together until smooth. Add in the eggs and vanilla and stir until completely combined. Pour in the buttermilk and mix until smooth. Stir in the flour mixture and mix until just incorporated. Do not over mix or donuts will be tough.
Pour the batter into a ziploc bag and cut off one corner. This makes it much easier to pour into the donut wells. Pour batter into prepared pan about 3/4 to the top of each well. Bake for 14-15 minutes or until the tops are firm and spring back slightly when you touch them. Do not over bake or you will have dry donuts.
When done, remove donuts from the oven and let them cool in the pan for 5 minutes then remove them carefully and place on a wire rack to cool until they are warm to the touch so you are able to handle them. While they are cooling, get your cinnamon sugar topping ready.
In a small bowl, melt butter in the microwave. Set aside.
In a separate bowl, mix together the cinnamon and sugar. Set aside.
Once donuts are cool enough to be handled, dip the tops into the melted butter and then quickly into the cinnamon sugar mixture. Repeat for the entire batch of donuts.
These Cinnamon Sugar Donuts are best served fresh the same day, but will stay soft and fluffy for up to 3 days stored in an airtight container. If they get a bit firm, you can reheat in the microwave for a few seconds to soften them up and they are good as new.
https://www.sprinklesomesugar.com/cinnamon-sugar-donuts/
[pinterest]