A fluffy, creamy french toast is smothered the night before in a sweet batter and the next morning is topped with a crumble topping and baked to perfection.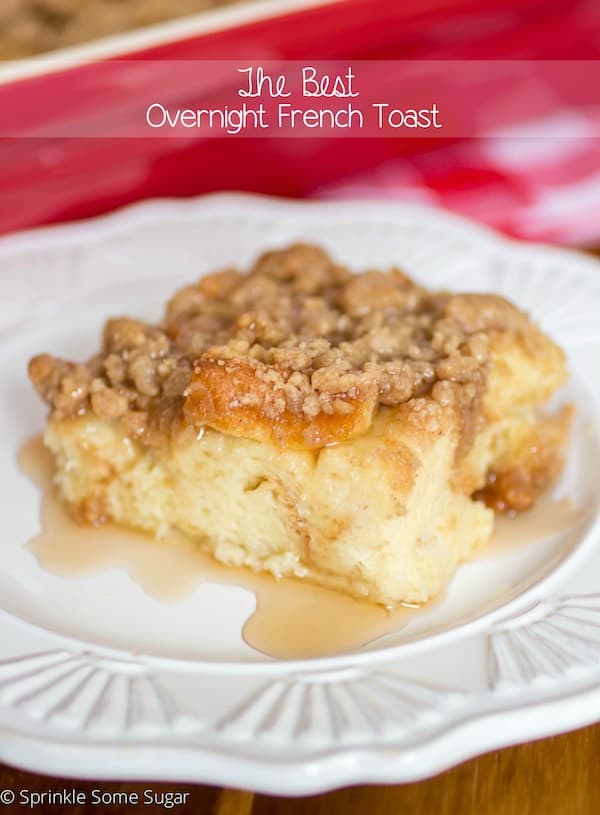 So, yesterday I'm sure you all heard about the "potentially historic blizzard" we got here on the East Coast… *crickets* … But it turned out to only be a few inches of snow and everyone was pretty upset about it since they sent everyone in basically a full blown panic. (This video had me DYING. Hahahaha) But me, not so much. As long as we had a fun snow day where Mike got to stay home and there was enough snow to play outside, I didn't care how much snow we got! John absolutely loves the snow so it's so much fun! If you follow me on Instagram you already have seen my snowy pictures. Here's some photos of my snow bunnies 🙂 :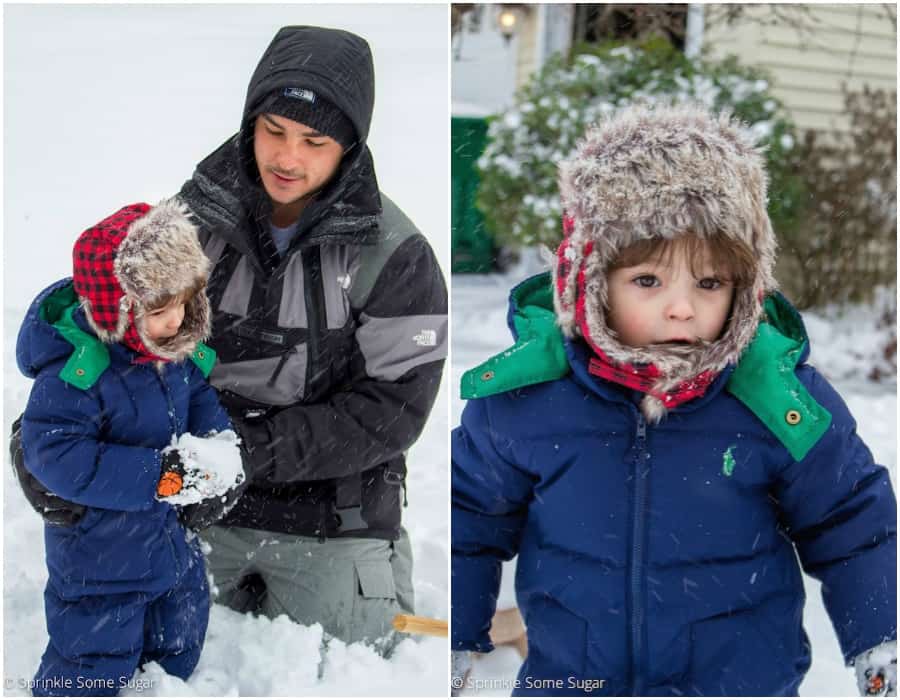 and back to this deliciousness..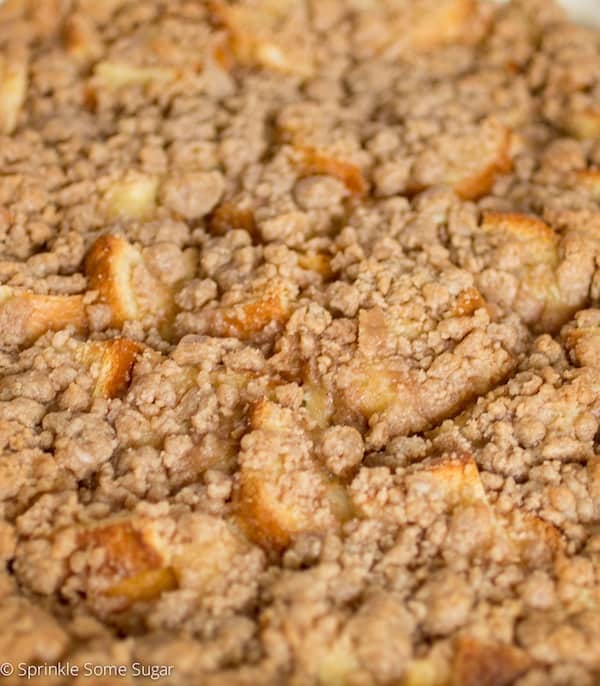 The night before, I knew I wanted to make a delicious breakfast to wake up to on the chilly, snowy morning so I thought Overnight French Toast would be awesome. And mannnn, was I right! The center is slightly gooey and you can control the gooeyness by how long you bake it. I don't like mine too gooey so I baked it for almost the full amount of time.
This was my first attempt at overnight French toast and this for sure won't be my last! This glorious pan of amazing stuff is my new favorite breakfast. It's definitely making the holiday morning, special occasion and if-guests-are-staying-over list. It's perfect! Especially because you do all the prep work the night before so the morning of, all you have to do is just sprinkle the crumble on top and pop it right into the oven. So super easy!!
[pinterest]
The Best Overnight French Toast
Ingredients
*French Toast*
about 12-15 slices white bread

any bread will work + you may need more or less

6

eggs

2

cups

whole milk

1/2

cup

heavy cream

3/4

cup

granulated sugar

2

tbs

vanilla extract
*Crumble*
1

cup

flour

plus up to 1/4 cup more if needed

1/2

cup

brown sugar

1

tsp

cinnamon

pinch

salt

1/2

cup

cold butter

cut into tiny chunks
Instructions
Grease a 9x13 pan very lightly with non-stick cooking spray. Set aside.

Cut bread slices into 1 inch chunks and stagger them in the prepared baking dish as even as possible. You may need more or less bread depending on thickness/size etc. so just be sure to fill up the pan 3/4 to the top. In a large measuring cup or bowl, whisk eggs, milk, heavy cream, sugar and vanilla together until combined. Pour mixture evenly over bread pieces trying to moisten every piece as well as you can. Cover and store in the refrigerator over night.

Next, prepare the crumble. In a medium sized bowl, whisk together flour, brown sugar, cinnamon and salt. Cut in butter with a fork or your hands (my preferred method) until a coarse meal consistency is achieved. If the mixture is too "wet" and buttery, add a little bit more flour one tablespoon at a time. until the mixture is crumbly. Either cover the bowl with saran wrap or dump the mixture into a zip lock bag and store in the refrigerator over night with the pan of french toast. (I like the bag method because in the morning I can break up the crumble pieces with my fingers through the bag without having to squish it in my hands.)

In the morning, preheat your oven to 350 degrees. Uncover the french toast and evenly distribute the crumble on top. Bake for 40 minutes - 1 hour depending on how gooey you want the center to be. Once you hit the 40 minute mark, I would start checking the center every 5 minutes until its to your liking. (I bake mine for about 50 minutes because I don't like mine too gooey, but I don't like it dry either.) Once done, serve warm with maple syrup or even just a sprinkle of confectioner's sugar on top.

This Overnight French Toast will keep for up to 2 days stored either at room temperature or in the refrigerator for up to 3 days.
[pinterest]
Have you entered my
GIVEAWAY
yet?! It will be closing tomorrow night!
Enter, enter, enter away!