Just as the name states.. they're perfect! Fluffy, buttery and delicious. My family's favorite pancakes and the only recipe I use!
I'm so excited to share this recipe with you guys today! I know what you're thinking.. another pancake recipe out of the other 5 million you can find on the internet, right? But these pancakes are different. They're the best of best. The cream of the crop. My favorite!!! I've mentioned on here a few times how my son is the pickiest eater in the entire world. He'll eat about 4 different things, one of the being pancakes, so I make a batch – or double batch – of these every single week. The taste and texture of these pancakes is incomparable to any other homemade pancake I've ever made. Sometimes you'll get an amazing flavorful pancake, only to be disappointed by a soggy mess when you add syrup. These pancakes are totally not the case! They do not get mushy or grainy when syrup is added. That's one of the reasons I love them!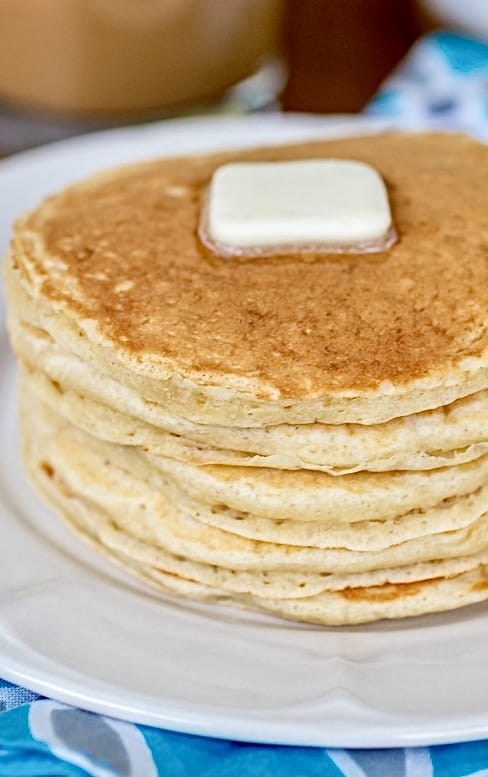 Even Mike, my other BIG picky eater loves these pancakes and raves about them to everyone in his family. I've never tried adding fresh fruit to these, but I imagine blueberries would be amazzzzzing. Is that weird that I've actually ever had a blueberry pancake before? Or actually now that I think about it, I've never had a pancake with any kind of fruit in it. If I add anything to my pancakes it's chocolate chips and that's what the Mr. loves in his too.
If I'm making these only for my son, I always freeze the pancakes I know I won't be needing so they don't go to waste. One bag goes in the fridge for the week, (or the next couple of days) and the rest go in the freezer as soon as they cool down to preserve their freshness. They are SO good out of the freezer too! They taste just as good as made fresh. I just pop them in the microwave out of the refrigerator or freezer for a few seconds and we're good to go. I imagine keeping some on hand in the freezer would be incredibly helpful for those hectic school mornings, too!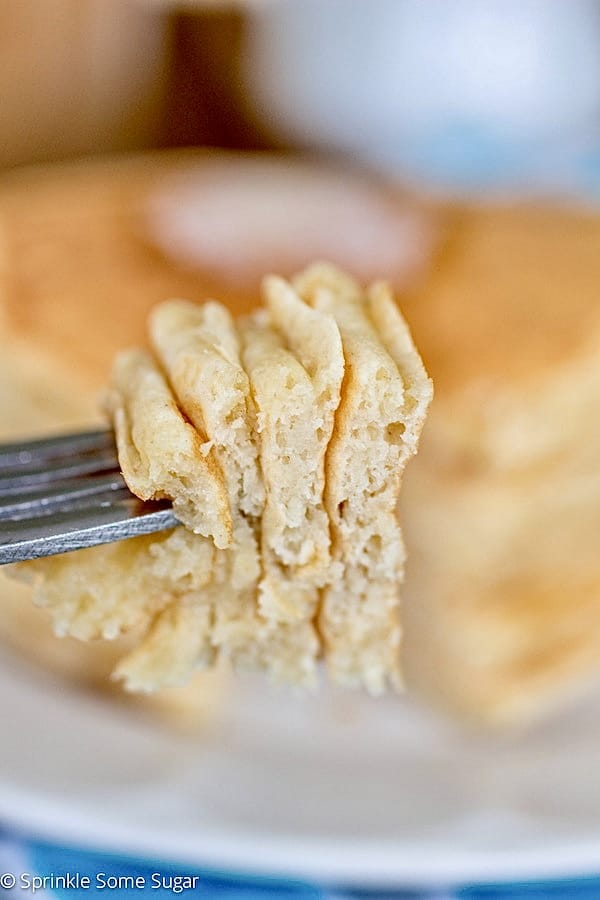 These pancakes are so buttery, so fluffy and just ridiculously delicious. They're the most perfect buttermilk pancakes.
You need to give them a try, they'll be your new favorite too!
Perfect Buttermilk Pancakes
Ingredients
1 1/2

cup

milk

any kind. I usually use whole

1/4

cup

white vinegar

2

cups

all-purpose flour

1/4

cup

granulated sugar

2

tsp

baking powder

1

tsp

baking soda

pinch

salt

2

eggs

4

tbs

unsalted butter

melted

3

tsp

vanilla
Instructions
In a large measuring cup, measure milk and add vinegar. Stir slightly and set aside to allow the mixture to "sour" for 10 minutes.

In a large bowl, whisk together flour, sugar, baking powder, baking soda, and salt. Make a well in the center and add milk mixture, eggs, melted butter and vanilla. (If you are adding mix-ins, this is the time to do so.) Stir all ingredients together JUST until there are no visible flour pockets remaining. PLEASE NOTE: You do not want to over mix this batter (!!!), it should be a little lumpy. If the batter is completely smooth and runny, you will have flat pancakes – which taste equally delicious!

Set the batter aside without mixing or touching it (it's important not to disturb it) and get your pan or griddle ready to cook. Turn griddle on medium low heat and add little bit of butter or non-stick cooking spray. Still be careful not to disturb the batter too much. Resist the urge to stir! Pour about 2 tbs-1/4 cup of batter for each pancake. Once you see a few bubbles on top and underneath is golden brown, flip and cook the other side – about 2 minutes on each side. Continue the cooking process for the rest of the batter.

Serve pancakes immediately with some butter, maple syrup, whipped cream or whatever your little heart desires!

Perfect Buttermilk Pancakes will stay fresh for 7 days stored in the refrigerator in an airtight container. If storing in the freezer, they will stay fresh for up to 3 months.
Notes
Notes:
Freezing tips: Once pancakes are completely cool, immediately package the pancakes into several freezer bags. Doing this step as soon as they cool ensures they will keep their freshness. I usually do about 6 pancakes per bag for ease to get them apart, they usually separate very easily. To thaw, place pancakes in a single layer in the microwave and heat for about 20-25 seconds in their frozen state or until they are warm.