My favorite staple recipe for golden, buttery waffles that are perfectly crispy on the outside and fluffy on the inside.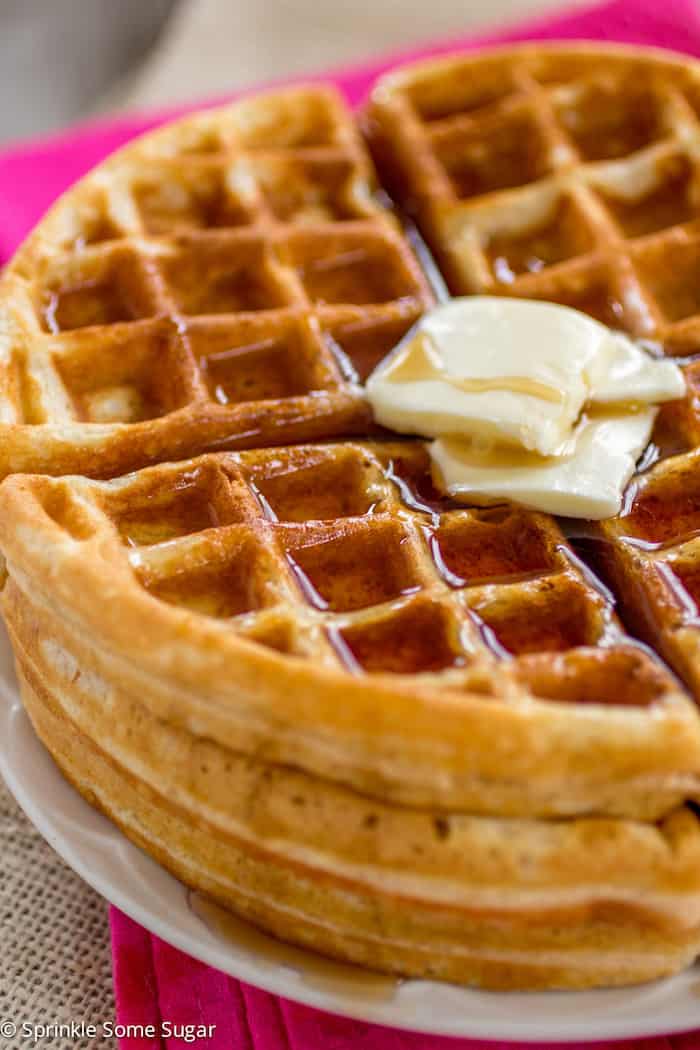 For all who celebrated, I hope you had a Happy Easter! We had a fun-filled weekend of Easter festivities. You can see a photo here of the little setup our Easter bunny left! John had a blast doing all of the Easter egg hunts this weekend, but mayyybe we'll try again next year for him to give the Easter bunny some loving. If you really think about it, how weird are Holiday photos with the Easter bunny. Or even Santa? And is it considered child abuse that even though I know my child is going to hate sitting on their lap, I have him take a photo anyway. It's like a screaming photo collection. And it's hilarious!!! Haha! Anyways, I hope your holiday was filled with family, laughs and lots and lots of food!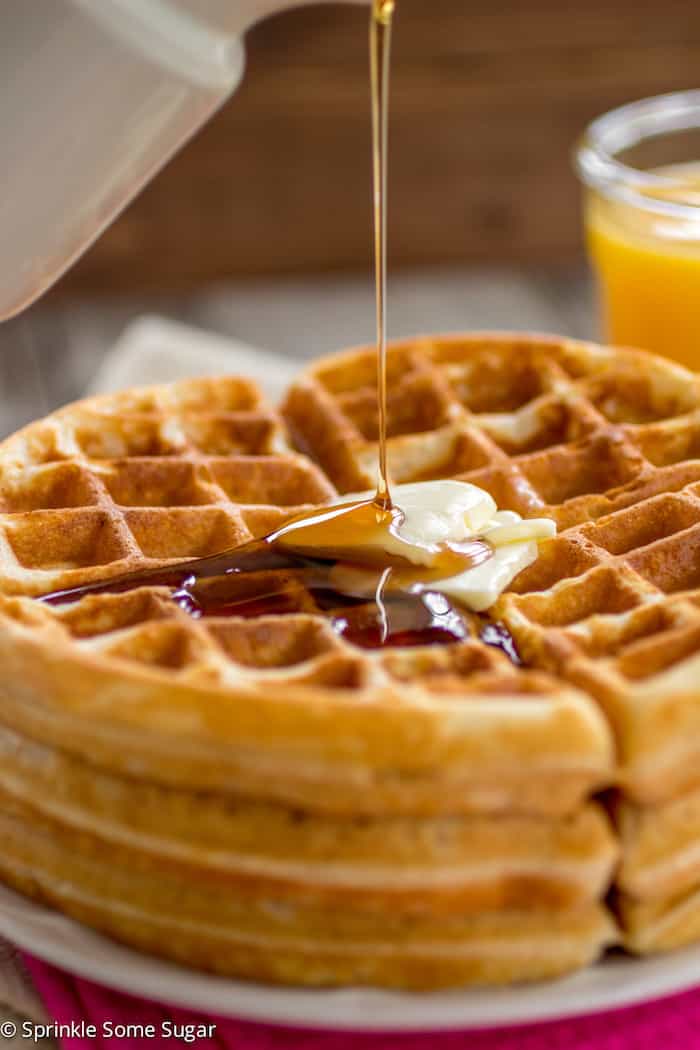 Let's start your Monday morning off with something really delicious – waffles! I don't know what it is, but the past couple of weekends I've been SO into making waffles and my family isn't complaining either. These are hands down, the best waffles I've ever had. They come out nice and crispy on the outside and soft and fluffy on the inside. They are absolutely perfect!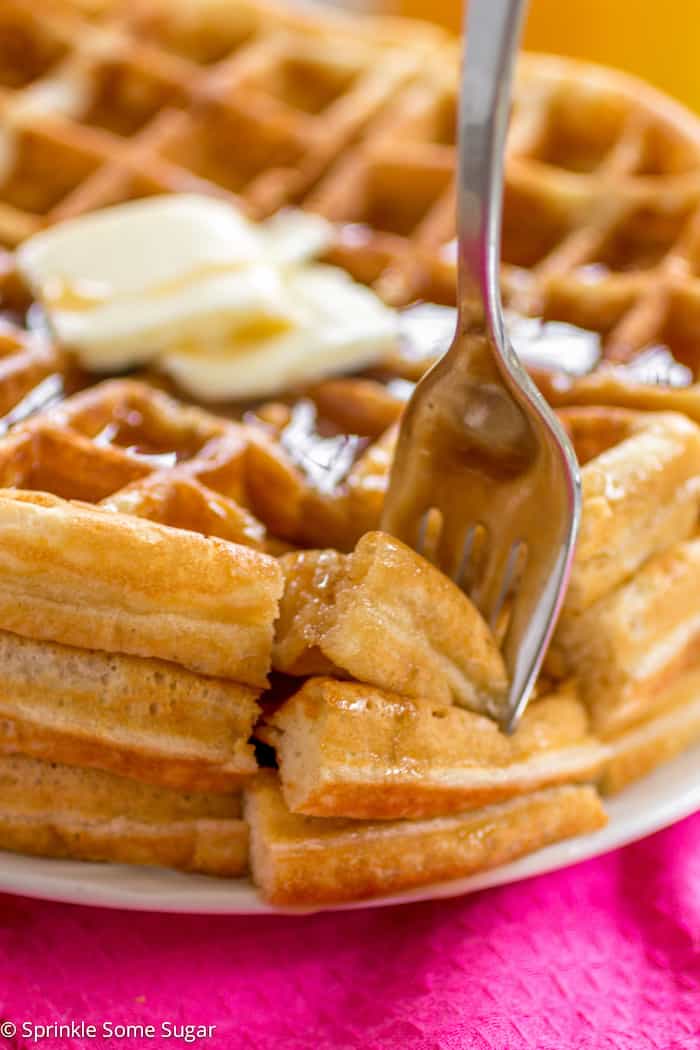 A quick tip when making waffles if you like them to stay crispy on the outside: when I first started making these, I would make each one and stack them on top of each other as I proceeded with the rest of the batter. Don't do this!! Instead, now I lay out a wire rack and place them in a SINGLE layer so there is no air being trapped anywhere to make them soggy. This is my perfect solution to keeping waffles crispy!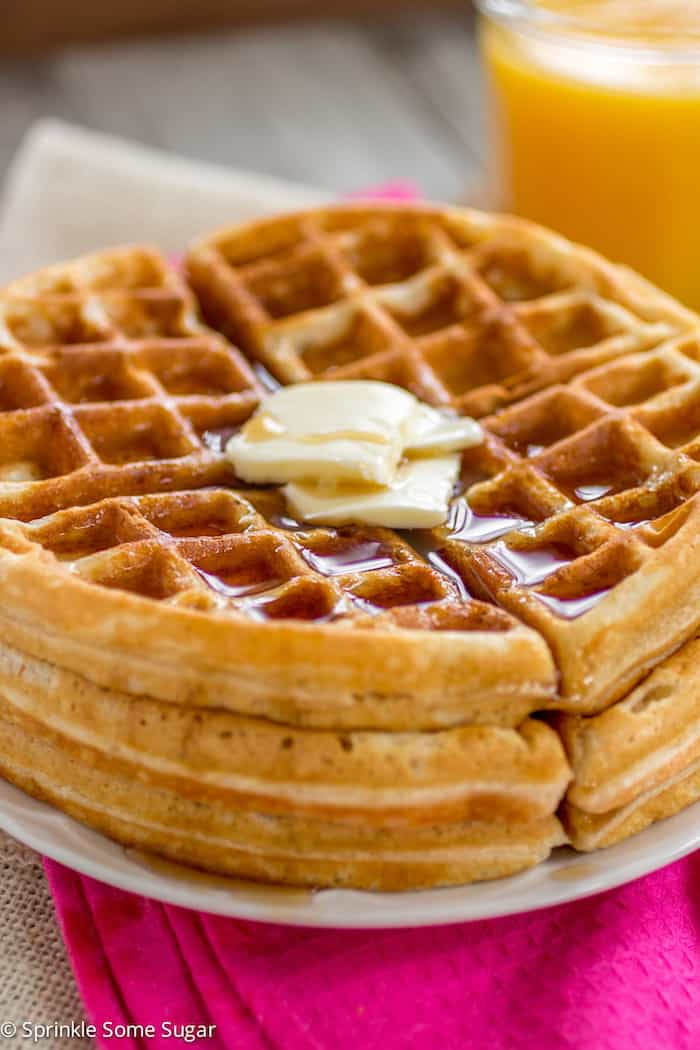 These waffles have such a rich, buttery flavor, they are even amazing without syrup. Top these with some butter and maple syrup or how about some fresh berries and whipped cream? OR if you're feeling real crazy, you can even go for a big scoop of vanilla ice cream and make these dessert waffles! There are so many ways to go with these!
Buttery Golden Buttermilk Waffles
Ingredients
2 cups all-purpose flour
3 tbs granulated sugar
4 tsp baking powder
pinch salt
1 3/4 cup buttermilk REAL buttermilk produces the best results
2 eggs
1/2 cup unsalted butter melted
3 tsp vanilla extract
Instructions
Begin by heating up your waffle iron and greasing it if you need to.

In a large bowl, whisk flour, sugar, baking powder and salt. Make a well in the center, and pour in buttermilk, eggs, melted butter and vanilla. Mix until everything is fully combined without over-mixing. Let the batter rest for two minutes. Every waffle iron is different size wise so this may be different for everyone - but with my waffle iron, I use about 1/2-3/4 cup of batter per waffle to get a perfect, full waffle. Place waffles on a wire rack in a single layer and repeat this process with the remaining batter.*

Buttery Golden Buttermilk Waffles are best served immediately and eaten the same day.
Notes
!*Notes*
* After each waffle is made, place them on a wire rack in a single layer instead of stacking them so they stay nice and crispy on the outside.
Recipe slightly adapted from Allrecipes.