[pinterest]
Creamy Caramel Swirl Cheesecake Bites. Everything you love about cheesecake, in bite size! You will not be able to have just one!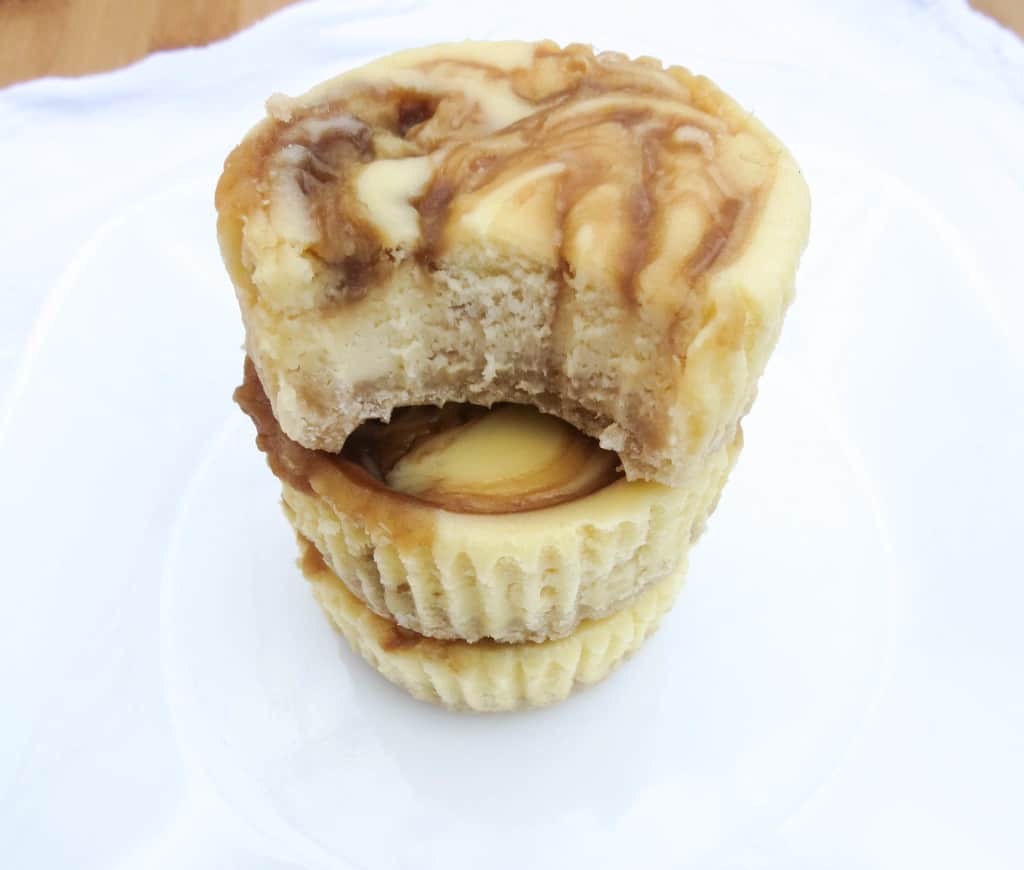 I have been craving cheesecake for weeks now so I finally decided to give it a go. I was so incredibly relieved when they came out of the oven and my methods had worked! They were PERFECT! I did a lot of research on "how to make the perfect cheesecake". Trying to find what ingredients make a cheesecake creamy and the perfect consistency and in my opinion (and my family's), I nailed it! One of the articles I found was from Crunchy Creamy Sweet. This page really gives you a lot of information on some of the basics for a perfectly creamy cheesecake every time.
Anyway, these cheesecakes are sooo creamy. Like seriously, probably the creamiest, smoothest cheesecake I have ever tasted. The thing that makes these even more smooth, is that after mixing your filling together, you pour it all into a food processor to really get rid of any lumps. It turns out soooo silky and smooth, it's amazing. These are so rich and the caramel just adds the perfect amount of sweetness to make these absolutely irresistible. I used my own Homemade Caramel Sauce. The same caramel I used in my Nutella and Homemade Caramel Stuffed Chocolate Chip Skillet Cookie. You don't have to use homemade, but it just make them that much better!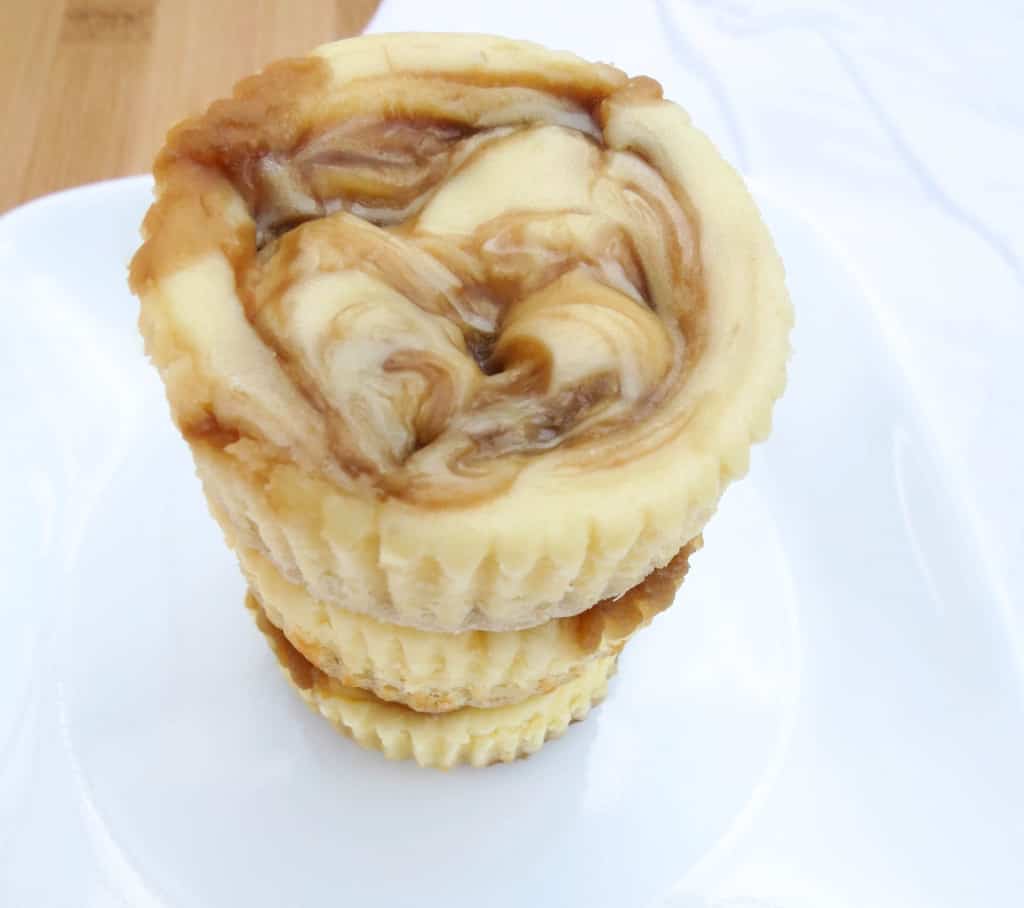 The crust is a mixture of brown sugar, flour and butter. I know graham cracker crust is usually the "staple" for most cheesecakes, but I'm not really a huge fan of it. Trust me, you will not miss it one bit once you try my version. I can't wait to try this recipe for a full sized cheesecake! Yum!
If you are as obsessed with cheesecake as I am, you need to get in the kitchen right now an make these. They will not disappoint!
[pinterest]
Creamy Caramel Swirl Cheesecake Bites
Ingredients
Cheesecake Filling

2

8 oz cream cheese, softened

1/2

cup

granulated sugar

1/4

cup

sour cream

2

eggs

1

egg yolk

1

tsp

heavy cream

1

tbs

all-purpose flour

Crust

1

cup

all-purpose flour

1/4

cup

brown sugar

1/2

cup

unsalted butter

Homemade Caramel Sauce Recipe or any store bought caramel sauce
Instructions
Preheat oven to 325°. Line a cupcake pan with paper liners and set aside.

1. Make your crust. Mix your flour, brown sugar and room temperature butter in a food processor until combined.

2. Gently press 1 level tablespoon of crust mixture into the bottom of each cupcake liner and bake for 7-8 minutes, or until the crusts begin to brown.

3. While that is baking, make your filling. Cream together cream cheese, sour cream and sugar until smooth.

3. Beat in egg, yolk and vanilla until well combined.

4. Add in the cream and flour and mix until just incorporated. Don't over mix.

5. Transfer the mixture to a food processor and pulse until absolutely no lumps are seen and mixture is very silky and smooth. About 30 seconds.

6. Once crusts are removed from the oven, let them cool for a few minutes, then pour cheesecake filling over them, leaving about 1/4-1/2 inch of room from the top.

7. Pour 1 tsp (or more) of caramel sauce on top and swirl around with a toothpick to create marbled effect.

8. Bake for 17-20 minutes, until center is slightly firm to touch and not very jiggly anymore (if the center is a little jiggly, that's okay). Allow cheesecakes to cool completely and then refrigerate for at least 3-4 hours. Remove liners and serve.