It's easier than you think to make homemade pizza dough. What you get is a super soft dough that turns into the chewiest, most tender crust ever.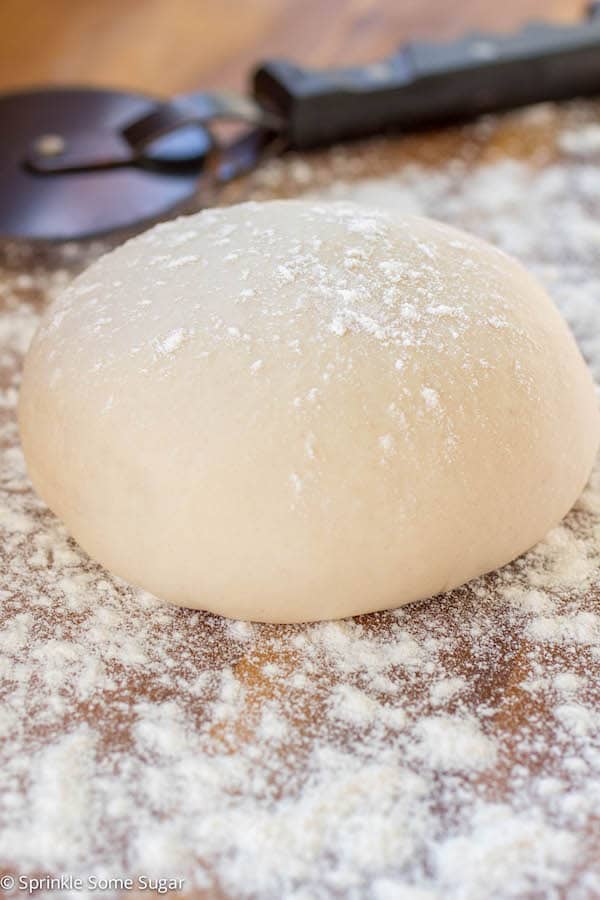 Whenever I'm in a pinch, which is at least more than once a week, instead of reaching for the take-out menu, I throw together this super easy pizza dough recipe and make homemade pizzas, stromboli's, calzones etc. It's such a better option than ordering out because not only are you saving money, but you can tailor it exactly how you want it and there's nothing more satisfying than making a pizza from scratch! This dough is ready to go in just under an hour with little prep time. I have made this dough over and over and over again so it is absolutely fail-proof!
To prepare this dough, you only need a few simple, basic ingredients – flour, water, yeast, garlic powder, olive oil salt, and sugar. I use my stand mixer and have never made it by hand but you can absolutely do so but I find my mixer + dough hook is much easier because it does all the work for me!
You will notice that as you are making this dough, on warmer/humid days you may need more flour – this usually happens during the Summer and during the cooler months when the air is much drier, you may need less flour. I normally use anywhere between 2 1/2 -3 cups of flour and adjust from there. Your dough is perfect when it is still slightly tacky. The dough should be sticky but manageable. If it sticks to your hands, you probably need more flour. If you add too much flour, then you run the risk of having a tough or dry pizza crust, and we don't want that! We want chewy, tender crusts here. It WILL stick to the bottom of the bowl slightly while kneading but should pull right off.  You want your dough to be smooth, soft and supple like a baby's bottom!
Before & after rising:
The dough will rise in an oiled bowl for about 30-45 minutes or until doubled in size and then it's ready to go. Punch that big fat puffy dough baby down and get to work!
[pinterest]
My Favorite Fail-Proof Pizza Dough
Ingredients
1

cup

warm water

2 1/4

tsp

active dry yeast

1 standard packet

1

tbs

granulated sugar

2

tbs

olive oil

2

tsp

salt

1/2

tsp

garlic powder

2 1/2-3

cups

all-purpose flour
Instructions
In the bowl of your stand mixer fitted with the dough hook, add warm water and sprinkle yeast and sugar on top. Turn mixer on low and mix to combine and let it sit to proof for 5-10 minutes until the top looks frothy.

Once the yeast is proofed, add olive oil, salt and garlic powder. Mix to combine. Add 2 cups of flour and turn mixer on low speed to combine. While mixer is running, add more flour 1 tablespoon at a time until the dough comes together and is no longer sticky. You want it to be tacky but not sticking to your hands. The dough will stick to the bottom of the bowl and this is OK. Once your dough is the right texture, leave mixer running on low speed for 7 minutes to knead the dough.

Grab a bowl and oil it with olive oil very well. Once dough is kneaded, pull the dough out and knead in your hands slightly to create a round ball. Place dough into greased bowl and roll it around to coat. Cover the bowl with plastic wrap and allow it to sit in a warm place for 30-45 minutes or until it is doubled in size. I like to turn my oven to 170 degrees, turn it off and then place my dough in there because it creates the perfect warm environment.

Once dough is doubled in size, you will punch it down to get the air out (if you are making pizza, this dough is enough to make two pizza crusts so you will cut the dough in half) and roll it out on a lightly floured surface. At this point you can add toppings to make pizzas, Stromboli, calzones or whatever you desire!

I normally bake this dough at 500 degrees. No need to pre-bake - just pack all the toppings on and bake.