Perfectly spiced, soft and super moist Banana Walnut Bread. Topped off with a creamy cream cheese frosting. This banana bread recipe is my favorite! If you don't like walnuts, you can substitute anything you like or prepare it without any add-ins.
*Originally posted on 11/30/2015 – I have now updated this post with a VIDEO! I show you exactly how to make this Banana Walnut Bread step-by-step! Scroll down just before the recipe to view.*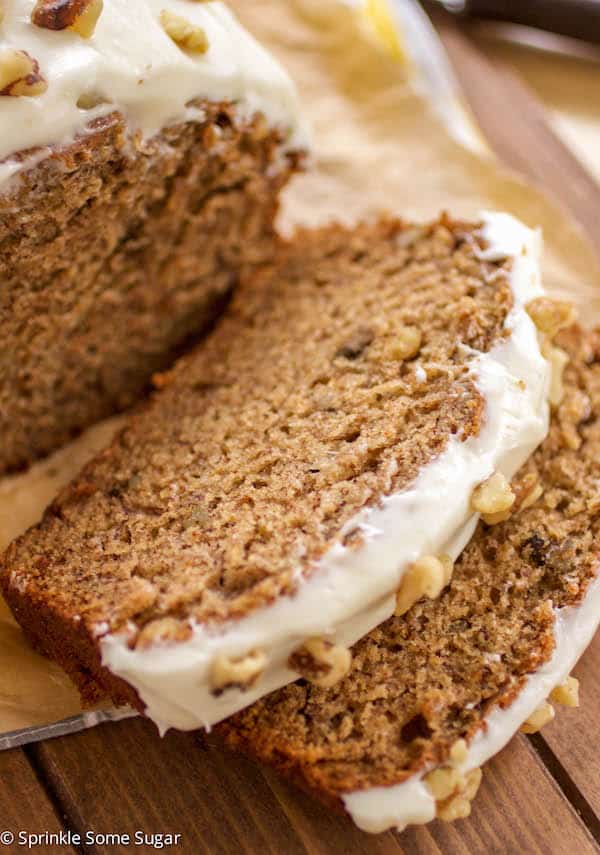 Ahhh, I'm finally back after this insanely crazy/event/holiday packed past week. The last week has consisted of Thanksgiving + John's birthday being on Thanksgiving, Christmas shopping, Sesame Place on Saturday – A Very Furry Christmas was SO much fun!! If you have little ones, you absolutely need to go! – and then some Christmas festivities last night. I guess when I type it out like that, it doesn't sound like a lot ha, but I'm pooped! I had very little time to check in here and I'm so relieved to be back here to chat with you guys. Let's chat about one of my favorites – banana bread! I absolutely love the stuff. It has to be heavily spiced and extra moist and that is exactly what this perfect little bread is. Perfectly spiced, nice and soft, and super moist. This bread is topped off with a glorious layer of smooth cream cheese frosting because it goes SO perfectly with spiced desserts. Kind of like carrot cake!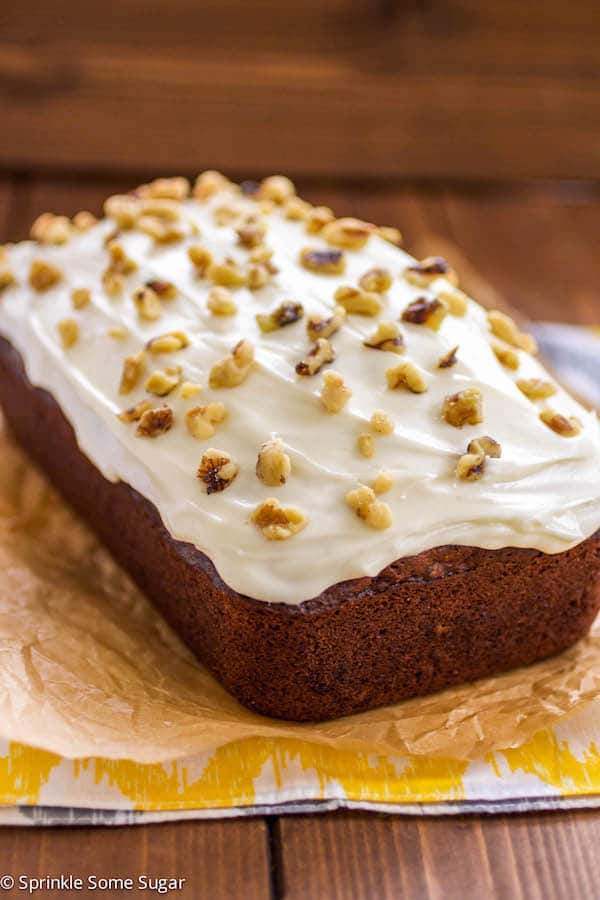 I've made plain banana bread and chocolate chip banana bread but have always steered clear of most desserts with nuts. I don't know why? Because I love pretty much any kind of nut but they just don't scream dessert to me. Also, because Mike would have a minor heart attack if I served him any kind of dessert with nuts in it. BUT, that was until I tried some walnuts in banana bread and now I'm in love! Who cares if Mike won't eat it, I'll just keep it all to myself when I make it. Which is basically what I did with this loaf.. I even have another dessert recipe coming soon including pecans. Who am I?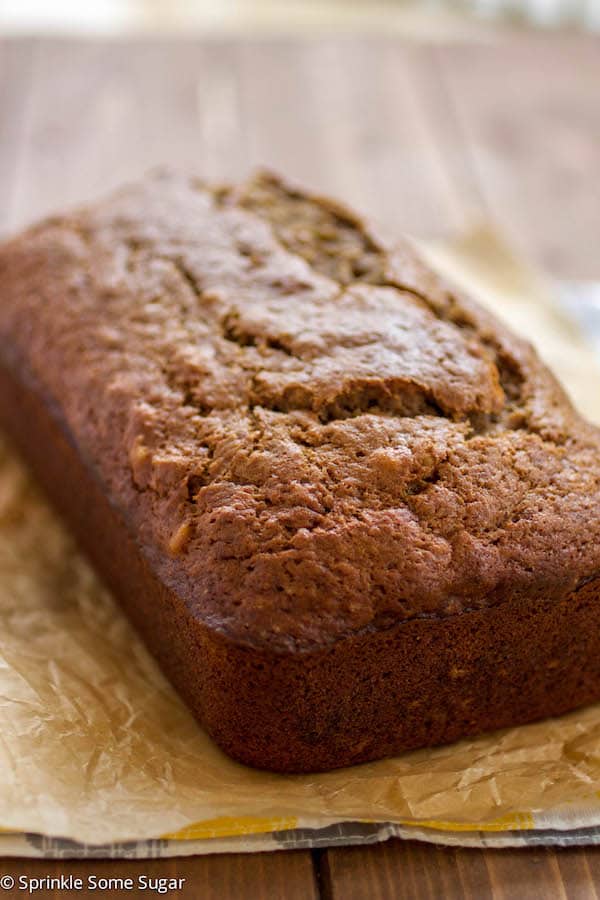 The cream cheese frosting I use in this recipe is my absolute favorite and it's the only recipe I use, I just scaled it down for this recipe. It turns out ridiculously creamy, slightly sweet and yummy. It's the best!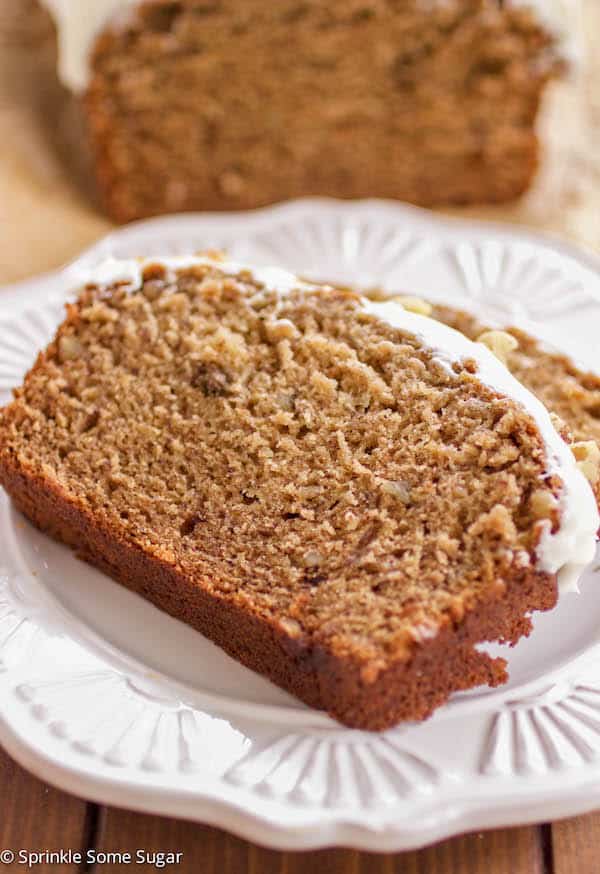 This banana walnut bread is perfect for dessert, breakfast or anything in between. I love it in the morning with a cup of coffee!
My Favorite Banana Bread
Ingredients
2

cups

all-purpose flour

1

tsp

baking soda

1

tsp

baking powder

1/4

tsp

salt

1

cup

brown sugar

3

tsp

cinnamon

1/2

tsp

nutmeg

1/8

tsp

cloves

4

bananas

mashed - about 2 cups

2

eggs

1/2

cup

vegetable oil

4

tsp

vanilla extract

1/2

cup

chopped walnuts
*Cream Cheese Frosting*
2

oz

cream cheese

room temperature

2

tbs

unsalted butter

room temperature

1

cup

confectioner's sugar

1/4

tsp

vanilla extract

1-2

tbs

heavy cream
Instructions
Preheat oven to 350 degrees and adjust oven rack to center position. Grease a 9x5" loaf pan very well and set aside.

In a large bowl, whisk flour, baking soda, baking powder, salt, brown sugar, cinnamon, nutmeg and cloves very well. Set aside.

In a separate bowl, whisk all wet ingredients until smooth. Make a well in the center of dry ingredients and pour in the wet. Mix very well until everything is just combined. Fold in chopped walnuts. Don't over-mix. Pour batter into prepared loaf pan.

Bake for 45-50 minutes or until a toothpick inserted in the center comes out with a few moist crumbs. Do not over-bake or you will have a very dry, crumbly bread! At about 30-35 minutes you will want to cover the bread loosely with a piece of foil so the top doesn't get too dark.

While bread is cooling, prepare cream cheese frosting. In a large bowl, beat butter and cream cheese until smooth with no lumps. Mix in confectioner's sugar and vanilla extract until creamy and smooth. If you want a thinner frosting, add some heavy cream (or milk) a little bit at a time until desired consistency is achieved.