The most moist and flavorful banana cake with a delicious, sweet glaze.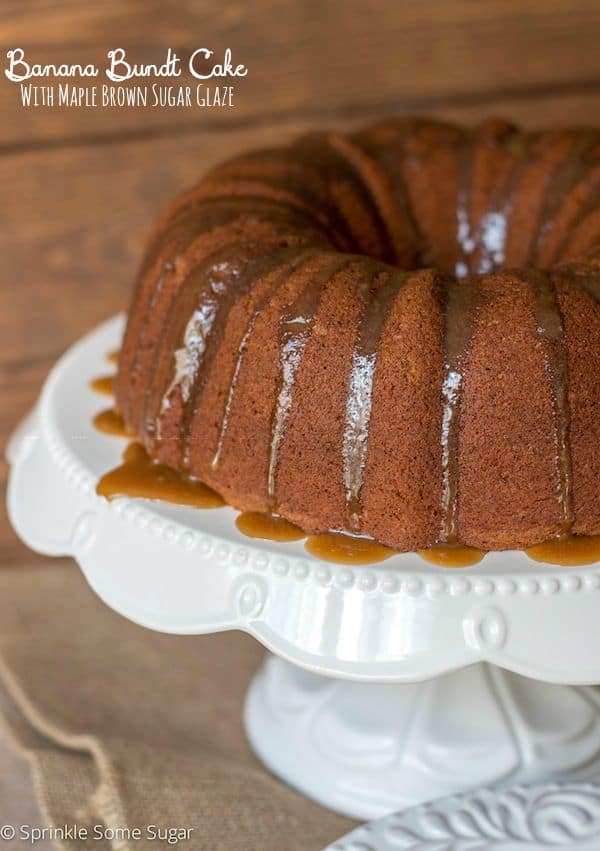 Happy monday everyone! Oh man, do I have a good one for you today. You guys, I could pretty much eat this cake for breakfast, lunch and dinner and not even feel an ounce of guilt about it. I mean.. bananas + maple syrup = breakfast.. so there's that. Everyone loves a good piece of banana bread and this cake reminds me so much of that! A much lighter, fluffier banana bread. Consider this banana bread in cake form. It's chock full of bananas making it ultra-moist and sweet from all of the banana goodness and lots of spicy flavors like cinnamon, nutmeg and cloves. I LOVE adding these spices to banana recipes because they all pair so incredibly well together.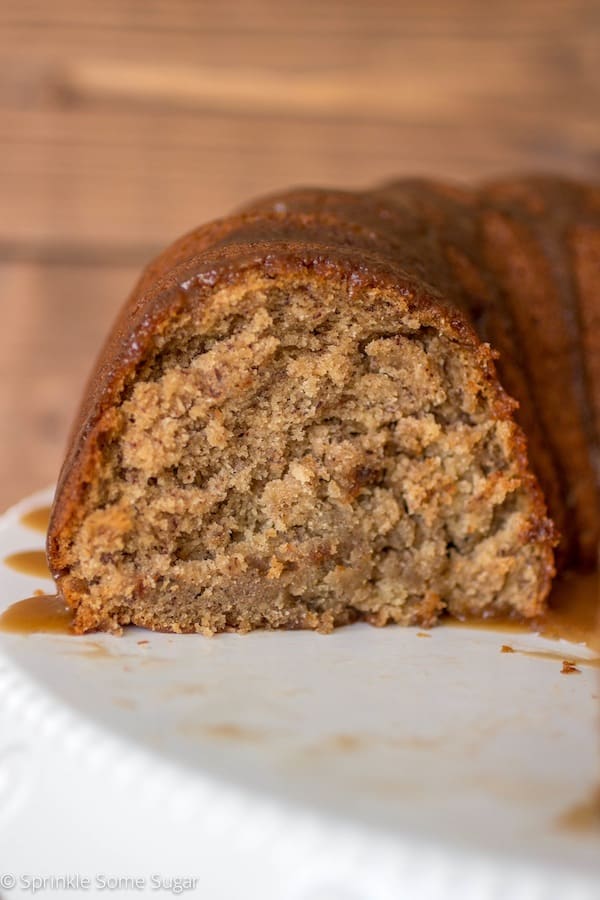 This recipe is one I've been coming up with for some time. I love a good banana cake so I knew I wanted it to be as flavorful and moist as possible. With all of those bananas, spices and brown sugar, you know it's going to be good. Now, the cake is crazy flavorful on it's own but paired with the brown sugar maple glaze (adapted from this recipe) – HOLY CRAP, it's good. I think I should just live in a place where Fall weather is all year round because Fall(ish) flavors are everything! Or I guess I could just make spiced things all year round, but that takes the fun out of Fall baking. Why am i talking about Fall baking already anyway? It's like 90 degrees and humid out.
Anyways, if you love cake and are a fellow banana bread lover, you will LOVE this banana bundt cake with maple brown sugar glaze.
[pinterest]
Banana Bundt Cake With Maple Brown Sugar Glaze
Ingredients
Banana Cake

3

cups

all-purpose flour

2

tsp

baking soda

2

tsp

cinnamon

1/2

tsp

nutmeg

1/4

tsp

cloves

pinch

salt

1/2

cup

unsalted butter

softened

1/2

cup

granulated sugar

1

cup

brown sugar

2

eggs

2

tsp

vanilla extract

1/4

cup

vegetable oil

4

medium bananas

2 cups mashed

1/2

cup

sour cream

1/2

cup

buttermilk
*Brown Sugar Maple Glaze*
2

tbs

unsalted butter

2

tbs

maple syrup

2

tbs

heavy cream

1/2

cup

brown sugar
Instructions
Preheat oven to 350 degrees and adjust oven rack to the center position. Grease a bundt pan very well, set aside.

In a large bowl or the bowl of your stand mixer fitted with the paddle attachment, beat butter until smooth with no lumps. Add sugar and beat until fluffy and fully combined, scraping down as needed, about 2 minutes. Beat in eggs one at a time making sure they are fully incorporated before adding the next, about 1 minute per egg. Add vanilla, vegetable oil, mashed bananas, sour cream and buttermilk and beat until completely smooth. Scrape the bottom and sides of the bowl as needed and beat again for a few seconds. Slowly add flour mixture into your running mixer set to low speed and beat until just combined, don't over-mix.

Pour batter into prepared bundt pan and bang it down a few times to allow the batter to settle in the crevices and to remove any air pockets. Bake cake for 45-50 minutes or until a thin knife inserted in the center comes out clean. Allow to cool for 5 minutes in the pan. Release the edges with a butter knife and transfer onto a wire rack to finish cooling.

In a small saucepan, melt butter on medium-low heat. Stir in maple syrup and heavy cream. Allow it to heat up to a simmer, almost boiling but not quite. At this point, add the brown sugar, stir to combine and allow the mixture to simmer for 10 minutes on low heat, stirring often. Remove from heat and let the glaze cool for 5 minutes. Pour warm glaze on top of the warm cake. Keep in mind: I did not use all of the glaze on my cake for photo purposes because I really wanted you to see the cake too, you will have much more to pour on top.
[pinterest]