This bread is extremely flavorful and moist. The addition of chocolate chips in the batter makes it even more irresistible!
The other day I was in need of some recipe inspiration so I went through some of Mike's moms old cookbooks and I hit the motherload. She has hundreds of handwritten recipes, recipes from cut-out magazines, newspapers, you name it. I'm not sure where she got this recipe from, but I found it among the handwritten ones and decided to test it out. I made a few changes like using brown sugar instead of granulated, upping the amount of vanilla, adding extra spices, stuff like that and this is surely the best banana bread I have ever made!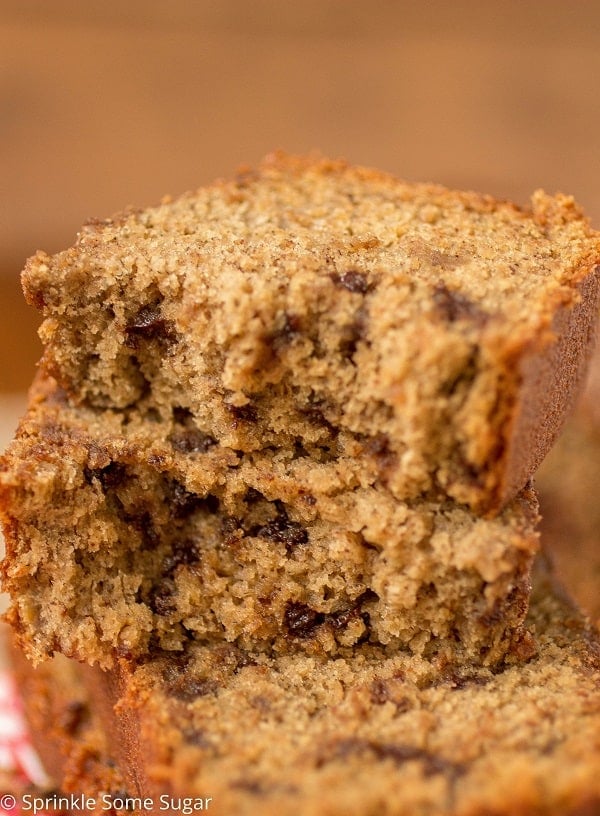 This chocolate chip banana bread is INSANELY flavorful! You get the flavor and sweetness from the bananas. The rich flavor from the brown sugar. And the cozy delicious flavors of the cinnamon, nutmeg and cloves. Not to mention all of the little chocolate chips scattered throughout. Bananas and chocolate go so perfectly together!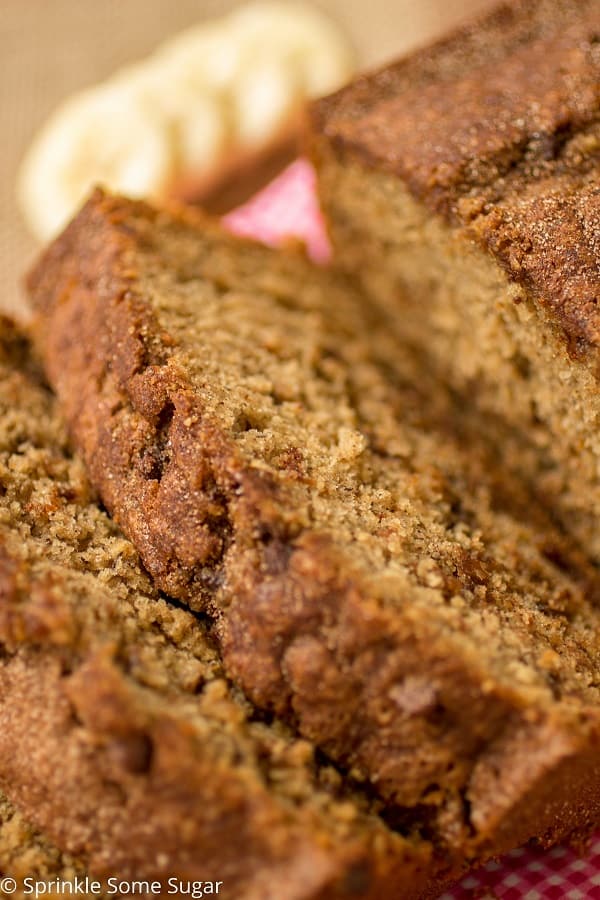 You just can't beat a good banana bread recipe. You know you've got one of the good ones when it stays moist for days and days. It's even better the next day once all of the flavors marry together overnight! It's just wonderful.
Banana bread + a cup of coffee in the morning is pretty much heaven.
Chocolate Chip Banana Bread
Ingredients
2

cups

all-purpose flour

1

tsp

baking soda

1

tsp

baking powder

1/4

tsp

salt

1

cup

brown sugar

3

tsp

cinnamon

1/2

tsp

nutmeg

1/8

tsp

cloves

4

bananas

mashed - about 2 cups

2

eggs

1/2

cup

vegetable oil

4

tsp

vanilla extract

1/2

cup

mini chocolate chips

optional: walnuts or any mix-in of choice

2

tsp

granulated sugar

1

tsp

cinnamon
Instructions
Preheat oven to 350 degrees. Grease a 9x5" loaf pan very well and set aside.

In a large bowl, whisk flour, baking soda, baking powder, salt, brown sugar, cinnamon, nutmeg and cloves very well. Set aside.

In a separate bowl, whisk all wet ingredients until smooth. Make a well in the center of dry ingredients and pour in the wet. Mix very well until everything is just combined - you do not want to over-mix the batter or you will have a tough-textured bread. Pour batter into prepared loaf pan.

In a small bowl combine sugar and cinnamon. Sprinkle over batter before baking. Bake for 45-50 minutes or until a toothpick inserted in the center comes out with a few moist crumbs. Do not over-bake or you will have a very dry, crumbly bread! At about 30 minutes you will want to cover the bread loosely with a piece of foil so the top doesn't get too dark. Keep in mind though, that the top of the bread is going to be more of a dark brown color, this is okay.
[pinterest]