Buttery, ultra-thick, super-soft and loaded with gooey chocolate! The only recipe you need. Trust me!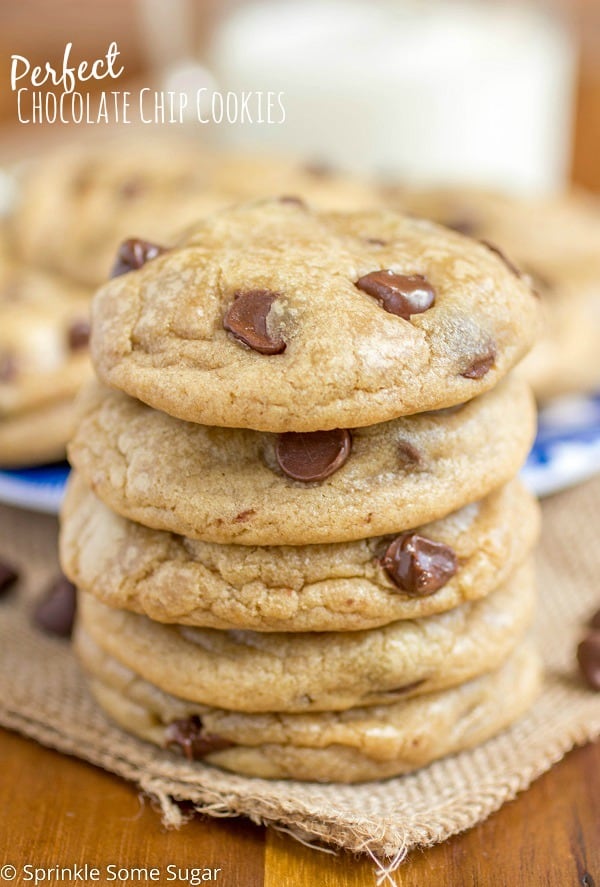 Chocolate chip cookies.. Have you ever met anyone that doesn't like 'em? I haven't. To me, there's nothing comparable to a freshly baked, warm chocolate chip cookie straight out of the oven. The flavor of these cookies are out of this world. You get a rich, buttery, ultra-thick and soft cookie that is completely loaded with gooey chocolate. The great thing about these cookies is that they will stay soft for days and days and days.
This is actually an old recipe back when I was a newb on this little old blog and the photos + recipe needed major updating. I made some minor tweaks to the original recipe and now it is GOLDEN. Golden, I tell ya. There are about a bagillion recipes for chocolate chip cookies, but I'm going to go out on a limb here and just give you guys the low down on these babies.. These are the best chocolate chip cookies you'll ever make. Don't believe me? Try them for yourself!
If I combined all of the time I have spent researching the art of cookie baking, it would add up to hours upon hours. There's sooo much to learn and I want to share it all with you guys! #nerdalert. I've had lots of trial and error coming up with the perfect chocolate chip cookie for you guys. I do have another recipe on here that I claim is my favorite, and it still is one of my favorites, but it calls for vanilla pudding mix in the dough. Sometimes you just need a simple recipe with straight-forward ingredients that if you're a regular baker, you'll definitely have them in your kitchen. And that is where this recipe comes in handy! My new favorite, go-to recipe. I it so much.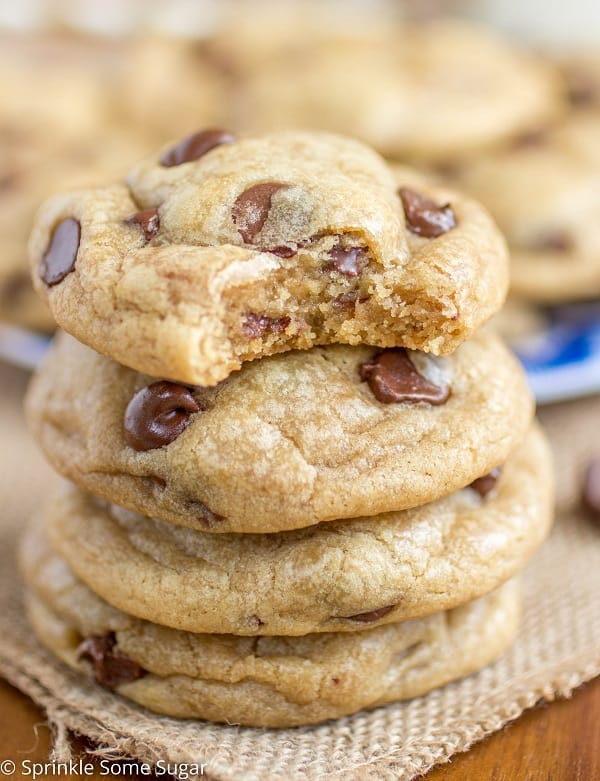 Let's talk about what makes this recipe work. Since I love super-soft, chewy cookies, I base all of my ingredients around what will keep them extra soft. I love using more brown sugar in my chocolate chip cookies because of two things – the flavor makes a richer-tasting cookie and it lends much more moistness than if you were to use granulated (white) sugar on it's own. Plus, granulated sugar results in more cookie spreading and that is a total no-no for me. I love my cookies nice and thick and chewy!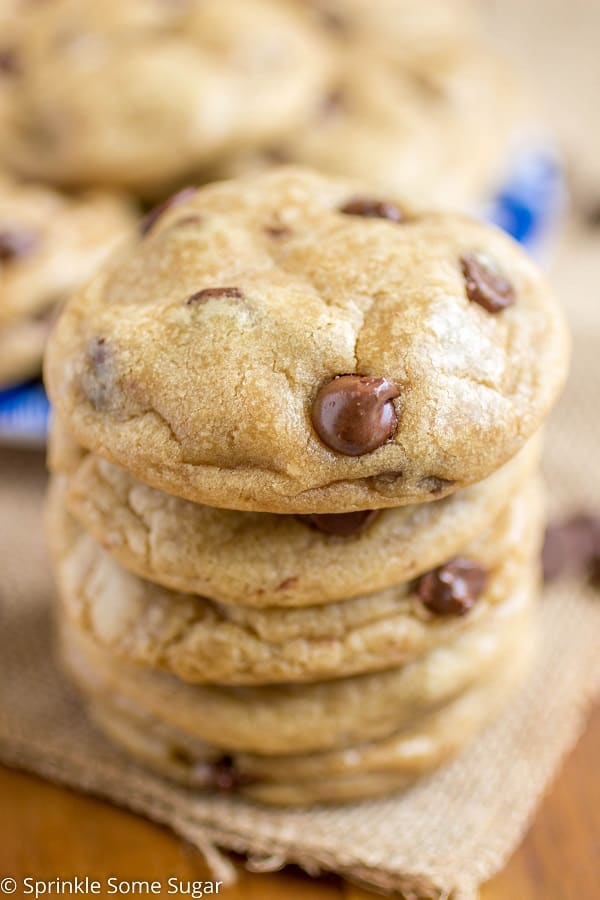 Speaking of chewy, this recipe uses an extra egg yolk + melted butter which results in a richer, chewier cookie. Corn starch is my secret weapon and I use it in almost all of my cookie recipes to ensure that they will stay soft for days! Chill, chill, CHILL your dough. Chilling this dough is mandatory in this recipe and what this does is it re-solidifies the butter slightly so they don't spread as quickly in the oven, leaving you with ultra-thick, beautiful cookies. Finally, the last baking tip I have for you is to under-bake your cookies! They totally will not look done, and that's the point. That's what will give your cookies a soft-baked texture so it is an absolute must for soft cookies!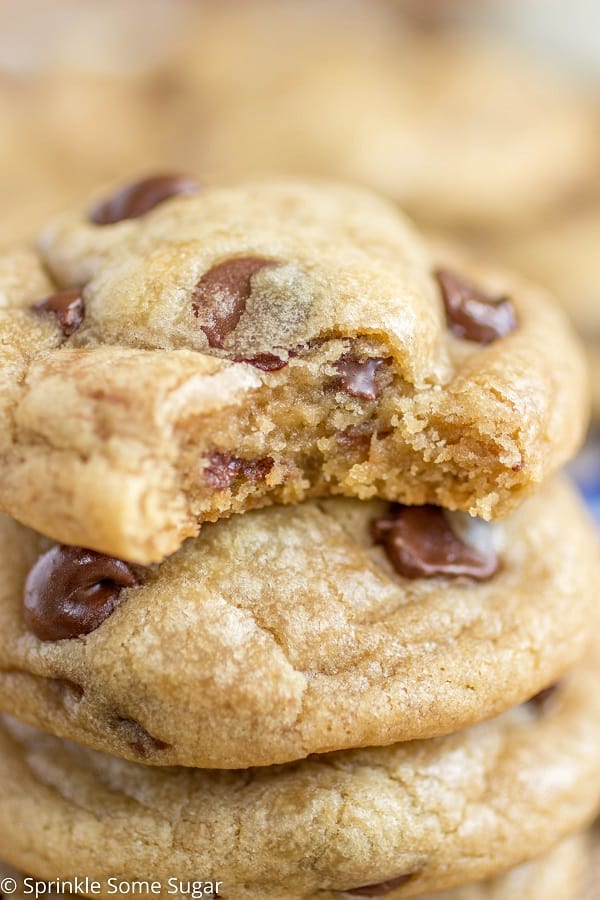 Hold on.. Are you still with me? Okay, good.
This chocolate chip cookie recipe is a family favorite of ours, and I am absolutely positive yours will love it too!
Perfect Chocolate Chip Cookies
Ingredients:
3/4 cup unsalted butter, melted
1 cup brown sugar
1/4 cup granulated sugar
1 egg
1 egg yolk
1 tbs vanilla
2 1/2 cups + 2 tbs all-purpose flour
1 tsp baking soda
2 tsp corn starch
pinch salt
1 cup semi-sweet chocolate chips
Instructions:
In a large bowl, mix melted butter and both sugars together until combined. Stir in the egg, egg yolk and vanilla until smooth. Add flour, corn starch, salt and baking soda and mix until just combined. Fold in chocolate chips. Do not over-mix or this can result in tough cookies. Cover bowl with plastic wrap and chill dough for at least two hours or up to 24 hours.
Preheat oven to 325 degrees. Line or grease two cookie sheets with parchment paper. Shape your dough into one rounded tablespoon per each cookie and place on cookie sheet 11/2 inches apart. Bake for 10-11 minutes. Cookies will appear under-done, this is what you want if you want soft-baked cookies, they will set up just fine when they cool. If you like crunchy cookies, bake them longer.
Allow cookies to cool on hot pan for no longer than 5 minutes, then transfer to a wire rack to finish cooling completely.
Perfect Chocolate Chip Cookies will stay soft and fresh for up to 6 days stored in an airtight container at room temperature.
https://www.sprinklesomesugar.com/perfect-chocolate-chip-cookies/