Ultra soft, ultra chewy and ultra delicious, this is the best cookie cake you will ever make. Complete with a silky ganache frosting!
Having an event and can't decide whether to have cookies or cake? How about both! This chocolate chip cooke cake is ultra soft, thick and chewy. It's so incredibly easy to make with no chilling time this baby goes from bowl to oven in less than 15 minutes!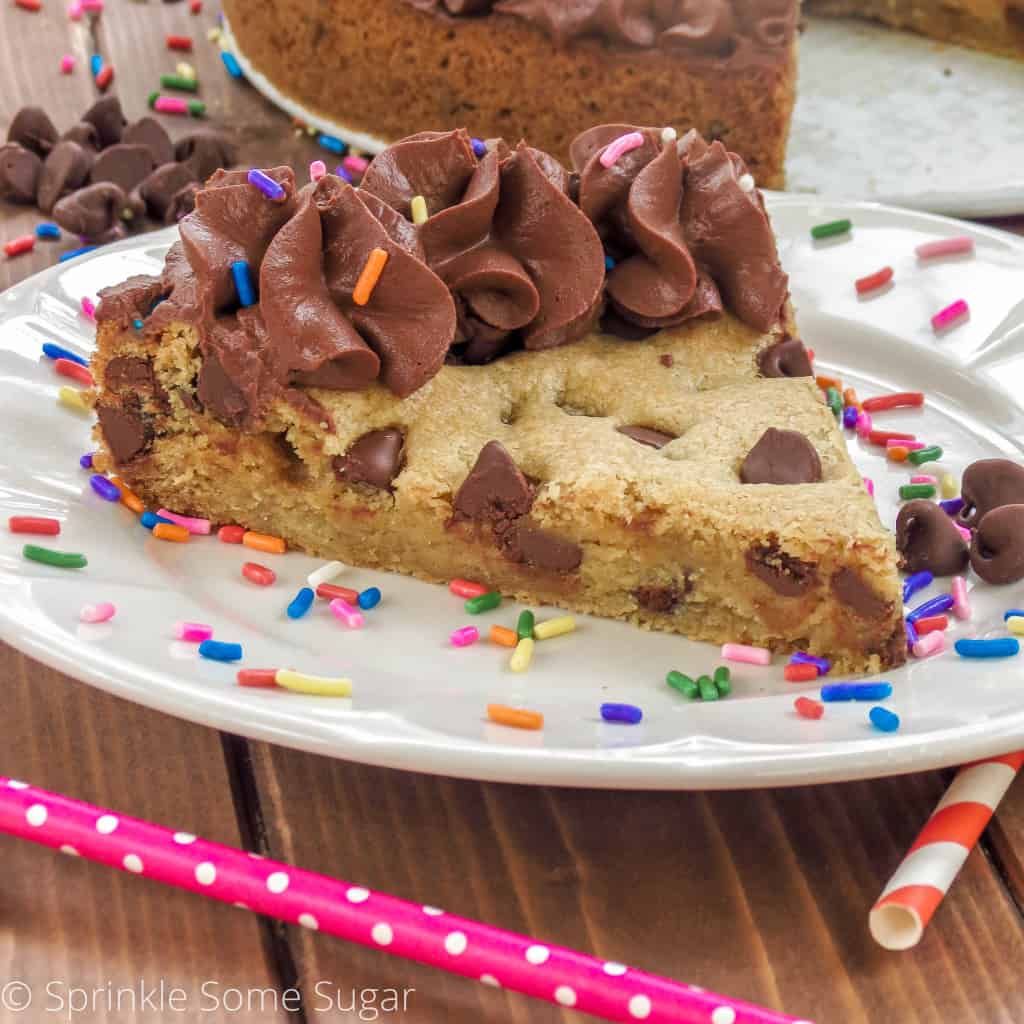 How was everyone's Halloween yesterday?! Ours was pretty great. We met up with my sweet friend and her son in the morning for some mall trick or treating - which was more like a work out because we were just chasing the kids around the entire time! Lol. Then visited my grandmother and went trick or treating some more with mine and Mike's parents. John went as a hobo for Halloween. Honestly, I was a little nervous making him this because I kind of thought people would think of it as offensive but it turns out, people thought the complete opposite and we got SO many compliments on his costume it was crazy! Come on, tell me he isn't adorable.
(Crappy iPhone photo, sorry!)
Anyways, I hope you all had a great Halloween but now back to more important things... this chocolate chip cookie cake. All I have to say is - Mrs. Fields has nothing on this cookie cake. Honestly, those cookie cakes don't even taste that great! They may look pretty but super sugary icing + a flavorless cookie doesn't sound that wonderful to me. If you've tried my favorite
chocolate chip cookies
(if you haven't,
DO IT NOW
), then you'll love this because it is a slight spin off of that recipe!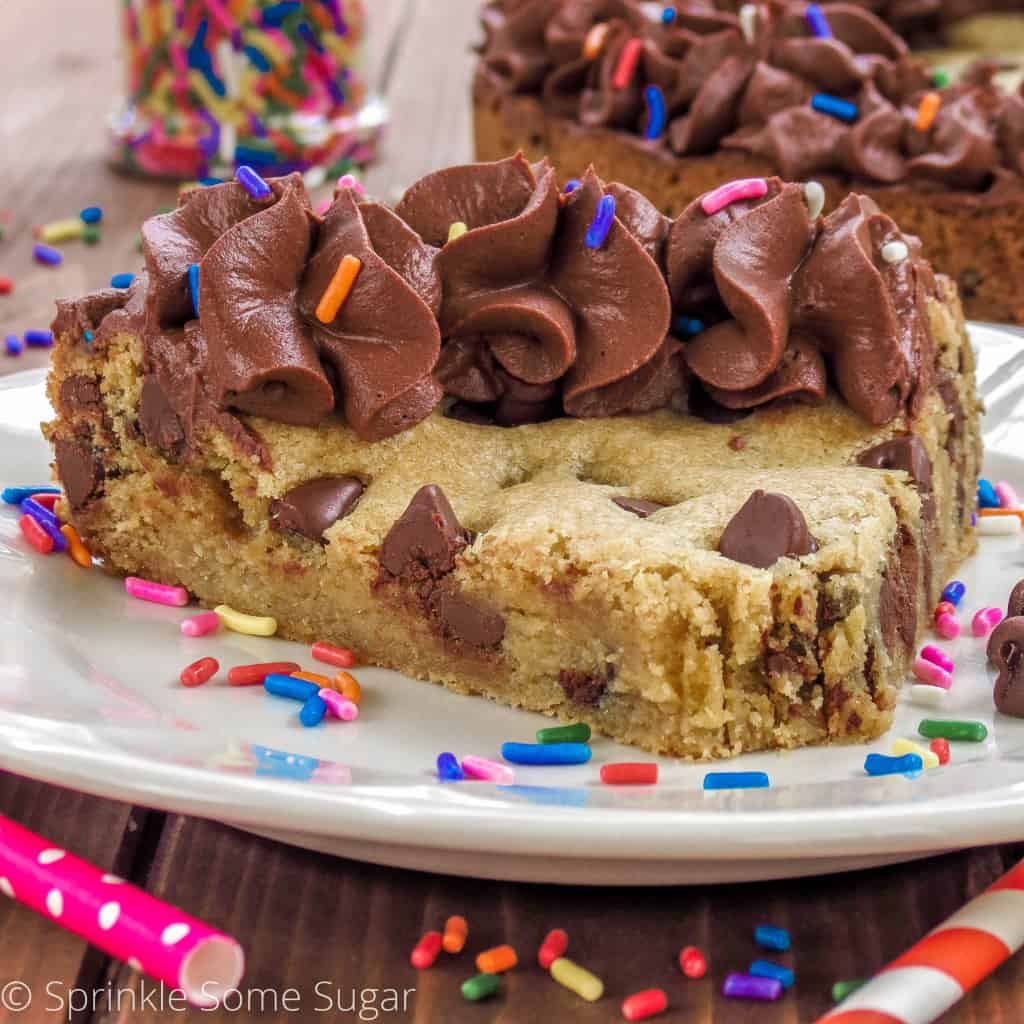 The cookie cake is buttery, chewy and so, so, so soft and will stay that way for days. If it even lasts that long, which I'm 99.9% positive it won't. If you're like me, you'll keep going back to it through the course of the day saying, "I'll just take a little sliver.. I'll just take a little sliver" .. until you realize half of it is gone. Whoops! And the chocolate ganache frosting is literally to die for. Melted chocolate + heavy cream. That's it. Let it set, whip it up, (sample a few spoonfuls until you get sick) and pipe it on the edge of the cake. Velvety, chocolate-y, smooth amazingness is what you get!
Bonus? This chocolate chip cookie cake is 10x easier than baking individual cookies. Just mix up the dough and press it in the pan! I <3 easy.
If you want a cookie cake that people will seriously not stop stop talking about for days, weeks or months... you found your recipe right here.
The Best Chocolate Chip Cookie Cake
Ultra soft, ultra chewy and ultra delicious, this is the best cookie cake you will ever make. Complete with a silky ganache frosting!
Ingredients
*Chocolate Chip Cookie Cake*
1 ½

cups

all-purpose flour

1

teaspoon

baking soda

pinch

salt

¾

cup

unsalted butter

melted

1

cup

brown sugar

1

3.4 oz box instant vanilla pudding mix

1

egg

1

egg yolk

1

tbs

vanilla

1

cup

+ 2 tbs semi-sweet chocolate chips

divided
*Ganache Frosting*
6

oz

semi sweet chocolate chips

4

oz

heavy cream
Instructions
Before beginning, you will need to prepare the ganache frosting since it has to set up before whipping. Place chocolate chips in a medium-sized bowl, set aside. Heat heavy cream on a stove top or in microwave until very, very hot - not boiling. Pour cream over chocolate chips and let it sit for 3 minutes without stirring or disturbing. Start whisking chocolate from center-outward until everything is completely smooth and combined. Chocolate sauce should have a smooth velvety texture. Cover loosely with plastic wrap and place mixture in refrigerator for up to 2 hours coming back every 30 minutes to stir. While mixture is cooling, start on the cookie cake.

Preheat oven to 350 degrees. Grease a 9" springform or regular round cake pan with cooking spray. Optional - cut out a piece of parchment paper and place it on the bottom of pan for easier removal. Set aside.

In a large bowl, combine brown sugar and melted butter and mix until smooth. Add egg, egg yolk and vanilla and stir until completely combined. Pour in pudding mix, flour, baking soda and pinch of salt and stir until just incorporated. Don't over mix. Fold in 1 cup of chocolate chips by hand until evenly distributed.

Press dough into prepared pan until even and level. Sprinkle reserved 2 tablespoons of chocolate chips into the top of the cookie cake and press down slightly. Bake for 21-24 minutes or until the top/center just starts to golden slightly. Cookie cake my look underdone in the middle, but it will set up when it cools and stay extra soft. Allow cookie cake to cool completely in pan.

Once cookie cake is completely cool, finish preparing frosting. Ganache is ready when texture is firm but still soft and spoonable. Using hand beaters (for ease), whip frosting for 3 minutes on high speed until slightly lighter in color and smooth. Spoon frosting into a piping bag using a open star tip and pipe around the edges. Alternately, you can use a zip top bag with the corner cut off or just spread with a knife.

Cookie cake will stay soft and fresh for up to one week stored in an airtight container.