These bars are loaded with lemon flavor, super soft and gooey to the max!
Don't these bars just make you happy?! I mean, just the bright yellow color is enough to brighten my day right up. Not to mention the lemon flavor. I LOVE lemons desserts and it seems as if you guys love them too because recipes like this are the most popular on my site! You guys love your lemon, so I made sure to deliver. These bars are super soft, gooey (hence the title) and are lemon overload. Sign me up!
These triple lemon gooey bars are jam packed with a triple dose of lemon flavor. You have lemon cake mix, lemon zest and lemon juice all packed into them. Talk about delicious! I could hardly stand to let them cool when I made them, I had to leave the house. Not really, I actually really had to leave but I so could have dug right into the pan right out of the oven.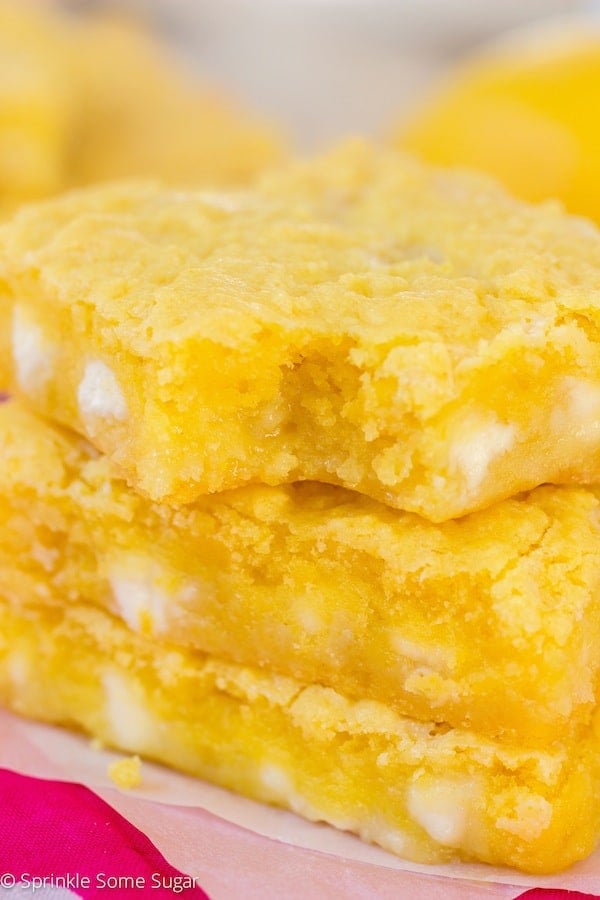 I discovered gooey bars this year (talk about late to the party..) and I've never turned back. They start with a cake mix and make the most delicious dessert with the smallest amount of effort! You can even interchange the ingredients with the flavors you'd like to have. Want red velvet? Just switch out the cake mix, and obviously the lemon juice and zest. Want carrot cake? (Hello Easter!) Use carrot cake mix instead! The possibilities are e-n-d-l-e-s-s!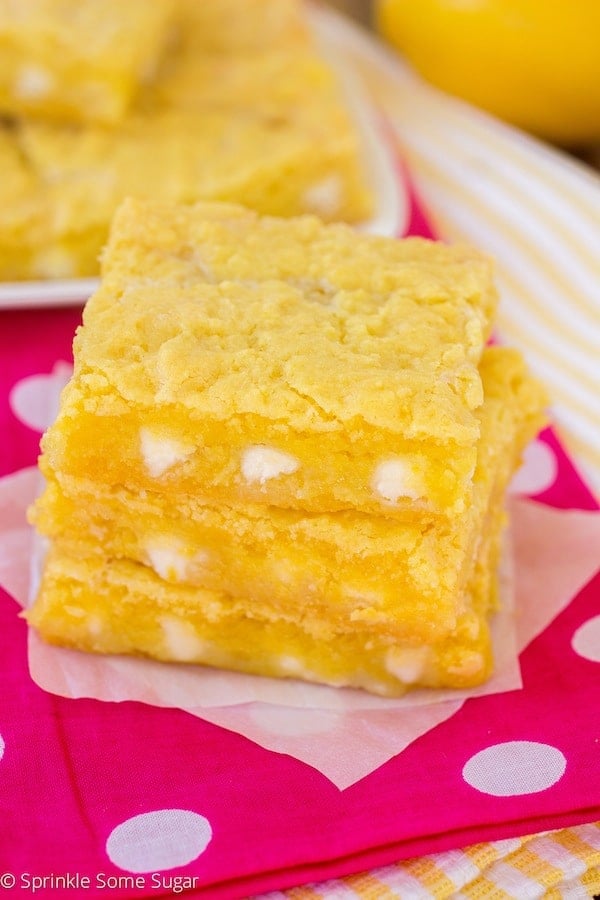 The only hard part about these bars, is letting them cool completely before cutting into them. Other than that, they are ridiculously easy to prepare!
I'm sharing this recipe over at Memories By The Mile this month. Visit here HERE to get the full recipe! 🙂
Triple Lemon Gooey Bars
Ingredients
1

box lemon cake mix

1/2

cup

butter

softened

1

egg

zest of one lemon

juice of one lemon

1/2

cup

sweetened condensed milk

3/4

cup

white chocolate chips
Instructions
Preheat oven to 350 degrees. Line a 9x9 baking pan with foil an grease very well.

In a large bowl, beat butter until smooth (with a stand or hand mixer). Stir in cake mix, egg, lemon zest and lemon juice until combined. Mixture will be a thick, dough-like consistency.

Press 2/3 of the mixture down into the bottom of the prepared pan. Sprinkle white chocolate chips on top and drizzle sweetened condensed milk on top of that in an even layer. Sprinkle the remaining dough on top, trying to fill as much space as you can. There will be holes and that is okay, the dough will spread a bit in the oven.

Bake for 25-30 minutes, until very lightly browned on top and edges pull away from the sides. Be sure to cool bars completely in the pan before cutting into them or else it will be a gooey mess.

Triple Lemon Gooey Bars will stay fresh and soft for up to 5 days stored in an airtight container at room temperature.
[pinterest]