[pinterest]
I don't think there is anything more satisfying than a warm apple dessert with vanilla ice cream. This cake is absolutely, hands down, one of my top favorite desserts. The cake layer is moist and flavorful, the apples get soft and gooey keeping a slight crunch, and the crumb topping is sweet with a hint of cinnamon. It's like an apple pie meets a crumb cake. Seriously, perfect. The one thing that makes this dessert absolutely over the top is the brown sugar glaze. Oh my god, people. It almost tastes like a caramel but even better! Plus, it only takes about 5 seconds to whip it up.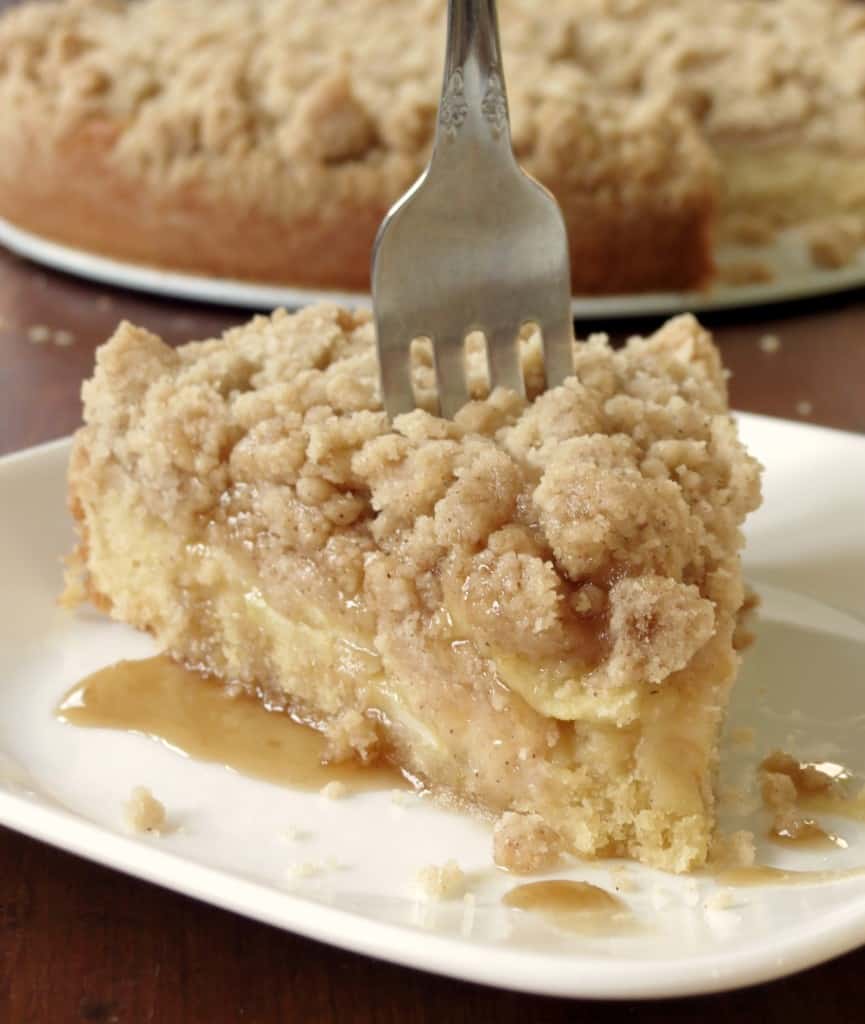 I had asked my step father if he had any dessert requests for his birthday on Sunday, and his answer was an apple crumb cake. So, I went to searching online and found this recipe but tweaked it a little bit to be a bit more me. The result? SUCCESS! Topped with a big scoop of vanilla ice cream on top and the delicious glaze poured over it, everyone loved it. Everybody kept ranting and raving about it! Lots of, "Mmmm's" and "Omg's" because it really is just sooo good.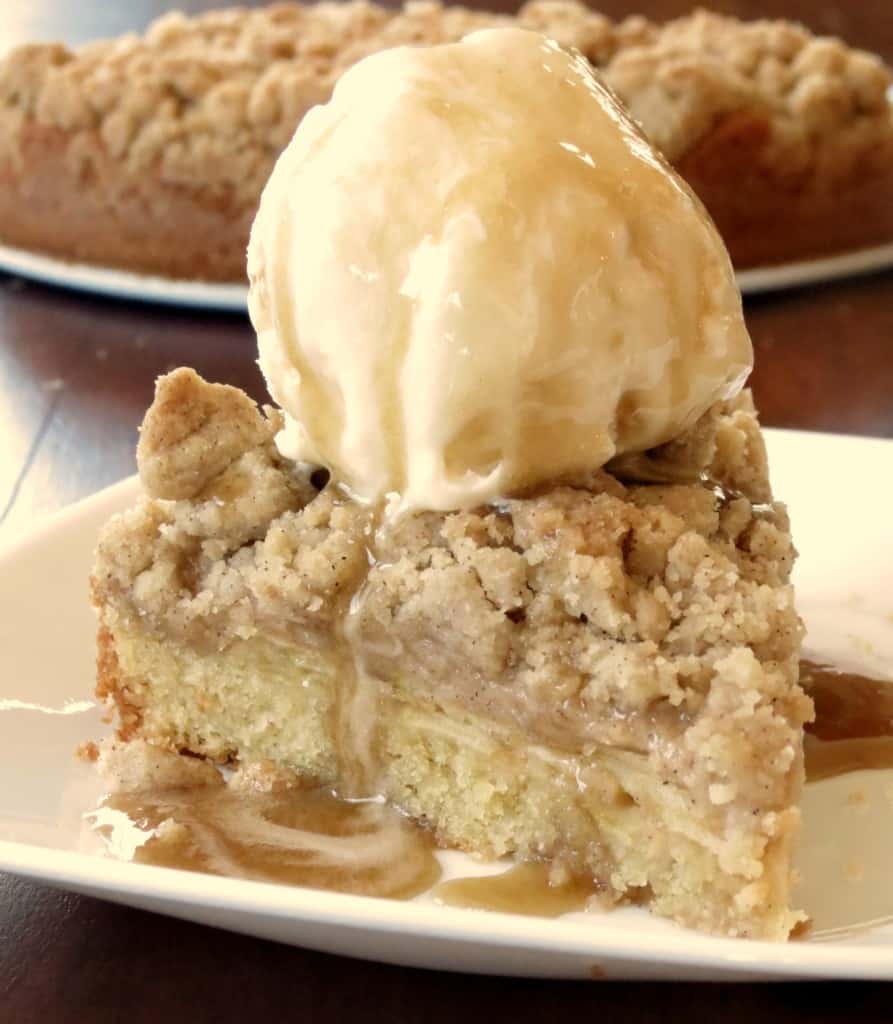 While baking, you can enjoy the lovely aromas of cinnamon and apple baking. Pure. heaven.
This apple crumb coffee cake is sure to be a crowd pleaser!
[pinterest]
Ingredients:
1/3 cup granulated sugar
1/3 cup brown sugar
3/4 tsp cinnamon
1 1/2 cups all-purpose flour
pinch salt
1/2 cup + 2 tbs unsalted butter, melted
1 1/4 cups all-purpose flour
1/4 cup granulated sugar
1/4 cup brown sugar
1/4 tsp baking soda
1 tsp baking powder
pinch salt
6 tbs unsalted butter, cut into chunks and softened
1 egg
1 egg yolk
2 tsp vanilla extract
1/3 cup buttermilk
1 1/2 apples, peeled, cored & sliced thin (I used Granny Smith apples)
1/2 cup brown sugar
1/2 tsp vanilla extract
2 tbs water
Instructions:
Preheat oven to 350. Grease a 9"x2" round springform pan and lightly dust with flour, set aside.
First, make your crumb topping. Whisk together all dry ingredients and pour in butter. Mix until combined and large crumbs form. Set aside.
For the cake, combine all dry ingredients and whisk together for about one minute until fully combined. Add softened butter chunks and beat on medium-high until consistency resembles a coarse crumb and no large butter pieces remain. Add egg, egg yolk, vanilla and buttermilk. Beat on medium speed until everything is fully incorporated.
Pour batter into prepared baking pan and spread out, making sure it is level. (It won't look like a lot of batter.) Scatter apple slices on top. (I did about 3 layers of apple slices.) Next, sprinkle crumb topping on top, breaking into large pea-sized pieces until no bare spaces remain. Bake for about 45-55 minutes or until a toothpick inserted into the center comes out clean. Start checking cake at 40 minutes and then go from there.
While cake is cooling make glaze combining brown sugar, vanilla and water. Mix until smooth and set aside.
Once cake is done, allow it to cool in pan for about 10-15 minutes before serving. Best served warm with a large scoop of vanilla ice cream! You may drizzle the brown sugar glaze on top of the whole cake or on each individual piece before serving.
Cake will keep fresh for 2-3 days if stored in an airtight container.
https://www.sprinklesomesugar.com/apple-crumb-coffee-cake/
[pinterest]