These cookies are super soft, chewy and loaded with a gooey caramel surprise inside!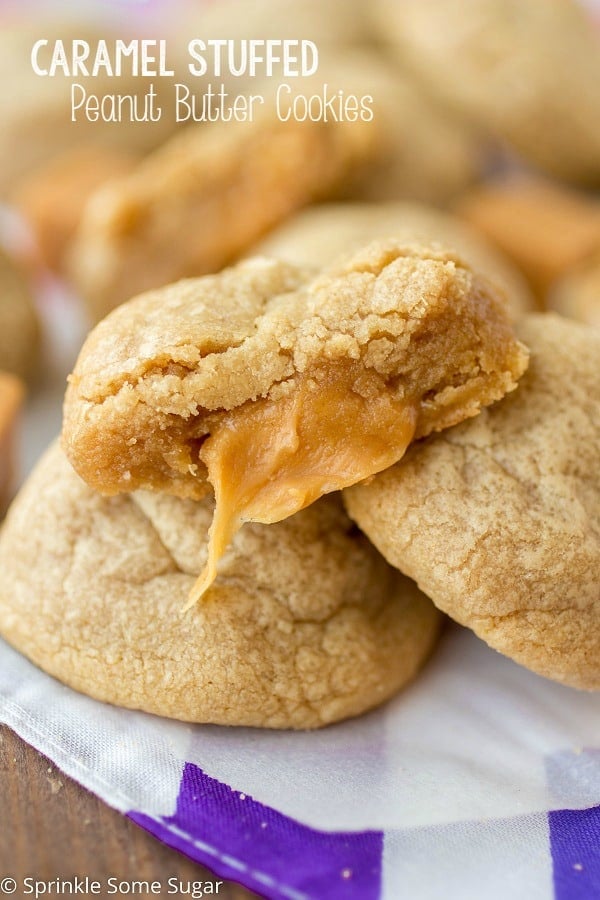 After running around horse showing for the past few weekends, it feels so good to be back here in this little old coffee shop writing to you guys! For those of you who don't know, I have ridden/shown horses all my life. I took a short break for a few years because a little someone is more important and takes up all my time, but he's a little bigger now so I'm back and I couldn't be happier! Wanna see a photo from this past show? Just ignore my cross-eyed looking eyes… ha!
You know what else makes me happy? Cookies. Specifically, peanut butter cookies. Even more specifically peanut butter cookies stuffed with CARAMEL. Talk about party in your mouth over here. You guys have been doing some serious lovin' on my favorite peanut butter cookie recipe lately, so I decided to use the same recipe but change them up a bit and stuff them with some glorious caramel. In my head I was trying to picture what peanut butter and caramel would taste like together and I just couldn't do it? I'm so glad I went ahead and made these though because they are ridonkkkkulous.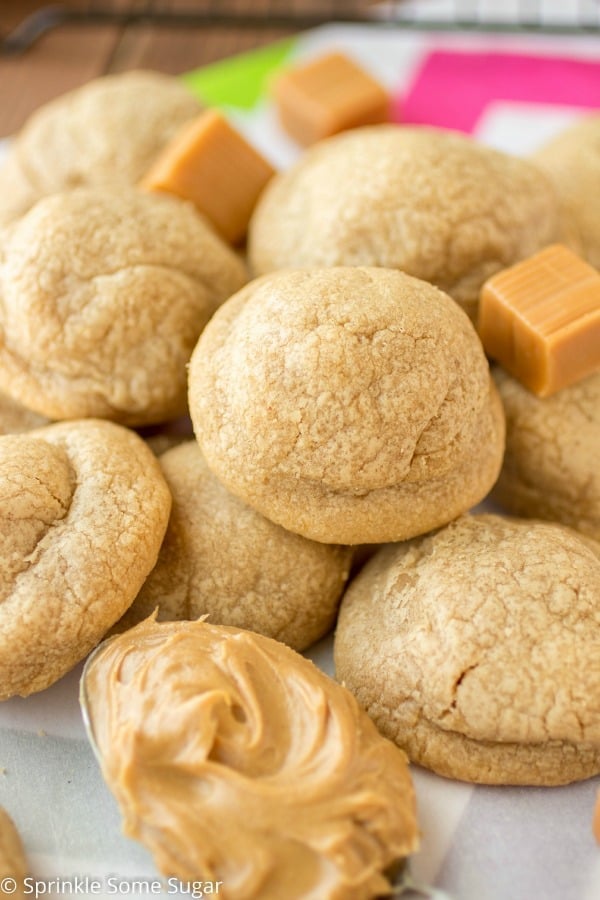 These are the most perfect little peanut butter cookies ever. Soft, chewy, puffy little peanut butter-y bites of heaven. The same recipe you all know and love, with a little gooey caramel surprise inside. At first glance, you'd think it's just a regular old peanut butter cookie but then you bite into it and BAM! caramel explosion in your mouth. So good. You guys are going to love these!
Recipe is on Dixie Crystals too!
Caramel Stuffed Peanut Butter Cookies
Ingredients
1/2

cup

unsalted butter

melted halfway

1

cup

light brown sugar

1

egg

2

tsp

vanilla extract

3/4

cup

creamy peanut butter

1 1/2

cups

all-purpose flour

3/4

tsp

baking soda

12-14

soft caramels
Instructions
Preheat oven to 350 degrees. Line baking sheets with parchment paper, set aside.

Chop soft caramel candies in half and set aside.

Cream butter and brown sugar together until smooth with no lumps. Beat in the egg,vanilla and peanut butter until completely combined. Pour in flour and baking soda and mix until just incorporated without over-mixing. Dough will be very soft and sticky. Chill dough for at least 15 minutes.

Roll 1" rounded tablespoons of dough and with your index finger, press a little well into the center and stuff it with half of a caramel candy. Cover the candy with the dough and re-shape into a all and place them 1" apart on prepared baking sheet (they don't spread much). Bake cookies for 7-8 minutes. Allow to cool for only 5 minutes on baking sheet and then transfer to a wire rack to finish cooling.

These Caramel Stuffed Peanut Butter Cookies will stay soft and fresh for up to 6 days stored in an airtight container.