An oldie but goodie cookie recipe for you guys because we love these Soft Sugar Cookies SO much in our house. They're a Holiday cookie staple around here. Soft, buttery, melt-in-your-mouth little clouds.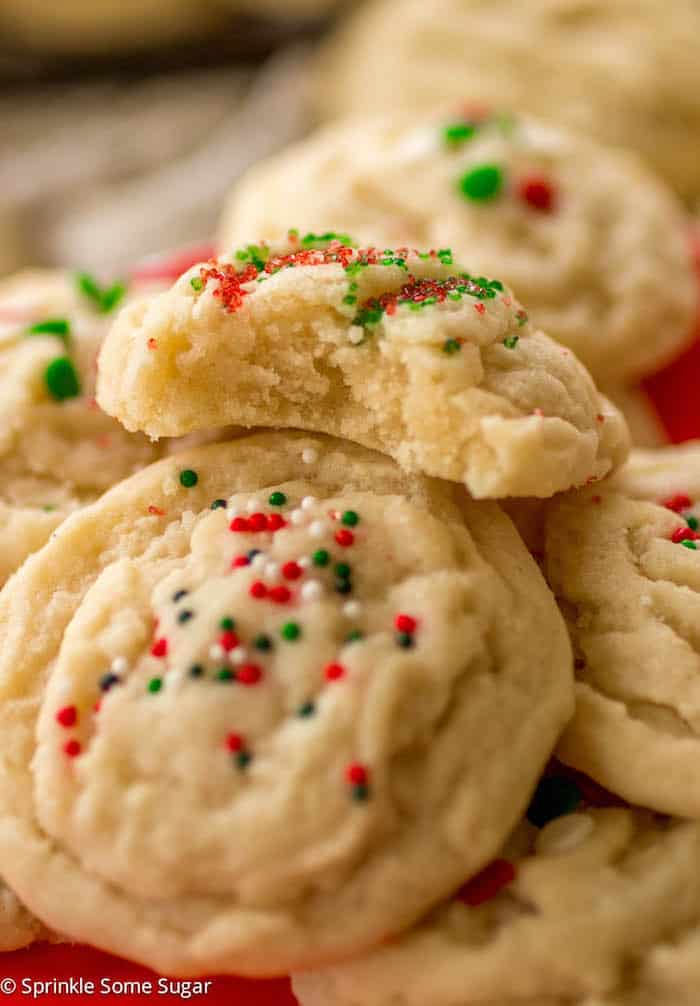 Fun fact about this recipe: This was the second recipe I posted when I started this little old blog almost 2 years ago. The pictures were pretty cringeworthy so I decided it was about time for me to update them because these cookies are too good! Anyways, remember last week when I told you guys about how it was 60 degrees? Well, up until yesterday, it was 70! We were loving every second of it buttttt, all good things come to an end and we're back to 50 degrees and I'm currently wearing two coats and a big furry scarf as I'm typing this while I'm outside.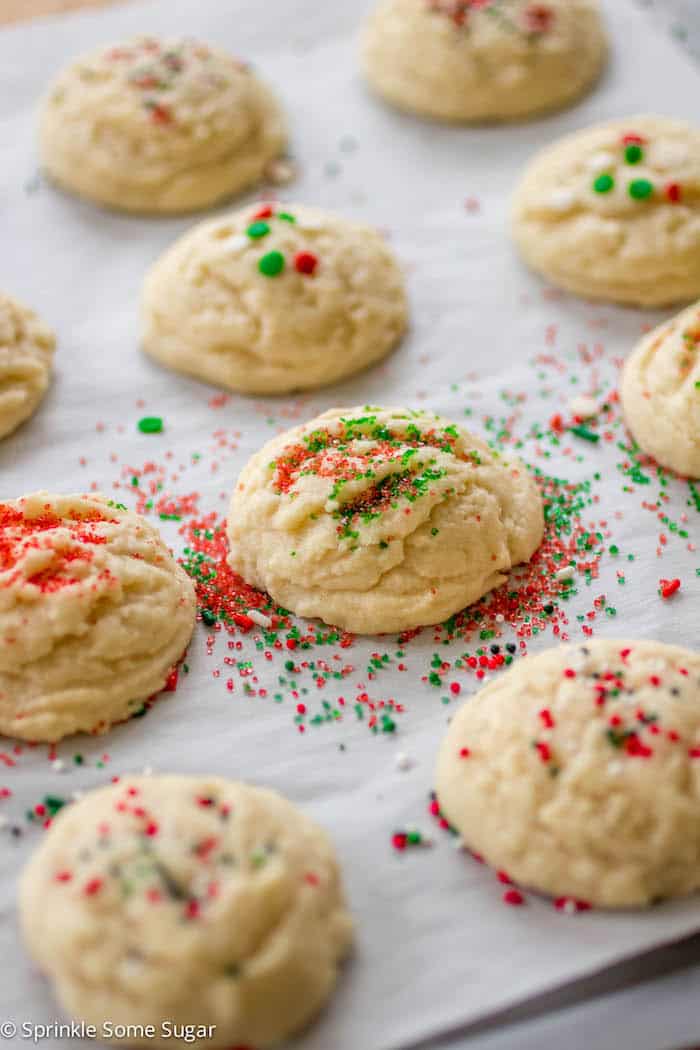 Can you tell I dislike the cold? Although, I don't like the cold, you know the one thing I love about it? Once it starts getting cold that means Christmas time is near! And you know what Christmas time means…. Cookie baking! My favorite time of the year! Even though I bake cookies all year long, there's something so special about baking during the holidays. These cookies are always a staple every year so I knew I had to share them with you guys again.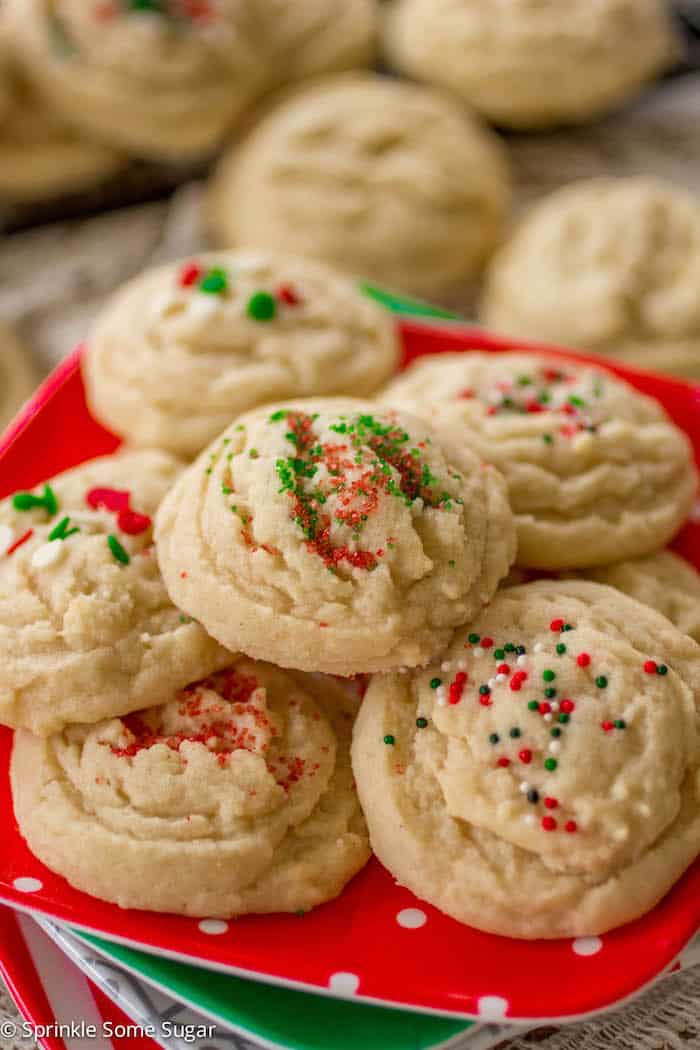 These cookies have 2 fat sources – butter + vegetable oil so you just know that these cookies will NOT be dry in the slightest. They are like little soft, buttery pillows that literally just melt in your mouth when you eat them. Dress them up with some sprinkles or leave them plain, they're amazing either way!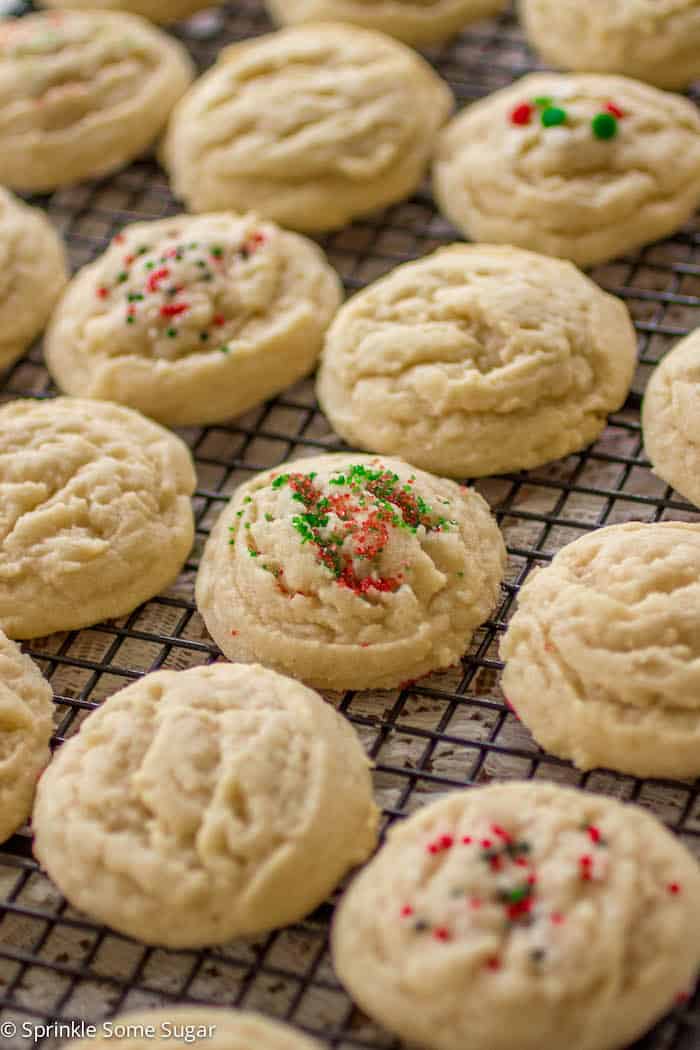 I only make these cookies a few times a year because ya know, look at the ingredient list. But, I think it's okay to indulge sometimes, especially during the holidays! We always have 2016 to eat healthier, right? Until then, let's have some soft sugar cookies together.
Soft Sugar Cookies
Ingredients
1

cup

butter

room temperature

1

cup

sugar

1

cup

vegetable oil

2

eggs

2

tsp

vanilla

1

cup

powdered sugar

41/2

cups

flour

1/2

tsp

salt

1

tsp

baking soda

optional sprinkles to garnish
Instructions
Preheat oven to 350°

Line your baking sheet with parchment paper and set aside.

In a large mixing bowl, cream together the butter, oil, salt and both sugars until smooth.

Beat in the eggs and vanilla.

Combine the flour and baking soda in your mixer on low until incorporated. (Don't over mix - it will become tough)

Using a cookie scoop, drop the dough on your lined baking sheet. If you are going to use sprinkles, add them now so they will stick.

Bake for 10 minutes or JUST until edges start to golden slightly.

Let cool for 10 minutes on baking sheet. Then, transfer to wire rack to finish cooling.