These bars are jam packed with so many amazing flavors. You'll never guess the "secret" ingredient!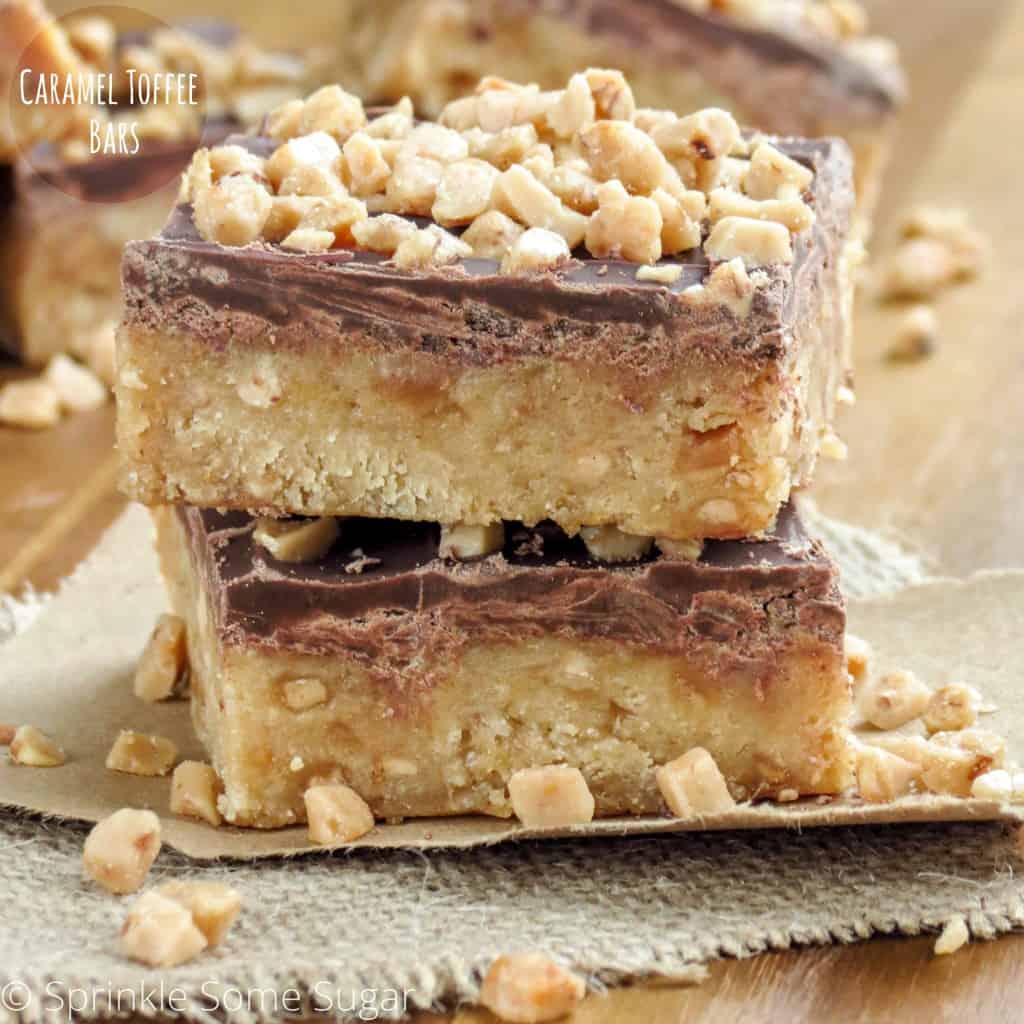 THESE. BARS. Drop what you are doing right this second and make them. I have been searching for a recipe like this for what feels like forever and I finally found it! About a year ago, my little brother came home from work, he used to valet cars for sweet sixteens and stuff, and the mother there gave him and the other valet guys goodie bags of these exact same bars cut into tiny little squares. My mom and I had one bite and couldn't even stand it, we ate the entire bag! (Sorry, Phil.) Anyways, I've literally been dreaming of these bars and finally, finalllllyyyy I found them. All I had to search for was "TOFFEE BARS," DUH. After a bit of tweaking, they are an exact replica of the deliciousness we had.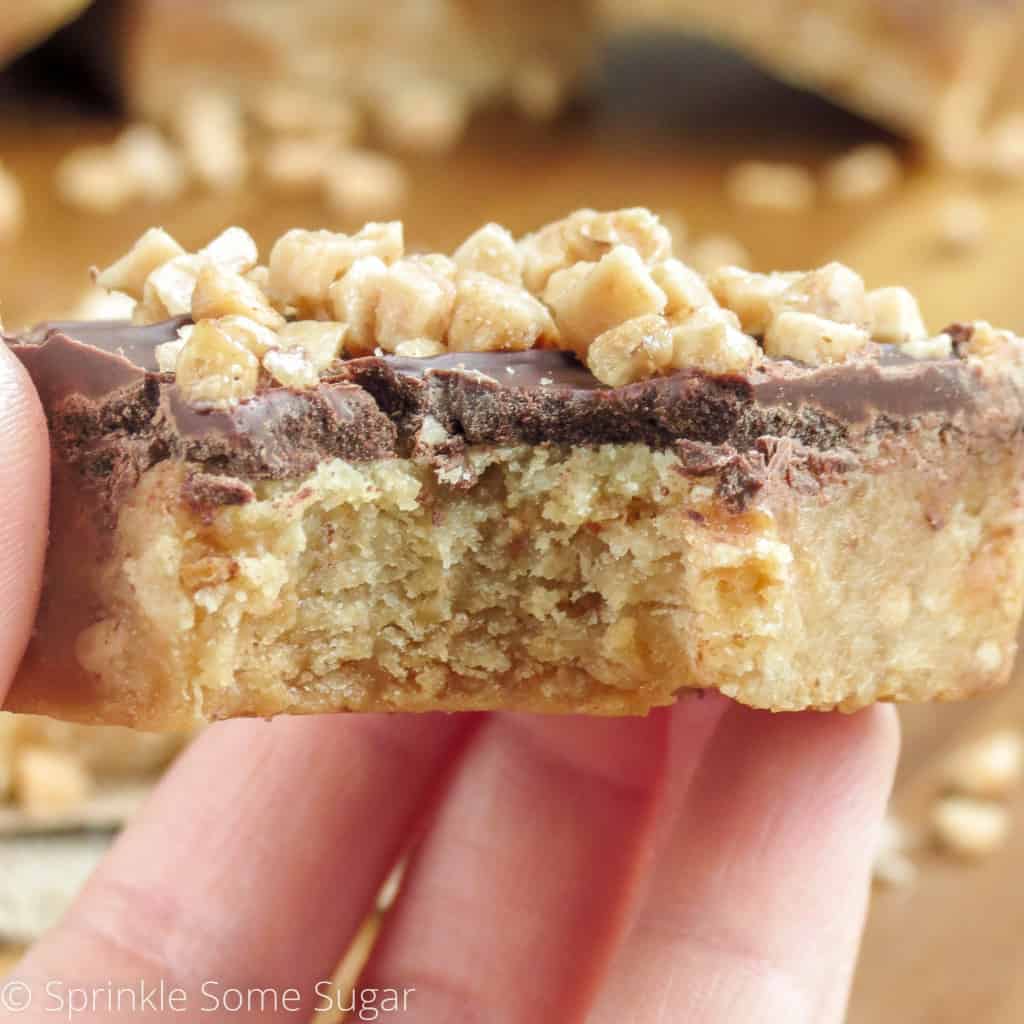 There are about a million recipes for these kinds of bars, but the one thing that was different in the bars my brother had was that there were tiny hunks of caramel in them. I figured some roughly chopped caramel bits would be perfect to throw into the mix since they are pretty tiny to begin with. And OMG was I right. Seriously, you guys, these bars are completely irresistible! They're nice and chewy and the chocolate on top seals the deal. So many amazing flavors in these caramel toffee bars and you'll never, ever guess what the base is that holds them together.
Okay, I'll tell you. RITZ CRACKERS. How weird? You'd never know it eating them, but yeah. Ritz crackers. You pulse them into a fine crumb, add all of the other ingredients (5 in total!), mix them together and throw them into a well greased pan and bake them up. After they're done baking, I sprinkle my chocolate chips on top and place the pan back into the oven for just 1 minute to melt them. When you take them out, they're perfectly melted and spreadable! Alternatively, you can melt the chocolate chips and pour the melted chocolate on and spread. I like to take the easy way out though.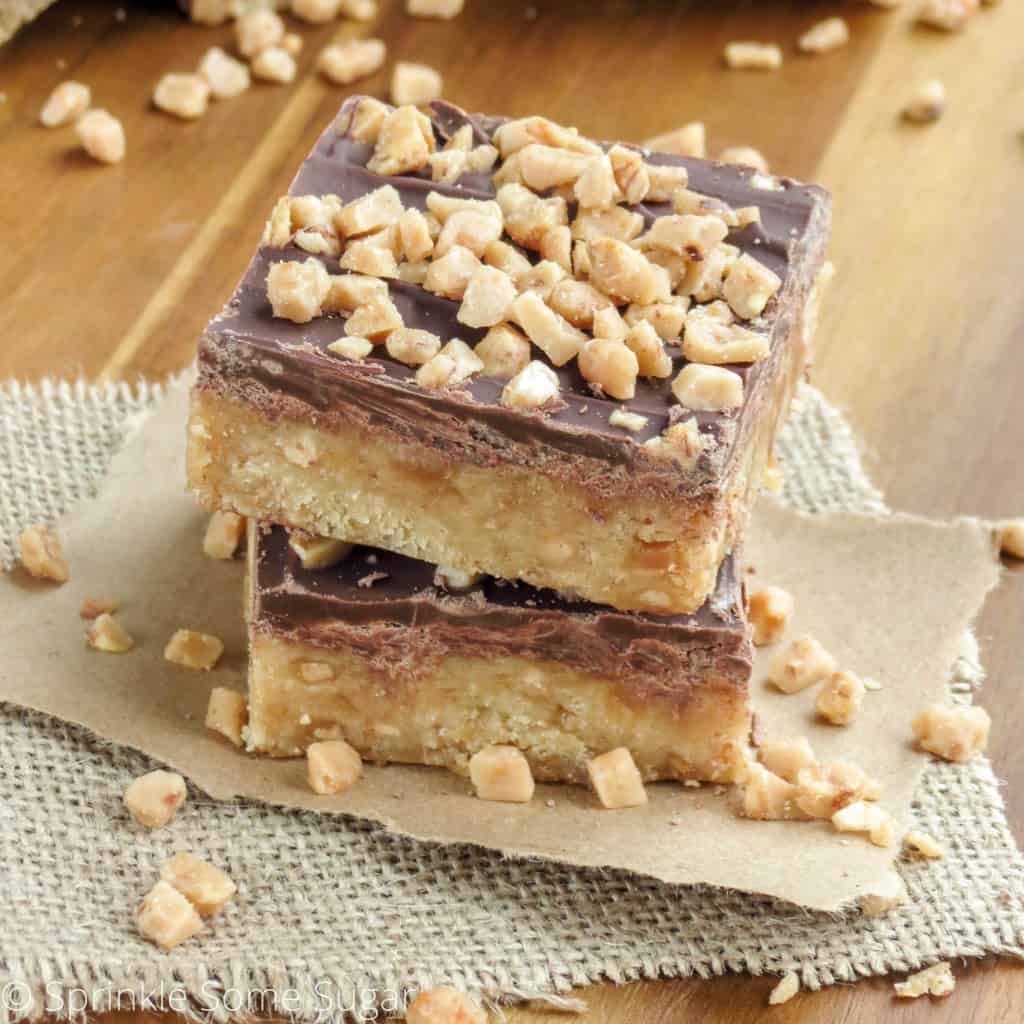 Toffee. Caramel. Chocolate. Three flavors that are INCREDIBLE together. Sorry for all of the caps in this post but I just REALLY need to get my point across about how good these things are. Okay, that one was on purpose. But in all seriousness, make these heavenly bars and you will be just as obsessed as I am and TYPE LIKE THIS TOO.
[pinterest]
📋 Recipe
Chewy Toffee Bars
Ingredients
80

rits crackers

1

14 oz can sweetened condensed milk

1

8 oz bag toffee bits, ⅓ cup reserved for garnish

¼

cup

caramel bits

roughly chopped

1 ½

cups

semi-sweet chocolate chips
Instructions
Preheat oven to 350 degrees. Grease a 9x9" (or 8x8") pan with cooking spray and set aside.

Reserve ⅓ cup of toffee bits in a small bowl, set aside.

Pulse ritz crackers in food processor into a fine crumb. Pour into a large bowl and add sweetened condensed milk, chopped caramel bits and toffee bits. Stir until everything is evenly distributed. Dump mixture into prepared pan and press down VERY well into an even layer. Bake for 20-22 minutes or until the edges just begin to golden a bit. Once this happens, take the pan out of the oven, sprinkle chocolate chips evenly on top, and place back into the oven for 1 minute. Take the pan back out and spread the melted chocolate chips into an even layer. Sprinkle reserved toffee bits on top.

Allow bars to cool completely before serving. To speed the process up, I like to place them in the refrigerator or for even faster, the freezer.

These Caramel Toffee Bars will stay chewy and fresh for up to 6 days stored in an airtight container at either room temperature or in the refrigerator. If storing in the refrigerator, take them out 30 minutes before serving to allow them to come to room temperature.
The provided nutritional information is an estimate per serving. Accuracy is not guaranteed.
Tried this recipe?
Let us know how it was! Leave a comment below & tag @sprinkle_some_sugar on instagram!
[pinterest]