Sweet and tart lemon raspberry crumb bars are the perfect Summer treat!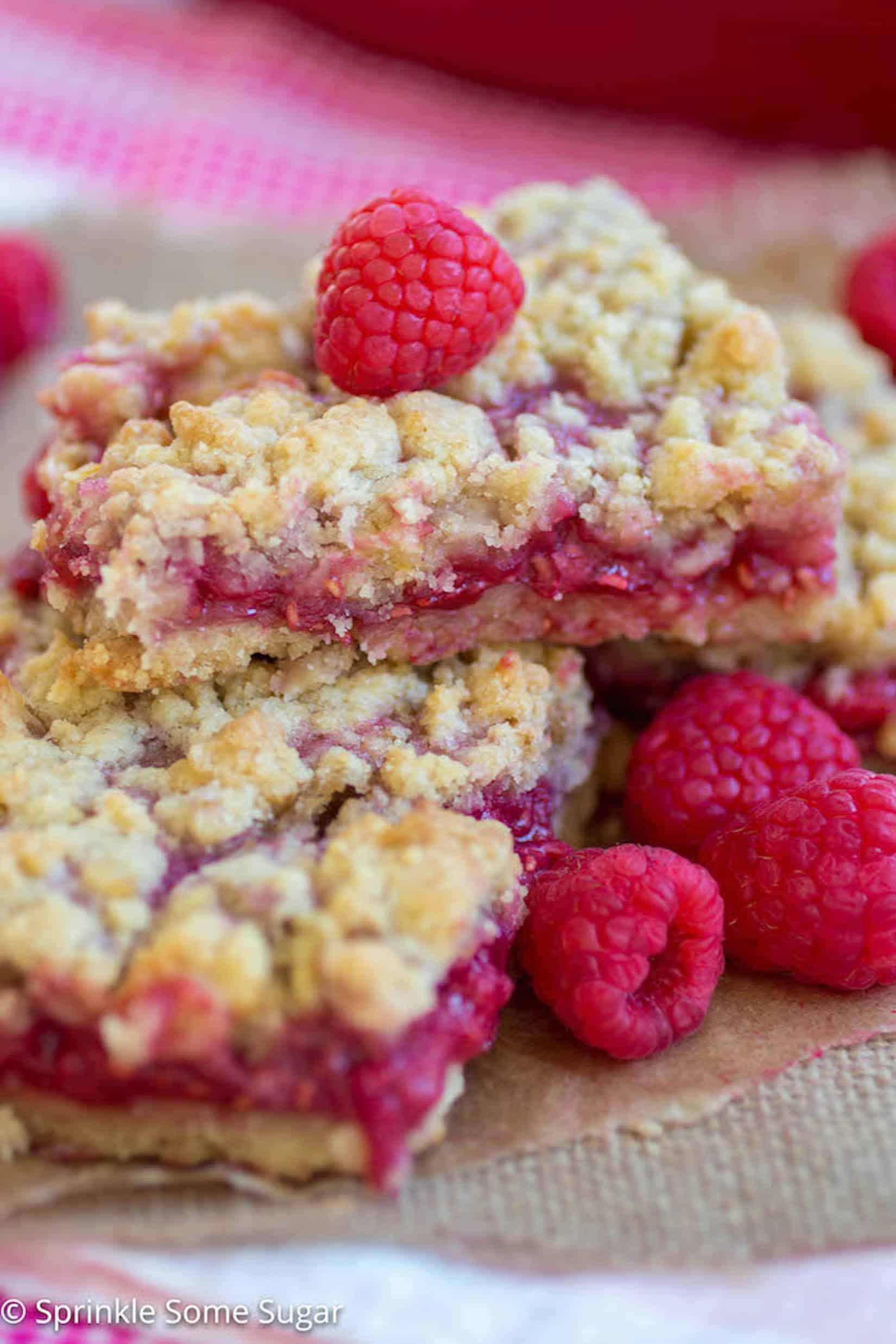 Raspberries are pretty much in their peak time right now, so I've been stocking up on tons of them. I don't particularly like them just to eat because the seeds throw me off – I KNOW. I don't know what it is, but I just cant get past the little seeds. BUT – just because I don't like to eat them fresh, doesn't mean I don't love to bake with them! It's like a love-hate relationship. They have a tart but sweet flavor that I love so much in baked goods! Especially in these lemon raspberry crumb bars.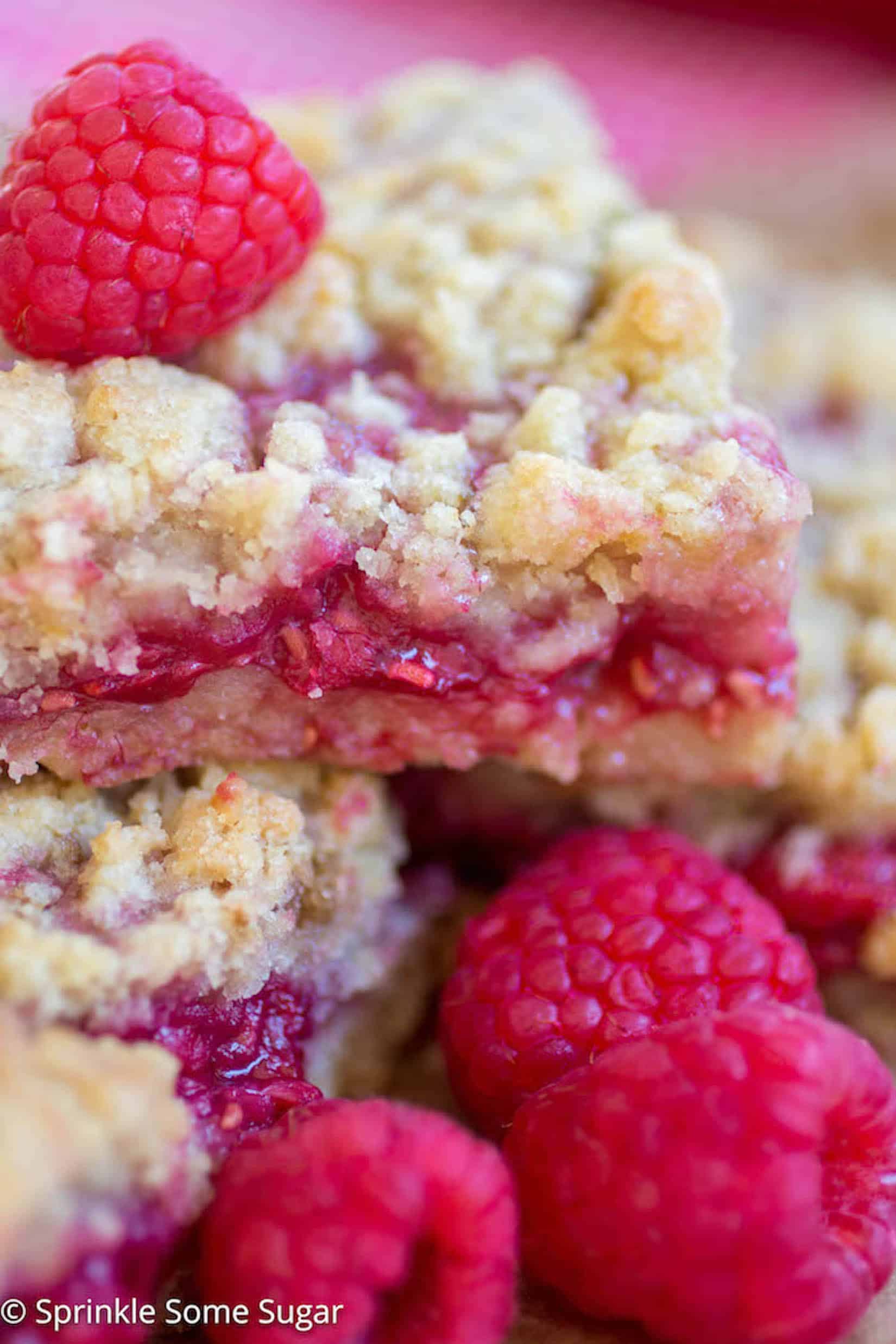 These are so super simple to make and so delicious. Whenever I have a bunch of berries I need to use up, I almost always will make this recipe because it's so simple and comes out amazing every time no matter what berry you use! If you don't like raspberries or don't have them on hand, you can just substitute your favorite berry in it's place. Easy peasy. I've shared ones with blueberries and strawberries here with you guys in the past (don't mind the photos, they're ancient).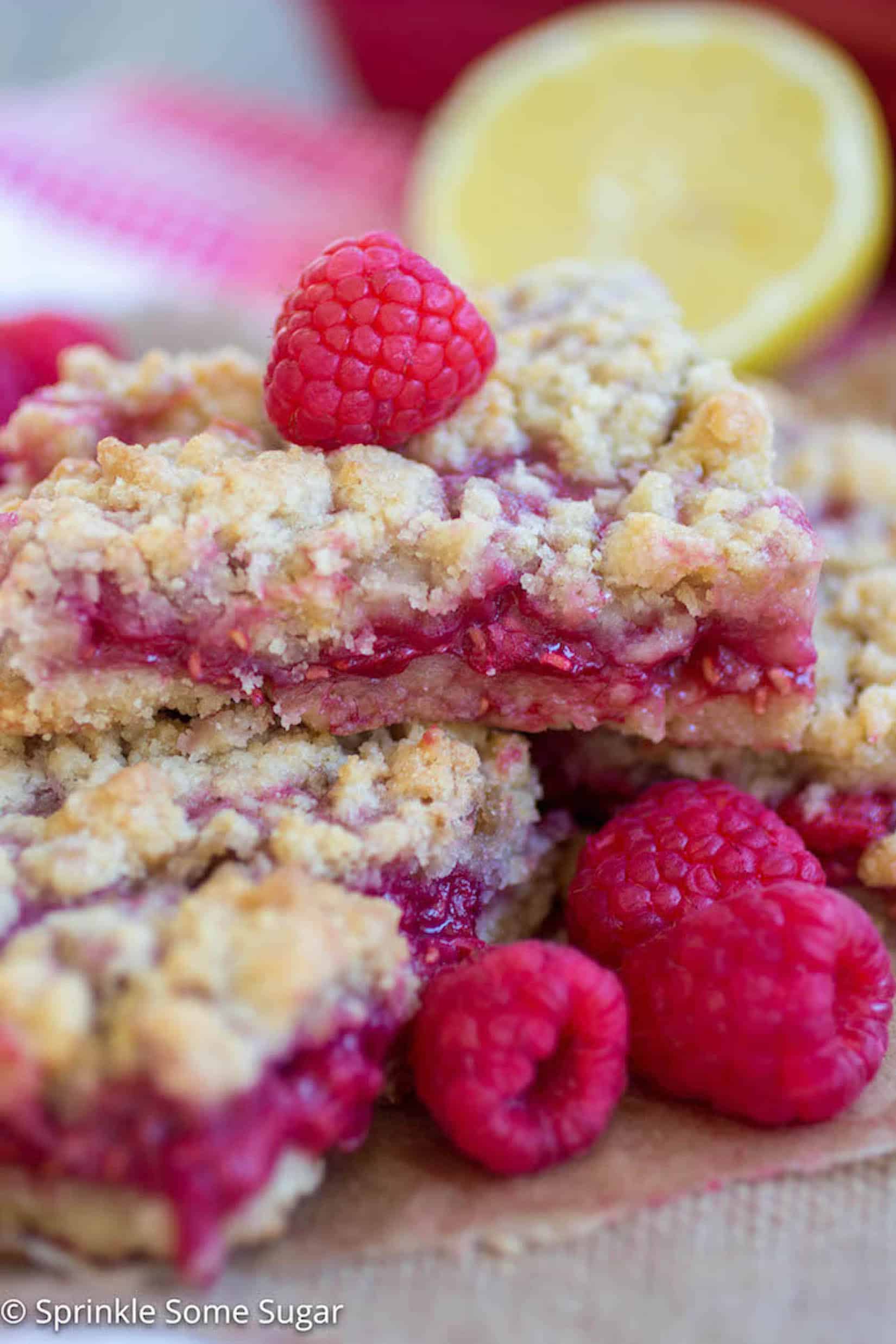 To prepare this dessert, you'll let the raspberries sit in a bowl with some sugar and lemon juice to macerate a bit and get them nice and sweet. The "crust" will bake for a few minutes and then the raspberries will get dumped on top. The crumble is then sprinkled on top of them and they bake up nice and golden brown. The raspberries get pretty gooey on the inside, so it's best to allow the bars to cool completely to room temperature before cutting into them to prevent them from oozing too much. The buttery sweet crumble on top is my favorite part!

Top these babies with a big scoop of vanilla ice cream for the ultimate Summer dessert!
Lemon Raspberry Crumb Bars
Ingredients
*Crust/Topping*
1/2 cup granulated sugar
1/2 cup brown sugar
1/2 teaspoon baking powder
3 cups all-purpose flour
1 cup unsalted butter cold and cubed
zest of half lemon
1 egg
pinch salt
*Filling*
4 cups raspberries fresh or frozen
1/2 cup white sugar
4 teaspoons cornstarch
1 1/2 tsp lemon juice
zest of half lemon
Instructions
Preheat oven to 375°. Grease a 9×13 inch pan, set aside.

In a large bowl, whisk together sugar, flour salt and baking powder. Using your hands, fork or pastry cutter, cut in the butter until it resembles a coarse meal. (I like to use my hands.) Mix in the lemon zest and egg until fully combined. Press half of dough into the prepared baking pan and bake for 7 minutes.

While the crust is baking, stir together the raspberries, lemon juice, sugar and cornstarch. Once crust is done, spread raspberry mixture over the warm crust and crumble the remaining dough over the raspberries. No need to make this absolutely perfect, it's looks nice when some raspberry color shows through. Place back into oven and bake for another 35-45 minutes or until top starts to turn slightly golden. Once done, allow them to cool completely before cutting.

Bars will stay fresh for up to 5 days stored in an airtight container at room temperature or up to 7 days stored in the fridge.