[pinterest]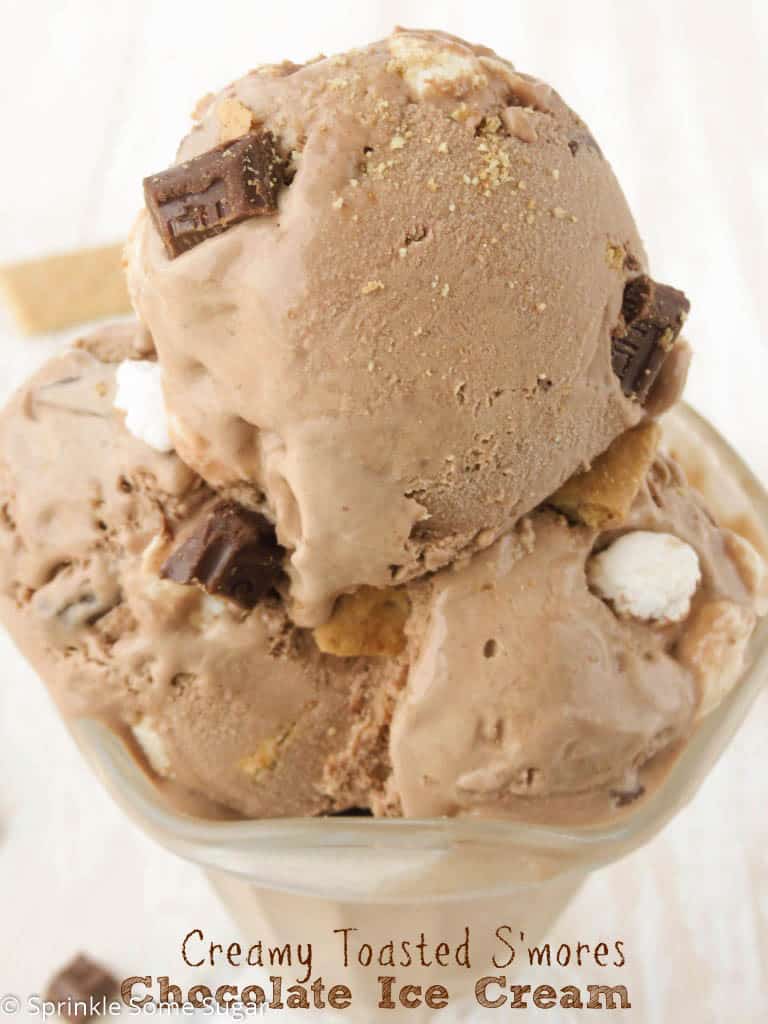 Oh my god, you guys. This ice cream is my absolute favorite. FAVORITE. I could eat it every day if my waistline would allow it. The creamiest, smoothest, most delicious ice cream you will ever have. I have told you all about my love of s'mores over and over again, but I'll say it one more time (and probably 100 more times). I LOVE S'MORES. I will eat them any way I can. Ice cream form was just about the best idea I've ever had.
I saw a bunch of recipes online for s'mores ice cream, but not many used chocolate ice cream so I just decided to create my own version. I used my favorite custard base ice cream recipe and tweaked it from there. Toasted marshmallows are blended right in with the ice cream mix before it gets chilled to go into the ice cream maker. The toasted marshmallow taste is very subtle, it makes the chocolate ice cream super velvety and smooth and gives it a lightness and creaminess it otherwise wouldn't have without them. Plain chocolate ice cream is just too boring, I had to spice it up a bit.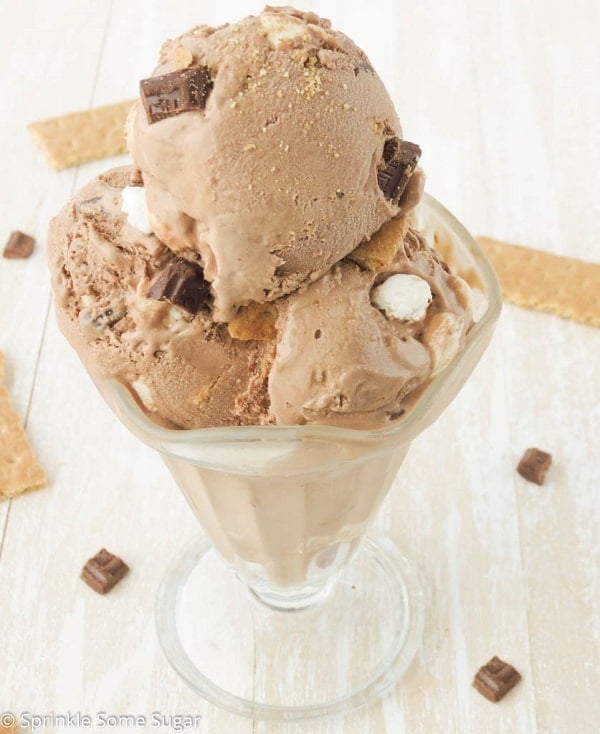 Ice cream is my weakness. When I was younger, my dad and I would have an ice cream cone every single night before bed while watching cartoons. Oh, what a life! Such great memories with him. Most of those memories have ice cream involved (especially coffee royale! WHYYY don't they make that flavor anymore?!?!)! I blame him for my ice cream infatuation. But then again, if it wasn't for him, I wouldn't come up with these delicious creations!
My boyfriend, Mike, doesn't eat ice cream due to lactose issues, but I forced him to at least try a spoonful to tell me what he thinks. He was amazed that I made it at home! It really tastes like the most decadent ice cream you would order at an ice cream parlor. It's just freaking delicious.
Please, just make this ASAP. You will not be disappointed!
[pinterest]
Creamy Toasted S'mores Chocolate Ice Cream
Ingredients:
2 cups whole milk
5 egg yolks
1/2 cup sugar
pinch salt
2 tbs cocoa powder
1/2 cup semi-sweet chocolate chips, melted
1 10oz bag large marshmallows
1 cup heavy cream
1 tsp vanilla
12-15 large marshmallows, cut into quarters OR 1 1/2 cups mini marshmallows
2 graham crackers, crushed into chunks
2 regulare size milk chocolate Hershey bars, chopped small
Instructions:
Heat milk, sugar and salt in a small saucepan to a simmer. In a large bowl, whisk egg yolks lightly. Pour hot milk mixture slowly into the egg yolks, whisking rapidly to prevent scrambling until all of milk mixture is combined. Pour egg/milk mixture back into saucepan and heat on LOW until thickened (it should coat the back of a wooden spoon).Be sure to whisk frequently to prevent scorching and scrambling of the eggs. Remove from heat once thickened. Pour in chocolate chips and stir until completely melted. Whisk in cocoa powder until smooth. Pour mixture into blender.
Line a baking sheet with parchment paper. Turn oven on to broil and let it heat up for about 2 minutes. Place whole bag of marshmallows onto lined baking sheet (if they don't all fit, do this step in 2 batches) and once oven is heated, place in oven and let them lightly toast for 30 seconds to 1 minute. Be sure to watch them, they'll burn fast! Once they are lightly browned, flip them over to toast the other side, another 30 seconds to 1 minute. Once both sides are toasted, pick them up with tongs and place into blender with the ice cream mixture. Pulse until everything is completely smooth.
Pour mixture into a large bowl and cover tightly with plastic wrap. Let it chill for 2 hours in the fridge or 1 hour in the freezer to speed it up. Once completely chilled, whisk to make sure everything is smooth. The mixture should be slightly thick. At this point, whisk in heavy cream and vanilla. Pour mixture into ice cream machine and freeze according to manufacturer's instructions. Once it is done churning, fold in chopped graham crackers, chocolate and marshmallows. Scoop mixture into container of choice and cover tightly. Place in freezer and freeze for 3-4 hours until ice cream is firm and scoop-able.
Ice cream will stay soft and creamy for up to 1 week in the fridge. (If it even lasts that long!)
https://www.sprinklesomesugar.com/creamy-toasted-smores-chocolate-ice-cream/
[pinterest]