The perfect Summer cupcake! These cupcakes are just bursting with flavor from the tangy lemon cupcakes to the sweet, fresh raspberry buttercream.
These lemon cupcakes with raspberry buttercream are the epitome of summer! Lemon and raspberry pair so ridiculously well together. I could NOT stop eating these! Normally, I'll test my recipes, try them to make sure they're good, then send them off to family members so I don't over-indulge on them. But these cupcakes were a whole different story. As if I couldn't get enough of lemon desserts already, these really took my love for lemon to a whole different level. The raspberry buttercream is absolutely DELICIOUS and so totally perfect on it. It's made with fresh raspberries that are turned into basically liquid gold. Liquid PINK gold. So pretty! It's total spoon to the bowl delicious that I almost didn't want to frost the cupcakes with it. Just kidding, I'm kind of making myself sound like fatty over here but I'm just letting you guys know, these are danggg good.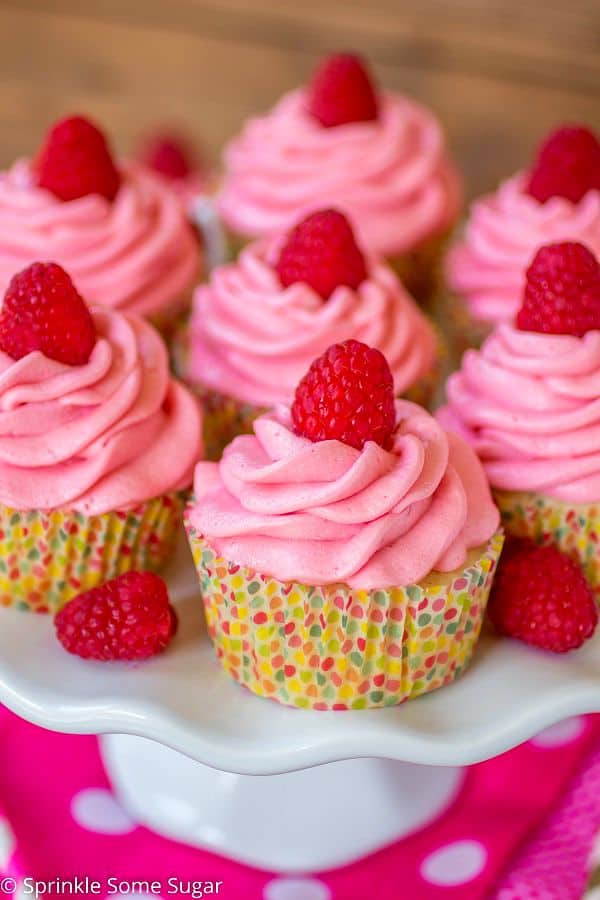 The lemon cupcake recipe is one I've been coming up with for a while, my own recipe! It's a whole bunch of different recipes combined and I really think it is amazing. They're made with fresh lemon zest and juice, giving you a totally fresh and tangy-but-sweet-at-the-same-time cupcake! You can even leave out all of the lemon-y ingredients and up the vanilla extract to make them vanilla cupakes. They are fluffy, yet dense and sturdy enough to stand up to a whole lot of frosting. To me, they're perfect cupcake texture! I know you guys will love these.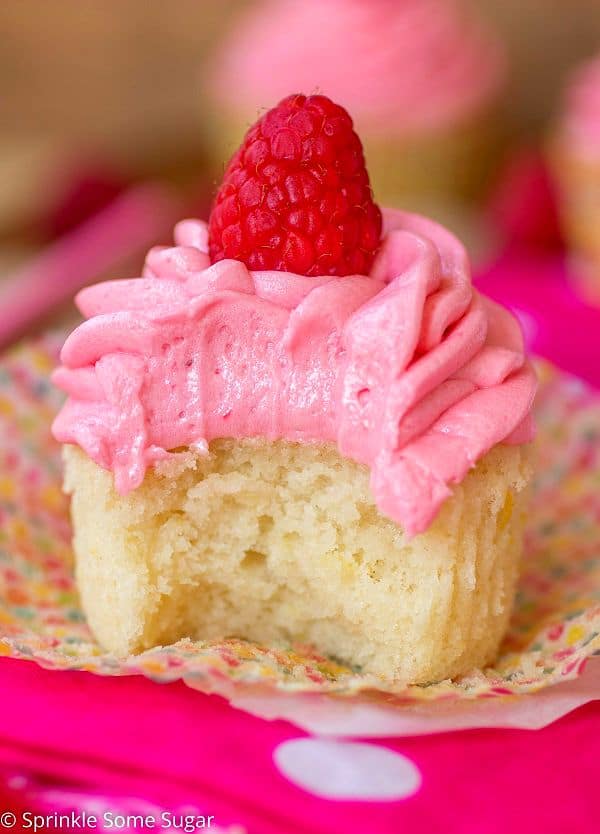 The raspberry buttercream as I mentioned before, is made with fresh raspberries. You'll simmer them with a bit of sugar in a small pot and mash the heck out of them to release all of their juices. Once they're juices are released, they're strained through a fine mesh sieve into a bowl and just wait until you see this liquid pink amazingness. Once you whip up your frosting ingredients, this is added to the frosting, giving it a beautiful pink color. There is no food coloring used in the frosting you see here! Just pure, fresh, raspberry goodness.
[pinterest]
Lemon Cupcakes With Raspberry Buttercream
Ingredients
*Lemon Cupcakes*
1 ¾

cup

all-purpose flour

1 ¼

cup

granulated sugar

2

tsp

baking powder

¾

cup

unsalted butter

softened

3

egg whites

2

tsp

vanilla

2

tbs

sour cream

½

cup

whole milk

zest of 2 lemons

about 4 tsp

2

tbs

lemon juice
*Raspberry Sauce*
1

cup

fresh raspberries

1

tsp

granulated sugar

2

tsp

lemon juice
*Raspberry Buttercream*
1

cup

unsalted butter

softened

4

cups

confectioner's sugar

½

tsp

salt

¼

cup

raspberry sauce
Instructions
Preheat oven to 350 degrees. Line 2 cupcake tins with paper liners. Set aside.

In a large bowl, whisk flour and baking powder together and set aside.

In a separate bowl or the bowl of your stand mixer fitted with the paddle attachment, cream butter and sugar together until smooth, 2 minutes. Add egg whites and vanilla and beat until light and fluffy, 2-3 minutes. Add milk, sour cream, lemon juice and lemon zest stirring until completely combined. Finally, pour in flour mixture and mix until just incorporated, you do not want to over mix.

Distribute batter to each cupcake liner ⅔ full. Bake for 18-20 minutes or until a toothpick inserted in the center comes out clean. Allow to cool for 5 minutes in the pan before transferring to a wire rack to finish cooling completely. While the cupcakes are cooling, begin preparing your frosting.

In a small saucepan, add raspberries and toss them with sugar and lemon juice. Allow to simmer on low heat for 8-0 minutes, stirring occasionally and watching closely making sure they do not thicken up too much. Mash them in the pot very well and then transfer to a fine mesh sieve over a bowl and really strain them as well as you can. Make sure you press them down to get all of the juice out. Allow to cool to room temperature and thicken slightly, about 15 minutes. Transferring the mixture to another bowl and placing it int he refrigerator speeds up the process.

For the frosting, cream butter until smooth with no lumps. Add salt and confectioner's sugar one cup at a time. Pour in raspberry sauce slowly and gradually. You can add more or less depending on what you desire. Frost cupcakes once they are completely cooled.

These Lemon Cupcakes with Raspberry Buttercream will stay fresh for up to 3 days stored in an airtight container in the refrigerator.
[pinterest]