[pinterest]
This cheesecake is just… Life changing. Seriously. It's not just any cheesecake, it's PUMPKIN PIE cheesecake, people. Super creamy and loaded with pumpkin flavor, perfectly spiced and baked in a spicy ginger snap crust. Oh, and garnished with homemade caramel and whipped cream. Perfection, I tell ya.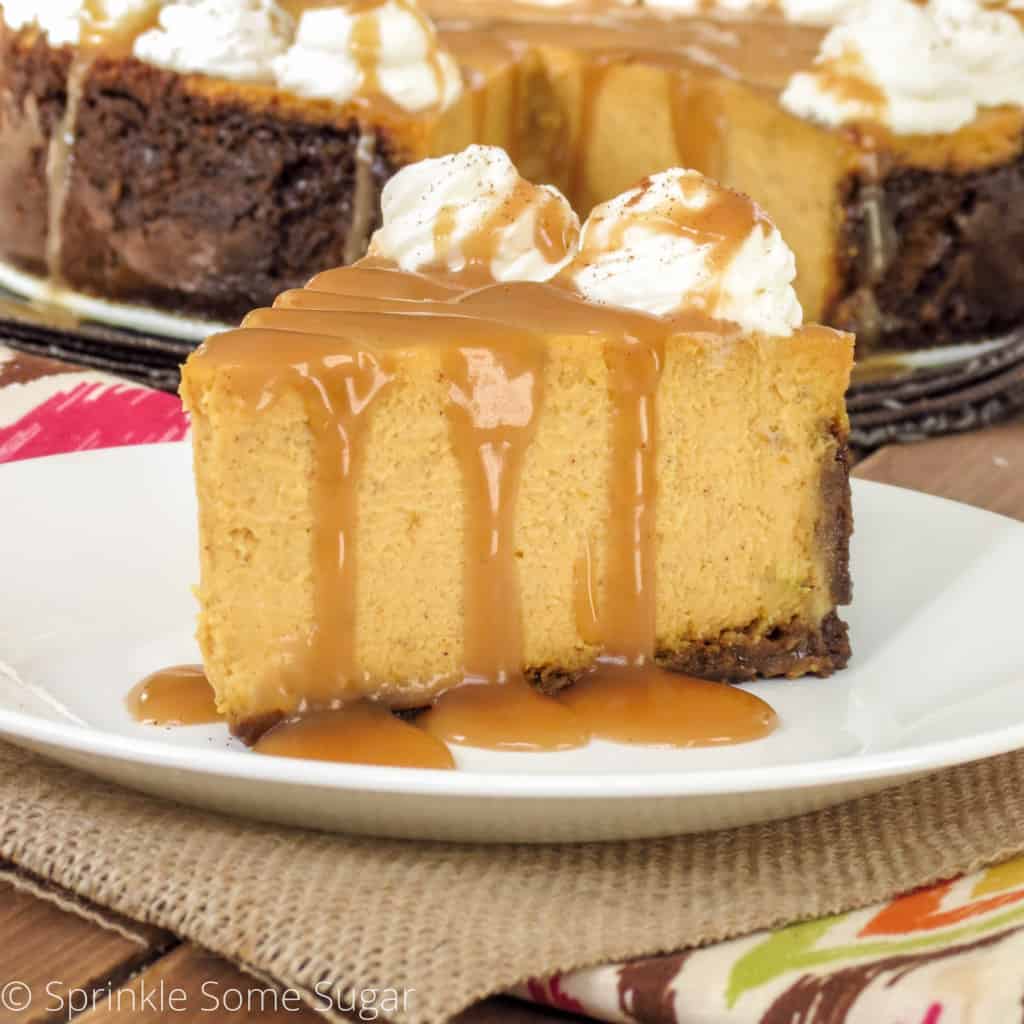 Every year my most adored
pumpkin cupcakes
grace our Thanksgiving table every year but this year I just may have to make an exception and change them out for this pumpkin pie cheesecake. Or I can just make both….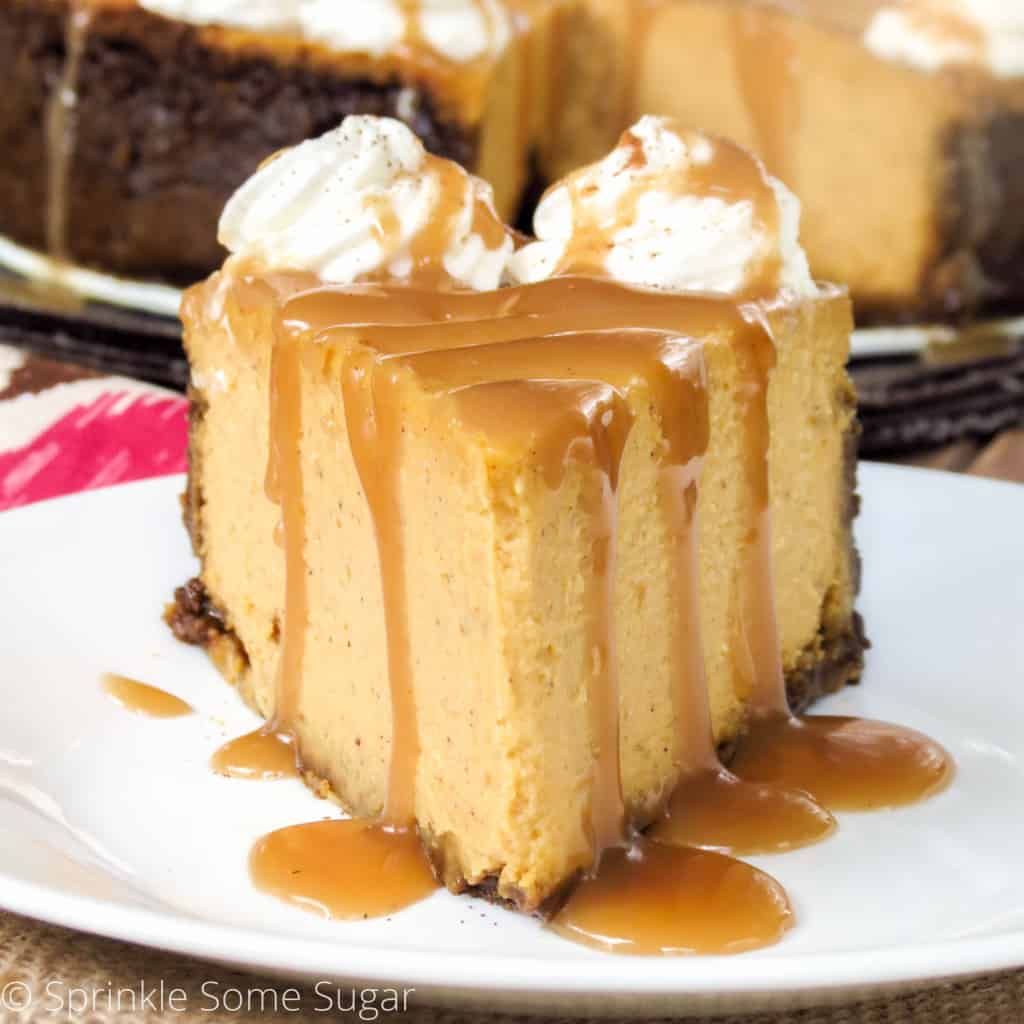 What really makes this cheesecake extra amazing is using a gingersnap crust! It is SO delicious and adds so much extra spicy flavor. Pleaseeee don't use a (blah) graham cracker crust on this one. I'm begging you. Unless you really want to.. then I guess we can still be friends.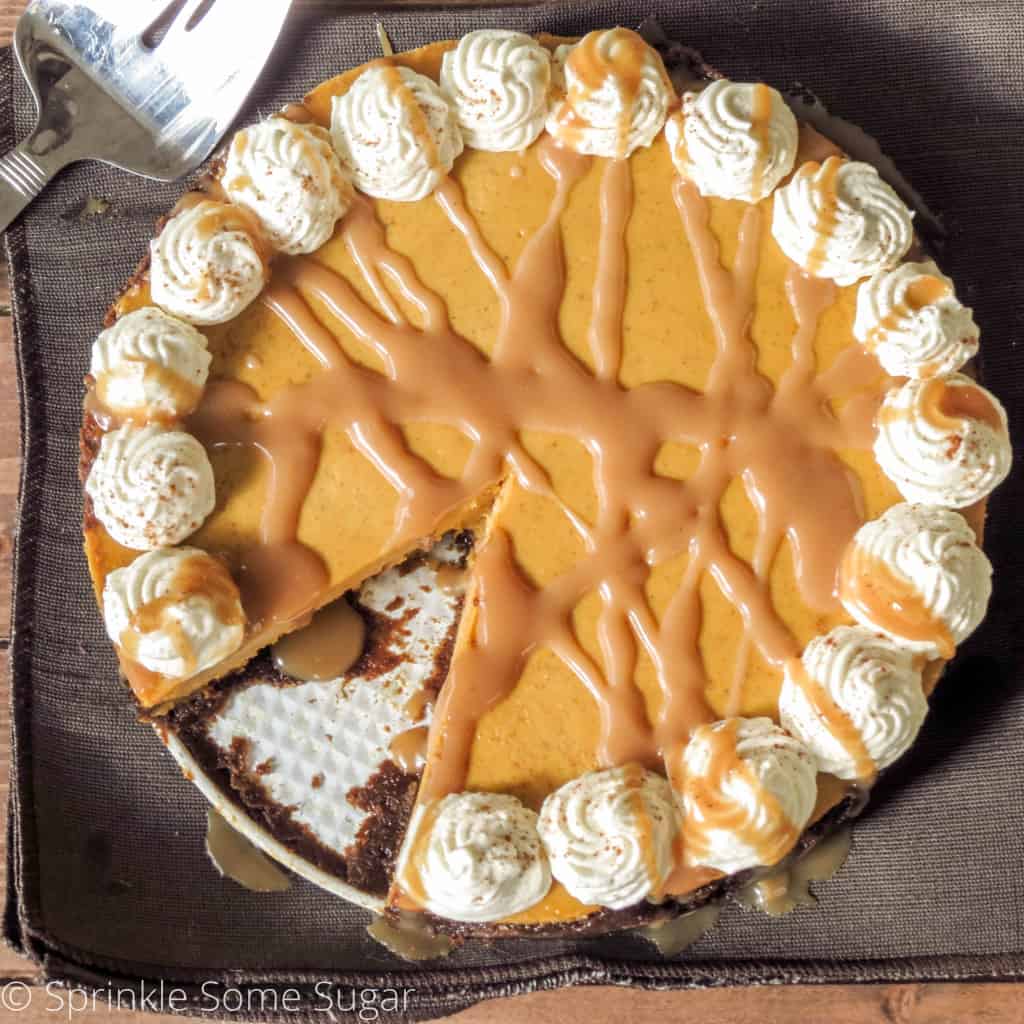 I really just can't even put into words how amazing this cheesecake is. Creamy, dreamy pumpkin goodness. All of your favorite fall flavor friends came to join the party. And I made sure to use a heavy hand on them AND the pumpkin. Especialllllly the pumpkin because who wants a PUMPKIN (pie) cheesecake that barely tastes of pumpkin? Not me. And I'm sure not you either. 😉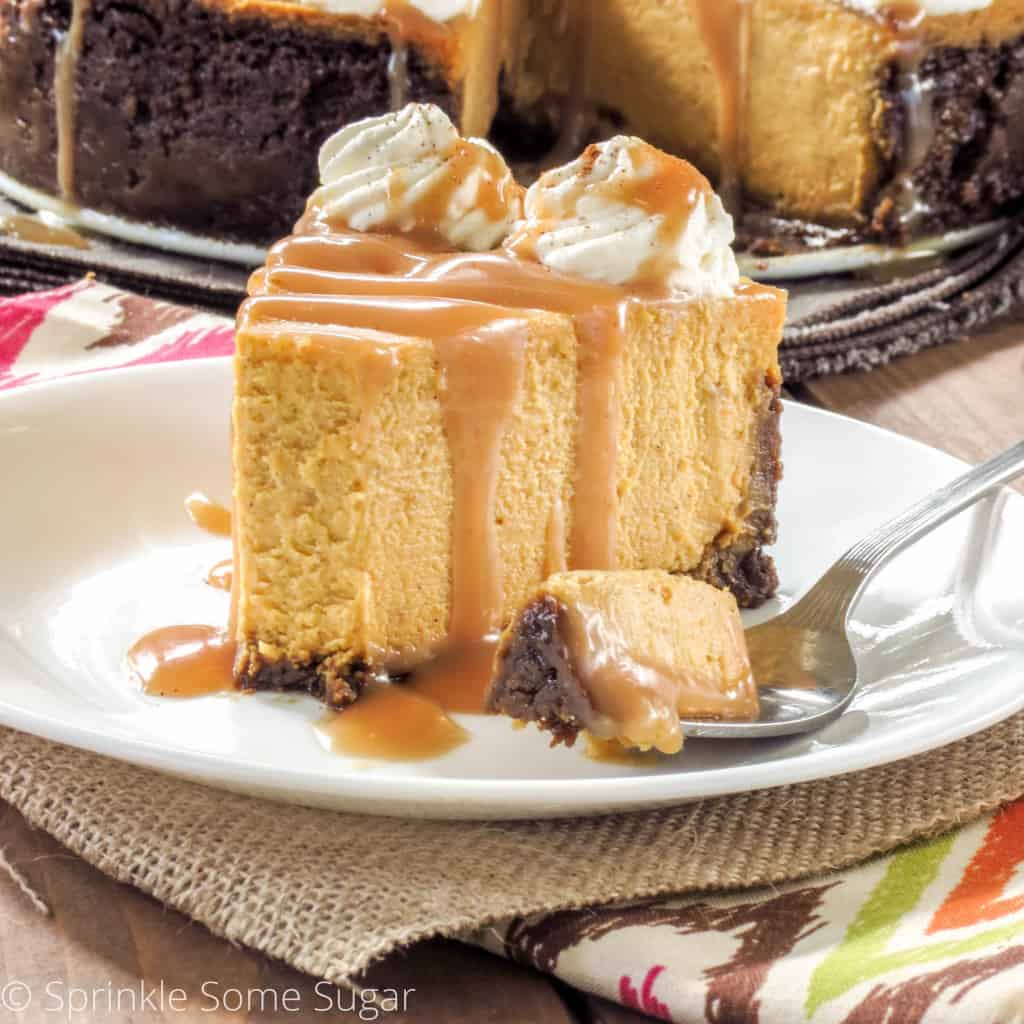 Pumpkin pie meets cheesecake in this creamy, delicious treat that is sure to please everybody!
[pinterest]
Pumpkin Pie Cheesecake
Ingredients
*Pumpkin Pie Cheesecake*
3

8 oz cream cheese, softened

1/2

cup

sour cream

3

eggs

2

egg yolks

1

15 oz canned pumpkin puree (NOT pumpkin pie filling)

3/4

cup

brown sugar

3/4

cup

granulated sugar

1

tsp

cinnamon

1/4

tsp

nutmeg

1/8

tsp

cloves

1/8

tsp

ginger

3

tbs

all-purpose flour

1 /2

tsp

vanilla extract
*Gingersnap Crust*
2

cups

gingersnap crumbs

about 40 cookies

3

tbs

brown sugar

3/4

tsp

cinnamon

5

tbs

unsalted butter

melted
Caramel sauce ( homemadet or store bought)
Whipped cream (homemade or store-bought)
Instructions
Preheat oven to 350 degrees. Lightly grease a 9" springform pan with cooking spray and set aside.

Prepare crust by whisking gingersnap crumbs, cinnamon and brown sugar together. Stir in butter until everything is completely moistened. Press mixture into the bottom of prepared pan spreading it about 1 inch up the sides. Bake crust for 8 minutes. Set aside when done.

Start boiling a large pot of water at this point.

While the crust is baking, prepare filling. Beat cream cheese and sour cream together in a large food processor or blender until completely smooth with no lumps. Add eggs, egg yolks, and pumpkin puree and pulse until combined. Next, add both sugars, cinnamon, nutmeg, cloves, ginger, flour and vanilla and pulse until completely smooth. Don't over mix. You may want to run a rubber spatula around the sides if you see some of the cream cheese isn't mixed thoroughly.

Pour filling in warm crust and wrap the bottom of the pan with a few layers of aluminum foil coming up the sides - be sure no water can seep in! Place cheesecake in a large roasting pan and fill with boiling water, coming up the side of the pan about 1 inch. Bake for 1 hour and 50 minutes. Once done, turn oven off and let the cheesecake sit in the oven for 45 minutes. Remove from oven and gently run a knife around the edges. Allow to rest for 15 minutes. Place a paper towel on top to catch all condensation then loosely wrap with plastic wrap and chill cheesecake in the refrigerator for 6 hours or overnight.

Before serving, prepare caramel sauce and whipped cream to garnish the top.
[pinterest]
[pinterest]