[pinterest]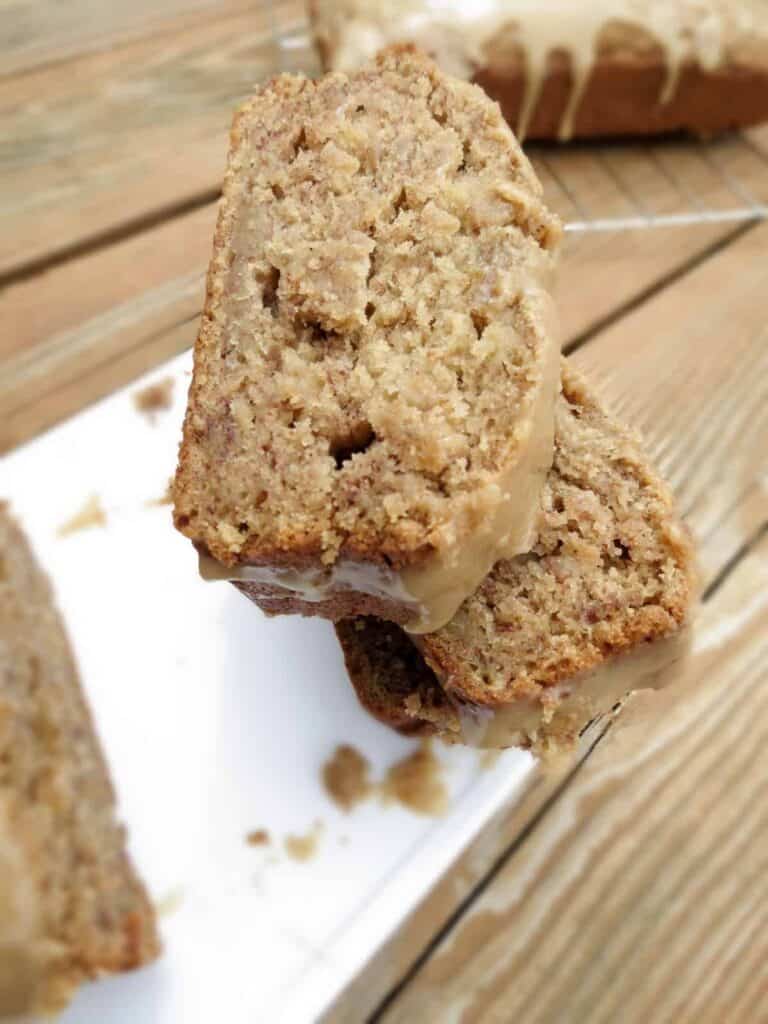 THE best banana bread you will ever have. I know, that's a pretty bold statement, but if you try it for yourself, you will agree with me! This is the most flavorful and moist banana bread I've ever had. And in mine and my family's opinion, it is truly the best! Maybe that's because there are FIVE whole bananas in this bread. Oh, and some vanilla pudding mix. I think the pudding mix is what really makes this banana bread stand out from the rest. It adds a slight amount of flavor and together with the amount of bananas used, they really make this banana bread SO incredibly moist.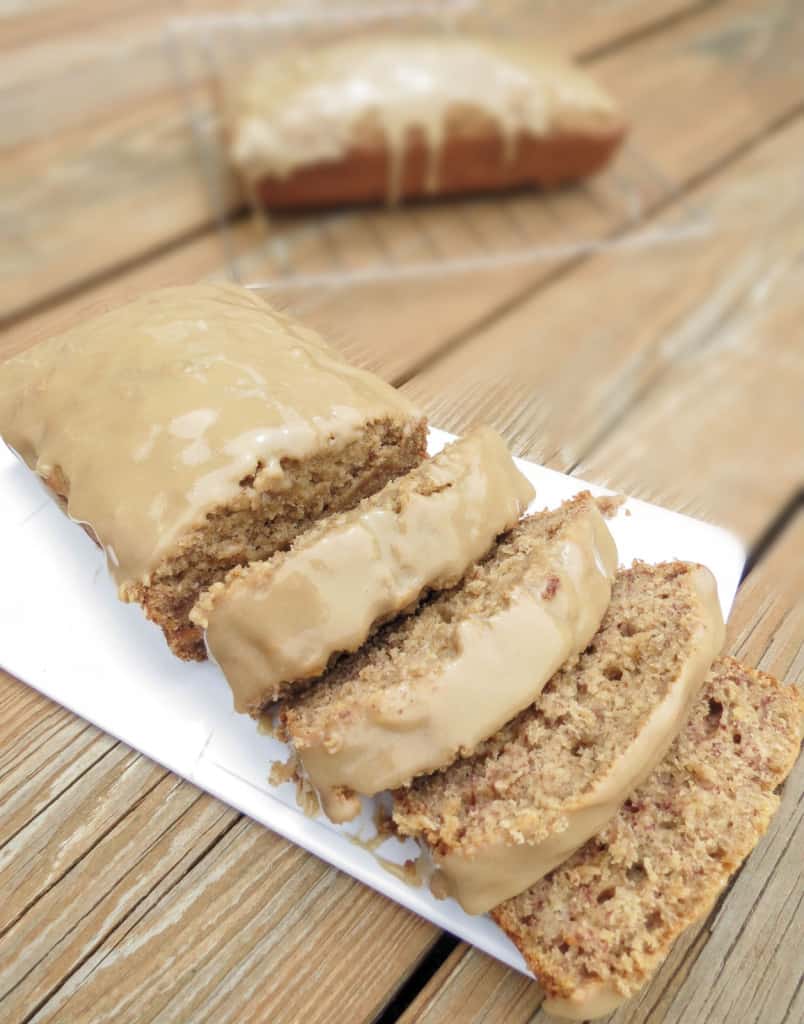 Also, added to the moistening agent list, I used all brown sugar. In cookies, a higher ratio of brown sugar to granulated creates a super moist and soft cookie and it does the same for banana bread, which is why I completely omitted the granulated sugar and went straight for the brown. AND the sour scream in this recips also adds so much great moisture. That's FOUR moistening agents people! This bread is just unbelievable. I made these on Friday and served one of the loaves two days later on Easter (it was still as amazing as the day I made it!) and my Aunt's boyfriend raved about it saying, "This is banana bread done right!" Lol, take his word fore it. It's awesome. Can I just say it was TORTURE saving the second loaf for that long? Two days is a long time when you have this deliciousness staring you in the face.
Let's talk about the glaze for a second. Banana bread is nothing without a glaze or some kind of frosting. Naked banana bread is just not right. I mean, this bread would be just as good without anything, but I really recommend adding the glaze. Actually, it's not really an option, it's necessary. Sorry. Just because it is classified as a "bread" doesn't mean it doesn't need anything. Banana bread is pretty much cake! And this glaze is absolutely out of this world. Spoon eating, finger licking outrageous. It really transforms the banana bread into something really amazing.
I never liked banana bread until I made my own version at home. Most recipes I have tried in the past come out so dry and were so bland. Mine is nothing of the sort. It is jam packed with so much flavor due to the amount of bananas and spice used PLUS the glaze on top is pure perfection. Puuuuuure perfection.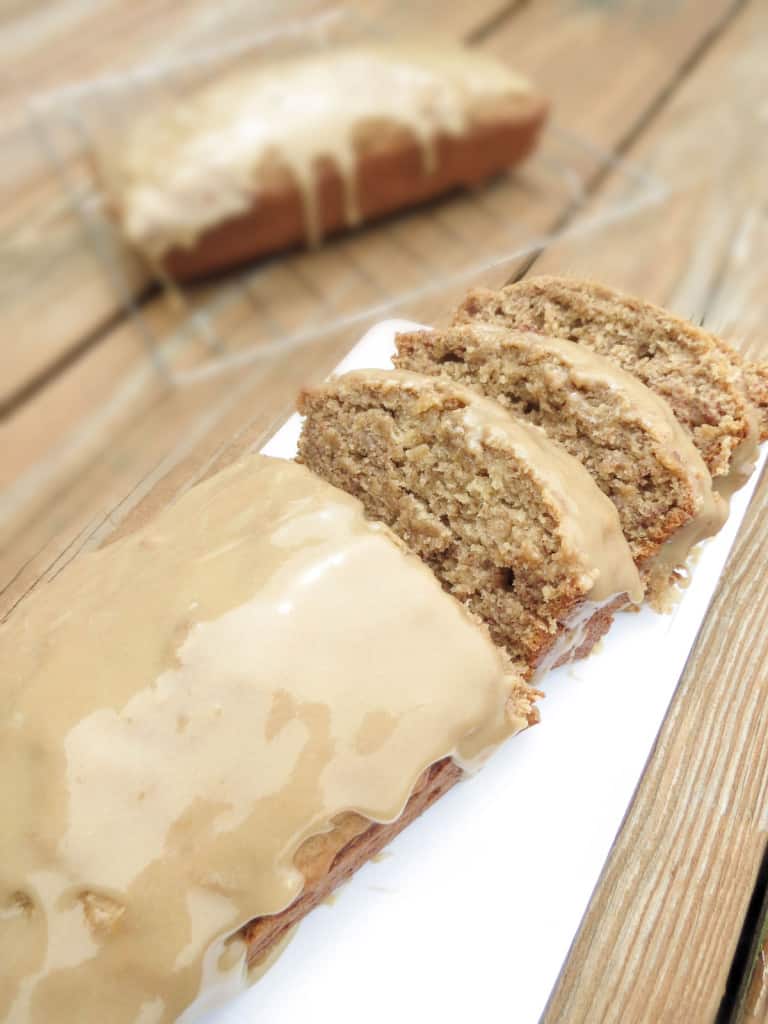 If you are a banana bread lover, I dare you to try this recipe. You will love me for it, I guarantee it! 🙂
[pinterest]
The Best Moist Banana Bread With Brown Sugar Glaze
Ingredients
Banana Bread

1/2

cup

unsalted butter

softened

3/4

cup

brown sugar

packed

2

eggs

2

tsp

vanilla

1/3

cup

sour cream

2

cups

mashed banana

I used 5 medium bananas

1/4

cup

vanilla pudding mix

powder only

2

cups

flour

1

tsp

cinnamon

1

tsp

baking soda

Brown Sugar Glaze

1/2

cup

light brown sugar

packed

1

tbs

honey

2

tbs

cream

2

tbs

unsalted butter
Instructions
For the Bread

Preheat oven to 350°. Grease two 81/2 x 4 1/2" loaf pans or one 9x5 loaf pan very well, set aside.

In a medium-sized bowl, lightly whisk flour, pudding mix, cinnamon and baking soda. Set aside.

Cream butter and sugar until light and fluffy. Add eggs, sour cream and vanilla and mix until smooth. Add mashed bananas until completely incorporated. Slowly pour in flour mixture into wet mixture while mixer is running (if possible) until just combined. Don't over mix. Pour batter into prepared loaf pan(s). If using two smaller ones, be sure that there are equal amounts of batter in each.

Bake loaves in preheated oven for 43-47 minutes for 81/2 x 41/2" and 60-70 minutes for 9x5" or until a toothpick in the center comes out with a few moist crumbs. Let the bread cool in their pans for about 20 minutes then transfer to a wire rack to finish cooling completely. While they are cooling, prepare glaze.

For the Glaze

In a small sauce pan, melt butter with honey. Once butter is melted, whisk in brown sugar and heavy cream until smooth. Allow mixture to heat for a few minutes until very hot without coming to a boil. (Boiling will make it start to caramelize which is fine is you want more of a caramel flavor but I usually go for more a brown sugar flavor.) Once mixture is ready, take off heat and allow to cool and thicken for about 10 minutes. Drizzle over cooled loaves and serve.

Banana bread will stay super moist and soft for up to 7 days or longer in an airtight container. The only thing is, the glaze may start to "sweat" of stored in container for 2 days or longer. It still tastes the same, just doesn't look as pretty. If this does happen, just swirl it around with a knife and it's fine. My suggestion is if you are making this ahead of time for another day, make the glaze the day you are going to serve the bread. Enjoy!